How Tea Accounts Are Fueling Influencer Feuds
As James Charles and Tati Westbrook battle it out, drama channels are raking in subscribers.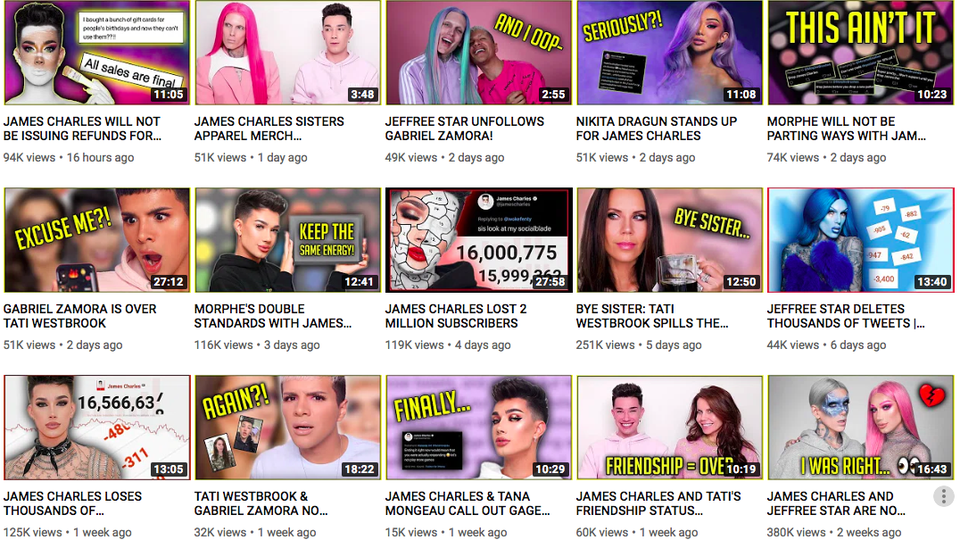 In 2016, James Charles was a high-school student in upstate New York. He was an aspiring makeup artist who'd do his friends' faces for practice and small amounts of money, and who once tweeted that he had brought a ring light to his senior photo shoot so that his pictures looked perfect.
Two years later, he had racked up more than 16 million subscribers on YouTube, launched his own makeup line, and become an icon in the online beauty community. He was named the first male spokesperson for CoverGirl and spent his time hobnobbing with celebrities such as Kylie Jenner. He even walked the pink carpet at the Met Gala this year.
But on Friday, Charles was hit by a host of allegations, some petty and some more serious. And in the midst of it all, a rising class of social-media accounts was creating an ecosystem of drama, boosting its own popularity in the process.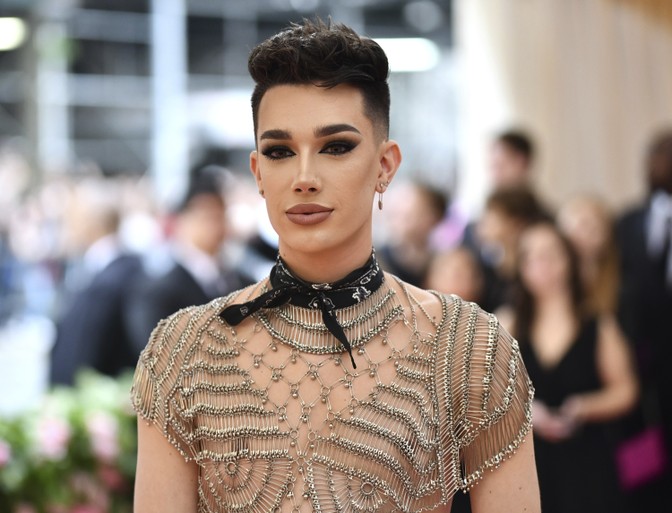 The saga began when a 37-year-old beauty vlogger named Tati Westbrook, whom Charles considered a mentor and mother figure, posted a 44-minute takedown of him, declaring him officially "canceled." Within a matter of days, Charles had lost nearly 3 million followers. His entire career seemed to be in jeopardy.
Westbrook's beef with Charles began over something seemingly trivial. Westbrook owns a nutritional-supplement brand called Halo Beauty. Its main competitor is a popular brand called SugarBearHair. Charles posted an ad for SugarBearHair sleep gummies to his Instagram Story at Coachella last month, claiming that it was a last-minute favor after the brand offered him security on-site. Westbrook was livid that Charles would advertise SugarBearHair's products and not her own, and claimed that there was no way the ad could have been a last-minute favor. Charles posted a tearful apology video to Westbrook later that day.
If this all seems minor and petty, it is. But that's the appeal.
Westbrook argues in her video that Charles wouldn't be anywhere without her. She says that she and her husband, a former entertainment executive, negotiated higher rates for Charles's brand deals and leveraged their connections to get him on the radar of Hollywood power players. Westbrook also remained fiercely loyal to Charles in the wake of previous scandals, such as when he joked about getting Ebola on a school trip to Africa and made transphobic comments on video, writing off his behavior as youthful indiscretions.
But Westbrook said this new betrayal wasn't the only reason fans should hate Charles. For years, she claimed, she had overlooked Charles's problematic behavior. She claims that Charles, who is gay, sexually harassed straight men. Westbrook said Charles attempted to "trick a straight man into thinking he's gay, yet again," at her recent birthday party. (Charles did not immediately respond to a request for comment and has not addressed the allegations publicly.)
No one other than Westbrook cared about the gummy vitamins, but this last accusation seemed to stick. And as Charles began hemorrhaging followers and Westbrook began gaining them, influential channels exploited the situation. These drama channels, often called tea accounts, painstakingly documented every incremental update on the feud and shared them live, around the clock, on social media until they became too big to ignore.
Tea accounts, so called because the word tea is slang for juicy information, are like online gossip magazines on steroids. They are networks of Instagram pages, YouTube channels, Twitter handles, and Facebook groups, many of them run by young fans and observers, though some tea-account admins are in their 30s or even 40s. They have names such as Shook, Spill, What's the Tea?, and Tea by Ali and serve as real-time news sources for millions. "My channel is Investigations all through the week. Some more serious, some more fun," the bio of one tea account reads. Many tea accounts are monetized, and Social Blade, a social-analytics platform, estimates that Tea Spill alone is earning up to $65,000 a month. Running a successful channel is also a fast track to clout in the influencer world. Successful tea channels can amass tens of thousands of followers overnight.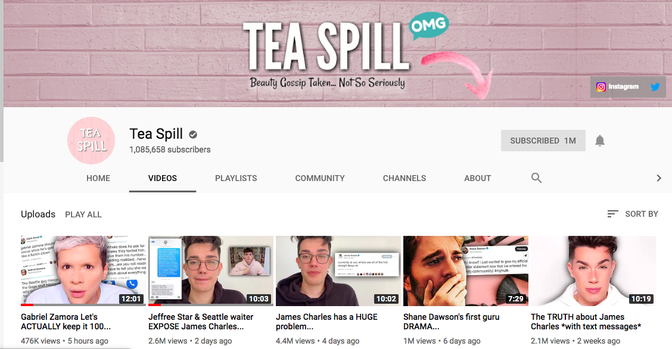 Young people are desperate for news about influencers, a category of people the mainstream press often ignores or patronizes. They also want that news delivered 24/7 through social-media channels. Several years ago, accounts such as the Shade Room (an Instagram-based celebrity-gossip destination) and DramaAlert (known unofficially as "the TMZ of YouTube"), and YouTube commentators such as Shane Dawson and Philip DeFranco stepped in to meet the demand. Their meteoric growth, coupled with the rise of stan accounts (social-media pages, mostly run by teenagers, that tirelessly document every minuscule update on an influencer or celebrity), gave birth to the current tea-industrial complex.
Tea-channel videos often take the form of digital slideshows set to music or a voice-over by a narrator. The video's narrator meticulously reviews "receipts"—digital evidence of something in the form of screenshots, screen recordings, leaked DMs, errant faves, and more. "I don't think anyone at TMZ is looking as closely as the tea channels are," says Harry Hill, a memer and social-media influencer. "They're paying close attention to all the details in situations where details are important to the overall narrative."
"What's incredible about the tea-spilling channels is that they're acting as media for inside the community," says Lindsey Weber, the co-host of Who? Weekly, a celebrity-news podcast. "Unlike news outlets … that are ostensibly never going to fully understand the platform and why things are so dramatic—for example, why a feud over gummy vitamins would matter so much—[tea accounts] are able to fully break it down."
For those who aspire to create a tea account, the barrier to entry is incredibly low. In fact, it's mostly teenagers who run them. "They're aggregating Insta stories, Snapchats, likes on tweets, monitoring who unfollows who," says Josh Cohen, the founder and CEO of Tubefilter, a website covering YouTube.
Influencers such as Westbrook and Charles don't just follow tea accounts. They interact with them on a regular basis by feeding them stories, granting interviews, and attempting to shape their own narratives. Westbrook says she spoke with two tea accounts, Tea Spill and Here for the Tea, after becoming angry with Charles, only to discover that Charles himself had spoken with them first.
When feuds break out between Bravo stars or traditional Hollywood actors, it's hard to tell who is up and who is down. But social media provide real-time metrics on who is winning a fight. Since Friday, tea channels have been live-streaming Westbrook's and Charles's subscriber counts, and hundreds of thousands of fans have tuned in to watch the scoreboard. "Tea channels are the perpetrators of these YouTuber news cycles," says Hill. "They're constantly churning out news about influencers who are just having a tiff, feuding, or being shady to each other."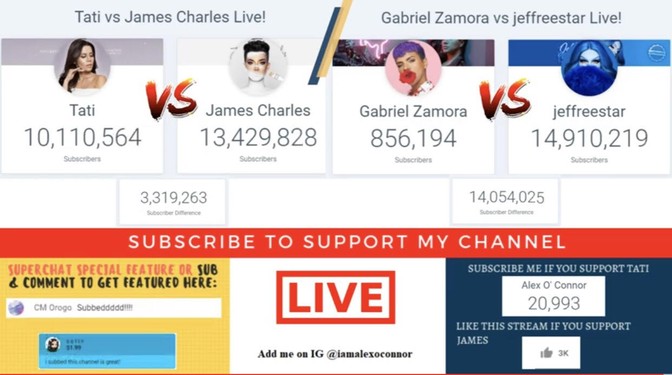 In the influencer ecosystem, remaining relevant is crucial to continued growth. One quick and easy way to insert yourself into the cultural conversation is by manufacturing drama. YouTubers who are highly effective at this, such as Jake and Logan Paul, can dominate the tea-account news cycle for weeks by dropping diss tracks, staging fake relationships, instigating fights, and orchestrating reconciliations.
Much like cable news and Donald Trump, tea accounts and influencers have a symbiotic relationship. The more drama YouTubers manufacture, the more there is to cover on tea accounts. The more tea accounts cover a YouTuber, the more relevant that YouTuber becomes. "Tea Spill has gained a few hundred thousand subscribers over the past week after the James and Tati incident, and that's just one of dozens of channels that are seeing a huge subscriber increase from covering this," says Cohen. "And that's just on YouTube. There's also all these tea Instagram accounts covering the same thing."
As more details emerge, however, several big YouTubers have spoken out on behalf of Charles. PewDiePie, a YouTuber who was recently involved in a subscriber war himself, implied in a video that Westbrook's entire video on Charles was just a publicity stunt. "Basically she didn't resolve this privately with James Charles because she found out he'd been talking to drama channels," he said. "Something that she admits she's done as well." Logan Paul, who generated massive backlash and controversy last year after vlogging a dead body in Japan, also came to Charles's defense. He called the fight "petty" and said that Charles's "crime does not fit the punishment" of losing millions of subscribers.
HUGE Congrats to the very first tea channel I ever subbed to @TeaSpillYT . Thank you for the amazing introduction into the drama community and thank you for the amazing intro and color scheme. Here is to the next 1 million subs. pic.twitter.com/zx1OfS1Ov8

— realm of səıʇıppo 🌚🌝 (@RealmOddities) May 12, 2019
For now at least, Charles has stopped losing followers and is slowly gaining back some of his fans. And Keemstar, the founder and host of DramaAlert, declared on Wednesday night that he was officially "canceling the James Charles canceling." "If you want to be mad at James Charles for basically being crappy to his friend Tati, sure, I'm all for it," he said in the video. But "there are so many lies about James right now and so many claims that are just completely BS for clout, that it's turning James Charles into an actual victim."
The Westbrook-versus-Charles drama is getting stale already anyway, and fans are hungering for a fresh fight. Naturally, Keemstar has something for them. "I'm green-lighting a cancellation of Trisha Paytas," he told his 5 million subscribers on Wednesday night. "Wait till you hear this story."