Re-creating Facebook on Instagram
Class accounts are a way for incoming freshmen to make friends, find roommates, and suss out colleges before fall.
By the time many college freshmen arrive on campus this fall, they'll have already met their roommate, their core friends, and many of their classmates on Instagram. They're connecting through class accounts, Instagram pages set up by one or several incoming members of a college's freshman class to help everyone meet before the school year officially starts.
These accounts have names such as @penn2023_and @AUclassof2023, and they typically feature user-submitted photos and paragraph-long biographies of incoming students, often including their intended major, whether they're looking for a roommate, and their personal Instagram handle. "Hey!" the caption on one recent class page reads. "I am from Overland Park, Kansas and plan to major in environmental and natural resources. I love anything outdoors (hiking, kayaking, hammocking) and i'm always down to get food!!! I am definitely interested in rushing! I would love to talk to you guys, (i need a roommate!!) so please DM me about anything!:)"
Claire, an 18-year-old in California who, like some of the other teenagers mentioned in this story, asked to be referred to by her first name only, decided to commit to the University of Alabama in December. She didn't know anyone else going, so she created @alabamaclassof2023 and started following other people who mentioned the school in their Instagram bios. Soon the photos and bios came rolling in.
Four months later, Claire has now found all three of her freshman roommates on Instagram. "Their Instagrams looked cute; I felt like we had a lot in common. I DM'ed them and ... you could just tell it was a perfect match," she said. "Assigned roommates are sort of scary. You don't know who you're gonna get stuck with. So everyone really wants to choose people."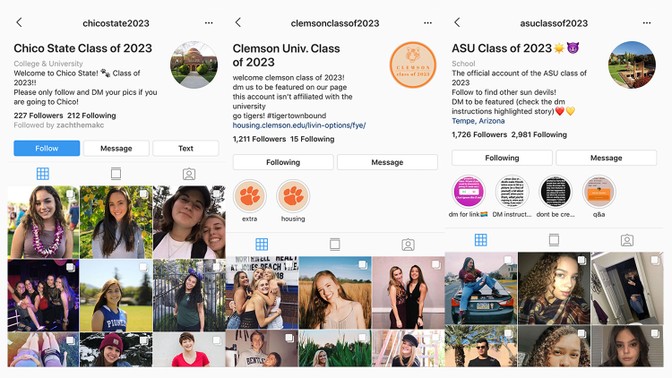 Many class accounts spawned Instagram group chats in which students not only find roommates, but also figure out plans for orientation, discuss rush, and debate whether or not there are good parties for freshmen. "There's so many questions and things we don't know about college, so we help each other out," Claire said.
Account administrators also act as unofficial liaisons between the incoming class and the school, using Instagram Stories to post announcements, answer questions about transportation and orientation dates, troubleshoot problems before anyone arrives on campus, and promote school spirit. Charlton Zhu, a 17-year-old incoming freshman who runs Virginia Tech's class page, used Instagram Stories to run a series of March Madness polls.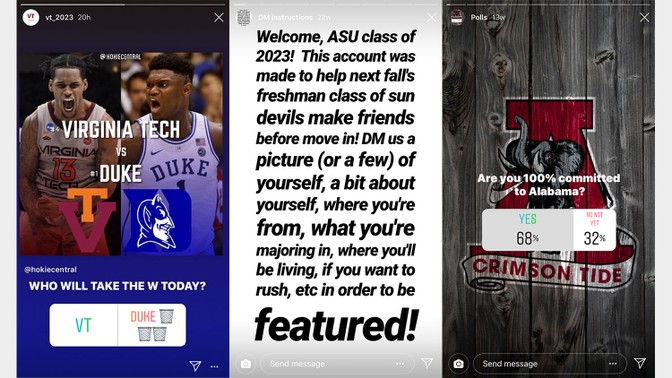 Because class pages are built for meeting people, students who are featured usually get a rush of Instagram followers afterward—and some, of course, are trying to game the system. "There's some kids who send a bio and pics to literally every school in an attempt to gain followers or clout," said Julianna Chen, a 17-year-old incoming freshman at Emory. "There's a kid on IG who's like, 'Hey, guys, follow me. I'm excited to go to Emory.' But we discovered his pics on five other schools' pages, and he obviously didn't get into them because the major he listed at each school didn't even exist at most of them."
To prevent clout chasers, some class pages make people submit photos of their actual acceptance letters or list the college's name in their Instagram bio. But some kids who are deciding among several schools they've been accepted to will follow, and sometimes even submit to, all the schools' class pages to see which one feels like the best fit.
Mackenzie, a 17-year-old in North Carolina, said the community she's met through the @usc_2023 page greatly affected her decision to commit to the school after following class pages for UNC Chapel Hill and several others. "It makes you want to go to a school more, because it becomes real," Mackenzie said. "You see faces and get to know people. It's more than just a campus tour. It influences your decision."
Connecting college students is what Facebook was built for. Since that social network began allowing high schoolers to join in 2006, teenagers have used it to meet other incoming freshmen at college. I remember joining a group for my specific dorm more than a decade ago, eagerly friending people who looked like they might be cool.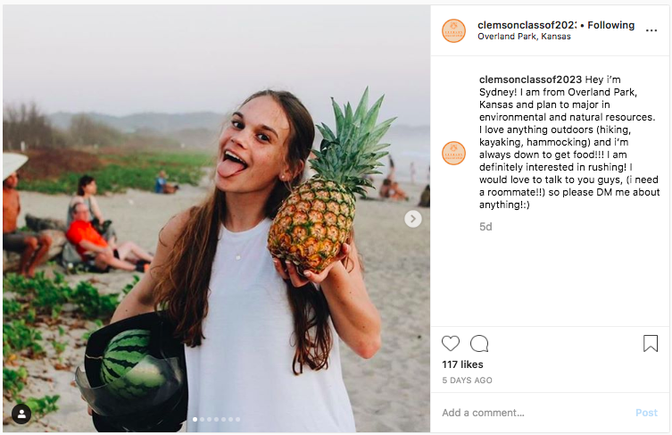 Yet all the teenagers I spoke to said that they couldn't imagine a Facebook version of class pages. In fact, several said they'd signed up for Facebook only in the past couple of months, so they could join the official Facebook group that their college's admissions department created. "I didn't start using Facebook until I got in in December, and that was the case for my friends too," said Alexis Queen, who runs Harvard's class account, adding that the school's official Facebook groups are ghost towns. "The most popular post in our admission group is just, 'Comment your Instagram handle,'" she said. "Facebook is just an easy way to find people on Instagram."
Kasey Fitch, who runs @ASUclassof2023, said that she also created a Facebook account in the past couple of months, after getting into college, but hasn't found it useful. "People express themselves on Insta, not Facebook. It's how you can actually get a sense of what they're like," she said. Instagram is the network she and her friends have been using since middle school; it's where they go to meet new people. Facebook, however, is rigid and empty.
"My generation, we never had Facebook, honestly," said Claire. "Kids now, we really only go on Instagram."
Most class-page administrators told me they'd at least try to keep the page going once school started. "I might use it for any class-wide events we have, posting photos from school, like freshman formal, IGTV from opening day's orientation, live videos from school events," said Alexis. "Or make it an announcement board, since people don't check Facebook."
The teen who runs the University of Georgia page has already begun charging $5 to jump the line to be featured, but most teenagers aren't monetizing their pages yet. However, several did say they wouldn't be opposed to posting sponsored content from businesses aimed at helping students, such as moving companies and textbook suppliers. Justin, who runs @hofstraclassof2023, told me he was contacted by an Instagram page "called 'College girl hotties' or something like that," asking him to mention it on his account. He declined the offer.
All the kids I spoke to said that class pages have been critical in making them feel more comfortable about leaving home. "I'll talk to my parents, and they can't wrap their heads around how different it is now. You just DM people, have a convo, and it's like, 'Yep, you're my roommate,'" Claire said. "It's nice going into it knowing that I have literally over 30 girls I can text and be like, 'Hey, wanna go eat?' And they'll totally be down."