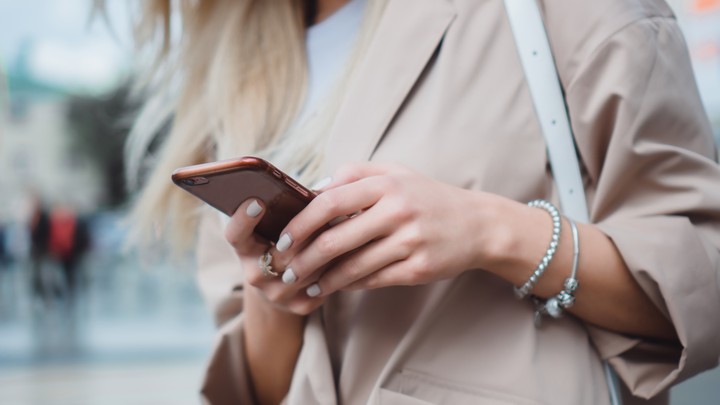 When Chris Rackliffe, a motivational speaker in New York, met a potential friend at a bar last weekend, it never occurred to him to exchange phone numbers. Instead, the two swapped Instagram handles, and have been liking each other's posts. Rackliffe said they'll probably meet up in person again soon.
"It's so much more casual to give someone your Instagram handle and keep in touch through stories and DMs," Rackliffe said. "Swapping numbers feels so serious and stiff nowadays."
As Instagram has grown to more than a billion monthly users, it has also morphed into people's default public internet profile and communication method. "I cannot imagine preferring phone number to Instagram handle," said Ziad Ahmed, the founder of Juv, a Generation Z consulting agency.
Memorizing a friend's insta handle is the modern day version of memorizing your best friend's home phone number in 3rd grade

— Angela Batuure (@angelabatuure) January 21, 2017
While many people message frequently throughout the day with their closest friends, Instagram is particularly great for connecting with people you don't know super well, or have just met.
"Usually someone hands you their phone, and you follow yourself on their Instagram," said Rachel Schultz, who works in the advertising industry. "It's nice because you can then share things with them like events or funny things or whatever they're into, which makes nourishing new friendships easy."
Crucially, Instagram provides much more context—and conversation fodder—than a random string of 10 digits. Because iMessage and SMS don't come with public profiles, when someone texts you from a number outside your contacts, you have little to no information on who that person is or where you met. Sometimes people will provide this information themselves via text, but often you're left guessing.
But adding people on Instagram is like scanning a digital business card into your address book. You get their full name and bio, and a direct line of contact through Instagram DM. Plus, you have the added benefit of scrolling back on their profile for additional context on who they are and what they're into.
Phone number? No, here's my insta handle. Thanks. @tayl0rhess

— a keystone gay (@localAssChief) January 21, 2018
A person's Instagram posts provide a stream of conversation prompts: Maybe you'll just reply to a Story, asking about that lunchtime pasta, or notice that the new acquaintance is nearby and ask to meet up for a drink. One of the hardest parts of fostering a new connection is figuring out how to reach out and start a conversation out of thin air. Instagram makes it easy.
John Colucci, a social strategist in Seattle, said he's even seen the insta swap become more popular in business settings. In fact, he has all but done away with his physical business cards. Instagram is "a less intense, light-touch connection," he said. It's notably less uptight than LinkedIn, said Allison Winer, a public-relations strategist in Baltimore. "LinkedIn is so stale when it comes to being interactive, and then exchanging numbers is a little too formal and close for comfort," she told me.
I'm going back to giving out my insta handle instead of my phone number

— Biggie Shorty (@OhmyisthatMilo) January 7, 2019
And, of course, because Instagram is such a good way to get a sense of someone's personality and interests, it's also a great way to suss out dating opportunities. Winer said that men nearly always ask for her Instagram handle as opposed to her phone number. "To be honest, I always try to look them up that way too," she said. "It gives you a little insight into their life and, of course, selfies." Many dating apps, such as Tinder and Bumble, even allow users to sync their Instagram profiles so suitors can browse their recent pics. In 2017, New York magazine coined the term Tindstagramming, for the growing phenomenon of men who slide directly into women's DMs on Instagram looking for a date.
Giving ur insta handle is basically giving ur phone number expect I get to creep & decide if I wanna respond after research. -Single smarter

— Sarah Quintana (@_sarah_quintana) September 23, 2017
Revealing your phone number to too many people can also be a security concern. Once someone adds your number to a contacts list, finding your profiles on other apps is easy. Given the prevalence of two-factor authentication, keeping your phone number private is an important part of thwarting SIM-card hackers. "I avoid giving my [phone number] out unless I know a person very well," said Nima Gardideh, a tech worker and entrepreneur, citing security concerns.
These days people just ask what your insta handle is instead of your phone number. So whack.

— Sarah Sherman (@shermy_21) July 23, 2017
When things go south, the fluid nature of Instagram makes it easy to disconnect. Whereas unfriending someone on Facebook or LinkedIn is a default two-way interaction, on Instagram it's easy to simply click the "unfollow" button.
Instagram swapping doesn't work in all contexts. Many users, particularly older ones, still consider the platform personal and are uncomfortable being followed by, for example, more junior members at work. But there are signs the practice is spreading. After I recently posed the question in a Facebook group for Bay Area parents, many moms revealed that they preferred connecting via Instagram before giving away more detailed contact information.
"I asked to exchange phone numbers for texting with another mom, and I felt a weird vibe, like I was being intrusive," commented Tina Grove. "I think I should have asked for her Instagram handle instead."
We want to hear what you think about this article. Submit a letter to the editor or write to letters@theatlantic.com.