What Tumblr's Porn Ban Really Means
The platform used to be a home for sexual subcultures that don't always thrive elsewhere.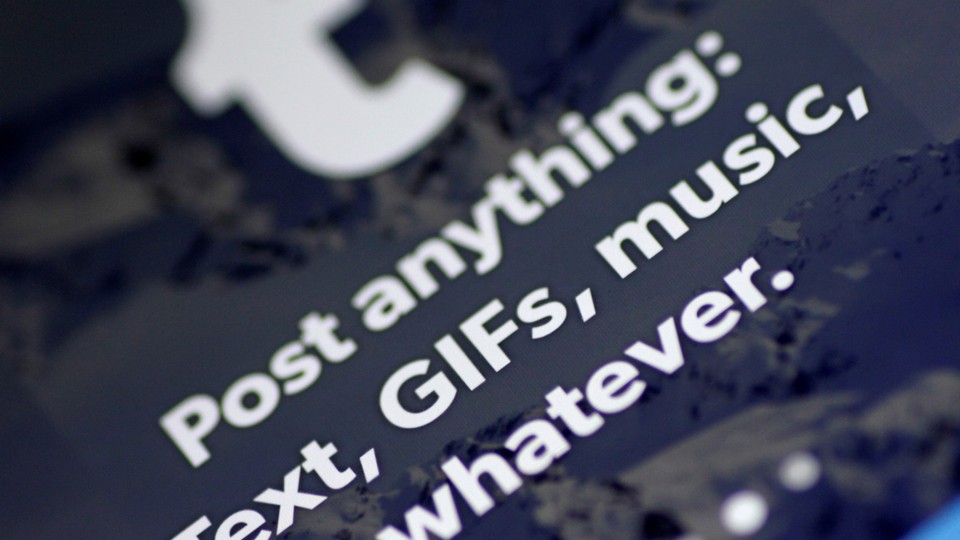 Earlier this week, the blogging platform Tumblr announced that it would be scrubbing itself of "adult content." The move doesn't just affect how people look at and exchange nude photos on a downtrodden platform—it portends a broad shift in how we experience intimacy and connection online, in how user-generated content is managed, and in how tech maintains its stranglehold on the digital commons.
The "adult content" Tumblr will be banning, the company wrote, "primarily includes photos, videos, or GIFs that show real-life human genitals or female-presenting nipples, and any content—including photos, videos, GIFs and illustrations—that depicts sex acts." But what the company is really going after is a four-letter word strangely missing from its 538-word announcement: porn. Tumblr may be home to personal blogs, community forums, and foodie photo collections, but pornography makes up a huge part of its reputation. A friend of mine texted me that Tumblr ending porn is like "McDonalds ending hamburgers."
Tumblr's decision was partly motivated by a large child-porn problem. You can see why rather than pay for the expensive work of patrolling the age of people in porn, the company would simply want to overcorrect. But its adult content wasn't strictly limited to porn. The site is—was—a haven for people who might not be able to connect sexually in other ways. As a reader who might be described as a member of the "cub" gay subculture wrote to me, "Porn and related content on tumblr was the primary place I first saw more natural body types for guys." Besides Tumblr, he said, there hasn't always been "any place guys who are average to larger without growing six packs could admire themselves and other guys."
Just as black Twitter gave voice and audience to black writers, Tumblr created the space for sexually nonnormative people to see and be seen in ways they weren't elsewhere. There were Tumblrs for those who identify as bears, furries, HIV-positive, bisexual, disabled, and fat; for people into S&M, pegging, and group masturbation. Whatever your body type or fetish, there was probably a Tumblr community for you.
And this brings us to two problems that go well beyond Tumblr and the legal but still widely condemned sexual activities featured on it. The first is that Tumblr's adult communities—like the platform writ large—are driven not just by amateur, user-generated uploads, but by the curation efforts of committed volunteers. Come December 17, when adult content is made private and un-shareable, these communities will effectively be shut down, their collectiveness made digitally homeless.
This is the end point of user-generated content on any social-media platform: When people create content that has social benefit for them, it makes massive capital benefit for Silicon Valley and Wall Street. Yet the people who generate that wealth have no influence over the digital commons where it resides and no recourse if they're evicted from it. The commons are, after all, privately owned—never really commons to begin with.
And here comes a second fact that the Tumblr fiasco exposes: how interwoven our intimate encounters, desires, and relationships (including, but not limited to, sexual matters) are with digital platforms. Consider how much of your personal and professional life experiences may be integrated with Facebook, Twitter, Instagram, and Tinder. Now consider that these companies could swiftly and legitimately shut their platform down, and sell all of your images and words for a trillion dollars. And you'd get no money and have no legal recourse.
Why is this so broadly dangerous? Because it's not easy to opt out of using digital platforms, which are becoming as important as physical roads for human interaction. Professional, commercial, and even the sexual interactions that literally determine life itself are mediated through these privately controlled communications networks. And as the power of these networks is consolidated, the people who've built them up but who are deemed a threat to maximum profit—even as collateral damage in a purge of illegal material—will be jettisoned.
For there is a "larger, disturbing trend," as the New York Times Magazine writer Jenna Wortham put it, "indicative of troubling, invisible heteronormative morality clauses on the web that we are all likely [to] enable and/or are complicit in enabling." In March, Craigslist closed its "adult personals" section in response to a pair of bills, the Stop Enabling Sex Traffickers Act and the Allow States and Victims to Fight Online Sex Trafficking Act, that would hold platforms criminally responsible for any sex work facilitated through them. Facebook has also rolled out restrictive new community standards, which aim to "draw the line—when content facilitates, encourages or coordinates sexual encounters between adults," dissuade people from discussing certain sexual preferences or positions, and forbid "sexualized slang" or "sexualized language."
Using social media intimately in our life hasn't been all bad. Indeed, as a recent scientific article by Oliver Haimson on some 240 Tumblr gender "transition blogs" showed, social media can play "an important role in adding complexity to people's experiences managing changing identities during life transitions." In fact, "female-presenting nipples" will be allowed under Tumblr's new adult-content ban if they are shown "in connection with breastfeeding, birth or after-birth moments, and health-related situations, such as post-mastectomy or gender confirmation surgery." Tumblr will also allow "nudity related to political or newsworthy speech, and nudity found in art, such as sculptures and illustrations."
But what counts as "female-presenting" or male-presenting, or as "political" or "art"? Just what counts as "health-related"? What expressions of gender are acceptable or unacceptable? These are profound and debatable questions. The Tumblr of the AIDS activist group ACT UP New York wrote that a post of clothed people wearing Silence equals death shirts had been flagged a while ago. Some LGBTQ Tumblr users have reported that content as queerly innocent in nature as a line drawing of two boys hugging is already being flagged. They're afraid such content may be removed, which happens on other platforms often. In a blog post, Tumblr CEO Jeff D'Onofrio acknowledged that "filtering this type of content … is not simple at scale," before concluding, "We won't always get this right, especially in the beginning, but we are determined to make your experience a positive one."
But the Tumblr adult-content purge reveals the enormous cultural authority, financial extraction, and what the philosopher Michel Foucault called "biopower" that tech companies wield over our life. As intimate interactions are ever more mediated by tech giants, that power will only increase, and more and more of our humanity is bound to be mediated through content moderation. That moderation is subjective, culturally specific, and utterly political. And Silicon Valley doesn't have a sterling track record of getting it right.