When a Sponsored Facebook Post Doesn't Pay Off
The agency Speakr set influencers up with brands for lucrative campaigns—and then stiffed them.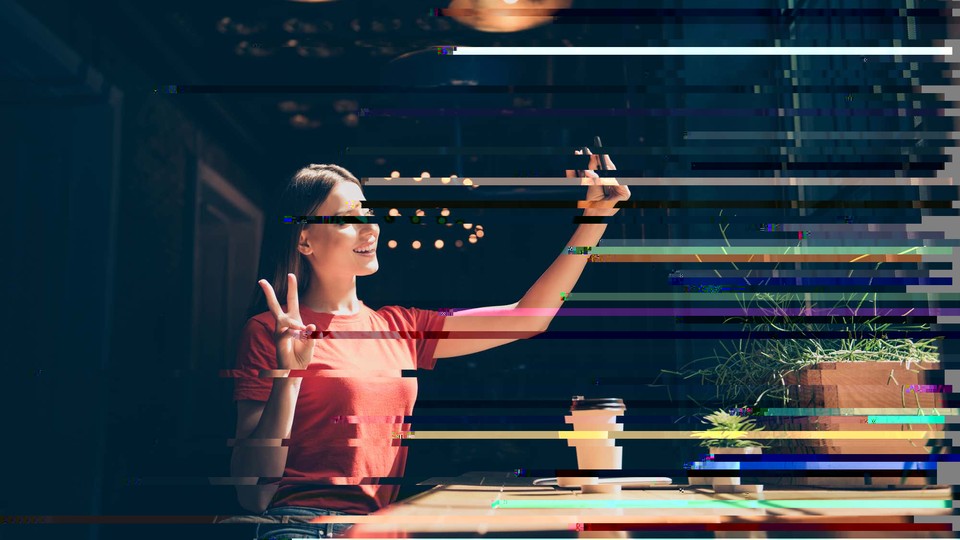 Updated at 12:08 p.m ET on December 27, 2018.
After rising to MySpace fame in the mid-aughts, the singer-songwriter Kaila Yu amassed a following of nearly half a million fans on Facebook and 70,000 on Twitter and Instagram. Like all "influencers"—people who leverage a social-media following to influence others—Yu now makes her living monetizing her audience with branded content, promoting products and events through sponsored posts.
In July, she received an overture from a well-known influencer-management platform called Speakr, on behalf of the DNA-testing company 23andMe. It was offering her $300 for a Facebook post. "Somebody really likes you! One of our brand partners is running a campaign and we think you're a perfect fit," read the email from Speakr, which Yu shared with The Atlantic.
Yu agreed to the offer and coordinated with a Speakr account executive via email. Yu followed her directions to a T, and on the morning of July 25, she loaded up her Facebook page and posted the ad.
The next day, she requested payment. Six months and countless emails and phone calls later, Yu says she still hasn't been paid for her work.
---
Speakr is one of the most notable and established influencer-management platforms, with clients such as Verizon, Sony, Ford, Nissan, Disney, Microsoft, and Universal Studios. It, like most influencer-management platforms, offers a simple service: sifting through the saturated influencer market to match stars with brands. Speakr is the middleman: The brand pays Speakr (or the brand pays an agency, which pays Speakr), and Speakr then distributes payment across a group of approved influencers, slicing and dicing the money to get maximum reach. For instance, the platform might pay 20 smaller influencers $500 each for a tweet, then pay five larger ones $1,000 each for an Instagram post, for a total influencer promotion ad buy of $15,000.
Unless you're a top-tier influencer, you'll almost never get paid before actually delivering work. Most influencers submit an invoice after the post goes up, and are theoretically paid soon after.
Speakr, however, stopped paying influencers early this year, say several influencers who themselves failed to receive payment after delivering work. Ten influencers on Speakr's platform, some with more than a million followers, told me that they never received payment for the sponsored content they've posted, received only partial payment, or weren't paid until months later, after issuing threats to take their problems public. Many others have posted publicly about not being paid.
Wolftyla, who has more than 1.5 million followers on Instagram and doesn't reveal her real name, wrote in an email that Speakr currently owes her $1,500 for work she completed on July 19. Brianne Manz, a fashion and lifestyle influencer, did a campaign for Tropicana over the summer which she says she was never paid for. Zippy Sandler, a travel influencer, also did a campaign through Speakr in July and says she had not been paid by late fall. Both influencers were eventually paid after repeated requests to Speakr, a spokesperson for the company said.
Sarah Barlondo, a lifestyle influencer with more than 100,000 followers on Instagram, told me she chased Speakr for months about a fee that to many would seem nominal. "It's such a small payment, it's ridiculous," she said. In late October, she said, Speakr sent her just a portion of what she was owed via PayPal, and she gave up chasing the rest. "Even if it's small, it's your Metro card for the month," she said.
One influencer went so far as to file a lawsuit. Speakr currently owes the 22-year-old influencer and former Vine star known as JoJoe $4,000, according to legal documents filed in small-claims court and reviewed by The Atlantic. JoJoe posted several videos to his Instagram story on May 21, 2018, promoting the Universal Music artist Kris Wu's new single. According to his manager, Ray Hughes, on May 25, he was told that the payment was being processed and would be in his account shortly. As of December 12, he had still not been paid. After months of following up, Hughes discovered through a connection he had at Universal that the brand had paid Speakr back in June. After several more attempts to contact the company and obtain payment, Hughes took Speakr to small-claims court. The judge ruled in JoJoe's favor, but JoJoe has yet to be paid.
The influencer-marketing industry is set to reach up to $10 billion by 2020, and as it has grown, influencer-management platforms and agencies have proliferated: More than 420 of them opened in 2017 alone. Influencer-management platforms are the primary way small to mid-level influencers find brand deals, yet the platforms and industry itself are highly unregulated. A 2018 survey conducted by The World Federation of Advertisers found that 65 percent of global advertisers plan to increase spending on influencer marketing in the next 12 months. But as money flows from brands through a network of agencies and platforms, sometimes the influencers themselves are left penniless.
While top-tier influencers usually have managers and agents and bookkeepers who can keep track of missing funds, the vast majority operate on their own, often without contracts or accounting software. "I didn't sign a contract [with Speakr], but their site looked so professional," Yu says. "A lot of times, I don't sign contracts with brands for a quick post."
It's not uncommon for influencers to be signed up for more than five influencer-management platforms at once, and some are active on as many as 10. But with so many scattered campaigns and pending payments floating around, money can slip through the cracks. For all but the most organized influencers, it's easy to forget about small brand work, such as a sponsored tweet posted months ago for $50. Barlondo said she almost forgot the company owed her at all.
"Influencers are not always good businesspeople," says Jeremiah Boehner, who consults with brands about influencers. "They're good at whatever made them an influencer."
Even those who do remain on top of things can find themselves in a financial hole. "I've gotten paid same day and six months later," says Nellie, an influencer who goes by the name Brooklyn Active Mama and doesn't reveal her real name. "You have to be prepared to get paid at any time. It's very difficult for an influencer; if you sign a $2,000 contract, you really never know when you're going to get that money." Still, she says, most platforms are communicative about the delay, or will issue partial payment up front as insurance. Nellie says that after working with Speakr to do a Twitter campaign for Pepsi, she had to harass the agency for eight months before receiving her $200 payment. (Pepsi did not respond to multiple requests for comment.) Nellie hasn't soured on management platforms altogether, though: She's still registered on at least four others.
---
By many accounts, Speakr basically invented influencer marketing. In 2010, Marco Hansell, a digital strategist who previously worked with musicians such as John Legend and Ludacris, noticed that brands would pay large amounts of money for people with online followings to post about them. He used $20,000 to bootstrap a new company called twtMob (later, Speakr). Hansell told me that in its first year, the company generated $1.8 million in revenue.
"They kind of came on the scene when there weren't other influencer-marketing companies in general," Taylor Nikolai, a marketer and social-media influencer who runs several Twitter accounts with a collective 10 million followers, told me. "They were basically the first ones doing only influencer marketing. At the time, there wasn't even a word for influencers."
By the time platforms such as Vine and Instagram took off around 2014, twtMob was working with stars such as Christian DelGrosso, Logan Paul, and Jake Paul. For many influencers, the first time they got paid to post about a product was through twtMob. In October 2014, the company rebranded to Speakr. From 2012 to 2016, it raised at least $4.5 million through four funding rounds. "Hundreds of influencers make $10,000 to $20,000 a month [on Speakr]. Thousands can make a few thousand [dollars] a month," Hansell claimed at the time.
And for years, influencers did make real money on the platform. Nikolai said that he earned a healthy five-figure sum per year through twtMob and later Speakr, by posting sponsored tweets about Samsung and several movie studios. "They facilitated well-paying sponsorships, and I always got paid," Nikolai said.
Since then, Speakr has continued to grow. In 2016, the company signed a lucrative partnership deal with Time Inc., which launched an influencer network "powered by" Speakr. "Why we chose Speakr is because they're really smart ... They have an edge there in their space, and they give us that edge in our space, as well," Regina Buckley, Time Inc.'s senior vice president of digital business development, said at the time. (Time Inc. did not respond to several requests for comment.) 2017 saw the company's profile rise even further, and Hansell became a go-to quote for reporters writing about his growing industry. In one private Facebook group in which influencers discuss deals, Speakr was mentioned as a reliable platform.
According to influencers who spoke with me, the trouble with the company started between late 2017 and spring 2018. Suddenly, checks weren't coming on time. Brandi Jeter Riley completed a campaign for Speakr in December 2017 and expected to receive payment within 30 days, she says. By April, the money still hadn't arrived, so she resorted to tweeting at Hansell. "Hello! Congrats on being a 7-Figure #ecommerce company! Could you please help me get paid for a program that I did with you all in December?" she tweeted on April 24. She also emailed the company and took to Facebook, leaving a one-star review on Speakr's page. "Speakr has not paid me for services I provided in 2017. They are not responsive to emails. For a company that needs influencers to support their business, they certainly don't seem to value us," she wrote. Finally, on April 30, she says the company rendered payment.
As the months went on, more influencers began to have issues. Some, like JoJoe, were told by a Speakr account executive that payments would be arriving shortly, only to receive radio silence when they tried to follow up. Erin Sullivan, an outdoors-focused influencer with 65,000 followers on Instagram, tweeted in early September that she had yet to receive payment for a campaign she did months ago. Ariane Andrew, an Instagram fitness star with more than 800,000 followers, posted a tweet promoting 23andMe in July for $750 and says she also had not been paid by September. Last week, she finally received the $750 she was owed, but says that at this point she feels entitled to more given the time she spent trying to track down her money.
Jason Horton posted a tweet about the movie Second Act in July for $100. He told me he was only paid in November after "escalating my emails to the point where I was going to show up at their office." All in all, he spent hours of his time tracking down his money. "It was a lot of work," he said. "A lot of checking back ... I did the work in a very timely way, so I expect to get paid in a timely way."
We have to stop letting folks take advantage of us, y'all. Like... seriously. I don't want to be on Twitter tweeting at brands about unpaid invoices (hey, @speakr ), but if they don't respond via email, what should I do?

— Brandi Jeter Riley (@BrandiJeter) April 26, 2018
Cassie Garcia, a lifestyle influencer, also did work for Speakr over the summer. By November 5, she says she hadn't been paid. "It's like pulling teeth to get a straight answer from @speakr," she tweeted at the time.
In a private Facebook group in which influencers discuss brand deals, several influencers attempted to band together and try to spread the word that Speakr was not a reliable company to work with anymore. Some members of the group say they warned others about the company via private DMs, but aside from a handful of tweets, the majority of influencers stiffed by Speakr have remained silent.
Because influencers rely on their public image to make money, most are highly wary of anything that might be considered controversial. They don't want to appear to be difficult to work with and accidentally jeopardize other brand deals. None of the influencers who did speak publicly about Speakr ever did so on their main platform: Instagram. "You don't want to show other clients that you are creating drama or have them think you're going to call them out that way if something happens," Barlondo said.
By mid-December, the backlash against Speakr had peaked. The company had stopped posting on Instagram and Twitter months ago, the account executive who served as many influencers' main point of contact left the company in October, and some influencers say they planned to simply give up on ever getting paid.
---
That an agency could go bankrupt overnight and leave a slew of unpaid influencers in its wake is not out of the realm of imagination. Just last month, some of YouTube's top creators were blindsided when a multichannel network called Defy Media collapsed. According to The Verge, hundreds of thousands of advertising dollars that were supposed to go to the YouTube creators in Defy's network are still missing, and many YouTubers might never be paid.
When Speakr staff became unresponsive, Yu and some other influencers assumed Speakr was doomed to meet a similar fate.
When reached for comment in December, Hansell was adamant that the company was fine. "There's nobody that won't eventually get paid," he said. "It's not a scenario where we're trying to scheme around or weasel out of this thing; we're trying to get everyone paid ... My integrity is something I hold high. We got put into an unfortunate situation that now we're attempting to rectify, and are asking everyone to bear with us."
According to Hansell, Speakr is not in danger of going bankrupt, but it did get into some serious financial trouble this year.
Because Speakr acts as a middleman between brands and influencers, the company frequently fronts a lot of money. Say a brand uses Speakr to facilitate a $10,000 brand event in Miami with 10 top influencers. Not only does Speakr front the $10,000, but it also pays for all the influencers' expenses related to the campaign, only later invoicing the brand separately. Expenses for flights and hotel rooms for a group of influencers traveling on a brand promotion can sometimes run as high as $50,000 or more. While Speakr pays this higher sum up front, it's only making money on the $10,000 activation.
"We end up in an area where we're floating money as a middleman while chasing money," Hansell said. Because Speakr didn't have enough cash on hand to cover all the costs it fronted, the company took out loans, which it then owed interest on: "It becomes this mounting thing that starts creating a larger issue."
To maintain some relationships as the company scaled, Hansell said Speakr also "started bending the rules, paying people early, then we ended up in a place with more capital out than in." The company also used money from some campaigns to pay influencers from past campaigns who were still owed payment, Hansell said.
Speakr says that the company has been left waiting as long as more than 180 days as money trickled down from a brand to an agency to Speakr. Sometimes, if a client isn't happy with a result, it will refuse to pay for the campaign altogether, leaving Speakr to foot the bill. Clients can cut budgets midway through a campaign.
Boehner says none of these issues is uncommon in the influencer industry. He once worked on a campaign for a major cellphone company where the client refused to pay because a porn star had retweeted a sponsored tweet by one of his influencers, something he had no control over.
But other industry experts give Speakr less leeway. After all, the company has been around for years, and this payment structure is not new. Balancing the books is just part of doing business, says Jonathan Saeidian, the founder and CEO of the marketing agency Brenton Way. "Who in their right mind just goes and pays influencers ahead of time?" he says. "That's just not how things work."
But for Speakr, whose business was built mostly on the backs of midsize to micro influencers, that is how things worked for many years. Hansell said that things cracked partly because influencer marketing has exploded, and there was suddenly a lot more money than he was used to managing running through his company. He said that if there's one lesson others in his space should learn, it's, "don't grow. If you just stay a midsize business, it becomes manageable," he said. "Had we done that, there would have never been that end balance. When those numbers get larger, the reality comes into play."
Now Hansell is left cleaning up the mess. The company raised more money in November, which Hansell said is being put toward squaring up with influencers. Speakr also revamped its finance team and instituted new financial controls over clients, "so we don't end up holding the bag and looking like the bad guys," he said. He admitted that the company had been lax about collecting from clients in the past, saying that it's hard to negotiate with major brands who "are the big 800-pound gorillas" and can usually dictate terms of payment or take their business elsewhere. "Influencers have no idea the type of time and waiting we go through on the client side," he said.
Hansell said he wanted the influencers left in purgatory to know that for the past few months he had even ceased taking a salary, and that his sole focus was keeping the company alive. "We're fighting for these influencers and the survival of our business," he said.
Shortly before midnight on December 19, following an inquiry from The Atlantic, Speakr did blast out the closest thing any influencer has gotten to a direct apology. Some with outstanding balances received a message from the Speakr finance team titled, "We hear you. We're sorry. We're making it right." The messages contained partial payments, sent via PayPal, and a promise that "over the next 2 weeks our finance team will reach out to you individually to clarify the time frame of when to expect your outstanding balance to be completely on track."
Other influencers received a more overt mea culpa from Hansell. "I just want to personally apologize for the inconvenience and lack of strong communication that has happened in dealing with your payment issues ... we made mistakes along the way but learned how to fix and prevent situations like this from ever happening again," he wrote to several influencers.
Not everyone is accepting the apology. "Personally, I understand clients pay late, but at least answer my emails, show some respect," Barlondo said. "Tell me you're so sorry, tell me you're going to get it done. I would have waited."
"I would be shocked if I ever received a full payment," Yu says. "I don't know what partial payment means, but it could mean one dollar. A lot of people really needed that money, and I'm outraged over that. This is a job for so many people, and you're stealing from their pockets," Yu says.
To Riley and others who spent hours of their time hunting down payment, it all feels like too little, too late. "Influencers deserve to be treated with respect," she says. "Being ignored by the CEO let me know that I am dispensable to the company. When I finally was paid, there was no apology, no follow-up. I'm not going to help someone make money who doesn't care about me."
Barlondo added that after her experience with Speakr, she likely won't work with another influencer-management agency. "Next time Walmart wants to work with me," she said, "they need to talk to me directly."