Rising Instagram Stars Are Posting Fake Sponsored Content
"It's street cred—the more sponsors you have, the more credibility you have."
Tapping through Palak Joshi's Instagram Stories recently, you might have come across a photo that looked like standard sponsored content: a shiny white box emblazoned with the red logo for the Chinese phone manufacturer OnePlus and the number six, shot from above on a concrete background. It featured the branded hashtag tied to the phone's launch, and tagged OnePlus's Instagram handle. And it looked similar to posts from the company itself announcing the launch of its new Android phone. Joshi's post, however, wasn't an ad. "It looked sponsored, but it's not," she said. Her followers are none the wiser. "They just assume everything is sponsored when it really isn't," she said. And she wants it that way.
A decade ago, shilling products to your fans may have been seen as selling out. Now it's a sign of success. "People know how much influencers charge now, and that payday is nothing to shake a stick at," said Alyssa Vingan Klein, the editor in chief of Fashionista, a fashion-news website. "If someone who is 20 years old watching YouTube or Instagram sees these people traveling with brands, promoting brands, I don't see why they wouldn't do everything they could to get in on that."
But transitioning from an average Instagram or YouTube user to a professional "influencer"—that is, someone who leverages a social-media following to influence others and make money—is not easy. After archiving old photos, redefining your aesthetic, and growing your follower base to at least the quadruple digits, you'll want to approach brands. But the hardest deal to land is your first, several influencers say; companies want to see your promotional abilities and past campaign work. So many have adopted a new strategy: Fake it until you make it.
Sydney Pugh, a lifestyle influencer in Los Angeles, recently staged a fake ad for a local cafe, purchasing her own mug of coffee, photographing it, and adding a promotional caption carefully written in that particular style of ad speak anyone who spends a lot of time on Instagram will recognize. "Instead of [captioning] 'I need coffee to get through the day,' mine will say 'I love Alfred's coffee because of A, B, C,'" Pugh told me. "You see the same things over and over on actual sponsored posts, so it becomes really easy to emulate, even if you're not getting paid."
When a local amusement park paid several bloggers to attend the venue and post about their experience there, Joshi, a fashion and lifestyle influencer, went on her own dime and posted promotional posts as if she were part of the bigger influencer campaign.
Taylor Evans took the fake-"sponcon" game one step further, once faking the entire purpose of a trip to Miami. Technically, she was just there on vacation, paying her own way for everything, but on Instagram she positioned it as an exclusive press trip. "I took a lot of pics at restaurants and posted 'Thanks so much XYZ restaurant for the hospitality!'" she said. "You say it in a way that people could interpret it as you having an established relationship with that brand … The hope is that it's perceived in a way that looks like there's a reason you're in a different city and state, not just enjoying a weekend vacation."
a five year old model keeps commenting on my band's fake sponsored posts. welcome 2 the Internet

— Justine Dorsey (@justinedorsey) January 23, 2017
Jason Wong, the founder of the false-eyelash company Doux Lashes, said he's surprised at the levels to which aspiring influencers have gone to promote his brand for free. "Normally influencers did one post for one product," he said. Now "we've seen influencers do two to three posts for one product. They want to have a continuous stream of content to make it seem like it's sponsored."
Monica Ahanonu, an illustrator and Instagram influencer with nearly 12,000 followers, said that fake ads have become so common that she's not even sure who is sponsored and who is pretending. While the Federal Trade Commission recently ruled that paid advertisements must be disclosed, influencers regularly flout those guidelines. And there are no rules against people who aren't paid captioning their photos to make them sound like paid disclosures. Ahanonu herself posted an Instagram recently featuring custom artwork promoting a Chanel cosmetics kit. She didn't receive payment or any product in exchange, but her post would look right at home among other Chanel ads.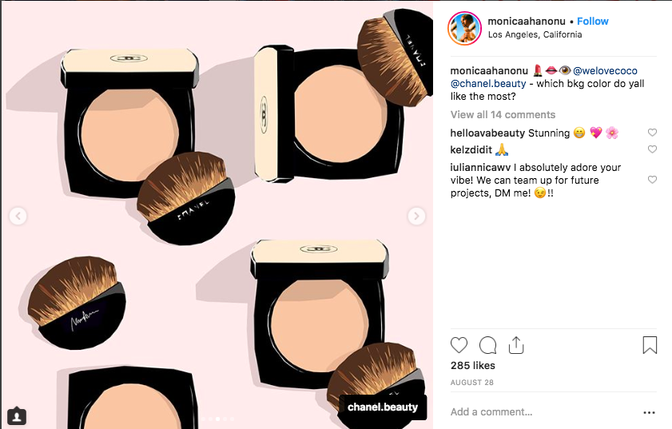 For the average consumer, things become blurry quickly. Many fashion influencers tag the brands they're using in photos, whether the clothes were purchased, given to them for free, or are part of an ad campaign. Lifestyle blogging is all about seamlessly monetizing your good taste and consumer choices, which means it can be near-impossible for laypeople to tell if an influencer genuinely loves a product, is being paid to talk about it, or just wants to be paid to talk about it.
When Allie, a 15-year-old lifestyle influencer who asked to be referred to by a pseudonym, scrolls through her Instagram feed, sometimes the whole thing seems like an ad. There's a fellow teen beauty influencer bragging about her sponsorship with Maybelline, a high-school sophomore she knows touting his brand campaign with Voss water. None of these promotions, however, is real. Allie is friends with the people posting, so she knows. She once faked a water sponsorship herself. "People pretend to have brand deals to seem cool," Allie said. "It's a thing, like, I got this for free while all you losers are paying."
"In the influencer world, it's street cred," said Brian Phanthao, a 19-year-old lifestyle influencer in San Diego who sees fake ads all over Instagram. "The more sponsors you have, the more credibility you have."
Phanthao said most of the people he sees doing it grew up watching influencers and now aspire to their lifestyle. "It's really common with kids in high school," he said. "They're very influenced by influencers." At first he was astounded that brands he recognized would partner with some of the people he saw on his feed. But when he cross-checked the brands' websites, he couldn't find their names.
this girl I know really had a sponcon themed bday party. wow what an example of fake it til u make it.

— Jessica Jacolbe (@jessjoycej) April 30, 2018
Henry, a 15-year-old beauty influencer who asked to be referred to by his first name only, said he doesn't post fake ads himself, but said he noticed his social status rise as he got more attention online this year. "People come up to me at school like, 'Do you get sponsored?'" he said. "When I say I do they're like, 'OMG that's so cool.' I noticed the more followers I gain, the more people in the hall come up and talk to me."
But of course, clout is just a means to an end, and ultimately, most of the people posting fake ads hope to eventually get paid to post real ones. Evans said staging these fake promotions "makes you seem like you're in a position to be getting things for free, which helps you build your brand or media kit … It makes you seem more established, like you have brands that you're working with. That means you're producing good content and you're worthy of approaching and offering these opportunities to."
After Samantha Leibowitz-Bienstock, a lifestyle influencer who posts under the name Trendy Ambitious Blonde, posted a photo of herself with a Betsey Johnson bag she purchased with her own money and tagged the company, she was featured on its website. She wasn't paid, but she considered it a win for her personal brand.
But while some companies are thrilled with the free promotion, for others it's become a headache. The owner of one sunglasses brand, who asked to remain anonymous so as not to alienate anyone in the influencer community, said the practice has put him in a tough position as a stream of mid-level influencers post mediocre-quality sponsored content seemingly on his behalf, without his approval or control.
He has seen influencers thanking his brand for "working with" them when he knew they had never partnered. "We do encourage our fans to put our stuff on Instagram. That's how we grow," he said. But he added that he was worried that some people appearing to be brand ambassadors could ultimately damage his business's reputation. Though he has considered it, he has never reached out to any of the influencers and asked them to take their post down. To him, that feels like even more of a risk. "These people are looking for the most amount of attention, so if they want to make it seem like they've been wronged in any way by a brand, they will," he said.
And then there's the fact that fake sponcon misleads would-be partners. Wong was once a Tumblr star himself, and he knows the ins and outs of online marketing. But even he was recently duped. After hiring one influencer to promote his product, he later found out that all of her brand deals were fake. Now he cross-references all potential partners, calling up other brands they've claimed to work with to see if that work was paid.
If I see any more "self made entrepreneurs" flexing their rented Lamborghinis and fake Rollies in sponsored posts on Instagram I am ending it all

— Sinferna (@withthedraco) October 4, 2018
Though it may seem like a useful tactic when you're starting out, more established influencers worry that fake sponcon is creating a race to the bottom. Because brands can piggyback off of waves of unpaid influencer promoters, some have ceased paying influencers completely, or now pay rates far below what they previously spent.
"I don't think people know they're screwing each other over," said CJ OperAmericano, a 22-year-old TikTok star. She has watched rates plummet as the industry becomes more saturated, and she recently lost out on a brand campaign to someone who offered to do it for a tenth of the price. People now treat brand deals "like a verification badge," she said.
Vingan Klein said she can't blame the young fashion influencers she sees coming up today for their hustle. "Trying to get sponsored is your way out of this rat race," she said. Teens today realize that "you don't have to go up this hierarchy; you can skip the middleman," she added. "Besides, what do the followers know?"