Tech Is Killing Street Food
The wealthy hubs of the United States and India are embracing informal gastronomy, but not the people who have traditionally provided it.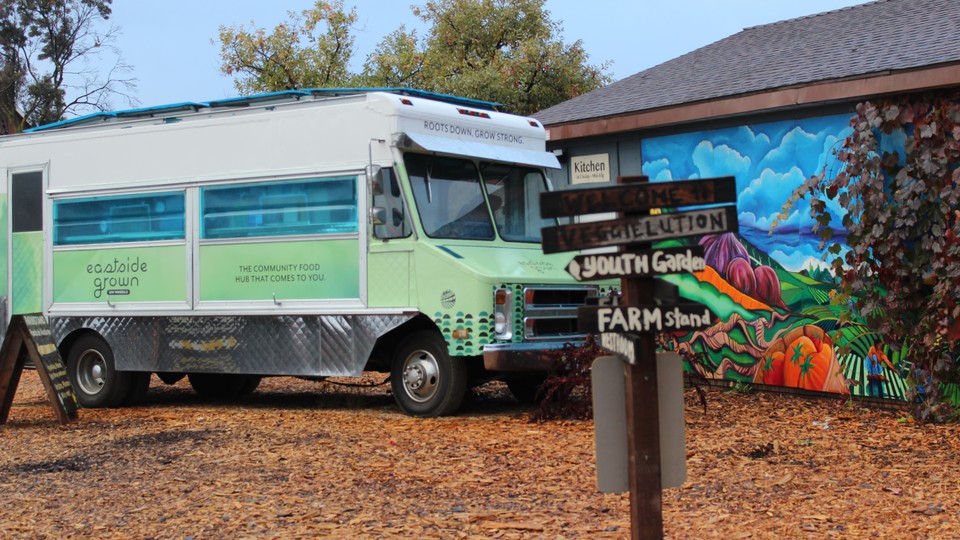 Updated at 7:38 p.m. on December 20, 2018
Rosa Leon works as a tamale vendor in San Jose, California. But she has to do so on the sly, selling only at night. She considered obtaining permits, but she was daunted by the process. Now, the urban farm-and-food nonprofit Veggielution is helping her apply for them.
In Bangalore, India, Sukumar N. T. sells gobi Manchurian, a fiery Indian-Chinese dish, from a mobile cart. He's been on this corner, not far from the Rajajinagar IT Park, for seven years, after moving there from a small city about 100 miles west. Every day, the police ask him for 40 to 50 rupees (less than a U.S. dollar), he told me, even though he's licensed to vend there. "It's compulsory," he shrugged. "I don't want any trouble in the future."
Bangalore and the Bay Area have a lot in common. They are the tech centers of the world's second- and third-most-populous countries, respectively, and they both sometimes feel like they're bursting at the seams. Some economists argue that when tech companies move to cities with rigid housing markets, the value of real wages goes down as the cost of living jumps.
In the Bay Area, where housing is among the most expensive in the nation, low-income people are being displaced. And in Bangalore—where housing costs have also increased dramatically, and where more and more land is being allocated for tech parks and luxury property development—more than 5,000 residents of a slum near Marathahalli, a suburb that hosts a number of IT companies, have recently been threatened with eviction.
In both places, many street vendors are migrants—Bangalore's come from other parts of India, while in the Bay Area many hail from Latin America. They and their livelihoods offer a warning about the fate of immigrant service labor in the tech economy: When space is at a premium, the high-profile, high-margin industries tend to take it up, while the low-paid, already precarious jobs that keep them humming are threatened.
---
Bangalore is full of food vendors like Sukumar N. T. According to Aditi Surie, a sociologist at the Indian Institute for Human Settlements who specializes in the gig economy, Bangalore has limited licensed areas for people to ply food, so "across income groups" in the city,"informal food vending is valuable to all."
But near the International Tech Park Bangalore in Whitefield, you won't see street vendors. Plenty are stationed immediately outside the ITPB's gates, however, which has led to some tension. Earlier this year, The Times of India called the street vendors near the office park "a huge menace" because they impede ITPB employees' passage in and out of the complex.
Whitefield "is really illogically planned," Vinay Sreenivasa told me from his dusty office. Sreenivasa is a member of both the Alternative Law Forum, a legal-advocacy organization, and Bengaluru Jilla Beedhi Vyaapari Sanghatanegala Okkuta, a street-vendor union. "They planned only for tech parks and hotels," he explained. "In a way, those [informal] livelihoods are created by the poor planning." That generally doesn't bother rank-and-file IT workers—they need to eat, too—but according to Sreenivasa, some managers and officials think that the informal businesses undermine the area's air of modern enterprise.
That hostility isn't just present in Whitefield. "There is a lot of pressure from richer residents across the city saying that street vendors are a nuisance and should be evicted," Sreenivasa emphasized. "Usually the eviction happens because richer residents complain."
Back in California, some of the Bay Area's massive tech campuses have become mini cities, complete with their own closed food systems. This is an understandable move for companies in remote suburban enclaves, perhaps, but less so for urban headquarters, where abundant free or subsidized food can allow tech employees to avoid engaging with local restaurants or vendors.
Some tech offices do hire small catering businesses. And companies such as Zendesk choose not to offer free food, to encourage their employees to frequent local businesses. But many technology headquarters isolate themselves from the local food culture, and the people whose livelihoods depend on it. Twitter's headquarters, for example, is located in the dense SoMa neighborhood of San Francisco. The company provides breakfast, lunch, and snacks in-house. As a San Francisco Twitter sales rep wrote on a benefits forum on the job site Glassdoor, "When you do the math it's $7,000+ year that you're not spending on food during the work week." On the ground floor of the company's Market Street headquarters, a high-end food court offers customizable poké bowls, gourmet Sicilian-style pizza, and cold-pressed juice for those who don't mind paying, but also don't want to leave the building. A Twitter spokesperson also explains that the company invites local vendors and chefs to their offices and participates in a local food charity.
Limited parking and chronic traffic congestion also hinder access to local businesses in both Bangalore and the Bay Area. The winners and losers in that fight are predictable. Those people might not have the resources or experience to make their businesses legitimate, and organizations like Veggielution can only help so many of them do so.
San Francisco's public-health officials are sticklers for unlicensed street vending, said Leticia Landa, the deputy director of La Cocina, an organization that supports small-scale food vendors. "The city is crazy about it," she said. "They just don't allow it. San Francisco says it's because we're so dense, and parking is such a contentious subject."
Jennifer Blot, a spokesperson for San Francisco Public Works, confirmed that roving mobile-food vending is not allowed—permits must be issued for specific locations, along with business registration and approvals from the Department of Public Health, the Fire Department, and the Treasurer and Tax Collector.
Oscar Grande is the lead community organizer for PODER (People Organizing to Demand Environmental and Economic Rights), which works with many street vendors in San Francisco. He told me about a paletero, or ice-cream vendor, who was ticketed a few weeks earlier for selling from a mobile cart in In Chan Kaajal Park, in the historically Latino Mission District. "I think the city takes a heavy-handed approach," Grande concluded.
The San Francisco planning department's statistics indicate little enforcement activity: Only 16 fines have been imposed on 11 vendors since March 2016, according to Blot. Those violations include unpermitted vending, expired permits, and operating on non-permitted days or in non-permitted locations. But other Bay Area cities have experienced tensions between food vendors and law enforcement. Police have received criticism for confiscating cash from a hot-dog vendor at UC Berkeley and arresting a fruit vendor in San Lorenzo. Even if the official, reported incidents are few, they create anxiety for the street vendors. The community organizers I spoke with said that the encounters with law enforcement are more frequent than the fines issued.
Their counterparts in Bangalore feel similar pressure. Politicians and business leaders have commended the traffic police for evicting the "illegal encroachments" of vegetable vendors in Koramangala, a hipster-ish area also home to many tech companies' headquarters. Yet mobile carts, whether they're selling paletas in San Francisco or roasted corn in Bangalore, are in some ways an ideal answer to crowded, parking-poor cities. They are relatively agile businesses, able to navigate through cities that aren't always pedestrian-friendly.
Part of the difficulty in Bangalore stems from the nebulous legal situation. Sreenivasa told me that the national law that protects street vendors has yet to be enacted in the state law of Karnataka, where Bangalore is located. At the same time, there have been legal rulings in Bangalore about the need to keep public footpaths clear, except in designated "hawker zones" (which few people could identify). The ambiguity makes street-vending livelihoods uncertain, even when all the paperwork is in place.
The Okkuta street-vendor union responded to continued police harassment by issuing a formal complaint in September to the traffic-police commissioner. Among other things, the complaint contends that a false perception that street vending is illegal justifies police harassment and property theft.
Grande also believes that a double standard exists in the Bay Area: "The last decade has kind of yuppified food-truck culture." These vendors (often white and middle-class, and sometimes former tech employees themselves) tend to have the capital and the resources to buy food trucks and obtain permits outright. But formalization isn't so easy for working-class Latino vendors; for one thing, many of the necessary planning forms are only in English. "We'd hope that our immigrant food vendors and street merchants are afforded the same respect that this newer population is getting," Grande said. But Blot insists that all San Francisco vendors are subject to the same permitting requirements, and that permit staff is available to assist with questions in Spanish, Chinese, Vietnamese, Tagalog, and Korean.
Bangalore's informal workers mostly evade or pay off the authorities, but in the Bay Area, vendors are trying to collaborate with them. La Cocina is savvy about working with both the San Francisco planning department and tech-company donors. In East San Jose, Veggielution and the community nonprofit Somos Mayfair have worked with San Jose's Office of Economic Development to support informal food vendors in becoming more profitable businesses—in carefully designated areas, of course.
A San Jose city spokesperson, Rosario Neaves, contrasts San Jose's approach with other cities, which she says "have  taken a regulatory and an enforcement approach to dealing with unpermitted vendors." Neaves doesn't point a finger at specific municipalities, but San Francisco's permitting process can be onerous (in general, the cost of doing business has risen enormously along with tech- and finance-based wealth). The fee schedule can also be complex. So few mobile-food-facility permits are being submitted and approved.
The future of street vendors in both regions seems to involve regulation and formalization. In California, the Safe Sidewalk Vending Act will go into effect at the beginning of 2019. This law decriminalizes sidewalk vending and mandates that cities create a permit process if they want to regulate street vending. In Bangalore, efforts are under way to issue licenses to street vendors. But as of earlier this year, only a fraction of the city's 150,000 to 200,000 street vendors had actually received them.
Formalization is one important response to precarious jobs. But it can't be a panacea, especially in places where the informal economy helps drive the formal economy.
---
Of course, tech is not the only industry in Bangalore and Silicon Valley. But the tech sector in both regions has entrenched wealth in ways that challenge low-income workers, while tax policies that favor large tech companies disadvantage smaller entrepreneurs.
Overall, Landa has mixed feelings about what the tech sector has done to the Bay Area. She squirms slightly as she talks about how the appification of food service has impaired local food businesses. "Tech has been a total double-edged sword," she says, carefully. "Rents are more expensive, but there's also an opportunity to sell to people who have a lot of money." Landa places some of the onus on protecting small businesses on the government. "There's a municipal responsibility to maintain the soul of urban environments, which is diversity and the ability of all kinds of people to make a living in an urban area."
Some tech giants are heeding these rumblings about their insulated office culture. Facebook's, for instance, announced plans to run a farmers market next year, along with the importance of being a good neighbor in its home of Menlo Park. And the new Facebook office in Mountain View, where the city has taken a more active stance against free-food culture, isn't allowed to offer free or heavily subsidized food to its employees.
In some ways, the Bay Area is trying to have it both ways: embracing street-food culture but not necessarily the people who have traditionally provided it. Some worry street vendors will flourish only when transformed into service organizations for tech campuses or tech-adjacent commercial centers. The SoMa StrEat Food Park offers one take on that future. It's a fenced-off space for upscale food trucks on the outer edge of the Mission District, a few blocks away from Adobe and Airbnb, and sandwiched between a Costco and the noisy 101 Freeway. Its partners include La Cocina, as well as companies such as Lyft and GoPro.
Here, food trucks thrive. Some are long-established local institutions; other, more trend-based trucks, come and go like rotating installations in a glorified food court. That might appeal to the local tech workers, but it offers less certainty for folks like Rosa Leon, the tamale vendor, who is still struggling to become legitimate, and her Bangalorean counterparts. By the time Leon and other immigrant entrepreneurs do so, there's a chance that they will have been displaced by others who had better connections and resources. Even if the food incubators succeed, they might be too late.