The Google Walkout Doesn't Go Far Enough
Thousands of employees around the world left their desks today to protest sexual harassment. But they're going to have to do a lot more to make lasting change.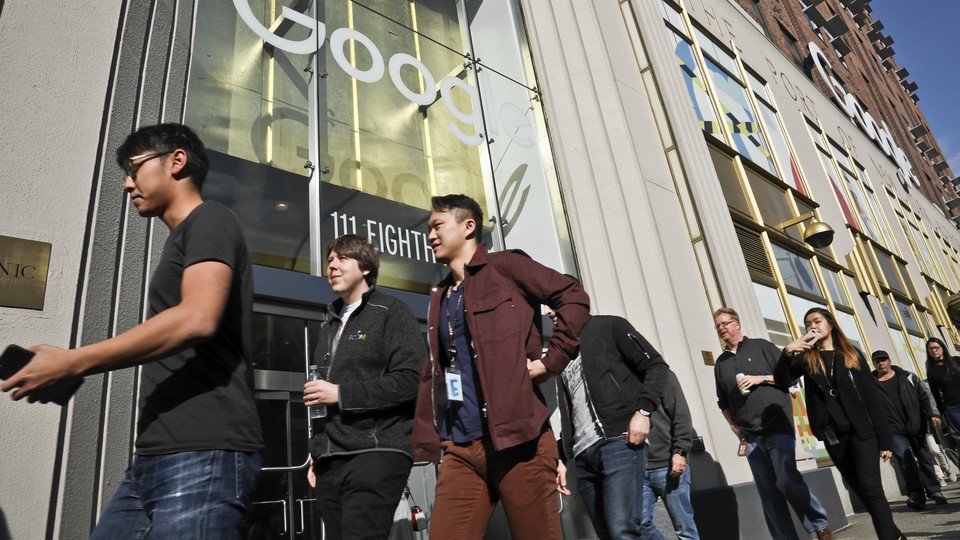 Google employees around the globe walked out of their offices today to protest the way the company deals with sexual harassment. It was a well-meaning, but ultimately empty endeavor.
The walkout, which took place at 11 a.m. in all time zones, was prompted by a New York Times investigation last month that alleged that the company had mishandled sexual harassment for years to protect key executives. Google said that it has fired 48 employees for sexual harassment over the past two years.
But many of Google's more than 85,000 employees want the company to do a lot more. One woman held a poster saying "What do I do at Google? I work hard every day so the company can afford $90,000,000 payouts to execs who sexually harass my coworkers." Others held signs saying "Time's up tech," "Workers' rights are women's rights," and "Not OK Google." In Mountain View, California, more than 1,000 employees left their desks, according to CNN. In New York, walkout co-organizer Meredith Whittaker addressed the crowd via megaphone. "This is a movement," she declared to cheers. "I'm here because what you read in the New York Times is a small sampling of the thousands of stories we all have ... the thousands of instances of abuse of power, discrimination, and harassment, and a pattern of unethical and thoughtless decision making that has marked this company for the last year ... This is it; time is up, and we're just getting started." The crowd subsequently broke into cheers of "Time is up."
In a Thursday op-ed in The Cut, the walkout's organizers outlined their demands: "All employees and contract workers across the company deserve to be safe ... We demand an end to the sexual harassment, discrimination, and the systemic racism that fuel this destructive culture," they wrote.
The group and its supporters are advocating for five key changes. They want an end to forced arbitration in cases of harassment and discrimination; a commitment to end pay and opportunity inequity; a publicly disclosed sexual-harassment transparency report; a clear, uniform, and globally inclusive process for reporting sexual misconduct safely and anonymously; and promotion of the chief diversity officer to answer directly to the CEO and make recommendations directly to the board of directors, along with the appointment of an employee representative to the board.
Sundar Pichai, Google's CEO, sanctioned the walkout. In an email to employees on Tuesday, he wrote, "I understand the anger and disappointment that many of you feel. I feel it as well, and I am fully committed to making progress on an issue that has persisted for far too long in our society ... and, yes, here at Google, too ... In the meantime, Eileen [Naughton, the vice president of people operations] will make sure managers are aware of the activities planned for Thursday and that you have the support you need."
Of course, not allowing the walkout would have only further sullied the company's reputation, and taking a public stance against sexual harassment in a post #MeToo era is hardly revolutionary. If the company truly wants to address deeper issues of sexism and harassment, meeting the organizers' list of demands would be a start. And if employees want to force the company's hand, they need to go further than a company-sanctioned symbolic walkout.
Just weeks ago, Google was forced to drop out of the running for a $10 billion cloud-computing contract with the Pentagon after internal revolt. In August, employees also protested after it was revealed that Google was developing a censored search engine for China. In a letter speaking out against the proposed partnership, Google employees declared, "We urgently need more transparency, a seat at the table."
Despite the fact that executives have repeatedly pledged to "do more" to work toward diversity, Google's 2018 diversity report shows that the company is still overwhelmingly white and male. Without aggressive work from senior leaders, the corporate environment is unlikely to change. It's telling that five out of the six organizers of today's walkout were women and that the walkout originally began as a 200-person "women's march."
Mary Rinaldi, the founder of the Women's Holding Company, a company aimed at helping female workers get legal advice, said that the PR attention the walkout received is a good thing, if interest can be sustained. "The #MeToo movement has uncovered all these things that have been happening in the shadows. It's new for society to start accepting that this happens all the time; these aren't one-off situations. The next step is to keep in the spotlight," she said.
Risa B. Heller, a crisis-communication expert, is also optimistic about the walkout's capacity to effect change. "These companies want to be a place where people want to work. They want people to be proud of working for them," she said. "These kinds of actions certainly make the executives pay attention."
But while a walkout may be a PR win, it isn't really affecting Google's business very much. "So far, #MeToo hasn't really changed anything in the legal realm of many businesses. While we've gotten rid of a lot of terrible men, it hasn't changed anything structurally," said Ashish Prashar, a crisis-communication expert with experience in politics.
The Google walkout, in particular, has done a great job of raising awareness of company wrongdoings, but at the end of the day, Google is a for-profit corporation. The way to negotiate with a for-profit corporation isn't through symbolism, but by jeopardizing profits.
"If women and men and anyone who supports these efforts had an actual strike, then you'd see lasting change," Prashar said. "They need to say we're not going to work unless these things actually change." He also doesn't see lasting changes coming from Google itself, or any other for-profit tech company for that matter. "It would be brilliant for businesses to do this [protect workers from sexual harassment and punish abusers], but to create a countrywide change, it's going to require state and federal government to come in and change the laws too."