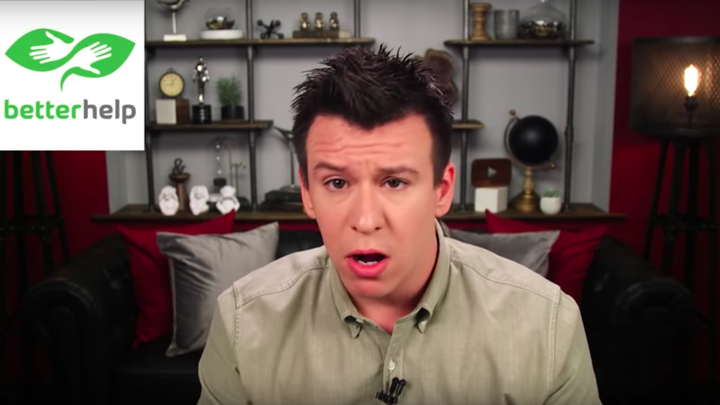 Some of YouTube's biggest stars have found themselves embroiled in controversy over videos that critics say allow them to profit off fans struggling with depression.
Over the past year, mental health and burnout have become big topics in the YouTube community. Stars like Philip DeFranco and Shane Dawson have posted heartfelt videos about their struggles with depression, encouraging fans to get help with their own issues. At the end of each video, they promote an online counseling service called BetterHelp, and include a referral link that earns them money every time a fan clicks the link and signs up.
me holding my emotional baggage. 🤗 on a serious note, thank u to @betterhelp for sponsoring today's video and for making a service for people like me who get anxiety about going to a therapist office. if you want help and want to give it a try go to https://t.co/Px5ZVazt3z ❤️ pic.twitter.com/jFQzJPhFg1

— Shane Dawson (@shanedawson) August 9, 2018
"If you're currently struggling with your mental health, I highly encourage you to reach out to someone," says Elle Mills, a YouTube star with more than 1.5 million subscribers, in a recent video titled "The Aftermath of My YouTube Breakdown." "In light of this video, I'm working with BetterHelp to help provide another resource for you guys." She then explains that the app will connect fans with a licensed therapist within 24 hours. Below the video is a custom referral link.
According to the Centers for Disease Control and Prevention, suicide is the third-leading cause of death for young people aged 15 to 24; some studies estimate that up to 20 percent of teens experience depression before they reach adulthood. For a starting fee of $35 a week, BetterHelp will match you with an online counselor who you can then speak to via text, phone, or video, theoretically making it easy for tech-savvy and time-strapped teens to get mental-health care. But some people who downloaded the app after being prompted to by their favorite YouTubers have claimed that it has far from helped them.
Read: The computer will see you now.
Eighty-six users have filed complaints about the app with the Better Business Bureau, a nonprofit aimed at holding businesses accountable for bad practices. In a Reddit thread, several users describe being charged excessive fees (likely due to the fact that they didn't realize the plan they had purchased charged the full annual fee up front), and claim the counselors on the app were unresponsive, unhelpful, or refused them treatment.
fyi the therapy service "betterhelp" that youtubers like shane & h3h3 are advertising is a scam & theyre paying these youtubers loads&theyre capitalising ur depression. betterhelp will scam u for ur money and their service is known to be awful. have a nice day

— iola (@IolaCoppard) October 1, 2018
As Polygon points out, BetterHelp's terms of service state that the company can't guarantee a qualified professional. "We do not control the quality of the Counselor Services and we do not determine whether any Counselor is qualified to provide any specific service as well as whether a Counselor is categorized correctly or matched correctly to you," the terms of service read. "The Counselor Services are not a complete substitute for a face-to-face examination and/or session by a licensed qualified professional."
YouTubers, sensitive to the growing backlash from their fans, have nearly all put their partnership with BetterHelp on hold after others on YouTube began calling them out. In one of her videos, the YouTuber Deschroma, who had never endorsed the app previously, said she "couldn't in good conscience" recommend the app to others. The YouTube channel Memeology 101 produced a nine-part series on the scandal, calling it "one of the biggest cons pulled by YouTubers in 2018." PewDiePie, one of the biggest YouTubers on the platform, has denounced the app and the YouTubers promoting it, saying in his own video, "BetterHelp turns out to be … even worse than what I thought."
Read: Social media is redefining "depression."
On Monday, the YouTuber Boogie2988 posted a 12-minute mea culpa video apologizing to his 4.5 million subscribers. "Here's where I really screwed up: I didn't read the terms of service for myself. I trusted the other YouTubers that were advertising it. And maybe that's not something I should do moving forward," he said. He also announced that he'd be donating all the profits he had made through the partnership to the National Suicide Prevention Lifeline and St. Jude Children's Research Hospital.
They have also invited me to their office to see and understand their team's full process & procedures in person. And even though I trust and believe them, until I do that and they reword their TOS, which they say they will, I'll be putting BH sponsor spots on a temp hold. (3/2)

— Philip "Not Your Daddy" DeFranco (@PhillyD) October 4, 2018
I will obviously suspend my sponsorship for better help until we know what is going on for sure.

But I never had any desire to do anything but help my fans.

— OogieBoogie2988 👻👻👻 (@Boogie2988) October 4, 2018
BetterHelp CEO Alon Matas responded to the controversy directly this week via a Medium post. In it, he says the allegations against the company are unfounded, and claims that quality controls are in place. He outlines the vetting process in detail:
We have a whole team that makes sure every provider we bring to the platform is fully licensed and in good standing. Providers who apply are required to provide proper licensure documentation, proof of identity, and references from other licensed practitioners who have worked with them. We then cross-check their licensure information with their respective state licensing board.
Additionally, our vetting process for each provider, which typically takes 4–5 weeks, goes well beyond checking credentials. Each potential provider needs to complete a case study exam by a licensed clinician and a video interview.
Matas also writes that the "ridiculous allegations" against his company have been entirely "fueled by YouTube drama that took a life of its own."
But YouTubers rely on trust and authenticity to grow their audience, and even an implication that they might be trying to sell a subpar product or service can damage the relationship they have with their fans. "I really wish big youtubers would stop pushing BetterHelp, its a scam and the fact they're (youtubers) making money off of exploiting mental illness makes me sick," one fan tweeted. "fyi the therapy service 'betterhelp' that youtubers like shane & h3h3 are advertising is a scam & they're paying these youtubers loads & they're capitalising ur depression," another said.
"Why do youtubers shove shit in our face like #betterhelp #freeiphones and stuff without trying it first or doing research?" a fan said today. "I've lost respect for some due to this better help crap. We're not dollar signs. We are supporters."
We want to hear what you think about this article. Submit a letter to the editor or write to letters@theatlantic.com.