Your Move, Alphabet Board
A New York Times investigation shows that Google executives repeatedly mishandled sexual-misconduct claims. How will its executives be held responsible?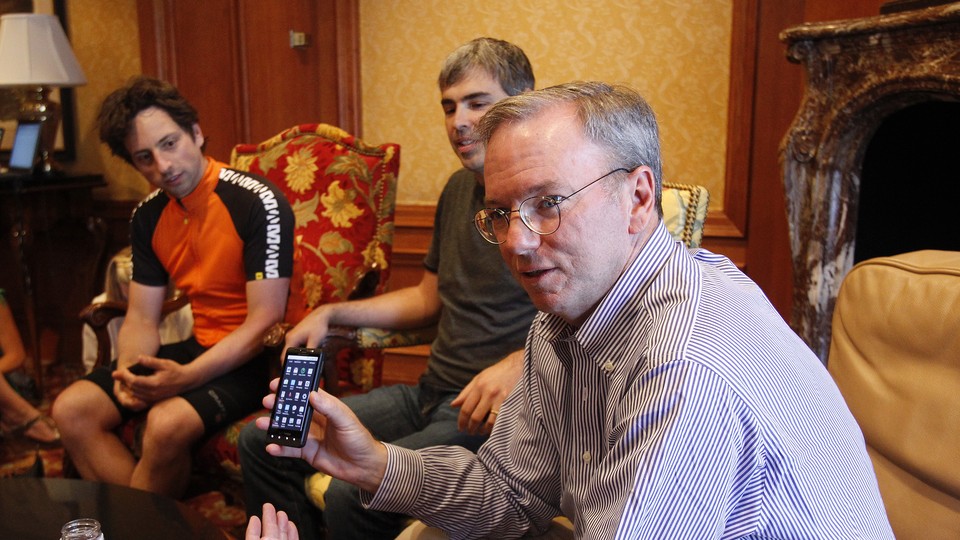 Can powerful men in tech who commit sexual misconduct be called to account, or simply paid to leave?
A blistering, deeply reported, year-in-the-making New York Times story makes the case that Google and its parent company, Alphabet, have a track record of quietly handling credible sexual-misconduct allegations while paying out and even celebrating the men responsible.
When Andy Rubin, who created Android, the mobile operating system that assured Google's centrality in a mobile-first world, left the company, he was given $90 million, paid out over four years. And yet, the Times reports, he was asked to resign after a Google investigation determined that a woman had made a credible claim that Rubin had coerced her into oral sex. (Rubin denied the allegation to the Times.)
Then there is the board member and former CEO Eric Schmidt, who "once retained a mistress to work as a company consultant, according to four people with knowledge of the relationship." Or the co-founder Sergey Brin, who "had a consensual extramarital affair with an employee in 2014, said three employees with knowledge of the relationship." And David Drummond, the chief legal officer, who had a relationship with a manager in the legal department; she moved out of the department, and Drummond moved up. And Richard DeVaul, a director at Google X, who tried to give a topless back rub to a job candidate at Burning Man. And Amit Singhal, a vice president who ran Search for the company: After a credible allegation that Singhal groped an employee at an office party, the company let him quietly resign with a multimillion-dollar golden parachute, which helped him land another lucrative job, at Uber, before the whole debacle was revealed.
In a company of tens of thousands, it is reasonable to expect some misconduct. But these people were part of the core leadership team at Google. The pyramids of employees that report up to them are vast. The man directly responsible for the payouts is, the Times shows, Larry Page, the co-founder and CEO of the company.
This is not just about rewarding the bad behavior of powerful men, but about the ways in which this culture pushes out women and sidelines their careers. For years, technology companies have argued that the reason for Silicon Valley's dismal rates of women in technical and leadership positions is a training and competence problem, basically. There are simply not enough qualified women to occupy the leadership or board roles at tech companies. But who can read a story like the Times' and maintain "the pipeline" is the problem with Google and other tech companies?
The mere existence of the Times article was made possible precisely because so many people inside Google knew about all these transgressions. What does that tell your female employees when they encounter a man in a position of power at the company?
"When Google covers up harassment and passes the trash, it contributes to an environment where people don't feel safe reporting misconduct," Liz Fong-Jones, a Google engineer, told the Times. "They suspect that nothing will happen or, worse, that the men will be paid and the women will be pushed aside."
After the Times article was published, Google's CEO, Sundar Pichai, sent an all-staff email noting that the company was taking an "increasingly hard line on inappropriate conduct by people in positions of authority" and had fired 48 people, including 13 senior managers for sexual harassment over the past two years. None of them received "an exit package." The company also requires senior managers to disclose any relationship with a co-worker, regardless of reporting lines.
But now what?
The Times article strongly indicates that Page has shown a lack of judgment that negatively affects the women of Alphabet, present and past. To have this record of facts come to light and do nothing is to publicly condone the way that these deals have been done.
Any motion to remove, or even censure, Page would face an uphill battle. Page is central to both Google's myth and its operations. There are only two women—Diane B. Greene and Ann Mather—on the 11-member body.
But there was once a time when Travis Kalanick and his bad-boy version of Uber seemed untouchable by the people tasked with governing the corporation. It's a new era. Alphabet's board owes it to the employees of the company to hold its executives responsible for a culture they've helped create and allegedly worked to conceal.