TikTok Is Cringey and That's Fine
A social platform can't scale without attracting normal users.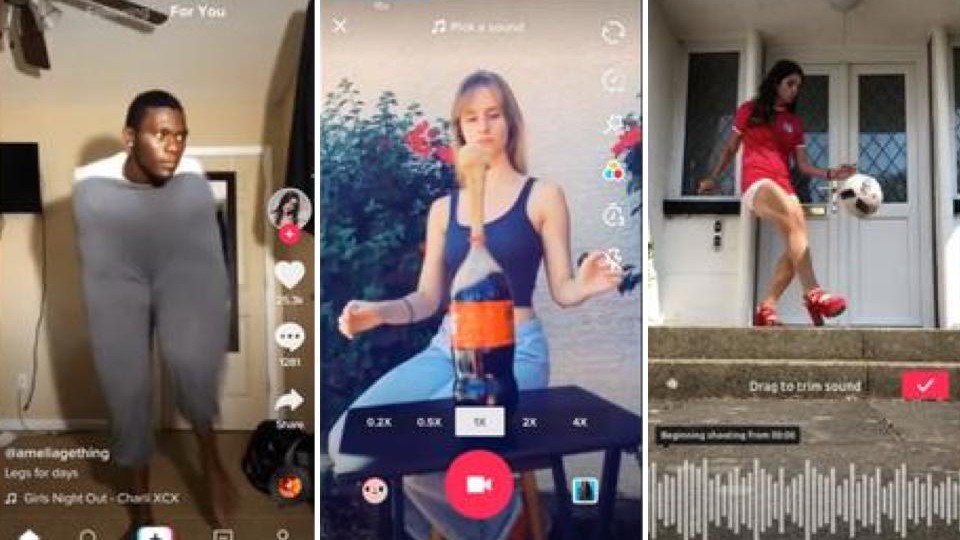 Over the past several months, TikTok videos have begun to go viral beyond the platform, racking up millions of views on Twitter and Instagram. They're easy to identify once you've seen a couple: 15-to-60-second-long clips set to music; often featuring someone lip-synching, dancing, or doing a trick; with TikTok's logo—the letter b, styled to look like a music note—overlaid on top. And the edits are fast: Watching too many in a row can feel like you're about to have a brain freeze. They're incredibly addictive.
The Instagram account @selfies_food_and_pets was early to catch on to TikTok's viral nature, racking up hundreds of thousands of views by sharing the best of the platform early on. But now it feels like every mid-level memer is posting the videos regularly. Even non-famous 14-year-olds have started interspersing them between other photos on their Instagram page.
Some of this rapid growth is due to an aggressive marketing campaign. ByteDance, the $75 billion Chinese tech conglomerate that owns TikTok, merged the app with Musical.ly, a similar app it also owned, in August. Since the merger, ByteDance has advertised the app seemingly wherever young people turn: TikTok ads are all over Snapchat and YouTube; there's even a wall plastered with the TikTok logo in Bushwick, Brooklyn.
As with any new short-form-video app, TikTok has invited debates about whether it's the next Vine (nothing is) or Snapchat (also no). But TikTok is hard to categorize. It's a social network with an impressive suite of video-editing tools, Snapchatlike AR filters, and features that let you sync your video to nearly any soundtrack you can think of. Lots of content on the app is lip-synching, but some of the most popular videos are of people dancing, cooking, doing Zach King–esque magic tricks, playing with pets, and reenacting comedy skits and old Vines.
The category most people on the broader internet use to describe TikTok is "cringe": It's so painful and embarrassing that a viewer can't help but laugh. There are endless TikTok cringe compilations on YouTube, many with millions of views. Earlier this month, a thread of "cringey" TikTok videos went viral on Twitter. In one video, a woman standing in front of a bathroom mirror does thumb movements to a Yo Gotti and Nicki Minaj song before panning up to reveal that she's filming by holding the phone in her mouth. In another, a man wearing a Walmart vest dances emphatically to Rihanna's "S&M" in front of a Confederate flag in his bedroom.
Because the app merged with Musical.ly, which most people associated with children, there's a prevailing notion that adults who make content on TikTok are creepy and weird. "Adults are just learning what it is and getting on there," Jack Wagner, a popular Instagram memer and internet personality, told me. "I haven't seen one piece of content on there made by an adult that's normal and good. To be a grown adult doing a cute karaoke video on an app and trying to make it go viral is odd behavior."
But most adults using the app aren't trying to go viral: They're making TikTok videos because it's fun. As Kyle Mabson, the Instagrammer behind @selfies_food_and_pets said, "A large portion of people on there are just like, 'I love this Evanescence song and I need to show people my interpretation.'" In a world where everyone's content inevitably begins to look the same, TikTok videos feel bizarre and new. It's an app full of people posting strange content to the internet with zero self-awareness or shame. That's easy to mock, but it's also what may lead to TikTok's success.
For any platform to become mainstream it must first become less cool. Many people thought that anyone older than 18 posting photos to Myspace, sharing their life on Facebook, blogging on Tumblr, staging photos on Instagram, or using Snapchat was cringey. Some people still do, but for the most part, using these platforms has been normalized. Besides, everything about social media is mortifying and cringey, but it gives us an outlet for expression and a way to connect with new people, so we use it.
This is not to say TikTok will necessarily be the next massively popular social app—that depends on myriad other factors. But for a social platform to successfully grow, it must reach the confused parents, the people who don't quite know when the camera is recording, the ones who get a little too personal, or who aren't Instagram-influencer attractive but have the gall to put themselves out there anyway. TikTok doesn't need to cater to a subset of blasé hyper-online edgelords to reach masses; it needs to appeal to average users. And while the internet is hating or making rude edits, TikTok is saturated with locals having a great time.
To succeed, a platform also needs to welcome niche communities. TikTok is home to groups of contortionists, furries, cosplayers, fitness gurus, new parents, nurses, cops, Marines, adult babies, goth kids, and more. Some of the most popular TikTok cringe compilations and Twitter threads mock these people, but users in these communities say it's the internet bullies who don't get it.
Natalia Mitchell, a college student who identifies as a furry and asked to be referred to using gender-neutral pronouns, posts videos of themself dancing in a fox costume. Mitchell said they noticed a spike in harassment over the past couple of months after TikTok began heavily advertising on YouTube, and believes some people sign up for TikTok just to make fun of users like them. "If you're abnormal in any way, shape, or form, kids will come on and make fun of you," Mitchell said. "LGBT, disabled, or anyone in a fandom that's anything outside of the norm [will get harassed]. I don't really let it get to me; it's just horrifying to see which direction the internet is going." Despite the harassment, Mitchell said they still "genuinely enjoy" using TikTok and won't stop posting.
And besides, TikTok stars may get the final laugh. As viral cringe compilations continue to spread, more people are becoming aware of the app and downloading it, and many who do love what they find.
"TikTok is not merely an app, it's an experience. It's an avenue to a different world," Hardik Rajgor, a writer in India, recently explained in a piece defending the app. "It's not populated only by your friends, people like you, or those belonging to the same economic, social, and cultural environment as you … On TikTok, there's place for everyone, and that is its beauty."
"Man," one man recently wrote on Twitter, "i swear i've seen some of the best content ever on the godforsaken app that is tiktok."