The End of Cheap Shipping From China
The White House wants to put an end to low-cost shipping from overseas, a move widely supported among U.S. e-commerce sellers.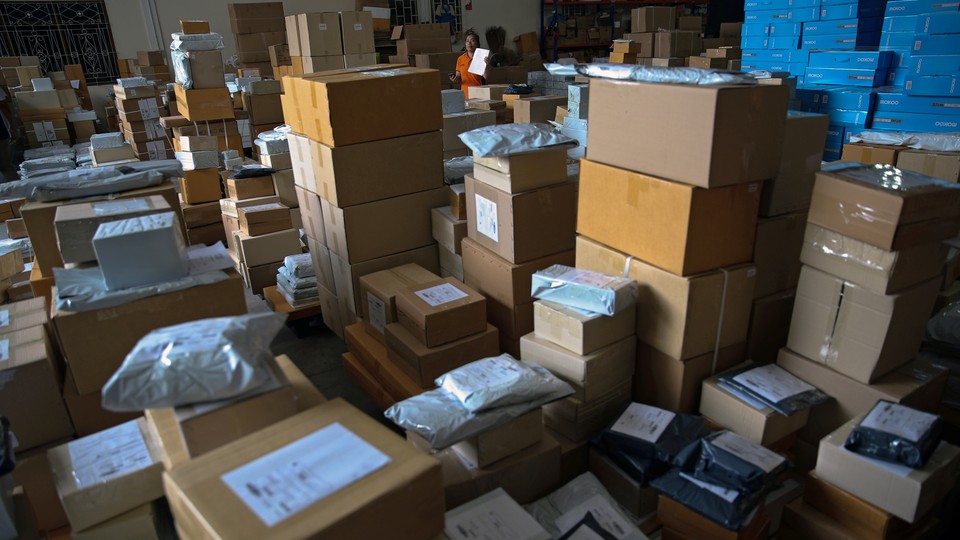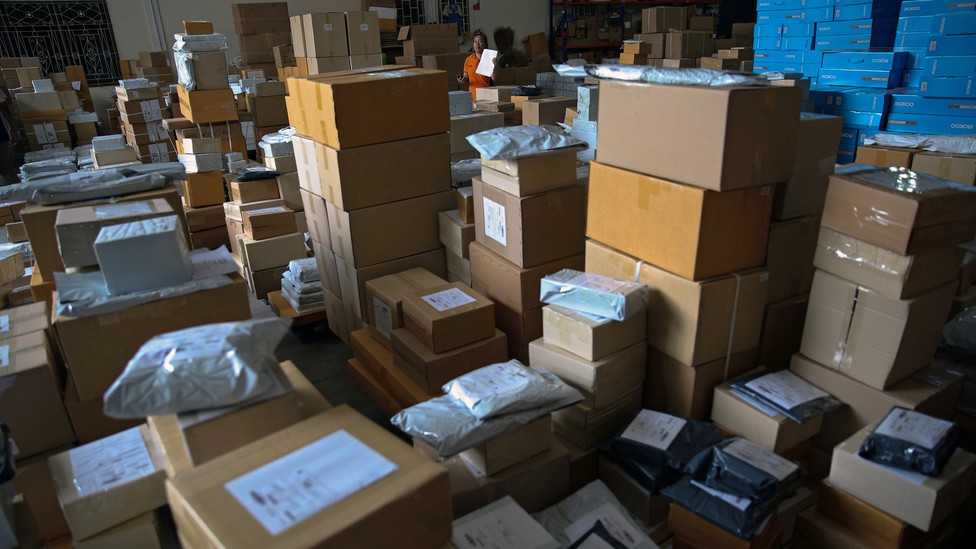 Every day, Americans buy tens of thousands of cheap products from China—jeans, electronics, things made of plastic. Two months ago, I even bought a wedding dress.
We buy stuff from China mostly because the low cost of living and lax labor regulations allow manufacturers to make products cheaply there. But there's another reason, too. It's really cheap to send stuff from China to the United States, which means sellers there can charge barely anything to ship an already-cheap item 6,000 miles across an ocean. Want an eyebrow razor? On Wish.com, a site that sells products directly from China, you can buy one for 95 cents, plus a $2 shipping fee. A similar eyebrow razor on Walmart.com, by contrast, costs $2.62 for a three-pack, but there is a shipping fee of $5.99. According to congressional testimony, at current rates, shipping a parcel to Fairfax, Virginia, from North Carolina would cost $1.94. From Shanghai, it would be $1.12.
President Trump has vowed to alter this equation, announcing on Wednesday that he is instructing the U.S. Postal Service to levy higher fees on packages from international destinations, including China. The announcement was not very controversial: A variety of parties involved in e-commerce, from Amazon to U.S. small businesses to sellers on eBay, have been calling on the United States for a long time to charge more for delivery on behalf of foreign postal carriers. The changes could help U.S. small businesses better compete against Chinese merchants while also slowing the flow of counterfeit goods shipped cheaply from overseas.
For more than a century, postal services in various countries have, through the Universal Postal Union, agreed to deliver mail that originated in another country. This service used to be free, until a 1969 update required that postal services pay one another "terminal dues"—fees for delivering another country's mail—based on how developed a country was: Countries whose postal services were still in transition could charge high dues, while developed countries like the United States would have to charge low dues. In 2006, a new law allowed the United States to enter into bilateral agreements with foreign posts, and essentially agree on terminal dues on their own.
In 2011, when e-commerce really started taking off in the United States, the U.S. Postal Service entered into a bilateral agreement with China Post that gave sellers first-class tracking and delivery confirmation for very low rates as long as an item was an "ePacket" product, weighing less than 4.4 pounds. With shipping so cheap, and manufacturing in China already so inexpensive, the goods started flowing. The volume of ePackets more than doubled from 2014 to 2016, according to the Postal Service. This helped bring in about $493 million in revenue for the USPS, but also added some costs. Specifically, because it's so expensive to send a product to China, packages that had to be sent back because they were undeliverable cost the USPS anywhere from 20 cents to 57 cents each.
That wasn't the only problem created by the flood of goods from China. Much of the fentanyl currently circulating in the United States has come from online sellers in China. Shipping small electronics and cosmetics across the sea is bad for the environment: One container ship causes as much pollution as 50 million cars. And many of the goods making their way here are cheap knockoffs of products made in the United States. But they're inexpensive, so Americans keep buying them.
Wednesday's White House announcement means the United States will soon adopt its own self-declared terminal dues. The United States will also file a notice that it will withdraw from the Universal Postal Union, the White House said, though if it can negotiate new agreements with other countries, it will not withdraw.
The announcement is quintessential Trump—it shatters decades-old respected treaties and threatens to withdraw from an international consortium unless other countries accede to the wishes of the United States. But it would be a boon for the U.S. small businesses competing with Chinese sellers on sites like eBay and Amazon, as well as the brick-and-mortar retailers trying to keep up with online sellers who sell cheap goods from overseas. "U.S. Amazon sellers will no longer need to compete so narrowly on price due to the level playing field," said Chris McCabe, who for six years worked for Amazon, reviewing and suspending seller accounts, and now runs a seller consultancy, ecommerceChris.com.
Mike DeVries lives in Iowa and has a store on eBay where he sells parts for agricultural equipment. A few years back, he was selling wheel bearings for a certain brand of lawnmower on eBay for $5 to $8 a piece. He also charged buyers for the cost of shipping. But all of a sudden, his sales stopped. No one was buying the wheel bearings anymore. He went online to see what had happened, and found that a seller in China was selling 20 wheel bearings for $9.99, plus free shipping. The Chinese seller was using ePacket to deliver the bearings, meaning they were paying almost nothing for shipping.
It wasn't just the ball bearings, DeVries said. Anything that could be sent in an ePacket—essentially anything that weighed less than four pounds—wasn't selling anymore, because Chinese sellers were edging him out, he said.
DeVries wrote a letter to his senator, Chuck Grassley, but Grassley wrote back saying he was powerless to do anything, DeVries told me. So he stopped selling items that could fit into an ePacket. Since then, he has worried that the U.S. Postal Service will enter into another treaty with China, allowing sellers there to send even bigger packages at low rates.
DeVries knows that the announcement from the White House might make buying things from China a little more expensive, but Americans should have to go through a little pain to reorient where they shop, he said. DeVries likens the current challenges to the removal of a tattoo. It hurt when America got its "tattoo" and entered into trade agreements decades ago. And now it's going to hurt to remove that tattoo. "There's going to be more pain ahead," he said.
The change will primarily benefit sellers on eBay, who set their own shipping rates. But Amazon and its sellers stand to gain, too. "International shipping agreements should not create or maintain artificial distinctions among sellers," Paul Misener, Amazon's vice president for global public policy, said at a congressional hearing about terminal dues in 2015.
Changes to shipping rates from China may also help Amazon stem the flow of counterfeit and knockoff goods from other countries being sold on its platform. Christopher Johnson, an attorney with Johnson & Pham who represents sellers taking legal action against people selling knockoffs on Amazon and other sites, said the ePacket rule "effectively allows a counterfeiter to directly mail counterfeit goods to the U.S. for virtually nothing, while it would cost you or I six times that amount to mail a similar product across town."
The China-U.S. shipping rule is a strange arrangement that has begat many strangenesses, but one of the oddest is that shipping things to China is still very expensive. Consumers are purchasing things from sites like eBay, realizing that the product is different from what they thought and then, when they go to return it to China, finding out that the cost to send it back is prohibitive.
This happened to me with the wedding dress I bought from China on the site Etsy. I'd purchased the item in the first place because the shop accepted returns, which is rare for a bridal shop. I waited six weeks for the dress, which cost less than $300, tried it on, and then realized it was not at all flattering. I contacted the shop owner, who told me to send it back. The package weighed almost nothing, but FedEx and UPS each told me it would cost about $180 to send from San Francisco to Guangdong Province; the U.S. Postal Service quoted me about $150. The Chinese seller told me many of the dresses customers had sent back recently through the U.S. Postal Service had gotten lost, and ultimately I decided the risk of paying $150, only for the dress to disappear, wasn't worth it. Instead, I stuck it in the bottom of my closet, and hope to one day sell it online, where I'll likely compete with dozens of sellers, from China and around the world. But maybe now it'll be a little easier to do so.