The Teens Who Rack Up Thousands of Followers by Posting the Same Photo Every Day
A new meme format on Instagram is giving kids a low-pressure way to express themselves, make friends—and go viral.
Every day for more than a year, Joey, a 15-year-old high-school student, has logged on to Instagram and posted the exact same photo of Otis, a cartoon cow from the children's TV show Back at the Barnyard, to an account that now has almost 30,000 followers.
"For the first couple weeks, the account was only followed by my friends mostly, and a few other people I didn't know," said Joey, who, like all the teenagers quoted in this story, asked to be referred to by his first name only. "Over time, it just started to grow crazy amounts of followers, so I started to get committed and continue to run it."
Joey is not alone in this endeavor. His account, @daily_otis, is one of thousands of Instagram accounts dedicated to filling its feed with the exact same photo. There's @samepictureofatoaster, @samepictureofbrick, @samepicofplunger, @samephotooftaylorswift, @samepicofanuggetdaily, and many more.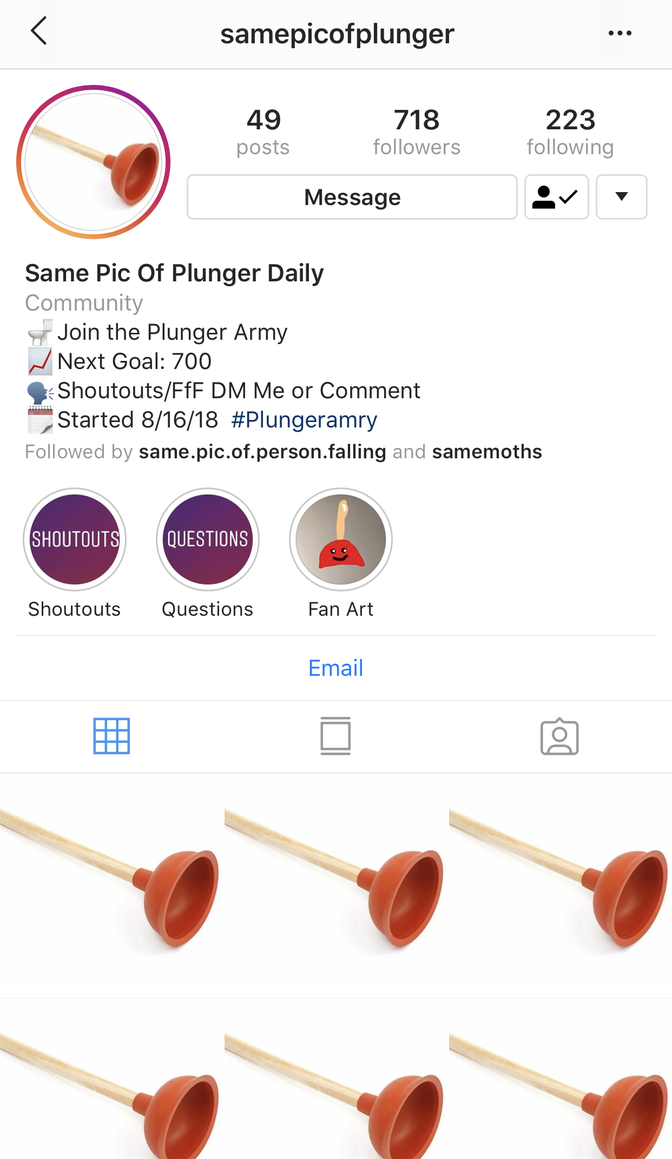 "Same photo every day" accounts are a subgenre of interest-based "daily" accounts, dedicated to posting one thing within a set theme every day. But over the past year, they've become more popular. "It's just trendy now," said Lily, a 19-year-old who posts the same photo of her friend every day.
Many adults might be mystified by the appeal, but teens told The Atlantic that they love the absurdist humor. "If people see an account that is posting a toaster, for example, every day for no real reason, they see it as some ironic and funny thing," Joey said. The fact that someone has devoted such an enormous amount of effort to maintaining something seemingly so meaningless is also part of the appeal. "They're so dedicated," Lily said. "The dedication is so funny."
A subset of same-pic accounts, such as @samepicofmrbeast, also warp the photos more and more every day. Fans think it's funny to watch the image degrade over time.
maybe the coolest riff on the same pic account is this one that focuses on the same pic of guy fieri. every day the teen who runs it manipulates his photo so he looks a little bit more ghoulish. the result is a grid that is basically art: https://t.co/30cBHEv7Oh pic.twitter.com/aPIoJnkrjy

— alyssa bereznak (@alyssabereznak) October 2, 2018
And while these accounts post the same photo every day, their captions and Stories change. Some teenagers who run single-pic accounts use their page as a sort of diary or anonymous blog, posting about what's happening in life and at school, or how they're feeling. "I had to pack the whole day and today I was on an airplane for like 8 hours," the owner of an account that posts the same photo of a watermelon every day wrote. "Ya girl graduated grade 8," the owner of @same_picture_of_kun said. "Catch me being late to my first day of summer school," they added on another pic.
Miranda, a 14-year-old who runs @same.picture.of.kumquat with two friends from her high school, said they started the account as a de-stressor and outlet. "It's personal-life captions for not such a personal picture," she said. "It takes the pressure off of having to post a pic of your face or something. We don't have to edit any pics; the followers know what they're getting. We can just post a quirky caption about our life at the moment and they relate."
According to Leonie, a 14-year-old who has gained nearly 10,000 followers from posting on @thesamephotoofbanana, lots of single-picture accounts are really just a gateway to following someone's Stories. Though she posts the same image of a banana every day to her main feed, her Stories are alive with revealing quizzes, responses to questions about highly personal things such as her most embarrassing memory, and relationship advice.
"It's just another way to post and talk to people," said Ella, a 16-year-old who runs @same.picture.of.kumquat with Miranda. "Our other accounts are more private. Here we can talk to people from other places, just have conversations, see what people think of ideas, and branch out from the people we're always talking to. After a while, everything here becomes the same. It's nice to see what else is out there."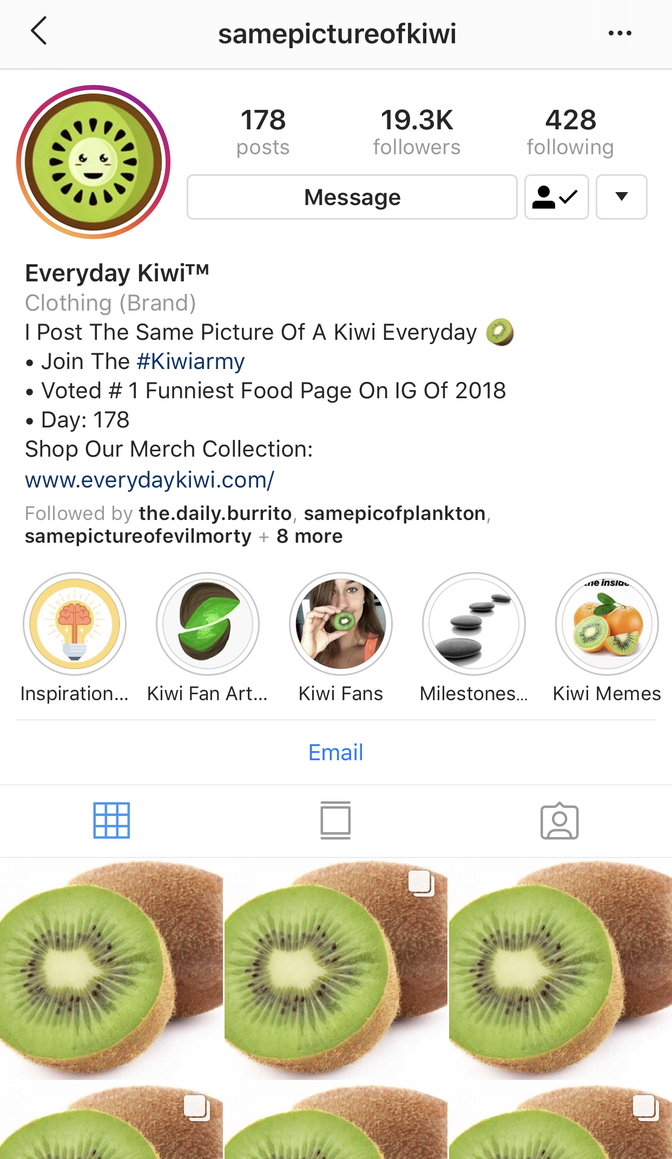 Of course, the rising follower count is also a perk. "It's an easy way to get followers," said Jake, the 14-year-old admin of @samepicofmrbeast.
Ivan, a 15-year-old, started @samepictureofatoaster after seeing a similar account in April. "I called my friends and we decided to all do it as a race to see who could get to 1,000 followers first," he said. He now has almost 50,000 and has received three free toasters from Hamilton Beach, the manufacturer of the toaster featured in the image he relentlessly reposts.
Ivan said he works hard to maintain his audience and spends about an hour a day on the account, responding to comments and coming up with creative ways to engage his following. He recently launched a Discord chat for fans and is planning to branch out into merch. "Every person I run into who does this is in high school, middle school, and some in elementary school, not a lot of people in college," Ivan said. "You don't see old people running these things. Younger people have more time on their hands."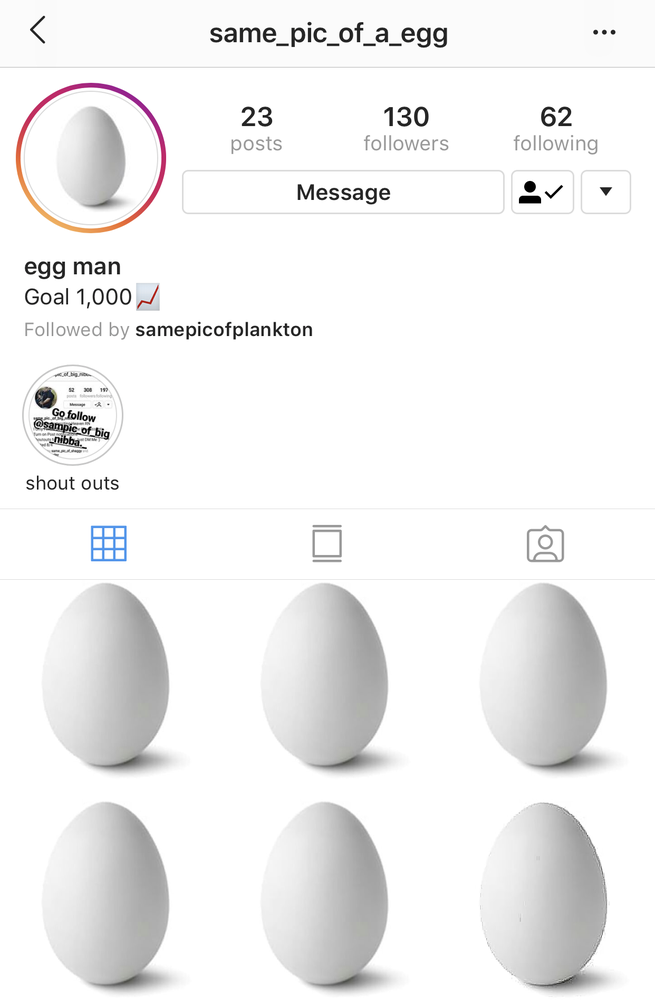 Same-pic accounts primarily grow followers by commenting on other high-profile accounts with lots of followers, and can be found doing so on every major (and many not-so-major) celebrity account, including those of Beyoncé, Taylor Swift, Emma Stone, and nearly every YouTuber you can think of. The Instagram co-founder Kevin Systrom's comments are flooded with them.
Kids say commenting like this is a way to introduce their page to new audiences in addition to the Explore page. In some lucky cases, the bigger account will notice them and follow back, which will result in a slew of new followers. Ethan, a 14-year-old who runs @same_photo_heihei, commented on an Instagram photo from Noah Schnapp, the 14-year-old star of Stranger Things, and after Schnapp replied to his comment and followed him back, he gained thousands of followers.
Single-pic-account admins also like to promote themselves in the comments of other same-pic accounts. Maxwell, a 16-year-old who runs @daily_baby_penguin, told me he's part of two community group chats on Instagram in which his fellow same-pic admins "support and promote each other."
Though some single-pic accounts post referral codes or offer shout-outs, where they'll tag another person's page and tell people to follow, for anywhere from $10 to $25, no one I spoke with said they did this for the money. Mostly, they say, it's just about seeing how far they can go. Plus, if their account gets big enough, they can just sell it or change it into something else.
"I started this account because I want to go viral and I want to be an Instagram sensation," Maxwell joked. "JK," he added.
"I'm not the type of person like I need thousands of followers," Lily said. "But why not? It feels good; it's not hurting anyone to gain followers. This is 2018. We do what we want to do."