A Long-Term Solution for Scooter Sharing
San Francisco's scooters are back, and newly regulated. But is regulation enough to make them work in the long term?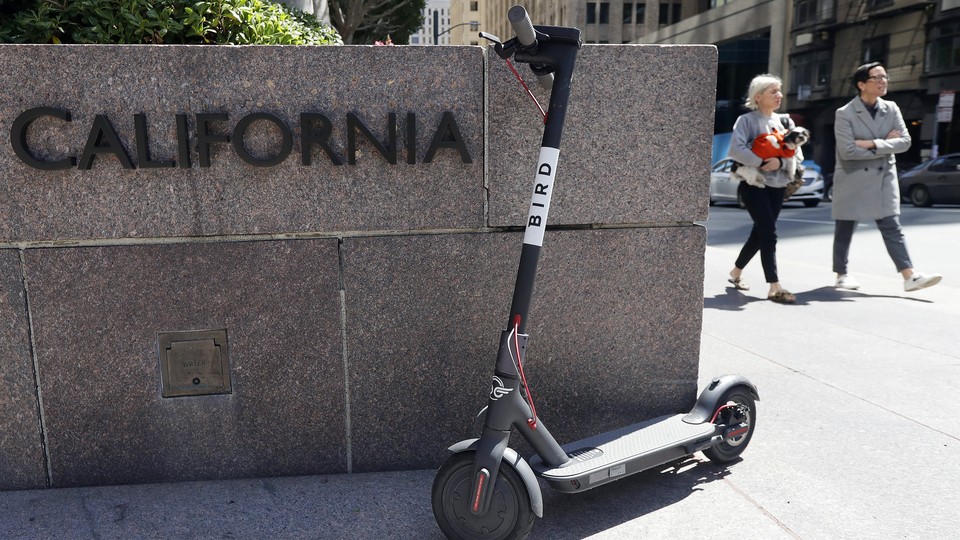 On Monday, after the great scooter wars of the spring and the hotly contested permitting process of the summer, e-scooters will relaunch in San Francisco. The San Francisco Municipal Transportation Agency (SFMTA) blessed two companies—Skip and Scoot—of the 12 that applied for a license with the right to operate a pilot program within the city. Starting now, residents and visitors will get to see what a regulated scooter system looks like.
The rollout will be smaller and more controlled than last time, when the scooters were described as a plague, a nuisance, and a piece of a "zombie apocalypse thriller." One day, no one had seen a scooter on the sidewalk, and within a couple weeks, everyone had. Bird's CEO even began imagining 10,000 (!) scooters in San Francisco. The demand and the backlash accelerated in lockstep.
Skip and Scoot's regulated adventures will be a test case not just for San Francisco and these particular contraptions and companies, but for how cities, generally, will incorporate all the new "micro-mobility" options into their established transportation systems. Jet packs are entirely beside the point; fleets of small, shared, gyroscopically stabilized, wheeled vehicles look like the future. That is, if these companies can manage the quotidian hassles of scooter-strewn streets.
---
Scooter proponents argue that scooters reduce dependence on cars. That communal benefit is far from proven, but cars, of course, do impose tremendous externalities on cities. Since 1946, they've killed more than 30,000 people a year. Air pollution shaves years off lives. And "light duty" vehicles, i.e., people's regular automobiles, are responsible for 17 percent of American greenhouse-gas emissions. Cities have been reshaped by car drivers in more subtle ways, too, as they suck in subsidies for parking and highways, making it easier for metro regions to sprawl.
Inside the ubiquity of the automobile, ride sharing snuck into cities, a new form of transportation camouflaged as regular old cars with funny mustaches and glowing signs. By the time cities acted, Uber and Lyft had established a base of users who pressured their representatives to just look the other way on the taxi rules. And that mostly worked.
But the scooters were unmistakably new. Having learned lessons from a decade of new tech deployments in the city, San Francisco banned them in June, less than three months after they ran over the first pedestrian toe. There would be a process, and that process would work like a government transportation program, not like a start-up. "It's clear that many of these companies continue to build corporate empires off of a basic premise," said City Supervisor Aaron Peskin at a city meeting. "Making massive profit always trumps protecting the public, and innovation is only possible by cutting corners."
This time around, for example, Skip will concentrate scooters near the downtown core (including SoMa, where many tech companies are located). The company's application to the SFMTA was remarkable for its focus on becoming a part of the city's official infrastructure. It pledged to create a community advisory board with most members appointed by supervisor district, and planned to track the scooters' progress serving as a feeder system into the bigger public-transit systems. Skip's services will be new to the city, and yet the company committed to throwing down $1 million in labor training and transportation advocacy. For comparison, the 45-year-old SF Bike Coalition's total budget is $2.4 million.*
---
Skip's co-founder and CEO, Sanjay Dastoor, believes the scooter problem is not really about the people riding scooters. They're happy, more or less, based on the company's experience in Washington, D.C. Riding on a scooter is, after all, a fun experience for the individual! The problem is that the people who are not riding them aren't happy. Scooters take from the city commons. During trips, they clog bike lanes or endanger pedestrians on sidewalks. Parked, they block ingress and egress, clutter yards, and otherwise inconvenience people. There is, to borrow a phrase from transportation economists, "a gap between [the] private and social cost" of scooter travel. In economic terms, whatever the utility of the scooter for the rider, the public bears the externalities.
"The question is: How do we get the people who aren't using the scooters to feel the system is working for them?" Dastoor said.
One step is a lock-to system that Skip is developing, which will keep scooters attached to existing bike-locking infrastructure—and off of sidewalks. Another is rider education, especially trying to get people to ride in the street like they are supposed to do. But riding in the street without a bike lane can feel dangerous, so Skip has committed $500,000 to lobby for improved infrastructure.
There's also just basic responsiveness to citizen concerns. In Washington, Skip asked the city's department of transportation to tell it where the big trouble spots were for citizens, Dastoor told me. It found that most of the complaints were not about scooters in motion, but what they're doing when they're not getting used. So, Skip did something simple: It offered a phone contact for the people making complaints to the Washington DOT. It's not rocket science, but it is antithetical to the way that most start-ups work.
"It's really easy to not want to listen to those folks," Dastoor said. "If you're growing really quickly and serving your riders, it's easy to say, 'We'll return your call later.'"
And that really is the rub. The many mobility start-ups could make life much easier for city residents who don't use their services, but that has not been their top priority. In the first San Francisco rollout debacle, Lime claimed it was only "popping up" its service, but that caused Bird to jump in, guns blazing, despite the city asking the scooter companies to wait on regulation. And Spin didn't want to be left behind and deployed, too. It was a messy scramble for customers. "Other companies think this is like software companies: Acquire as many users as possible, then later we'll figure out how to make money," Scoot CEO Michael Keating told us. "That mentality isn't really sustainable."
---
Blowback from local governments could slow adoption beyond scooters, including a variety of new vehicles that also promise to change the way we move around the world's cities. Scoot's Keating estimated that all the different small, electric vehicles (including future autonomous ones) could make up 25 percent of all travel within global urban centers over the next 10 or 20 years. Those services would aspire to push people away from owning their own cars powered by fossil fuels. The larger system could deliver the same or greater mobility for people, as each different kind of electric vehicle meets a particular tranche of uses.
In the meantime, however, there are so many things that need to be worked out. Who, for example, should regulate small electric vehicles? Departments of Motor Vehicles could be pressed into service, but that might be overkill for a one-wheel or an electric scooter. After all, bikes need not be registered with the DMV. At the same time, it feels like someone should be checking these things for roadworthiness.
And then there is the helmet problem. If scooter riding dramatically expands in San Francisco and across the country, people are going to get hurt. What responsibility do these companies have to ensure that people wear a helmet, aside from encouraging them to wear a helmet?
But if the many kinds of micro-mobility can be worked out, the scooters and mopeds and electric bikes and one-wheels will fundamentally change city transportation systems, and in so doing, reshape the economic geography of cities. "The history of transport and real-estate values are so closely tied," Dastoor said.
So: Buy land near the best bike lanes?
---
Ian Bogost contributed additional reporting to this article.
---
* This article previously misstated the SF Bike Coalition's budget.