A Giant Midterms Spending Gulf on Facebook
In the most recent data, Democratic candidates and their affiliates spent more than three times as much money as Republicans.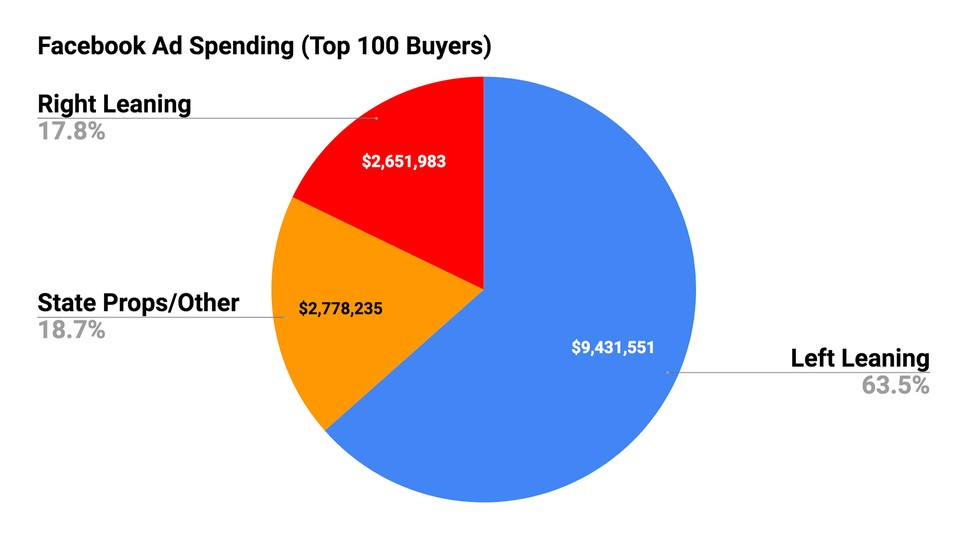 If a blue wave does not materialize in the upcoming midterm elections, it won't be for Democrats' lack of spending on Facebook.
According to an Atlantic analysis of the top 100 spenders, left-leaning candidates and causes spent $9.43 million from October 21 to October 27 alone, the most recent period for which Facebook data is available. The big spenders on the right spent only $2.65 million.
The top 100 ad buyers on Facebook included 55 left-leaning organizations and candidates, compared to just 22 from the right wing. The remaining 23 big spenders focused on state propositions or corporate campaigns.
Some of the Facebook ads were fund-raising appeals. Others helped candidates generate lists of interested voters through calls to fill out forms or quizzes. But given that the week in question aligns with early voting, most of the ads were targeted get-out-the-vote messages.
In the postmortems of the 2016 election, Donald Trump's political advertising on Facebook—among other things—was seen as a key part of his victory. Trump continues to be the largest Republican spender on ads. In many statewide races, Facebook ads still play a tiny role, with TV continuing to soak up the lion's share of political dollars. Meanwhile, among commercial advertisers, digital spending has now surpassed television. If the history of commercial and political advertising is any indication, campaigns are likely to follow the digital pivot sooner or later.
This time around, the biggest spenders are all on the left. News for Democracy, a project of MotiveAI and outside backers, spent $1.16 million. Beto O'Rourke, the Senate candidate from Texas trying to unseat Ted Cruz, spent $939,000. Priorities USA and Senate Majority PAC, both liberal groups, combined to spend $807,000. MoveOn, a progressive advocacy group, spent $541,000. And Tom Steyer's Need to Impeach campaign spent $378,000.
The only conservatives who appear among the top 25 spenders are Donald Trump and Greg Abbott, the governor of Texas.
While paid media on Facebook slants Democratic, the conservative-news infrastructure continues to dominate organic Facebook views, with Fox News, Breitbart News, and a host of shadier sites routinely at the top of the most shared lists on the social network.
It's just one more set of crosscurrents that make this midterm election so difficult to forecast.