Instagram Is Teeming With Anti-Semitism
And some users say the platform isn't properly addressing their concerns.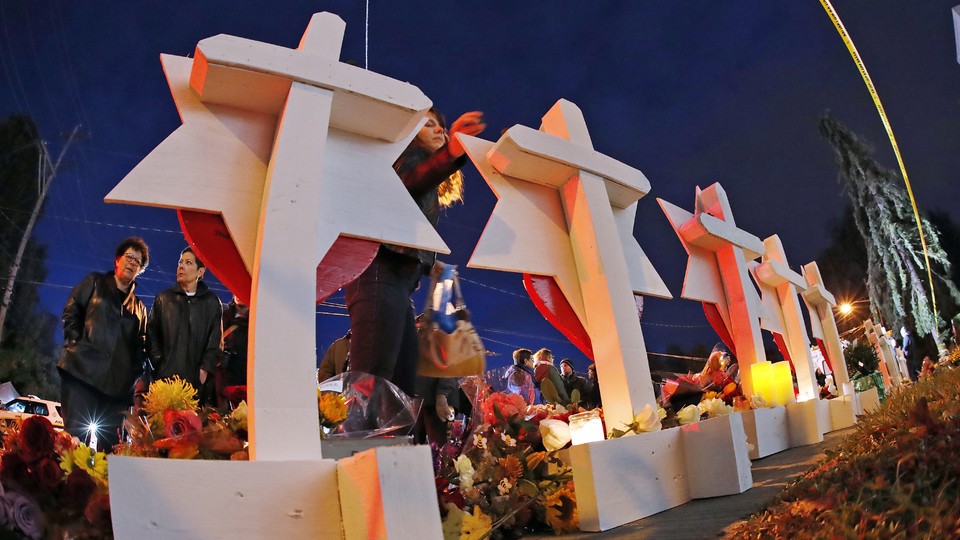 On Saturday afternoon, as the media descended upon the alleged Pittsburgh shooter's long trail of anti-Semitic social-media posts, Kate Friedman Siegel began to feel frustrated. To her, it all felt familiar. In fact, she had reported similar messages to Instagram just last month, and watched the platform do nothing about them.
Siegel shared screenshots of two anti-Semitic memes she had received via Instagram direct message in September, both of which the platform failed to take action on. One featured an oven with the phrase Jewish stroller plastered on top. The other was a Dr. Seuss parody book cover titled "Horton Hears a Jew," by "Dr. Goebbels."
Are we sure this doesn't "violate community guidelines," @instagram? I'm rarely able see follow up on the (many) reports I submit on the anti-Semitism we receive, bc I get too many notifications. I did catch this one, & it worries me that this is the response to all my reports ... pic.twitter.com/WsO5jSMsue

— Crazy Jewish Mom (@crazyjewishmom) October 27, 2018
Update! @instagram just deleted MY post asking why they allow Nazi propaganda on their platform, saying that MY post violated community guidelines. Guess complaining about community guidelines is against community guidelines. Swastikas are cool though. pic.twitter.com/oiREkRYsgt

— Crazy Jewish Mom (@crazyjewishmom) October 27, 2018
Siegel initially joined Instagram under the handle crazyjewishmom in 2014 to share funny text messages from her "crazy Jewish mother." The account went viral; she now has nearly 800,000 followers, has written a book based off her Instagram account, and hosts a weekly podcast advice show.
Siegel has received anti-Semitic messages since she started the account. But recently, they've reached a fever pitch. Siegel said she's been tagged in memes that depict Adolf Hitler doing the Nazi salute, people desecrating the Israeli flag, people Photoshopping her as Anne Frank, people joking about putting her into a gas chamber, and worse. She reports the ones she sees to Instagram, but she gets so many notifications that there's no easy way for her to keep track of which reports Instagram has taken action on and which it hasn't.
In some instances, like the one she tweeted, Instagram has claimed that the content doesn't violate community guidelines. One account that previously tagged her in a post joking about Jews going into a gas chamber is still active. Another appears to have simply changed usernames. "Sunday [after the shooting], I did a live-stream and someone came on and commented 'Hitler rules,'" she said. "I reported them, but who knows what happened."
While many users see Instagram as a bastion of lifestyle, entertainment, and humor content, the platform is also rife with anti-Semitism. Before it was removed, a search for the word Jews revealed 11,696 posts with the hashtag "jewsdid911," The New York Times reported on Monday. It took me only three clicks to find a slew of anti-Semitic memes on Tuesday morning, including one where a person debates killing all Jews, one with a SpongeBob SquarePants character doing the Nazi salute, one that has a German cartoon character singing the tune "I'm dreaming of a white Christmas," several featuring Hitler, and screenshots of anti-Semitic propaganda.
"We are actively reviewing hashtags and content … and removing content that violates our policies, including hate speech," a spokesperson for Instagram said over email. "We do not allow content that attacks people based on their race, ethnicity, national origin, religious affiliation, or their sexual orientation, caste, sex, gender, gender identity, and serious disease or disability. We will continue to remove this content as soon as we're aware."
As The Daily Beast reported Tuesday, Instagram also hosts anti-Semitic content posted by prominent members of the alt-right. The right-wing comedian Owen Benjamin, for example, regularly posts anti-Semitic memes to his more than 50,000 followers. And despite being banned from Twitter, the right-wing extremist Milo Yiannopoulos and the white supremacist Gavin McInnes both have an active presence on Instagram, where they espouse racist ideas.
Meanwhile, Siegel is terrified for her own safety. "I wouldn't be where I am today without these platforms," Siegel said. "But I feel the need to talk about this, because we all have to figure this out. There's real-world implications that go beyond harassment and trolling."
Before the Pittsburgh shooting suspect Robert D. Bowers shot up the Tree of Life synagogue, he regularly shared the type of anti-Semitic memes that Siegel encounters on Instagram. "It's not only anti-Semitism, which itself is horrifying; it's the intersection of what happened in the lead-up on social media," Siegel said. "Just the hateful rhetoric that slips by or seems to slip by, in the case of the shooter."
What's even more frustrating to Siegel is that she's called this all out before. In August 2017, following the attack in Charlottesville, Virginia, Siegel posted screenshots of the type of anti-Semitic harassment she received on Instagram. "With this post, I just want to share a small slice of what my Mother and I have been receiving (in especially high volume) since January 20th, 2017 because we are proudly and publicly Jewish," she wrote.
Still, Siegel said she's wary of attacking Instagram too aggressively. "It's a little bit intimidating," she said. "My entire livelihood is wrapped up in the platform. It's scary to talk about this stuff."
Liora Rez, who runs the Instagram account Jewish Chick, which has nearly 50,000 followers, said she's also frequently tagged in anti-Semitic imagery. "I'm tagged in lots of Holocaust-denial posts. 'Holohoax' is a huge one," she said. Rez has comment filters on her posts, but comments are only one small way a user can harass you on Instagram. Rez reports all the anti-Semitic posts she sees, but sometimes the memes will be left up.
Part of the issue, she suspects, is that the Holocaust itself has become just a joke to many online communities. "There's some type of sick obsession with the Holocaust," she says. "There's so many memes and cartoons I see of Holocaust-themed memes."
"This has been an ongoing problem," Siegel says. "You can get away with it for a long time, but when you're in a moment where so much violence is happening, and the precursor to that violence is being explicitly verbalized on your platforms, you have to do better."