National Reporters Are Transfixed by the Kavanaugh Story. How About Their Readers?
Viewership for the major news networks was high, but TV only tells half the story.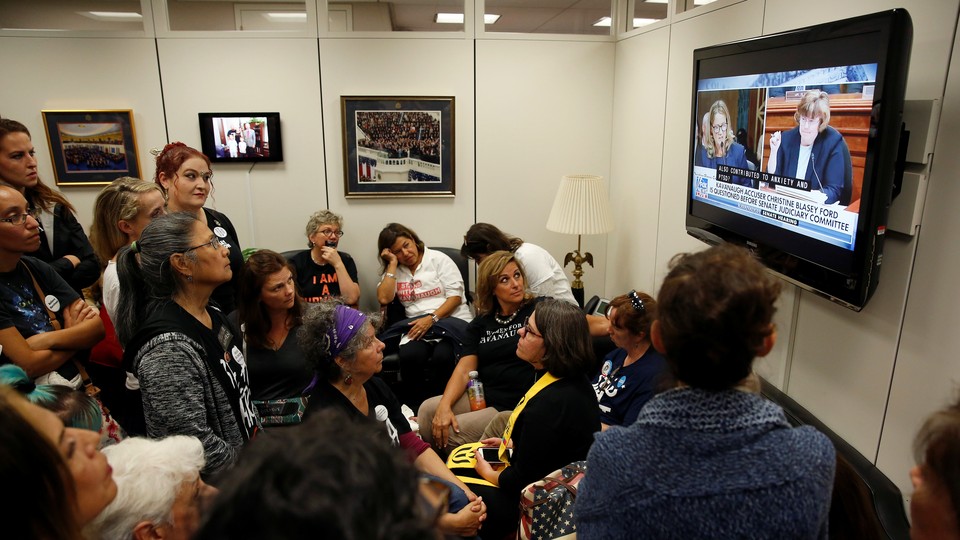 "A Nation Transfixed," headlines blared as Thursday's Senate Judiciary Committee hearing wound down, and both Christine Blasey Ford and Brett Kavanaugh had given their testimony.
The dispatches arrived from discrete swatches of the country. At a senior center in Palm Beach County, Florida, some retirees, gathered around a TV, cried for Ford. A man at a Houston cigar bar professed his sympathies for Kavanaugh. The New York Stock Exchange was still. Aboard a morning Amtrak train from New York to Washington, D.C., riders fell silent. Coffee and donuts went untouched in the Massachusetts statehouse.
But do such anecdotes really translate into transfixion?
By traditional measures, Thursday's hearings did seem to be transfixing times. An estimated 20.4 million adult viewers watched the hearings across the major broadcasters (ABC, CBS, NBC) and cable-news networks (Fox, MSNBC, CNN). These numbers come from Nielsen, the company that provides a flawed but go-to snapshot of which TV networks are capturing American viewers' attention. The initial data offered no further details, such as whether more people tuned in specifically for Ford's or Kavanaugh's testimony, or from what parts of the country.
CBS News said its digital channel, CBSN, saw its greatest number of livestreams so far in 2018 on Thursday. Same for CNN. C-SPAN, a private nonprofit, doesn't track audience data, but its phone lines were flooded.
TV and its streaming counterparts are still just half the picture. Only 50 percent of Americans regularly turn on the television to get their news; the percentage of 18-to-29-year-olds who do so is vanishingly close to zero. Meanwhile, the proportion of Americans who get their news online is closing in on TV, at 43 percent.
The day of the hearing, online readers seemed to be especially interested in news stories about Kavanaugh and Ford in areas of Alaska, Maine, Oregon, and Washington, according to one data set from an audience-analytics company used by a variety of national outlets and local conglomerates. A caveat: Not all news sites use these tools, so this is still a spotty picture. Outlets such as NBC News, The New Yorker, and National Review appear to be included, for instance, but others, such as The New York Times and The Washington Post, which use other audience-tracking services, are not.
The darkened areas in the map below depict markets where there's a larger readership than expected for Ford-Kavanaugh stories, when compared with that area's share of total U.S. news readership.

Alaska is represented by Republican Senator Lisa Murkowski; Maine, by Republican Senator Susan Collins. Both are considered key votes in Kavanaugh's confirmation. But in South Carolina, the home state of one of Kavanaugh's biggest defenders, Lindsey Graham, interest in Ford-Kavanaugh stories was actually lower than average online news readership would have predicted.
By absolute numbers, online readership of Kavanaugh-Ford news articles was highest in New York, Los Angeles, and San Francisco, but this was business as usual. People from these places are consistently avid news consumers compared with residents of other metro areas.
Measuring what news people across an entire country are reading and watching is a tortured science. A New York Times interview with the now-grown "Baby Jessica"—whose rescue from a Texas well in 1987 received breathless coverage, and who hadn't heard about the July cave rescue of a Thai boys' soccer team, a story that also "riveted the world"—illustrated that attentive myopia. Over the past week or so, readers who were already following current events regularly followed the hearings. It's not so easy to claim that all those who are traditionally less tuned in were transfixed as well.