How Facebook's Chaotic Push Into Video Cost Hundreds of Journalists Their Jobs
As media companies tried to divine the desires of the world's biggest platform, they fired writers and lost their way.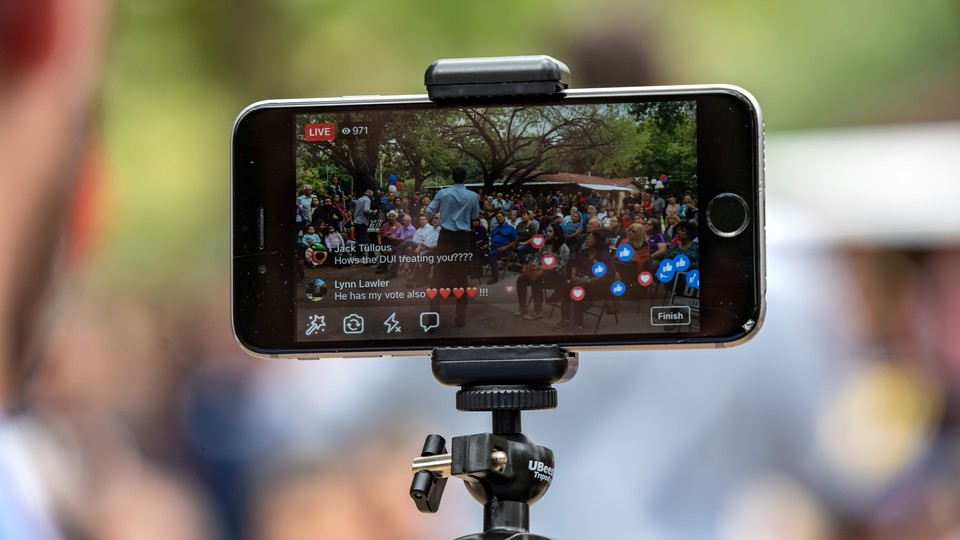 Facebook egregiously overstated the success of videos posted to its social network for years, exaggerating the time spent watching them by as much as 900 percent, a new legal filing claims. Citing 80,000 pages of internal Facebook documents, aggrieved advertisers further allege that the company knew about the problem for at least a year and did nothing.
The company denies the allegations. "This lawsuit is without merit and we've filed a motion to dismiss these claims of fraud. Suggestions that we in any way tried to hide this issue from our partners are false," said a spokesman for Facebook in a statement, adding that the company notified advertisers as soon as it discovered the problem.
During the period of purported wrongdoing, from July 2015 to June 2016, journalists and newsroom leaders across the country worked to cover an unprecedented presidential campaign in an information landscape that Facebook was constantly, and erratically, transforming. Even if, as Facebook argues, it did not knowingly inflate metrics, it set up new and fast-changing incentives for video that altered the online ad market as a whole. As media companies desperately tried to do what Facebook wanted, many made the disastrous decision to "pivot to video," laying off reporters and editors by the dozen. And when views plunged and video's poor return on investment became more apparent, some companies pivoted back, firing video producers by the dozens.
First was Upworthy, once a beneficiary of Facebook's algorithmic largesse, which rang in 2016 with 14 layoffs, part of a move into "original video content." Four months later, Mashable laid off 30 employees in a pivot to "non-news video content." That November, Fusion laid off 70 people, in part because big bets within social video did not generate enough revenue.
In February 2017, Thrillist's parent company let more than 20 people go, but was "continuing to dream in video." In June 2017, Vocativ laid off 20 editorial staff members "in an organizational shift to an entirely video-first strategy." Later that month, MTV News laid off at least nine employees and freelancers, "with an eye toward creating more video." Fox Sports also released 20 writers and editors on the same day, "replacing them with a similar number of jobs in video." The next month, Vice fired 60 employees while promising to focus on video production. In August, Mic dismissed 25 people from its news and editorial departments to refocus on "new mixed-media formats in social video."
But then the bets on video started failing. After firing its writers and editors in June, Fox Sports had hemorrhaged 88 percent of its audience by September—a staggering feat, as traffic to sports websites usually grows when football returns. That month, Digiday reported that a "side effect of the pivot to video" was "audience shrinkage," citing similar declines at Mic and Vocativ. Some of these traffic slides have continued: In April 2018, Mic's traffic sat at 5 million uniques, down from 17 million a year earlier.
In February of this year, Vox Media, the publisher of SB Nation, Eater, and Vox, laid off 50 employees. "Facebook does not offer a viable path to monetize our in-depth video work," its chief executive lamented in a memo. CNN Digital eliminated "fewer than 50" positions, including in the video department.
By our count, national media companies laid off more than 350 people from 2016 to 2018, at least partly as a result of Facebook's herky-jerky incentives. Significantly, this number doesn't include local newspapers that dropped staff while chasing video dollars. Since 2014, newspapers across the United States have lost more than 7,000 jobs, shrinking by 15 percent, according to the Bureau of Labor Statistics.
---
Facebook can't shoulder the blame for these layoffs alone. Media executives ultimately made these decisions, and journalism was an unstable industry long before the first Facebook video. In a Tuesday Wall Street Journal article, many publishers dismissed the argument that the social network was solely to blame for layoffs.
But Facebook wrote the rule book, owned the field, and served as the referee for the game that struggling publishers were trying to win. If what the suit alleges is true, it now looks like a dishonest umpire, too.
Starting in 2014, Facebook began to report enormous video-viewership numbers, a feat made possible by its newly alleged inflation of metrics, and also through the company's conscious decision to show more videos to users. This sudden surfeit of attention was attractive to media companies, and especially to those funded by venture capitalists, who often demand fast-growing traffic numbers. But producing video requires more time and resources than writing words, so most companies had to cut jobs in other areas to allocate new resources to the platform.
Around this time, Facebook also began favoring videos uploaded to its service over links to other video sites, such as YouTube and Vimeo. This effectively forced outlets that already had video departments into uploading their films to Facebook and playing by the social giant's rules. Then, in August 2015, it debuted Facebook Live, a feature that first let celebrities—and eventually everyone else—stream live video from their mobile phone.
A few Live videos became enormous successes, and the media's own coverage of them—coupled with its undying hope for a technological savior—helped fan the hype. When 800,000 people watched a pair of BuzzFeed staffers explode a watermelon on April 8, 2016, Mashable reported that the stunt earned "significantly more viewers than were turned into all of cable news in the United States." Wired, meanwhile, listed seven TV shows with fewer viewers than the exploding watermelon, including HBO's Girls. But the comparison was inapt: A U.S.-based Nielsen viewer watching TV is just not the same as an anonymous Facebook user, who could be anywhere on the globe, dipping in and out of a viral video on Facebook's News Feed. In any case, BuzzFeed never repeated its success. But that didn't stop reporters from being taken off the line of duty, while a promotional video of water being poured on permeable concrete racked up 100 million views.
Yet even before the latest revelation, it was obvious that Facebook's video metrics were not comparable to industry standards. Facebook defined a "view" as someone watching something for any longer than three seconds. YouTube, the company's main competitor, defined a view as 30 seconds or more. From a retail perspective, this was like counting window shoppers as consumers. It "fundamentally devalues the number-one metric of online video," the YouTuber Hank Green wrote in August 2015, discussing view counts. "Ad agencies and brands are confused enough without Facebook muddying the waters by calling something a view when it is in no way a measure of viewership."
Of course, muddying the waters in this way was also useful for media companies looking to sell growth stories to investors. "There's that sense that not all of these digital news start-ups will see continuing hockey-stick-like growth," Ken Doctor, a principal analyst at the analytics firm Outsell, told Digiday in 2016. "Fall behind in growth, and the current value of these companies may plummet; it's a momentum game, win or lose."
Growing viewership on YouTube is a painstaking, time-consuming process. Doing it on your own site is even harder. Growing an audience organically on Facebook had also become remarkably difficult. There were only two pathways to grow: Pay to run ads, or make a lot of Facebook video.
The video views came easy. You could stack up millions in hours, and those three-second views looked the same in a bar chart as YouTube's 30-second ones. New media start-ups like AJ+, NowThis, Mic, and many others rushed to create as much Facebook Video as possible. At Fusion, where he was editor in chief, Alexis saw this happen firsthand. Fusion's text team stopped growing, while the video side exploded. Many of Fusion's video producers were serious journalists, but the very labor-intensive nature of video meant the newsroom had fewer people out reporting and more people making text slide in and out of the frame.
It was not just newish, video-heavy players that found themselves in a bind. Established publishers that had managed to build large, link-based Facebook Pages found themselves staring at a News Feed that had been transformed into a stack of videos. There was a real danger of text stories getting crowded out. Meanwhile, Facebook was eating up all the growth in digital advertising, due in large part to all the content that publishers were putting on the platform. Our chaos was Facebook's content. So even if you didn't run to Facebook Video, it reshaped the information ecosystem in ways that made it harder for journalistic institutions.
Facebook's misadventures in video parallel other situations where the company has moved fast to beat a competitor but broken things along the way. In 2013, it was Facebook muscling into the media-distribution business to cut back Twitter's growth; the company was, to put it mildly, unprepared for the problems that resulted. In the company's effort to push its Live video offering to compete with YouTube's and Twitter's, the product launched without adequate moderation tools. Even this week, after announcing new video-calling hardware that takes aim at similar products from Alphabet and Amazon, Facebook gave a misleading answer in the press rollout about the obvious central concern with the device: how the company would use the data it generated.
It was obviously not Facebook's intent to lay waste to the information landscape. Facebook, as always, was just thinking of its competitive positioning. But lay waste it did, as the angry testimonials of dozens of journalists on Twitter attest.
Facebook oversees what is probably the world's largest market for human attention. Time and time again, it has added a new rule to this market, or created some new way of scoring points, seemingly without thinking about how players would react or adjust to the change. In the past, we've assumed Facebook ignored the systemic consequences of its actions out of negligence. Perhaps, as this new lawsuit alleges, it was a negligence so extreme that it rose to the level of fraud.