Facebook Could Be Unrecognizable by 2020
Not even Mark Zuckerberg is sure what it will look like.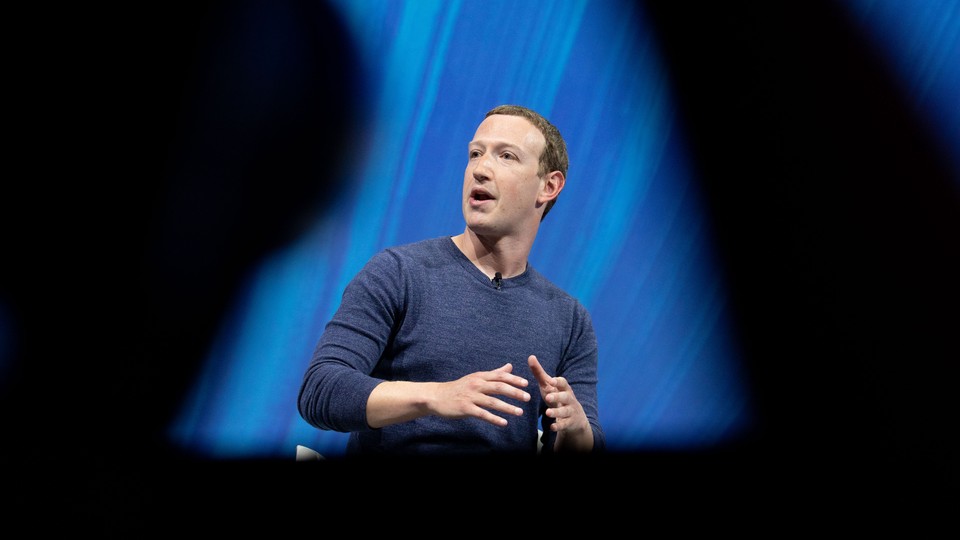 One of the mysteries of Facebook is that whenever public sentiment about the company feels most mixed, it delivers smashing results for Wall Street that keep any social consequences from depressing the company's share price. This was true even during the depths of the Cambridge Analytica scandal, which began with a major price drop and ended with Facebook at a new all-time high, $209.94 a share, ahead of its earnings announcement in mid-July.
Since that report, which revealed slowing user and profit growth, Facebook's share price has been tumbling steadily, falling to about $150. Even Tuesday's earnings, which crushed expectations, did not right the Facebook ship. User growth is still slowing, and CEO Mark Zuckerberg cautioned that the product that built the Facebook-advertising empire, News Feed, has become outmoded. It won't disappear overnight, but it will capture less and less of the total attention inside Facebook's ecosystem. Replacing it, bit by bit, will be a mix of things: Stories, messaging, video, and more targeted "community" features like Marketplace and Dating.
The shift is substantial enough that Zuckerberg invoked the single biggest change in Facebook's history: when the website Facebook.com became the phone app Facebook. This was the story of the company's biggest trouble in the market and as a platform, back in the early days of its initial public offering. It's hard to believe now, but it was not at all clear that Facebook could make the leap from desktop to mobile while growing revenue. There was tremendous skepticism about the company's business fortunes, pretty much all of which turned out to be wrong. Not only did Facebook become dominant on mobile, it turned News Feed into a money-printing machine.

This is the lens through which to read Zuckerberg's key statement to investors Tuesday: "I want to be up front that even assuming that we get to where we want to go from a feed-only world to a feed-plus-Stories world, it will take some time and our revenue growth may be slower during that period, like it was while transitioning our products to mobile."
Zuckerberg is really saying two things: First, this is a change that is as big as they get. "I just think that this is the future," he said. "People want to share in ways that don't stick around permanently, and I want to make sure that we fully embrace this." Second, Zuckerberg is summoning the resilience of his company. That is to say: Remember the last time investors worried about Facebook making it through a huge product transition, and then its share price went from an average of $35 in 2013 to $176 over the next five years?
But Zuckerberg's admissions throughout the investors call are remarkable. More or less, he said the company has been wrong on several of its core product ideas over the past few years, and that now it is adopting its competitors' postures.
You could have sworn Snapchat CEO Evan Spiegel was speaking through Facebook's CEO on the call when Zuckerberg began talking about messaging. "Public sharing will always be very important, but people increasingly want to share privately too, and that includes both just smaller audiences with messaging and ephemerally with Stories," Zuckerberg said. "People feel more comfortable being themselves when they know their content will only be seen by a smaller group and when their content won't stick around forever. Messaging and Stories make up the vast majority of growth in the sharing that we're seeing."
This is a pretty wild admission from Zuckerberg. The very thing he built Facebook around—a public record of your life—is not the social norm he thought it would be. Messaging apps that recaptured "sharing" as a private, ephemeral phenomenon and not Facebook's public, permanent practice were one of the key threats to Facebook that experts identified to The Atlantic as far back as 2014. Facebook now has three major messaging platforms, counting Instagram as well as WhatsApp and Messenger. And it is clear that this notion of sharing has eroded the power of News Feed. In its own way, this is a victory for privacy advocates.
Then there was the discussion of video. In 2014, Zuckerberg said News Feed would be "mostly video" in five years. Video, after all, drove up engagement metrics. But, he admitted Tuesday, people didn't like it. "For a few years, we saw a trend where people's time was increasing primarily because they were consuming more video and public content, even as they interacted with friends and family less," Zuckerberg said. "But people were telling us what they wanted was to interact with people more. So we didn't think that this trend was sustainable."
The company reversed course and "purposefully reduced time spent on things like lower-quality viral videos and news."
All these admissions and reversals and refinements reopen a crucial question about Facebook: Is the platform the social-media wave driving user behavior, or is it, as Andreessen Horowitz's Ben Evans puts it, "extremely good at surfing user behavior"?
More and more, the evidence suggests that, since building News Feed, Facebook has been chasing user behavior, not changing it.
Now that Zuckerberg sees a diminished role for News Feed, especially viewed across the Facebook, Inc. portfolio, what happens next? Facebook, Inc., may be well positioned to continue surfing the user wave, but it seems possible that the blue Facebook app of 2020 or 2021 will be an almost unrecognizable descendant of the one that we knew through the mid-teens.
Meanwhile, Facebook's trouble policing its advertising system's role in politics continues. Our own investigation found how a liberal group had easily evaded meaningful transparency while leading purchases of political ads coming into the midterms. Vice News was able to get Facebook's approval for a variety of false advertisers; it impersonated all 100 senators, the Islamic State, and Mike Pence, making a mockery of the company's built-while-flying ad-transparency system. While Democratic causes and candidates buy huge sums of ads, Facebook's aging user base shares content predominantly from the extreme-right-wing media ecosystem in the United States. And that's to say nothing of the multitude of governments from Brasilia to Brussels to Delhi that could force Facebook to change its products or under-the-hood mechanics. In China, strong competitors for the global market loom.
As all these changes happen simultaneously, Facebook's future seems as murky as it has been in many years. As users, as investors, as citizens, it's not clear what the Facebook, Inc., of tomorrow will be as it responds to the most challenging year of its corporate existence. Then again, even as I write, the company's shares have rebounded and are up more than 4 percent today.