Even If You Hate Zuckerberg Now, You'll Love Him Later
Just ask Bill Gates how it works.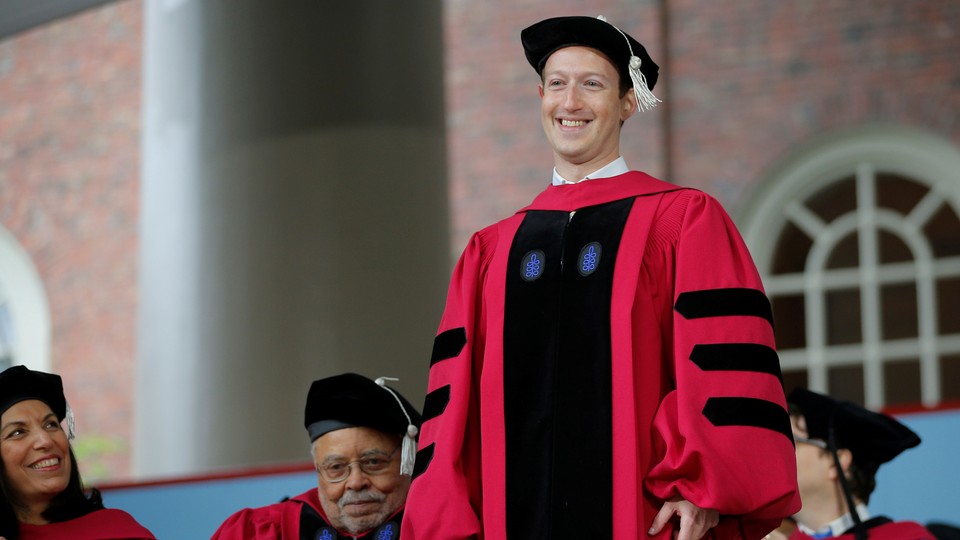 A certain distaste for Facebook's chief Mark Zuckerberg underlies much of the recent reaction to the company's annus horribilis. Just last week, the company announced a data breach affecting 50 million people, right on the heels of Instagram's prominent founders leaving Facebook. Whether it's a hack or a corporate battle, Zuckerberg does not get the benefit of the doubt, let alone the awe and reverence afforded to comparable company-creating CEOs like Steve Jobs and Jeff Bezos. Not a week goes by that someone doesn't mention Zuckerberg's 14-year-old messages about his first 4,000 users: "they 'trust me'" as proof of his venality.
In opposition to Zuckerberg, Instagram's Kevin Systrom and Mike Krieger and WhatsApp's Brian Acton and Jan Koum, who left before them, somehow become deeply sympathetic characters in their struggles to protect their beloved products. This is despite all of them having made at least hundreds of millions of dollars selling to and working for Facebook.
In this narrative, Facebook comes across as rapacious, growth-obsessed, greedy. Acton gave Forbes this anecdote about his plan to charge people money instead of showing them ads. Sheryl Sandberg, he says, shot it down, saying that wouldn't scale.
"I called [Sandberg] out one time," says Acton, who sensed there might be greed at play. "I was like, 'No, you don't mean that it won't scale. You mean it won't make as much money as . . . ,' and she kind of hemmed and hawed a little. And we moved on. I think I made my point. . . . They are businesspeople, they are good businesspeople. They just represent a set of business practices, principles and ethics, and policies that I don't necessarily agree with."
Zuckerberg's attention was unwelcome as well, according to the Instagram stories. "As Facebook's 'bear hug'—as some have characterized it—has been tightening, Systrom and Krieger were tired of fighting it," Recode's Kurt Wagner wrote. The Wall Street Journal's Deepa Seetharaman detailed a series of small gripes on the theme of how Systrom and Zuckerberg "butted heads."
That these founders' exits are mourned says a lot about the state of play around Zuckerberg and Facebook, Inc. If you look at data from the American Customer Satisfaction Index, survey results for social-media companies fall far below other technology segments like internet retail, cellular telephones, internet financial services, internet search engines, computer software, and internet travel services. Social media—and Facebook itself—is down at the bottom of the list with health insurers, the post office, and "fixed-line" phone companies. It says something very interesting that the average customer satisfaction for free products is below health insurance.
A variety of polls—and disses by other CEOs—over the last year have shown the company has become increasingly unpopular, both in Silicon Valley and more broadly. Zuckerberg, as the metonym for the company, has been dragged, too. Whether or not it is fair, a CEO must be a company and vice versa, because that's how things that are too big and too complex become understood. And so a vastly complicated health-care law becomes Obamacare.
No matter what happens to Zuckerberg over the next few years, or how Facebook does or does not restore its image, Zuckerberg's long-term fate is easy to predict. You, and most everyone else, will end up loving him. That may be hard to believe, but he has a close adviser who followed a startlingly similar path: Bill Gates.
Dogged by European regulators and American competitors, accused of brutal business practices, Microsoft was the evil empire. The list of issues people took with Microsoft is as long as it is forgotten. The company was "undoubtedly the most hated company in its industry for three decades, and detested by many of its business customers, as well," Harvard Business School professor emeritus Thomas Craw told The Daily Beast.
Gates, then, after serving as CEO of a despised company for 25 years, stepped down at 44. After that, he retained control as chairman with a buddy (Steve Ballmer) at the top. But from that point forward, Bill Gates began his rehabilitation from corporate demon to beloved grandpa philanthropist. Mostly, it took giving away vast sums of money while staying out of the day-to-day corporate headlines. Here, we are, 18 years on, and Gates is seen as the most admired man in the country. Also the most competent. And his "warmth" polling falls behind only Ellen DeGeneres.
Were he to step down after 25 years, Zuckerberg's timeline would be nearly identical to Gates. He'd leave leadership at 45, still able to maintain control through his shares of stock. And in recent executive reshufflings, he's positioned close friend Chris Cox as someone who could be his Ballmer. His philanthropic organization, the Chan Zuckerberg Initiative, is already enormous and making waves wherever it decides to invest.
Like Carnegie and Rockefeller, Stanford and Vanderbilt, if you give away enough money, your name eventually becomes synonymous with goodness, charity, wisdom, competence, even warmth.
Society's good graces have a price, and it is a lot lower than the $45 billion that Zuckerberg and his wife have pledged to their Initiative. From its inception through the middle of 2017, the Gates Foundation, for example, had granted $46 billion.