Elon Musk Isn't Done Tweeting Yet
The Tesla CEO mocked the SEC in a tweet just days after settling a lawsuit with the agency over a different tweet.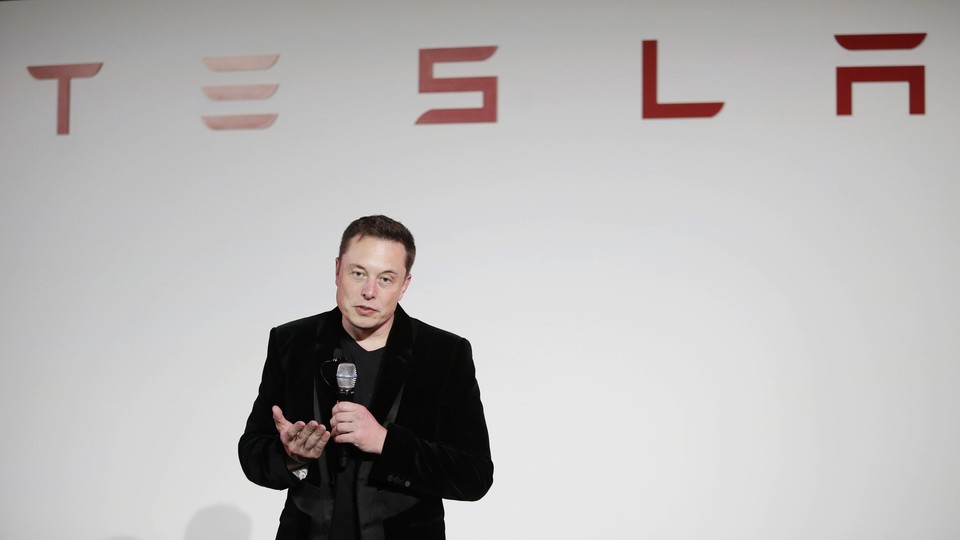 Over the weekend, Elon Musk and Tesla settled a lawsuit with the Securities and Exchange Commission over a tweet that federal regulators said misled the electric-car company's investors and agitated financial markets. The agreement compels Musk to step down from his role as chairman of Tesla's board for three years, but allows him to remain as CEO. It instructs Musk and Tesla to each pay $20 million in fines. And it requires Tesla to establish stricter oversight over Musk's communications.
That last stipulation is an attempt to ensure that something like the rogue tweet Musk sent in August—the one that no one saw coming, that stunned investors, that the SEC has described as inaccurate and has determined qualified as securities fraud—would never happen again.
The terms have yet to take effect. The settlement is subject to court approval, which is under way. And Teddy Schleifer, a reporter at Recode, writes that the provision regarding the monitoring of Musk's communications goes into effect 90 days after the date the settlement was reached. Musk has about 80 more days to tweet what he wants about Tesla, and he appears to be taking advantage of the lag.
On Thursday, Musk, in an apparent attempt to mock the SEC, put his own twist on the agency's initialism that takes aim at short sellers, a class of investors who have long been a prickly thorn in the entrepreneur's side:
Just want to that the Shortseller Enrichment Commission is doing incredible work. And the name change is so on point!

— Elon Musk (@elonmusk) October 4, 2018
The tweet may come as a surprise to those who think that making fun of federal regulators a week after they sued you may not be the wisest tactic. It probably does not come as a surprise to those who have been following Musk's snark-laced tweets about his critics, whether they're the investors who bet against Tesla or the reporters who cover it. It suggests that instead of hunkering down, he's probably going to tweet right through.
The SEC sued Musk in late September over an August 7 tweet in which he claimed that he was reconsidering Tesla's public status and could take it private at $420 per share, adding that he had "funding secured" for the conversion. Tesla's stock price rose sharply in response. The SEC alleged that the tweet was "false and misleading," and that Musk knew the move was uncertain and hadn't actually discussed the plan with any potential financiers. In its suit, the agency asked Musk to relinquish his role as CEO and sought to bar him from serving as the director of a public company.
The final terms of the settlement were less severe. The final agreement did not require Musk and Tesla to admit or deny any wrongdoing, and SEC Chairman Jay Clayton even told The New York Times that the agency wanted to balance punishment for violations with "the skills and support of certain individuals" who may be important "to the future success of a company."
Perhaps Musk feels emboldened by this outcome. Along with his supporters, Musk certainly sees himself as important, if not extremely integral, to the success of Tesla. It's possible he believes that while the SEC can certainly penalize his car empire, the agency is unlikely to call his bluffs and force him to abdicate his control over it.
The mention of short sellers in Thursday's tweet isn't all that surprising; Musk taunts them often on Twitter. These investors make a profit by betting against a company: borrowing shares, selling them at market rate, and then buying them when the price drops. Tesla's short sellers say they make their decisions based on financial calculations, but Musk has accused them of conspiring against the company. Tesla is indeed a particularly favored target for short sellers, as my colleague Ian Bogost recently pointed out. As of this spring, the short interest in Tesla's stock far exceeded that of much larger companies.
The new beef with the SEC, however, seems like an escalation of Musk's usual complaints in the financial-market realm, and could have implications for Tesla going forward. Hours before Musk published his tweet mocking the SEC, a federal judge in New York, where the settlement was filed, ordered both the CEO and the agency to justify the agreement. U.S. District Judge Alison Nathan said the court must make a "minimal determination of whether the agreement is appropriate" before she approved it, and has instructed the two parties to file "a joint letter not to exceed ten pages double-spaced explaining why the court should approve the proposed consent judgment." It sounds like the school group project from hell, and Musk's rogue tweet may have just ensured the process will be even more complicated.