The Black Struggle for Technology Jobs
In Atlanta and other racially segregated cities, the education system is stacked against African Americans competing for STEM careers. If Amazon picks the city for its second headquarters, things could get even worse.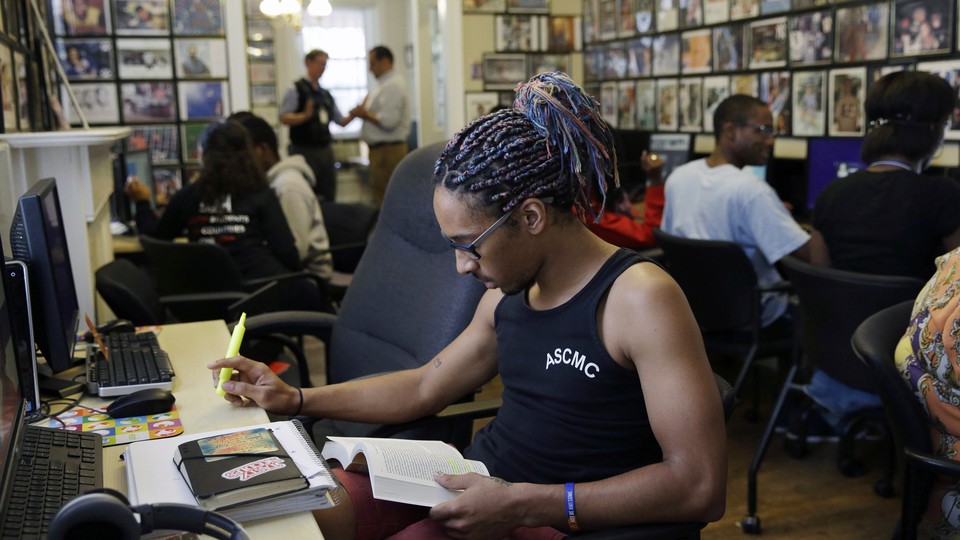 After Atlanta made the shortlist of cities vying for Amazon's second global headquarters, HQ2, it submitted a multibillion-dollar investment to try to seal the deal. (Other cities' proposals were even bigger.) At stake is nothing less than the city's economic future: HQ2 promises more than 50,000 high-tech jobs with an average salary of more than $100,000. With the tech industry looking like the future of all industry, Atlanta landing Amazon's HQ2 would be a dream come true.
But a dream for whom? Highly educated people, particularly those with technical skills, are the ones who are really eligible for these prized jobs. People without that kind of education risk becoming even more marginalized in an increasingly tech-driven economy. In Atlanta, one of the most segregated cities in the United States, history has already largely determined who gets to benefit from the potential of Amazon.
In 2016, there was only one census tract in Atlanta where the population was more than 65 percent black, and where more than half the population age 25 or older had a bachelor's degree or higher. In 2000, there were 10. Here, many black and brown students, and poor students of all backgrounds, receive a substandard education that does not prepare them for entry to the select colleges and universities tech companies draw their workforces from. Consequently, with or without Amazon's investment, the city's black population likely won't land STEM jobs unless they can gain access to the rigorous educational paths required to compete for them. In Atlanta and the many other American cities still scarred by decades of racist education policies, the future of work is still largely defined by a past from which their residents of color can't seem to break free.
---
Katie Guzdial is a recent graduate of Georgia Tech, in Atlanta, where I work as the director of a center for equity in computing. She is white, her parents are university professors, and she is a product of a public school in Atlanta.
Segregation is meaningful only when the population is diverse. And Guzdial's school was unusually diverse by race and ethnicity for an Atlanta high school: According to the Georgia State Department of Education, its population was roughly 35 percent white, 30 percent Hispanic or Latino, and 25 percent black. Guzdial told me that student diversity was a real benefit to her, for all the reasons you would expect. It introduced her to people with different backgrounds, experiences, and worldviews. It offered the rich social experience that we all hope our children might encounter.
But her experience with diversity did not extend to the classroom. According to Guzdial, "There were only two or three black kids in any of my AP [Advanced Placement] classes. I don't know what they had to do to get into the AP courses, but there weren't many of them there."
That's typical: Nearly everything related to educational performance is tied to race, and academic segregation is common in American education, even if no official policy creates that division. There is a filtration system at work, including in schools that enroll students of different races and ethnicities. It keeps the most elite classes—honors and gifted, Advanced Placement and International Baccalaureate, the ones that pave the way to top universities like Georgia Tech and top companies like Amazon—from being as diverse as the general population.
Guzdial's keen insight about the reality of education at her school—"I don't know what they had to do to get in"—demonstrates her sensitivity to the inequitable structure that technology companies propagate, whether they mean to or not. She also realizes that she had to do very little to get into those classes. It just happened.
"I was chosen to be in the gifted program in kindergarten," she explained. "From there your path is basically paved for you." Guzdial suggested to me that she did not understand why the "gifted" designation lasts through high school. But it does. "They just told me which classes to take and I took them. I ended up taking seven Advanced Placement courses and a dual-enrollment college course."
There is no question that Guzdial is academically gifted. But even giftedness is correlated with race in Atlanta. According to the "Atlanta Public Schools Equity Audit Report," nearly twice as many white students are identified as gifted as black students.
And for every Katie Guzdial, there are a thousand stories of a student of color trapped in a broken system—even those who didn't grow up in poverty.
Mari Chiles is black and highly talented. Her parents are both best-selling authors. She's a Yale undergraduate studying public health; before that, like Guzdial, she attended public high school in Atlanta. "When I started high school, they assumed that every negative stereotype of black kids was true of me," Chiles told me. "They just looked at me and saw a black girl at an inner-city school and assumed I wasn't smart." According to Chiles, she never stopped having to battle those initial assumptions: "It was a struggle to navigate the school the whole four years. It felt as if my intelligence and ability were decided for me, and they automatically put me in remedial classes."
Unlike Katie Guzdial, who was shepherded into advanced classes early and almost by default, Chiles told me her school counselors "were more of a detriment than a help."
"It was my counselors who decided to put me in remedial and low-level courses," she explained. "They couldn't interpret my private-school courses, so they just put me in the lowest-level classes as a default."
Ultimately, Chiles was fortunate—she saw that she was not in the appropriate classes, and she was able to enlist the help of her parents, who had attended elite universities and knew what was necessary for entry. They fought to ensure that their daughter was placed in the appropriate classes. Otherwise, they feared she would have been trapped on a dead-end path.
Parents with high-school-age children on the path to STEM careers might already know how to set their kids up for the kinds of jobs Amazon might offer. Algebra in the eighth grade. AP calculus and computer-science courses (the latter of which only two of Atlanta's public high schools offered when Chiles and Guzdial were students). Teachers and counselors committed to making sure they get a 3 or better on those exams. High performance on the math section of the SAT or ACT, regardless of their intended major. They know what rigorous education translates to for their children.
Such was the case for Chiles, and for Guzdial. "My parents knew," Guzdial said. And she got into Georgia Tech, whose College of Computing has approximately 2,200 undergraduates as of fall 2018, 145 of whom are black—just 7 percent, in a city where 54 percent of the population is black. These numbers are some of the best among elite computing programs in the United States—an ominous indicator of the future of black people in computing across the country, let alone in Atlanta.
---
If the formal path to rigorous STEM education is challenging for students of color, what about informal paths? Tech firms like Google and Apple are among a growing number of companies that no longer require a college degree. With the cost of college higher than ever, a surge of coding boot camps and certification courses have appeared, hoping to provide an alternative path. But even there, the road is littered with obstacles.
When Lonnell Warner was in middle school, his family moved from Atlanta to a suburb just outside town. "My parents wanted to get us a better education and not deal with all the craziness in the schools in our neighborhood," he told me. The school he moved to was predominantly white, and Warner said the environment felt hostile to him and the few other black students there. Eventually he got into a fight with a white student. He was expelled, despite having no history of misbehavior and being in good academic standing—over the objections of the other student's parents, according to Warner. Sometimes schools hold back black students by filtering them out of elite courses, like Chiles's did. In other cases, a draconian administration of discipline is to blame.
Warner secured his degree through homeschooling back in Atlanta, but he was off track for the jobs in computing that he had hoped to pursue after graduation. Alternative pathways to computing education, like boot camps and IT certification courses, would seem to offer the perfect solution for aspiring tech workers like him. But the barriers of cost, access, and circumstance are significant.
Not from lack of investment in these programs, however. In advance of the promised 50,000 new jobs for its chosen HQ2 location, Amazon has pledged $50 million to STEM education over the next five years. Of that money, $10 million has already gone to Code.org, a nonprofit that supports expanding computer-science education and diversity. Some of Code.org's efforts target formal school programs; others focus on informal, out-of-class activities. Among the latter is the Hour of Code, an event Amazon supports at its offices around the country. (Microsoft, Google, and Facebook have also donated millions of dollars to Code.org.) Amazon also donated $300,000 each to the Greater Foundation and Technology Access Foundation, investments meant to help local nonprofits assist students without access to computer-science education.
Students with time and money to spare can pursue informal education opportunities early and often. But Warner had to make a living, so he took a job doing facilities work at a local university. Quickly, he felt the ceiling of opportunity closing over his head. "It's hard labor with a future of more hard labor," Warner told me. He hoped to transfer to an IT job, a route that might allow him to learn the skills necessary to enter the tech industry without earning a four-year degree. From there, a different future seemed possible.
He bought an A+ certification book in the hopes of becoming an entry-level personal-computer technician. "I do volunteer work at computer-repair shops at night to get help and practical experience, because the certification courses are too expensive," Warner explained. When you're living on a facilities salary of about $20,000 a year, and certification courses cost $3,000 to $4,000, there is not enough time or money to invest in improving your life. And informal activities like the Hour of Code might not offer sufficient immediate, practical benefits to seem worthwhile.
---
Chiles hopes to attend medical school after she graduates from Yale. She arrived at that school despite the system, and only after mustering the aid and experience of parents fighting continuously on her behalf. Warner is still trying to break free of that system. He is on track to take the A+ certification, but he is unsure whether it will be enough. According to him, people with degrees who also have these kinds of certifications and skills are more marketable than those without. Even if Amazon and Google are open, in theory, to a candidate like Warner, he still believes that he needs a college degree to work his way up the ladder. For other black students, especially those who are poor and whose parents do not understand the higher-education system, the future looks even grimmer.
Atlanta's education professionals recognize the problem, but solutions are difficult. According to a senior Georgia education-department official, "The basic challenge is that one whole sector of the city doesn't provide kids the access they need." Existing wealth, which is largely divided along racial lines, mostly decides which students can tread the better path. According to a study by the Brookings Institute, the average annual income of the bottom 20 percent of Atlanta households in 2016 was approximately $17,000. They were mostly black families. The average for the top 5 percent of households was about $306,000—18 times as much—and they were mostly white. "They are trapped in the web of poverty and its symptoms, and the schools haven't been able to break that pattern," the school official added, along with the worry that an influx of high-paying jobs, like the ones Amazon HQ2 would provide, could amplify gentrification and produce even worse educational inequality. "As the city transforms and there is less and less space for low-income life, there will be less and less opportunity for them."
With Amazon's decision still lurking on the horizon, the high-paying tech jobs it would bring seem like an opportunity for whatever region wins the new headquarters. Amazon officials said that the company asked the finalist cities to account for underrepresented minorities in its technology workforce and to detail its future plans for them. How that information will factor into the company's decision about HQ2 is unclear. But for the large black population in Atlanta—and in other cities contending for Amazon's nod—success might reduce rather than increase opportunity. People with high-level technical skills are valuable in a city transformed by technology. In Atlanta, the majority of students are black, and most are not getting the kind of rigorous education they need to participate in a STEM-based local economy. They will not be able to earn the salaries necessary to live in the city. They will be priced out—shown the door by educational neglect.
Coming to terms with the possibility of Atlanta, of all places, being a city with very few black people has catalyzed action. At Georgia Tech, we are building an infrastructure for rigorous computer-science education for high-school students in Atlanta public schools and across the state. Part of our responsibility as a public institution is to attempt to offset the patterns of segregation by democratizing education in the areas of our expertise. But to succeed, that effort must connect with a larger solution. Hoping that things will get better on their own is foolish. But so is imagining that the arrival of Amazon—or any other big tech savior—will create economic benefit by magic. No matter how much money a city like Atlanta or a company like Amazon might invest, the results count as opportunities only for the people who can attain them.