With Instagram's Founders Out, Welcome to Facebook Inc.
The company's three high-profile acquisitions—Instagram, WhatsApp, and Oculus—had fought to maintain their own identity. Those days may be over now.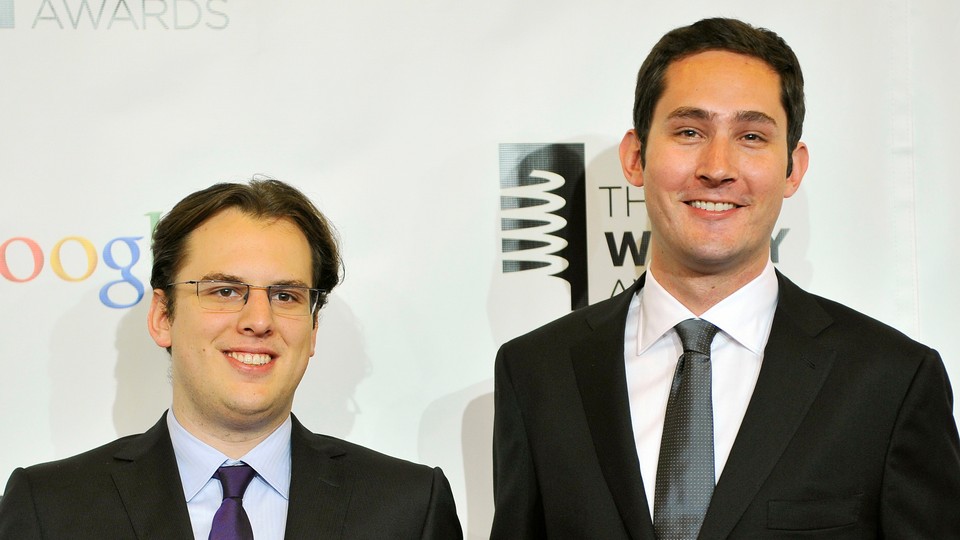 The founders of Instagram, Mike Krieger and Kevin Systrom, plan to resign, The New York Times reported Monday. Their exit marks the fifth founder departure from Facebook's high-profile acquisitions. WhatsApp's Brian Acton and Jan Koum left in 2017 and 2018, respectively, leaving a reported $1.3 billion on the table. Palmer Luckey left Facebook's $2 billion VR acquisition, Oculus, in 2017, too.
Instagram, WhatsApp, and Oculus, though all owned by Facebook, had fought, to varying degrees, to maintain their own identity. And for a while, Facebook had begun to look like a digital conglomerate, organized by app, with each getting equal billing. This made some sense. These products each have unique user bases, needs, and brands. They've all been incredibly successful doing what they do. Their user numbers are astonishing, singly or as a group: Facebook, 2.3 billion; WhatsApp, 1.5 billion; Messenger, 1.3 billion; Instagram, 800 million.
As anyone who has worked in an office knows, the big can be encapsulated in the little; people read the corporate signs. Instagram established its own separate headquarters a skip and a jump from Facebook's earth ark–like headquarters on the Bay mudflats, complete with a fancy in-house Blue Bottle that served as an aesthetic counterpoint to the collegiate Philz at Facebook. The distance and detail said: Instagram gonna Instagram.
If this sounds silly, WhatsApp's founders and Facebook executives squabbled over desk size and bathroom design, though the founders left over larger issues around monetization and user privacy.
Oculus, as a less mature product and company, was more tightly integrated, but became fully a part of the Facebook machine when Luckey "disappeared" after the election and the company's co-founder and original CEO, Brendan Iribe, stepped down (though he remained at Facebook).
Step back from all these corporate reshufflings and Facebook is a company transformed. After two of the hardest years Facebook has ever faced, Facebook loyalists are and will be in control of every property, from these big established players to the big future bet in Oculus.
Earlier this year, Facebook announced that all the big apps were reporting in to Chris Cox, a Mark Zuckerberg loyalist who has been with Facebook since not day 1 (2004), but day 2 (2005). Product at Instagram would be run by Adam Mosseri, who led the development of Facebook's News Feed. At WhatsApp, Chris Daniels, who has been with Facebook for seven years, took over for Koum. Andrew Bosworth, who has been with Facebook since 2006, now oversees Oculus.
This feels like a new phase of Facebook Inc. Whatever the lip service, the fact is that Zuckerberg's guys are running all the things. If leadership is such an important part of business, as most people seem to believe, then this can't help but drive the company's star products closer to its central node, which is Mark Zuckerberg. A company with a remarkable and unusual ownership structure that already concentrated power in Zuckerberg has now doubled down by extending that power to the far reaches of the organization's acquisitions.
It's too soon to tell how that might be reflected in the actual apps, but the guys who built Facebook into the juggernaut that it is are now free of the founders of three beloved products, and fully in charge.