The End Finally Comes for Alex Jones
Twitter's permanent ban is an important symbolic gesture.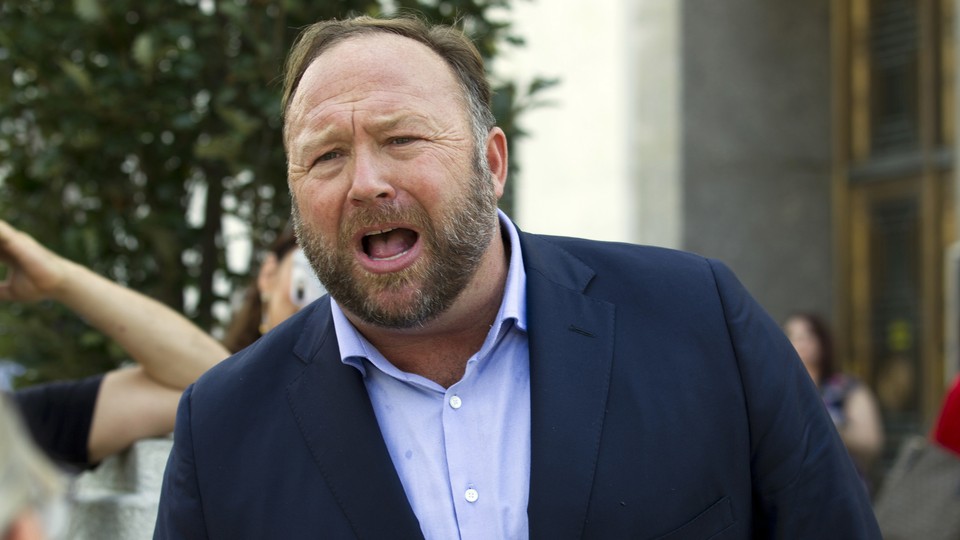 On Thursday, Twitter permanently banned Alex Jones, after the prominent conspiracy theorist violated the platform's policies on abusive behavior by tweeting out a video of himself heckling the CNN reporter Oliver Darcy.
"We took this action based on new reports of Tweets and videos posted yesterday that violate our abusive behavior policy, in addition to the accounts' past violations," the company announced via Twitter.
This is not the first time Jones has run afoul of the company's community guidelines. In early August, Twitter's CEO, Jack Dorsey, defended his company's decision not to remove Jones from the platform—despite mounting pressure to ban him—by claiming Jones hadn't violated any rules. After CNN's Oliver Darcy noted several instances of what appeared to be clear policy violations, Twitter forced Jones to delete the tweets but allowed him to remain on the platform. Several weeks later, users reported Jones for encouraging Periscope viewers to get their "battle rifles" ready and he finally suffered a week-long "time out" before his account was reinstated. But Thursday's ban is comprehensive, and permanent—if Jones attempts to start any new accounts, the company will automatically shut them down.
"We will continue to evaluate reports we receive regarding other accounts potentially associated with @realalexjones or @infowars and will take action if content that violates our rules is reported or if other accounts are utilized in an attempt to circumvent their ban," the company wrote.
Twitter's enforcement actions have always been opaque, and it's easy to be skeptical of the motivations behind this one. After all, Twitter's move came after years of Jones using his platform to propagate conspiracy theories about Sandy Hook, Pizzagate, undocumented immigrants, the media, and more—but only weeks after virtually every other major platform took action against him, and a single day after Jones very publicly disrupted hearings attended by Dorsey.
But still: This a definitive stance after years of inaction and half-measures by a company that has long prided itself on being "the free-speech wing of the free-speech party." It's an inescapable restriction on a figure who has become adept at toeing the line of what's allowed while leveraging the platform to spread racist and dangerous views.
And maybe it'll work. After previously claiming that bans from Twitter and Facebook would only make him "stronger," Jones saw traffic to his website plunge after the bans took effect, a sign many have taken to mean that de-platforming extremists is an effective solution for curbing their influence. Twitter is a particularly valuable platform for Jones because it allows—allowed—him access to the mainstream media, and to new customers for the web store that makes up a great deal of his revenue.
In 2016, the far-right provocateur and former Breitbart News editor Milo Yiannopoulos was permanently banned from Twitter after waging a harassment campaign against the actress Leslie Jones. Last October, the former Trump adviser Roger Stone received a ban from Twitter for harassing and threatening several CNN anchors and commentators. In November, Twitter banned Tim Gionet, a far-right former BuzzFeed employee who went by the username @BakedAlaska, for making repeated threats and racist comments. As the New Statesman noted last month, Google searches for Gionet's name dropped significantly after he was banned from Twitter. Alex Jones is a bigger public figure than Gionet ever was, but he's now lost his last remaining mainstream platform. It's a step.