Of Course Twitter Loves Elon Musk
Tesla's billionaire CEO is revealing exactly what the social platform is truly optimized for—the amplification of powerful voices.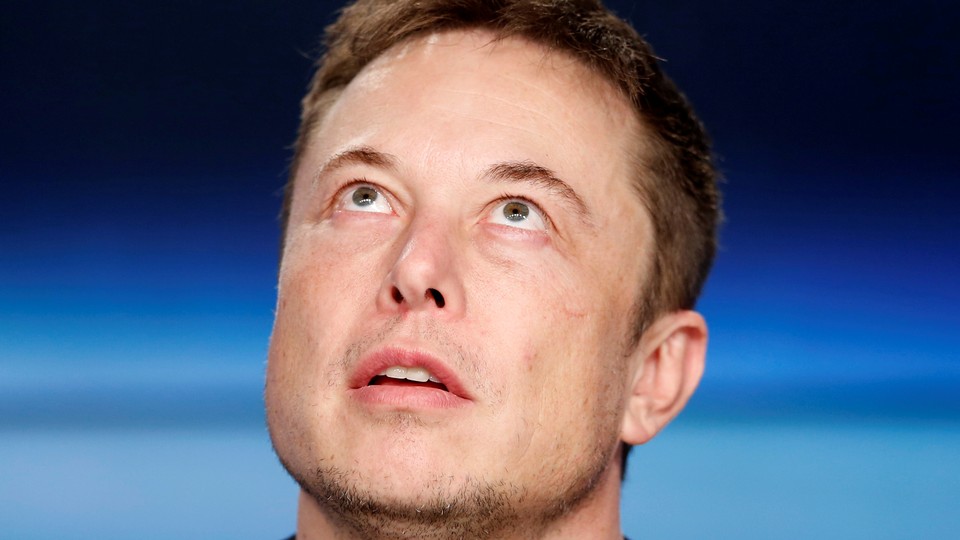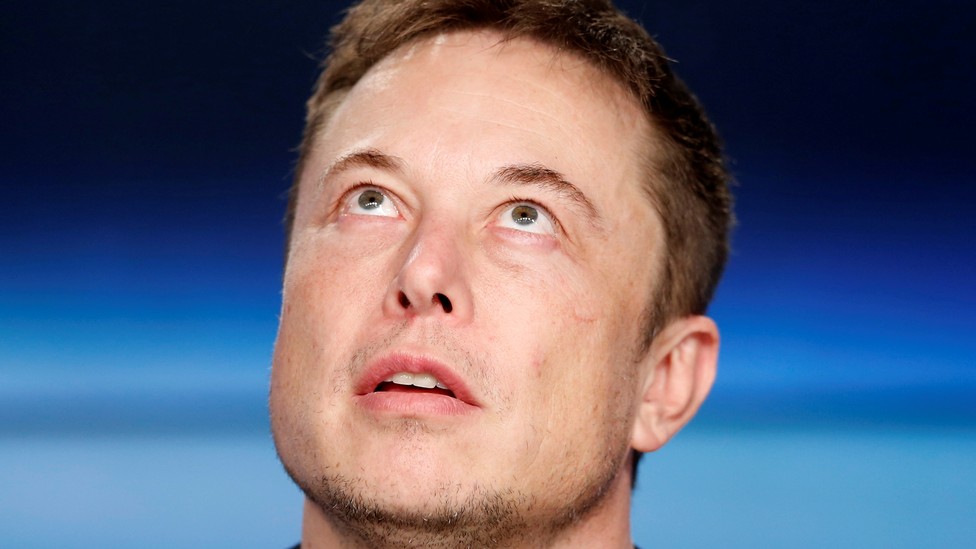 Back in 2010, when the most controversial question about Twitter was whether it was too frivolous, the CEO at the time, Evan Williams, said, "We're just realizing the promise of the Internet—the democratizing of information. Anyone can share something with the world with little barrier, and that's a really big deal." This was an uncontroversial point at the time, one that would soon become a favored chestnut in Silicon Valley, after social-media executives grabbed on to the narrative that the Arab Spring, apparently organized partly online, demonstrated the revolutionary power of the technologies they had built. (The passage of time, and the failures of democratic uprisings, have complicated this narrative.)
Lately, Williams's sentiment—that Twitter is a place for the little people to exercise their collective power—could not seem more naive. Several years ago, a researcher determined that Twitter users, on average, have one follower apiece. Elon Musk, the CEO of Tesla, is followed by 22 million people. On Tuesday morning, after Musk tweeted that he is considering taking Tesla private, the Wall Street Journal put its headline about the tweet on the top of its website, where it remained for hours. Musk elaborated in subsequent tweets and in a letter to employees that Tesla's corporate account also disseminated over Twitter. By the end of the afternoon, Tesla's share price had risen 11 percent.
Musk is not an ordinary person using the democratization of self-publishing to reach the masses; he is a very powerful man with access to an exceptionally loud megaphone, and he potentially reaps great financial rewards as a result.
This is not the only recent case in which a celebrity tweet has moved markets: President Donald Trump has often done it, as when he criticized Lockheed Martin's F-35 fighter-jet program and the stock lost $4 billion in value; earlier this year, the model Kylie Jenner wrote a mildly critical tweet about Snapchat that was credited with inspiring a selloff that lost Snapchat's parent company, Snap, more than $1 billion.
Musk's tweet is notable, though, for the one-to-one relationship between his message and his wealth. As it began sending Tesla's share price up, he tweeted, "Good morning," with a smiley-face emoji. It was a good morning, for him. Musk owns nearly one-fifth of Tesla; it's hard to think of anyone who would have benefited more from an 11-percent stock-price gain, at least when it comes to short-term finances. If Twitter's early executives had hoped that their product would break the hold of the rich and powerful, Musk's tweet is evidence that the social-publishing platform has done the opposite and, in fact, consolidated their power.
There's no question that Twitter has helped amplify voices that might otherwise be marginalized: The #BlackLivesMatter and #MeToo movements both started there. Still, evidence suggests that Twitter amplifies already-loud voices even more. The largest single-day volume of tweets using Trump's #MAGA hashtag (about 800,000 on Election Day) was double the single-day record for the anti-Trump #resist hashtag (about 400,000 on the day of Trump's travel ban, soon after his inauguration). Three years ago, computer scientists at the University of Pennsylvania and elsewhere studied the demographics of Twitter users and found that high earners had more followers and got more retweets than low-income people. Similar dynamics play out in other areas, too. In June, the International Journal of Press/Politics published a study finding that male political reporters retweeted tweets written by male colleagues three times as often as they retweeted female colleagues; female journalists also retweeted men more often. The authors concluded, "Our research … suggests that Twitter reflects (and may amplify) existing gender asymmetry in the power center of U.S. politics." Complicating matters is the fact that armies of bots are deployed to sow ideological divisions and muddy any authentic sense of which voices are loudest.
This is almost certainly not what Twitter's founders had in mind when they started the company. But Twitter doesn't do much to discourage any of it. The company measures its success in terms of "engagement"—Silicon Valley-ese for how long people use an app and how intensely they interact with it—which helps convince marketers that users will pay attention to their ads. That means that when people retweet and like posts, Twitter benefits. Twitter super-users like Musk—the ones who reliably generate re-tweets, likes, and, in turn, revenue—are good for Twitter's bottom line. It is telling that, in late July, Twitter's CEO, Jack Dorsey, began a conference call with investors, meant to discuss the company's quarterly earnings, by recounting a viral tweet by Serena Williams.
Among Twitter celebrities, Musk has become a special case. His tweets regularly make headlines, such as when he insinuated without evidence that one of the rescuers of boys trapped in a cave in Thailand was a pedophile; announced plans to create a site where people could rank journalists' credibility; and made a joke having to do with Tesla's share price and Hitler. (The latter tweet went up two days before the one about taking Tesla private.) In an interview earlier this year, Jane Hutcheon of the Australian Broadcasting Corporation reminded Dorsey, the Twitter CEO and one of its co-founders, that he once said he admires how Musk uses Twitter. Dorsey told Hutcheon, "You look at my original tweets, and while they might be embarrassing to me, they were very open, they were very vulnerable. ... It was kind of like texting with the world. That is what I respect in terms how Elon uses it." (Recently, Musk used Twitter to respond to a story published by this magazine with an odd jab about reporters with "poopy diapers.")
Dorsey and Musk, with their combined 26 million followers, can indeed assume that when they tweet, the world reads it. Most of Twitter's other users—especially those whose vulnerability extends well beyond the emotional texture of their tweets—can hardly say as much.