As Memes Evolve, Apps Are Struggling to Keep Up
Everyone is racing to build a killer meme-making tool.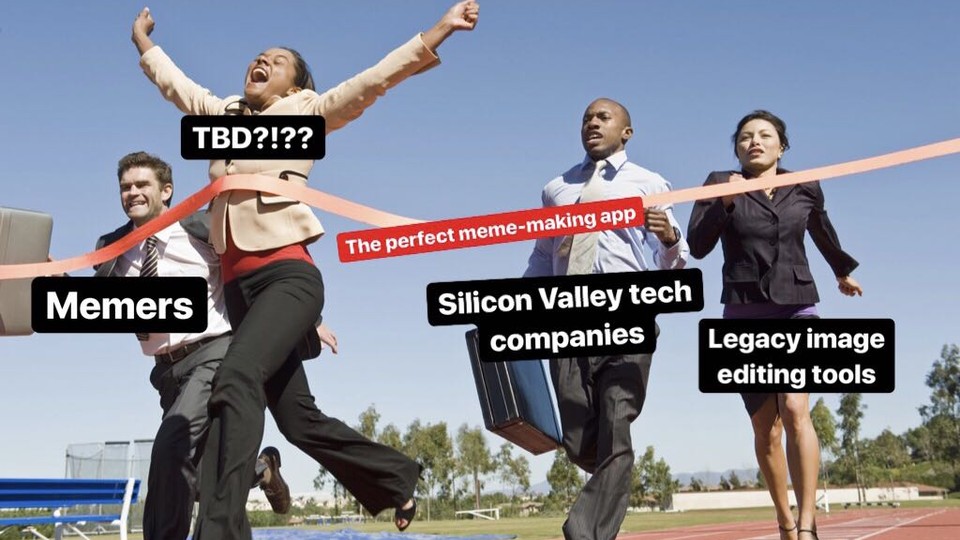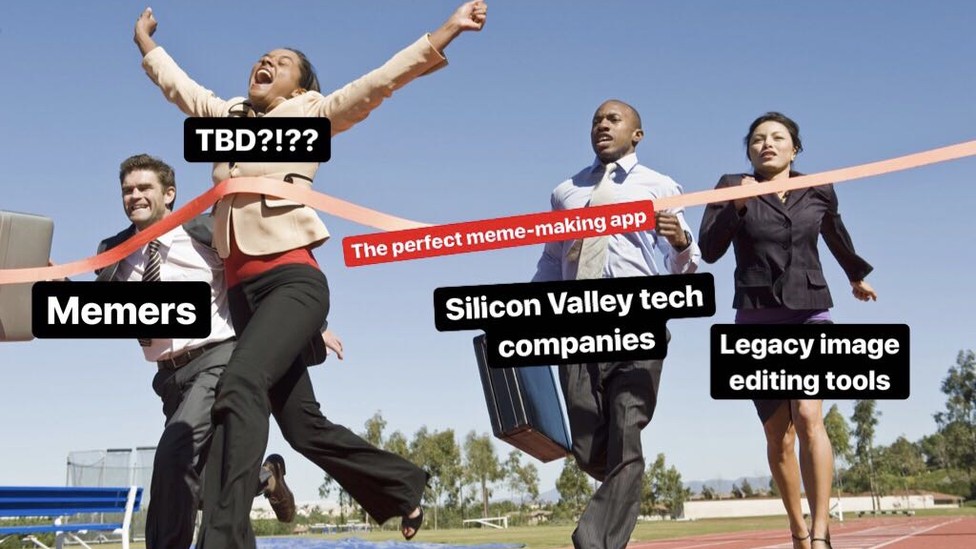 Last year, Alex, a 19-year-old in California who runs a network of Instagram pages dedicated to publishing memes, became so frustrated with the current apps for making memes that she hired a developer to build her own. She spent $3,000 on the project, which she says has saved her hours of time and frustration.
"I don't want to say it's a competitive edge, because at the end of the day that's not really what determines if a meme does well," says Alex, whose pages have 5 million collective followers. "But for people who care enough about having memes perfect, it makes a difference." (Like all members in this story, Alex runs her pages anonymously, and asked to be referred to by her first name only to protect her privacy.)
As memes have increasingly dominated social platforms like Instagram, the methods for making them remain largely rudimentary. Many large accounts on Instagram treat Twitter as a content-management system for laying out images with text, but that comes with huge limitations. As memes become increasingly visually complex, they're forcing meme makers—from professionals who run massive pages, to amateurs, to those just starting out—to rely on a patchwork of unreliable photo-editing tools.
"I use four apps to make a meme," says Andy, who runs the Instagram meme page @heckoffsupreme. "There's not one app I can go to for everything I need, not even close."
"It's ad hoc," says Terry, who runs the page @socialpracticemafia and has used a slew of photo- and video-editing apps to make memes. "You know the term bricolage? It's basically making due. It's like that."
Years ago, when classic macro-memes with Impact font—like Success Kid, Condescending Wonka, and Business Cat—became popular, there were tons of easy online meme generators. Unfortunately, as memes have evolved, the majority of top meme-making apps in Apple's App Store have failed to adopt to more modern formats, rendering them semi-useless.
"You'd only use one of those now to be ironic about how terrible they are," Terry says. "It's funny that there's been this regression to something that's actually less efficient because the style of memes has changed. I don't think anyone is designing these apps to make the kind of weird post-dank memes that are being made now."
The most popular format for large meme pages is still one that looks like a tweet with an image attached: a photo or video on the bottom, Arial-font text on top, and a white background. But over the past several months, there's been a sea change in the meme community, according to several top memers. Meme accounts that post more complex, artistic memes—including object-labeling memes, creative photo-editing memes, or memes with lots of text—have begun to gain popularity and online clout, and thousands of amateur meme accounts have sprung up, copying their style.
"The biggest difference is there's way more information packed into most memes today than Impact-font memes," says Cindie, who runs the meme account @males_are_cancelled. "The average person has viewed so much of this content, their ability to understand the nuance within newer meme format has increased."
"I'm 20, maybe because it's a new thing, but I think younger people are into more absurd, surreal humor," says Chris, who creates highly visual memes under the handle @young__nobody. "Those big meme pages would make fun of us or call us weird niche members with the kooky fonts, but the whole scene has grown a lot in the past year," says Loren, also known as @Whiskey.rat.
But to create in this new genre of memes means to rely heavily on apps that were not built with meme creators in mind. Phonto, one of the most popular apps for making object-labeling memes, has a steep learning curve and is plagued with bugs. "Losing my work has happened to me constantly," says Andy, who has also relied on an app called InShot. "Sometimes things will shut down and be gone and I'll have to start over. It becomes really time-consuming." PicsArt, another photo-editing tool, is a mainstay for many memers who use it to watermark their work, but is notorious for its distracting pop-up ads.
For video memes, many people rely on PicPlayPost, but the app was not built for making memes and doesn't include some more advanced features that many memers crave. "We didn't create PicPlayPost with the intention of going after the meme community, but given the tools we have it doesn't surprise me that it's building momentum in that group," says Daniel Vinh, who heads marketing for Mixcord, the parent company of PicPlayPost. "If any of these memers want to reach out and talk to us about the top five features they want or need, we'd be more than happy to have a brainstorm session on how we can make that happen."
In the meantime, some memers have found the current suite of mobile applications so lacking that they choose to create their memes on desktop computers instead. "On your phone, you're never going to be able to do as much as you could as on a computer," says Noam, who memes under the account @listenin2spitngettinparamordon.
Ronnie, who memes under the handle @mspainttrash, is part of a group of meme makers that works exclusively in MS Paint. "It's so readily available. You don't have to download it. It's on any PC. It's the most straightforward paint app that you could possibly use," he says. "I've made maybe two memes total on my phone."
Recognizing this need, some apps have emerged in recent months to corner the market. But building the killer meme app is incredibly challenging. Many memers say that for one app to have everything they'd need, it would have to incorporate advanced photo- and video-editing tools and a highly precise eraser. And it would have to be flexible enough to adapt to new formats in real time.
Julia Enthoven, a Silicon Valley veteran of Google and Apple, co-founded Kapwing, a photo- and video-editing app, nine months ago in order to patch what she saw as a huge hole in the market. "You can see it in the Google search trends. The search volume for meme maker has more than doubled since September 2017," Enthoven says.
Keeping track of modern meme trends, and nailing details like the precise font options or default spacing between photos and text, can be a challenge for those not completely immersed in the meme world. George Resch, a memer with more than 1.6 million followers on Instagram under the handle @tank.sinatra, and his co-founder, @adam.the.creator, who has nearly half a million followers on Instagram, are betting that their deep knowledge of meme culture will give them a competitive advantage. They released their meme-making app, Momus Meme Studio, in January and have seen usage grow exponentially.
"I think people trust what we use because we are known as the backbone of the meme community," Resch says. He and his team spent hours on the phone with the developers building the app, trying to get it to look exactly right. "If you look at the pixels of space at edge of a picture, we talked about that for weeks … There's apps out there that don't pay any attention to that and it shows," Resch says.
Red Blue Media, which owns memes.com and @memes on Instagram and Facebook, also launched its own meme-making app, Memes Generator + Meme Creator, three months ago and saw an immediate explosion of use. The app is now on top of search results for meme makers in the App Store and has received thousands of positive ratings. In order to stay relevant, Memes Generator + Meme Creator employs a team of people who search for emerging meme trends on Instagram, Twitter, and "meme incubation zones" like Reddit and 4chan. "We're looking at the things that are going viral and trending and incorporating it into the app," says Chris Rosiak, the co-founder and CEO of Red Blue Media.
Conner Jay, the head of audience at Elsewhere, a video-focused meme-creation app that launched in December, says that being one with the meme community is key to success. The app's user base is 80 percent 13-to-24-year-olds, and Jay says they can tell when things aren't authentic. "Our team is very squarely in our 20s. We have a video editor who has been a professional shitposter for years," he says. The company also does a huge amount of outreach on college campuses and pays students to create memes for its owned channels.
But awareness remains the biggest hurdle for newer meme apps. Several big memers say they mostly only hear about new products through group chats with peers. "We have a bunch of group chats and we're all good about sharing things with each other," says Jacob, who memes under the handle @WipeYaDocsOff. "I've had people send me font zip files inside chats." Some memers also rely on Facebook groups where they trade stock photos and discuss new trends.
Still, Jeff, who memes under the handle @CtrlCtrl, says that those just starting out shouldn't be too intimidated by the intricate formats they might come across on the Explore page.
"If you're funny and you have ideas that are good, just keep messing around with whatever works for you," he says. "There's so many apps out there, so many ways to do it. I was never very tech savvy and it took me a while to get to the point that I'm at now. It took me a long time to find the right recipe."