How Daquan Went From Homegrown Instagram Account to Modern Media Conglomerate
Meme accounts are big business now—and plenty of people are eager to get in on the action.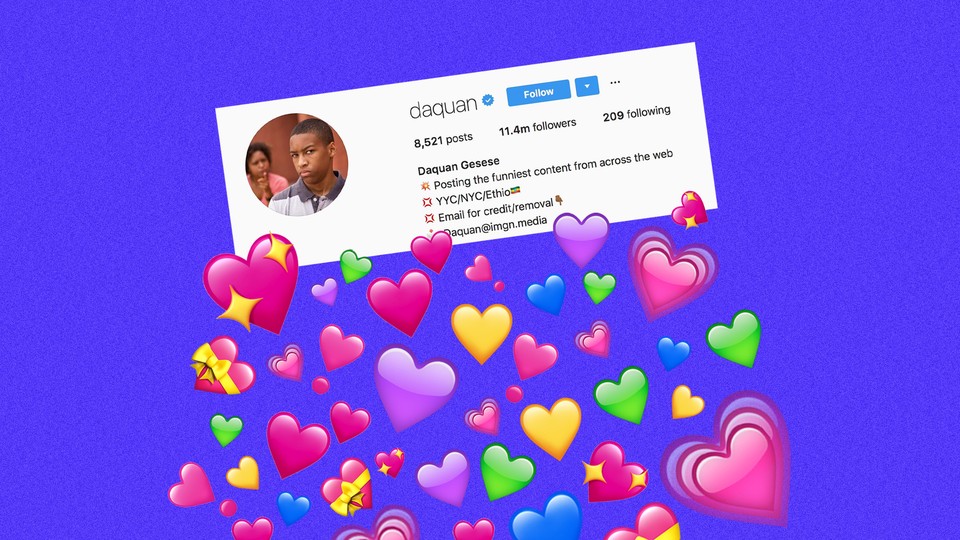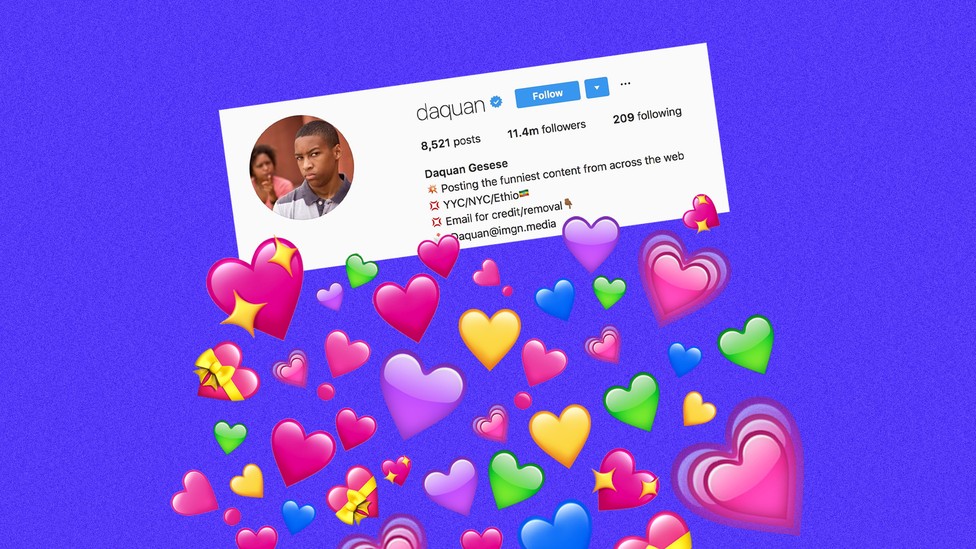 With more than 11 million followers, Daquan is on par with Instagram meme stalwarts like The Fat Jew and Fuck Jerry. The account's posts have spread far and fast, and have attracted famous followers including Justin Bieber, Drake, the Weeknd, Kendall Jenner, and Kevin Hart. Its homespun memes—mostly Twitter screenshots about sports, pop culture, childhood nostalgia, family life, and other #relatable content—feel like something a teenager might make in his bedroom, which was, for a while, not that far off: The account's proprietor is an anonymous 20-year-old Canadian who started it four years ago on a whim.
And until recently, he mostly ran the page alone. "In regards to content, I do everything by myself," he told the Observer in 2017. But over the past year, as Daquan has scaled, a new kind of superstructure has arisen around it, with a Manhattan office; an ever-growing staff of businesspeople managing big marketing campaigns, brand integrations, and expansion efforts; and a team of meme makers supplying it with content. The kid in his bedroom is now the editor in chief of a small publishing outfit, reviewing, editing, and approving all memes that go out on the page, and the project he started while bored in class is very big business.
Behind Daquan's success are Barak Shragai and Dor Mizrahi, a pair of Israeli tech entrepreneurs who, in 2013, began to notice comedy influencers were dominating social platforms and bet big on Instagram. By 2015, they founded comedy.com with a $1.5 million seed round and moved to Los Angeles—specifically, 1600 Vine Street, conveniently also home to some of the platform's biggest stars. Comedy.com grew to encompass a network of about 50 creators, and Shragai and Mizrahi developed proprietary technology to identify trending content and promising influencers on social media. Daquan stood out from the beginning. Getting in touch with him, however, was difficult.
At the time, Daquan's founder was only 17 and rebuffed several of Shragai's initial attempts at a partnership. By the end of 2016, however, he came around. According to public records, Daquan Media was incorporated three days after Christmas in 2016.
"This guy was amazing from day one," Shragai says of Daquan's founder. "When everyone was aggregating content, he was thinking about curation. He can sit for two to three hours thinking about the caption for that meme and making sure that hits the right point of view. That kind of editorial thinking was amazing for us."
He and Mizrahi dreamed of turning Daquan into a leading comedy brand, and began pumping money into the business.
Shragai and Mizrahi—who in 2017 rebranded comedy.com as IMGN Media—have now helped Daquan ink deals with the top talent agency UTA and expand onto new platforms like Snapchat Discover. The company soft launched a web hub for Daquan's content, daquan.tv, and hired a team of five who source and create up to 10 memes a day, all reviewed by the account's founder and editor in chief, a subset of which are sponsored by brands. (Shragai and Mizrahi declined to reveal financial figures for the business.)
Daquan is far from the only ostensibly homegrown meme page that has professionalized and scaled. Kylie Jenner famously earns $1 million for each sponsored Instagram post, but pages with a fraction of her audience can still generate thousands in revenue. Big ones like Betches, Fuck Jerry, and Memes are all run by teams of people sourcing and creating content. "There's a tremendous amount of influence and reach and pop-culture relevance that some of these pages can start to have that is very valuable to advertisers," says Dan Weinstein, the president of Studio71, a digital-media company and influencer agency that partners with Worldstar. "This is millions or tens of millions of dollars of business."
Daquan is not the name of the founder of the Instagram account, but is itself a meme that started on black Twitter around 2014; "Daquan" is a fictional black man cavorting with a white woman, and the meme is a rich collection of imagined scenarios skewering suburban white America. But unlike other attention-craving memers, Daquan's founder does not use his real name, post selfies to Instagram Stories, or maintain public personal social-media accounts. He has done two interviews, both times via an anonymous email account, and refused to provide proof of his age or identity to The Atlantic, or to reveal his real name. After much back-and-forth, he did agree to a 30-second FaceTime chat and subsequent phone call.
Shragai sees his anonymity as a competitive advantage. "The fact that there's no face, it allows it to become an editorial brand," he says.
According to the data firm Priceonomics, the majority of the top 50 meme pages on Instagram and Facebook are not tied to a specific person's identity. Indeed, "there's an air of mystery around staying anonymous while being big-time," says Brandon Wink, the editor in chief of Meme Insider. "If you know what the person sharing all these memes looks like, in some cases it can kind of take you out of it."
By phone, Daquan's founder—who, like "Daquan," the character, appears to be a young black man—explained that he didn't start the account in an effort to get famous. "I just like sharing memes. I don't think it's about me; it's about the content," he said.
"He made sure from day one that it's a brand, not a personality," says Shragai. And to investors and brands desperate to tap into the meme account's young Millennial and Gen Z audience, who actually founded the Instagram page really doesn't matter. Daquan, the brand, is now a well-oiled corporate network.
Joseph Saviano, an investor in IMGN and Daquan, says he has ultimate faith in the company to deliver on business goals, and to him the question of who actually founded the account is irrelevant. "There's someone who created an account and has all the ideas and comes up with it," he says. "That I know."