The Murders That Sparked China's Rideshare Boycott
In the past two years, four women have been killed by drivers for the popular Chinese ride-hailing app Didi. Users have had enough.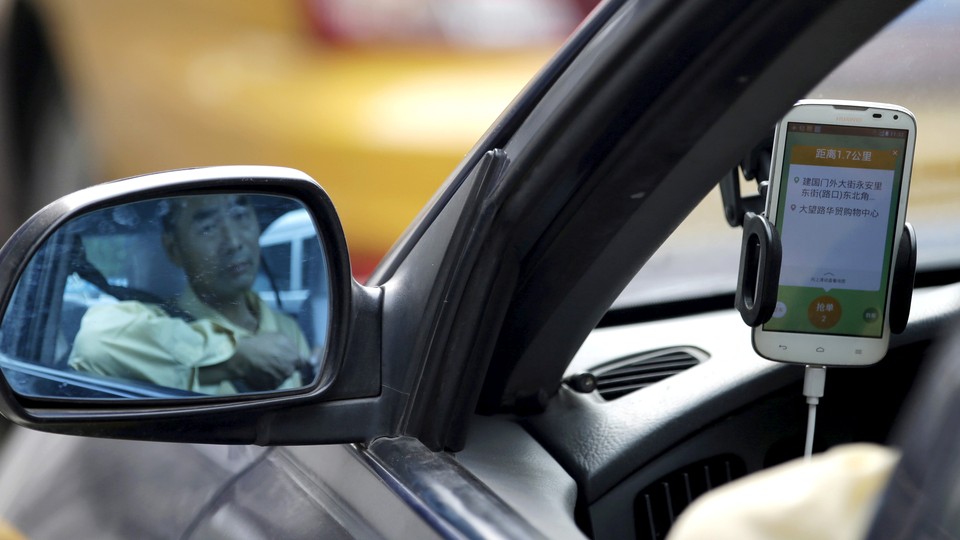 Users of China's top rideshare app, Didi Chuxing, are deleting it en masse after one of its drivers raped and murdered a young female passenger. The hashtag #BoycottDidi on Weibo has garnered more than 1 million views as public furor grows over the latest in Didi's crises.
Over the weekend, the driver confessed to local police to raping and stabbing his 20-year-old passenger on her way to a friend's birthday party. The murder is the second in three months—this May, a young flight attendant was killed by her Didi driver. It is the third in a year—last May, according to Caixin Global, another woman was strangled and killed by her driver. And it is the fourth in two years—the year before that, a female teacher was robbed and killed after threats from her driver.
"As a platform, we have disappointed the public's trust in us and cannot shirk this responsibility," Didi said in a statement, admitting to failing to react quickly to another passenger's complaint filed against the driver the day before the murder. The rideshare company has suspended its Hitch services (as it did after the last murder) and fired two senior executives, one in charge of Hitch, its intercity carpooling service, and the other in charge of customer service. The Didi president, Jean Liu, oft-regarded as a hero for Chinese women in business, issued an apology on Tuesday. China's government is now cracking down on reform across the transportation sector.
A sort of citizens' court went into session on Weibo. The victim's friend accused Didi of delaying its intervention after she'd contacted the service. Another woman came forward claiming prior harassment by the same driver, stating that Didi didn't respond to her complaints. Local police published their report of the case on their official account. Reviewing these pieces of evidence, many users have decided Didi is guilty, and a boycott is the penalty.
"Some might say there are just a few bad drivers, but Didi has given these criminals a platform," wrote one user on Weibo. "I hope everyone boycotts Didi together." The actress Xiaochen Wang posted a screenshot of her deleting Didi's app, with the caption "Bye!" to more than 9 million followers. Hundreds of thousands of fans liked or commented on the post in support, many of them sharing their own screenshots. As of Monday, the top trending topic on Weibo was "sue Didi." Four out of Weibo's top 10 trending topics related to Didi.
#BoycottDidi recalls last year's #DeleteUber movement that arose after the carpool service was accused of taking advantage—by turning off its surge pricing—of protests over President Donald Trump's Muslim travel ban, on the heels of Uber's own sexual-harassment controversies.
This is not the first time Didi has been embroiled in scandal as concerns over the safety of women in China grow. In the past four years, more than 50 female passengers have publicly accused its drivers of sexual assault and harassment. The company has made attempts to bolster passenger safety, including a removal of passenger account photos and a ban on male drivers from picking up female passengers during late hours. But frustration continues to mount over the app. The ban was criticized as counterintuitive, since female passengers, alone and without a means to go home at night, worried they'd be more unsafe.
It's uncertain how #BoycottDidi will impact the company. Last year, despite facing public backlash and past threats to boycott over reports of driver sexual harassment, the company's user base grew to more than 400 million users. It was reportedly planning an IPO later this year and remains the country's most popular ride-hailing app, although challengers such as Meituan-Dianping, originally a food-delivery app, have recently entered the market.
This boycott in particular, however, has gained traction against the backdrop of a renewed conversation over sexual assault that's taken hold in China. The country's grassroots #MeToo movement, which got its start on Weibo as well, has shone a stark spotlight on campus and workplace sexual-harassment cases and compelled activists who, critical of slack regulation from businesses and the government, have started petitions, spread flyers, and, yes, encouraged boycotts.
The outcry over Didi ultimately reflects an ongoing, larger concern over violence against young women in China. "It shouldn't matter what clothes a woman was wearing or whether she was drunk. We shouldn't tell women to act a certain way, or only teach women to defend themselves," wrote one Didi boycotter on Weibo. "We should teach men not to violate others."