Soccer Has No Interest in Fairness
The sport is finally embracing video-replay technology—but that doesn't mean it's going to change.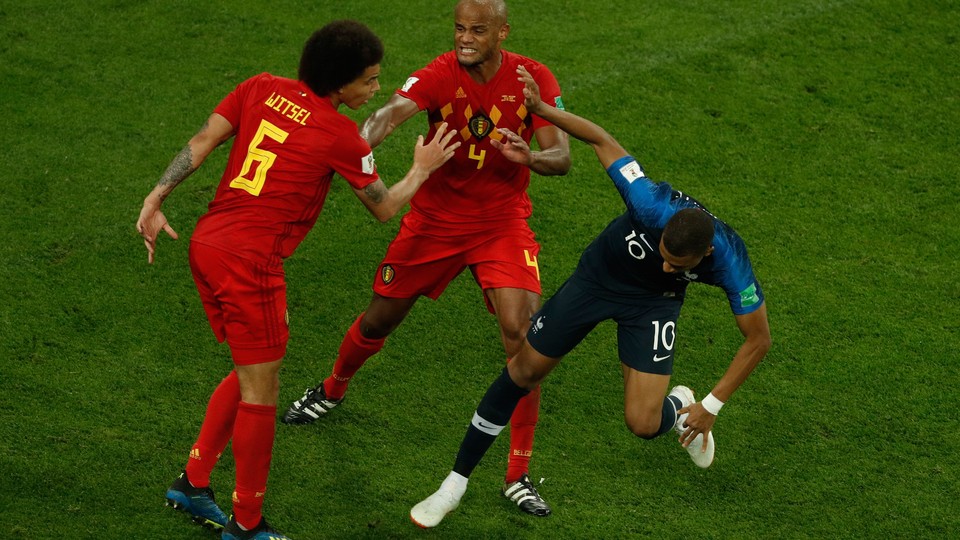 The World Cup has a long history of injustices. Diego Maradona's infamous "hand of God" goal, in which the legendary player discreetly used his hand to send the ball into the net, helped Argentina beat England in the quarterfinals in 1986. In the final between England and West Germany in 1966, a shot by the striker Geoff Hurst apparently failed to cross the goal line, but the goal was awarded anyway, breaking the Brits out of a gritty tie.
In so many cases throughout soccer's past, access to video replays would have helped the referees correct their mistakes, possibly altering the course of the match—and history. But until recently, soccer has been stubbornly resistant to such technology. Electronic devices that help determine whether a goal was scored were implemented in the previous World Cup, and this year, FIFA finally gave video replays a shot. Huddled in a central operation room in Moscow, a video-assistant referee—or VAR—and three other assistants with access to several cameras on the field have communicated with each match's main referee through an earpiece, helping out with difficult calls.
While replays have reversed a few bad decisions, the outcome has been largely disappointing. This is in part because the new technology has brought with it many new complications. But it's also because soccer, at its most fundamental level, is made to be unjust.
First, there is the issue of which calls deserve the video replay. Although the VAR can assist calls, the decision whether to review a play is still the referee's. In the first half of one match between Sweden and Germany, the referee refused to look at the replay of what seemed to be a pretty clear penalty made by a German defender on a Swedish striker. In the quarterfinal match between Brazil and Belgium, a tackle by the Belgian defender Vincent Kompany on the Brazilian striker Gabriel Jesus inside the penalty area was judged not worth screening, even though the referee stood at midfield, listening into his earpiece for a long time. (Conversations between the main referee and his assistants remain private during the match.)
The referees have seemed hesitant to request video replays too often, perhaps because they do not want to appear fragile: Players are quick to sniff out an official's indecisiveness. Moreover, certain plays—the grabbing and shoving during corner kicks, for example—are seemingly immune to VAR scrutiny, maybe because referees fear that it would be too complicated to award so many penalties.
Replays also don't always tell you the whole story. Slow-motion video can't guarantee a clear sense of impact or intentionality. It doesn't help that many professional players have spent a lifetime training themselves in the art of deceit, making what is often deliberate look like an accident—an elbow "accidentally" touches the opponent's neck, a defender "accidentally" loses balance and falls on the striker's rib cage. The Mexican player Miguel Layún's step on the Brazilian striker Neymar da Silva Santos Júnior's previously injured ankle in the second round of this year's World Cup is the kind of incident where the referee is left only with his interpretative instincts. The strange, half-hearted head butt (was it a head butt?) that the Colombian defender Wilmar Barrios directed toward the English midfielder Jordan Henderson is a similar case.
These complications pale in comparison to the fact that deceit is woven into the fabric of the game. Soccer, as a sport, has no interest in being morally upright, or even fair. A game in which so many events occur—22 players chasing a ball over a huge field for about 90 minutes—and only one event (the ball in the net) truly counts seems, in fact, sadistically and delightfully bent on being unfair. The setup incentivizes players to do everything they can to manipulate all the minor events that might lead to scoring. At this World Cup, Neymar's attempts at feigning fouls have generated most of the memes, but manipulative moves in soccer are widespread and varied. Goalies step ahead to have a better chance at defending a penalty kick; defenders throw their arms up in the air to pretend they didn't touch the opponent; players feign injuries to run out the clock (a trick referees at this tournament have seemed particularly oblivious to). Neymar's flopping is just the most obvious form of deceit.
The second-round match between England and Colombia during this World Cup—a pantomime of dives, whining, and poor acting on both sides—emphasized that deceit in soccer is not culturally based, or the result of a glitch in the moral compass of a few players. The frequency with which players might bend or break the rules usually depends on several variables, ranging from the importance of the match, to the psychological stability of the other team, to the perception players might have of a referee's authority. But their perpetual attempts to pull the game's narrative in their favor only seems natural.
The World Cup extrapolates some of these congenital qualities, doubling down on soccer's winner-takes-all setup. No championship that picks its winner over three group-stage matches and four playoff matches can claim a great interest in performance by numbers or fairness. Decision-by-penalties seems like a child's idea of how to untie a match. And even the tournament's schedule—all matches in a month, once every four years—has a ruthless, whimsical quality.
The tournament pines for tragedy, for surprises—and wild unpredictability may, in fact, be the best side benefit of soccer's murky moral arena. Nowhere is the underdog better served; nowhere is hubris punished more severely. "We like to think we have visionaries amongst us," the German coach Joachim Löw said in an interview last year, before his team crashed out in the group stage to a heroic but not very talented South Korean side. "Brazil is the clear favorite now," rejoiced Brazilians, before they were stunned by Belgium.
It might be asking too much of the VAR system that it sort out soccer's deeper, tacit commitment to moral ambiguity. Innovations in soccer often solve one interpretative riddle only to create others. One can resent the game's vulnerability to interpretation, its frequently unjust outcomes, or one can embrace it. Usually, the option is contingent on whether your team benefited in the end.