Raising the American Flag Made in China
Is the banner's patriotism undermined when it's manufactured abroad? An Object Lesson.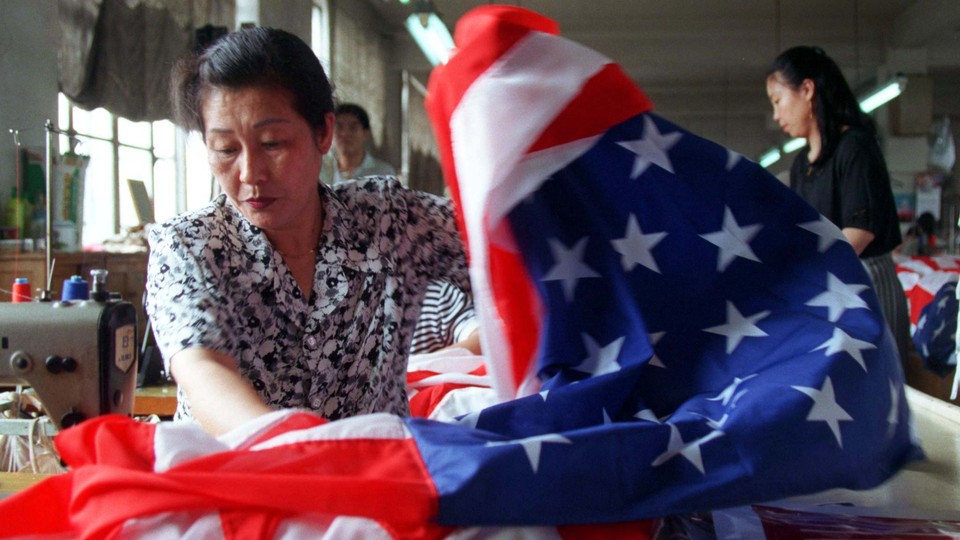 As the world confronts President Donald Trump's "America First" protectionism, one product stands at the symbolic center of today's trade war: American flags made in China. A harbinger of economic globalization and a source of nationalist anxiety, these foreign-made flags have so far escaped the president's tariff targets. Yet for the past two decades, and most recently on Flag Day, Congress has introduced bipartisan legislation to restrict or ban these imports.
Sales of American flag imports pale in comparison to America's $375 billion trade deficit with China, but these Chinese imports are more politically potent than a line item on the Harmonized Tariff Schedule. Importing flags is not just a matter of economics and global trade. To its critics, it represents an economy, and a country, on the decline.
---
"We make the most emotional cloth on earth," says Chris Binner of Valley Forge Flag in Pennsylvania. Their flags have covered the coffins of presidents. They have graced the moon during the Apollo mission. And they have been hoisted over Mt. Suribachi for the iconic photograph on Iwo Jima. When cloaking the fallen solder or marking the hallowed domain of cemeteries and ceremonies, the American flag seems to assume a mystical quality, one that embodies sacrifice and requires reverence.
Yet the American flag is so visceral partly because the symbol is so contested. The flag contains paradoxes: sworn and torn, pledged and deplored, burned and raised, the flag of Norman Rockwell and David Hammons, of civil-rights marches and Ku Klux Klan rallies, of loyalty and opposition, and avowed patriotism nonetheless. If the American flag is "a living thing," as the U.S. Flag Code insists, then it has come to personify all the contradictions of American life.
Into this disputed territory, foreign-made flags have staked their own claim: They, too, are signs of contradiction, yet they are authentic nevertheless. Since the image of the American flag is in the public domain, anyone can use it. But for those who see the American flag as semisacred, importing flags is tantamount to sacrilege. Resolutions from Congress and the American Legion denounce it. How could a symbol that so personally embodies "America" be born in another country? And yet, as a representation of a country of immigrants, how could it not?
On one Fourth of July holiday, the ABC local news anchor Len Stevens, now a communications director at Liberty University, saluted his Virginian viewers. "Okay, patriots, a question for you now. Is your American flag born in the U.S.A. ... or made in China?" To find out, Shelley Basinger, a news reporter, visited a local flag shop, whose owner acknowledged that many consumers buy less expensive, imported flags. Incredulous, the reporter interviewed flag owners to see whether they owned "foreign Stars and Stripes." One man was relieved to find out that his flag was not made in China "because so many things are." A woman was also pleased to know that her flag, according to the reporter, "passed the test." But another flag waver contritely insisted she "had no idea" hers was made in China. "If you're willing to spend a little more for the real deal," the reporter advised her viewers, "take the time to make sure it is."
This is the populist, at times patronizing, rhetoric of a country unsettled by economic anxieties about China. Bipartisan bills that seek to ban American flag imports have been matched by criticisms spanning the political spectrum.
"The flags we wave should not come from a country that has institutionalized slavery," opined the WND conservative political commentator Jane Chastain, seemingly unaware of how that criterion would disqualify America itself.
Her sentiments, made a month after 9/11, were echoed a few months later in the progressive publication Salon: "The American flag stands for, among other things, workplace liberty and decent pay for an honest day's work. Americans who buy flags made in China are saying that the promises of justice and equality underlying the Stars and Stripes are empty promises."
Later, The New Yorker offered its own satirical take. On its Fourth of July cover one year, a puckish rendition of Maoist-style propaganda appeared. It featured rows of Chinese proletarians resolutely gazing toward a future communist utopia—and sewing the American flag.
---
In response to these foreign-made flags, politicians chose ire over irony. In 2001, Congress's first Genuine American Flag Act intended to ban all American-flag imports to the United States. It came in direct response to two foreign threats: the sudden spike in flag imports after 9/11, and China's recent ascension to the World Trade Organization.
Ted Strickland, the bill's sponsor, first saw American flags made in China during a 9/11 remembrance ceremony on the steps of Capitol Hill. "Something was not right," the Democratic congressman recalled. "There we were, singing our allegiance to America and all the freedoms she represents while waving flags made in a nation that tramples on those same freedoms. To add insult to injury ... those Chinese-made flags represented jobs that in all likelihood used to be American jobs." Strickland, a theology graduate and trade protectionist, later told me that support for American flags made in China was akin to what Dietrich Bonhoeffer called "cheap grace." "Cheap patriotism," he said, makes you feel good but requires nothing from you.
The Genuine American Flag Act never passed, and none of the subsequent All-American Flag Acts have gained enough support to ban federal purchases of foreign-made American flags. But state legislatures, including Arizona, Florida, Tennessee, Maryland, Massachusetts, and Wisconsin, have limited state purchases of the flag to U.S. manufacturers, while Minnesota has banned the sale of foreign-made American flags altogether.
These measures, which might contravene current international trade agreements, extend from a long history of protectionism, including the Boston Tea Party. Although it has since become a model for today's populism, that famous tea party was also the precursor to the founding of a republic that soon welcomed what John Adams called the "wild, extravagant, and romantic" plan that foreign nations should be able to freely trade with America.
Despite Americans' general commitment to international trade, the decision of whether to buy imports has never been a purely economic one. Underlying the opposition to foreign-made American flags is not only national pride, but also national animosity. "Buy American" is not just about putting America first. It's also about challenging America's rivals.
---
U.S. manufacturers have refused to raise the white flag against their Chinese competitors. After 9/11, Americans' insatiable demand for flags and the surge of Chinese supply "tragically turned [the domestic flag industry] upside down," confided Chris Binner of Valley Forge Flag. In response, his company and other U.S. flag manufacturers created the Flag Manufacturers Association of America (FMAA) in 2003 to certify American flags as "homegrown with pride"—made by U.S. labor with U.S. materials.
The FMAA's certification program was not simply a response to an economic threat. According to the organization, 95 percent of American flags are made in the United States. Instead, former FMAA members have told me that the label makes the flag "more authentic." And while the FMAA officially denies the overt political nature of their labels, one of its press releases remarks that an American flag made in another country "kind of defeats the purpose of being a true symbol of patriotism, doesn't it?"
The effort to certify authentic flags against those from a nominally communist country echoes the campaign that led to the drafting of the U.S. Flag Code at the National Flag Conference in 1923, a year after the U.S.S.R. was established. During the conference, Secretary of Labor James Davis cautioned that "disrespect for the flag" was one of the "first steps" toward a communist revolution. Other advocates included the Boy Scouts of America, the Daughters of the American Revolution, the United Daughters of the Confederacy, and the Ku Klux Klan.
Congress adopted the Flag Code in 1942. Later, as America continued to fight communism in the Cold War, President Dwight Eisenhower issued an executive order specifying the precise form and measurements of the official flag. In times of global political uncertainty, the American flag has become a focal point on which Americans seek to reassert control.
When I pressed the former FMAA president Robert Waller Jr. on why American flags made in China would not be a true symbol of patriotism, he offered, "because it is not being made by the American worker." But the same global forces that make American flag imports possible also allow immigrants to sew American flags in America. On Flag Day in 2005, the Huntsville Times reported that half of the workers at C. F. Flag, then an FMAA member, were Mexican immigrants. In response, Kevin Hickey, the owner of the United States Flag Store, commented, "Do you really care if the American flag is made by Mexicans in Alabama or a factory in China? To me, it doesn't matter."
Hickey himself is both a proponent and a product of globalization: He was born in England, sells American flags made in China, and flies the British flag outside his home in Pennsylvania. Generations of immigrants have shown that national identity is not just about where you are now, but also where you came from. The same may be true about the American flag.
---
Along Shanghai's Huangpu River, the Bund waterfront features a long stretch of Chinese flags in an area once occupied by the British after the Opium Wars. Today, within that area's famous Peace Hotel resides a branch of Citibank, translated as "The Bank of the American Flag." The Bund illustrates China's complex relationship with trade and globalization.
"Let's imagine," Dannies Zhang, the owner of Jiaxing Zhengyang Household Products Factory, began with a broad smile. "If China's economy is better than America's someday in the future, maybe we will import flags from America. Economics decides everything." Zhang, a charismatic entrepreneur, conveyed a curious admixture of economic determinism and capitalism that paired well with the communist and Chinese flags that flanked his desk.
Outlawing the sale of imported American flags, according to the Chinese manufacturers I interviewed, was understandable but mistaken. Such a ban, Zhang told me, "is senseless and not necessary because in your country, you cannot produce everything just by America itself. You must import." For Maggie Zou, a manager at Shanghai Sinohigher Economics and Trade, such legislation is evidence that the "Americans' love [for] their country is too much."
Whereas most U.S. flag manufacturers reasonably consider themselves to be in the patriotism business, Chinese manufacturers see themselves merely in the flag business. As John Jiang, a manager at Shaoxing Guotai Printing and Dyeing, bluntly relates: "I don't care about the emotion; I only care about the sales as sales director."
But when our conversation shifts to the Chinese flag, most of the Chinese manufacturers' opinions are remarkably different. By reflecting on their own national flag, many expressed the same economic nationalism U.S. flag manufacturers espoused—only in this case, globalization is currently working in China's favor.
When discussing the Chinese flag, Jiang admitted that it is a "very important matter that a national flag is made in its nation," and he could empathize with Americans who want their flag American-made. Zou concurred: "The national flag should be made in the native country" since, she reasoned, "it's an emotion of loving the country."
Like in the United States, where Valley Forge recently ceased production of the Confederate flag, there are also limits to that logic in China. No Chinese manufacturer I interviewed made the Republic of China flag—the standard of the Chinese state between 1912 and the establishment of the People's Republic of China in 1949. One Chinese retailer did confide that he sold the Republic of China flag to a movie producer, but under one condition: that the flag be burned after filming the scene.