Europe's Smack to Google May Only Be the Beginning
The European Commission's record-breaking fines for Google foreshadow a larger regulatory invasion of the U.S. technology industry.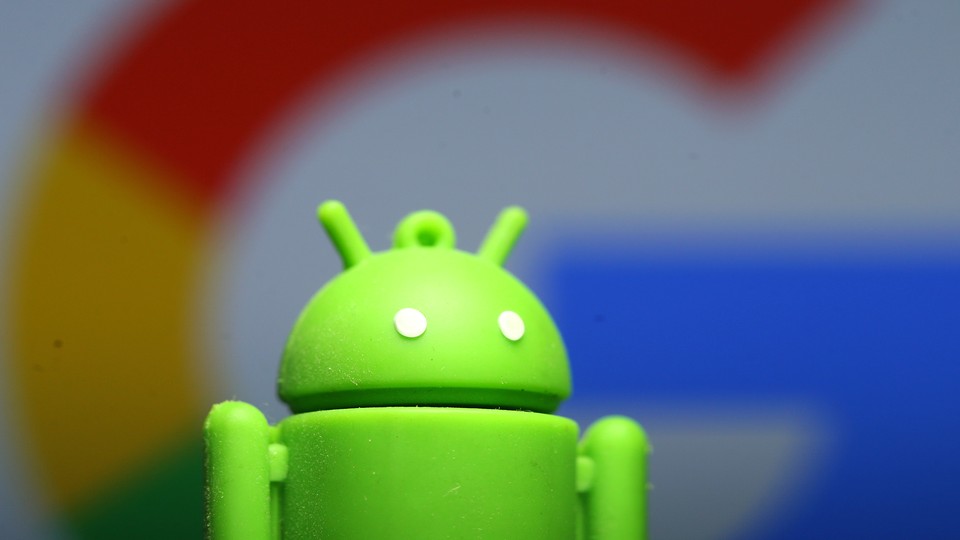 On Wednesday, the European Union brought down an antitrust fine of 4.34 billion euros—or about $5.06 billion—against Google, for anticompetitive practices related to Android, the company's mobile operating system. It's the European Commission's largest antitrust fine ever, topping the previous record of 2.42 billion euros—which was also levied against Google, just last year, for abuses of its search-engine dominance.
At issue is how Google has used the proliferation of Android, which runs on more than 80 percent of smartphones worldwide, to entrench its other services, especially Search. In exchange for receiving Android for free, Google demands that phone makers preinstall Google apps and services, such as Search and the Chrome browser. The European Commission's regulators contend that this default stifles competing apps and services.
Furthermore, according to the European Commission's decision, Google has prevented phone manufacturers from installing alternate builds of Android. Android is an open-source operating system, meaning that others can make their own, customized versions of it (Fire OS, used on Amazon's devices, is one example). If manufacturers can't actually use different renditions of Android, then the software's open-source status doesn't actually help it increase competition and consumer choice.
"It's a very serious infringement. It's a very serious illegal behavior," Margrethe Vestager, the European commissioner for competition, said in a press conference announcing the decision. But a big question remains: What does the decision mean for Google and other big tech companies? This might be the tip of the iceberg for global technology regulation, for which Europe has been doing the work the United States can't, or won't, pursue.
---
Five billion dollars is a lot of money, even for Google. Alphabet, Google's parent company, brought in revenue of almost $111 billion in 2017, of which about $32 billion, or 29 percent, came from its Google division. Alphabet's profit totaled $12.6 billion for the year, making $5 billion amount to 40 percent of its annual net revenue.
Still, the amount is a drop in the bucket when compared to Alphabet's overall financial picture. While the company also took a $9.9 billion one-time charge related to changes in U.S. tax law, Google's success is only growing—its net revenues climbed by 20 percent over 2016, and almost that much over the year prior. And like other big tech companies, Google is sitting on huge piles of cash: about $102 billion, of which $62.8 billion is foreign held. That makes the possible $8 billion from the two antitrust fines—Google appealed the first decision, and indicated its intention to appeal the new one, too—more of an inconvenience than an existential crisis. Alphabet's shares traded only slightly lower following the announcement of the EU fine, suggesting that investors weren't terribly concerned about the matter, at least for now.
But there are longer-term uncertainties. One is how the decision will affect Google's business, and what effects that impact might have on the technology industry and the people who use its services. The European Commission's action would require Google to stop making handset manufacturers bundle its apps and services, and to allow them to sell devices that run on other versions of Android. Given that Alphabet's revenue still consists primarily of income from Google's ad businesses, and given that mobile is the the dominant platform for internet users around the world, the loss of those default installations could have an impact on the company's future success. Even so, the change would only affect new installs, so all the current Android devices—more than 2 billion of them—would continue running as is, with Google's services in a preferential position. If some of those users move to new devices, they might not switch off Google services.
But the possibility of a variety of new Android platforms could loosen Google's grip on the mobile market. Google's CEO, Sundar Pichai, responded to the European Commission's decision in a blog post titled, "Android has created more choice, not less," suggesting that he might be most concerned about the erosion of the mobile operating system's majority. Pichai argued that Android has allowed a diversity of mobile handsets at varying costs and features, but with the common ability to run the same Android software. Of course, this is exactly the matter that the European Commission wants to let flourish even more than Google has made possible. The very homogeneity that Pichai underscored as a consumer benefit has also benefitted Google substantially.
---
The European Commission has been steadily increasing antitrust pressure against technology companies. As The Wall Street Journal put it, Vestager, the European antitrust chief, has become the "de facto global regulator" for American companies. Google has been a main target. In addition to the search and now mobile decisions, a third inquiry into Google's AdSense is still ongoing. That case accuses Google of hampering online-search-advertising rivals.
Google's not alone, though. Earlier this year, Tommaso Valletti, an economist who studies competition for the European Commission, indicated that other two-sided market companies that connect consumers and advertisers, such as Facebook, would also be subject to scrutiny. The European Commission fined Facebook 110 million euros for providing misleading information during its WhatsApp acquisition in 2014, but so far the world's biggest social network has eluded other penalties from the commission. (Big tech companies have been subject to inquiries in individual European countries: The United Kingdom fined Facebook £500,000 over the Cambridge Analytica fiasco, and Germany investigated the company over terms in its user agreement, for example.)
There's reason to think more penalties will come. Vestager and her team have been investigating tech companies for EU antitrust violations since long before the tides turned against them last year. Here in the United States, events such as the Cambridge Analytica scandal, a series of crises for the ride-hailing giant Uber, an ongoing saga of increasingly terrible data breaches, and the broader "tech backlash" have mostly been cast as moral quandaries: how technology companies have violated users and the public trust.
And yet the consequences for this backlash have been modest. Shortly after Mark Zuckerberg's congressional testimony this spring, Facebook had already shrugged off most of its scrutiny; the company's stock is trading near all-time highs. Amazon's questionable labor and competitive practices have drawn ire from some quarters, but yesterday's Prime Day saw record sales, even with the company's website crashing. And the Federal Trade Commission and the Department of Justice, the primary U.S. agencies that deal with antitrust, have largely left these companies alone, both during the present administration and during Barack Obama's before it.
For those who would like to see action, not just talk, about reigning in the global harm of the U.S. technology industry, Europe might be the best if not the only option. Vestager's two sanctions against Google can be seen as jaw-dropping, record-breaking fines. But they may be a warm-up for something bigger, broader, and more sustained.