YouTube Star Jake Paul's Fame Is Fading
The 21-year-old became enormously popular for his outrageous prank videos—but if his recent New York show is any indication, it may not last forever.
Twenty-four hours before Jake Paul was set to take Central Park's SummerStage on Thursday night, would-be concertgoers heard the show would be switching venues, from a sprawling outdoor arena that holds 5,500 people to the smaller, subterranean PlayStation Theater in Midtown. Some parents attending with their kids said they didn't even receive an email notification about the change—they only heard about it from their children or other parents, already en route to the event.

"It's awful and terrible, this whole show," said Dana Ferraro, who was chaperoning her daughter. "I'm a concertgoer my whole life and this is the worst thing I've ever seen, changing venues on us. Tell Jake Paul with all his money he needs to do the organizing better."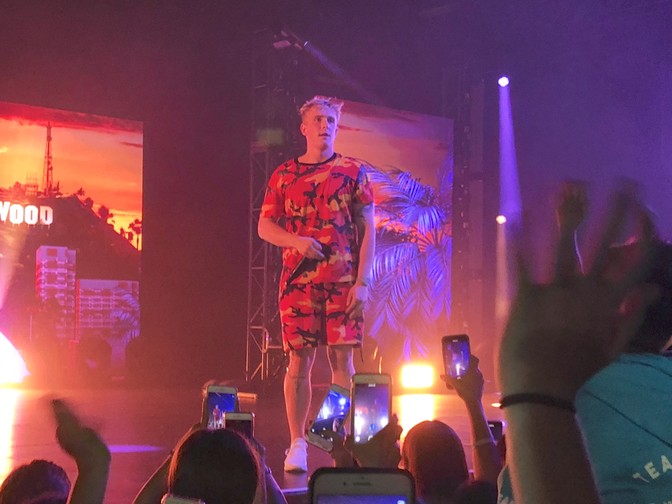 At 21, Paul has inarguably conquered YouTube. His daily vlogs and frat-like prank videos have earned him over 15 million subscribers on the platform and millions more followers scattered across other social networks. But there are signs this may soon change. Since his cross-country tour was announced in mid-March, it has been plagued with organizational issues and low attendance. Even the PlayStation Theater was only partly full by the time the curtain rose.
And though Paul was nominally the headliner, much of the tour was focused on promoting his squad and "talent incubator," Team 10, a clique of YouTubers who have pledged their allegiance (and an undisclosed portion of their income) to Paul in return for guest spots in his videos and housing in the Team 10 mansion. But early in May, Paul's squad began to implode. Nick Crompton, one of the older and more trusted members of the crew, exited to protest "internal changes" taking place. Just days later, vlogger Chance Sutton, who had been friends with Paul since high school, left as well. Kade Speiser, another vlogger set to be on tour, quit too, along with several members of Paul's support staff. Paul's manager, Kevin Gould, also parted ways with Paul. (Paul and his brother, fellow YouTube star Logan, are now managed by their father, "Vlogdad" Greg Paul.) Tour marketers were forced to hastily scrub images of the departed Team 10 members from promotional posters, and concertgoers were dismayed by the absence of their favorites.
"I'm a little bit disappointed," said Chase, an 11-year-old who had trekked in from Connecticut to see the show. "I would expect the whole Team 10 to be here, but they dipped. I did want to see the whole Team 10."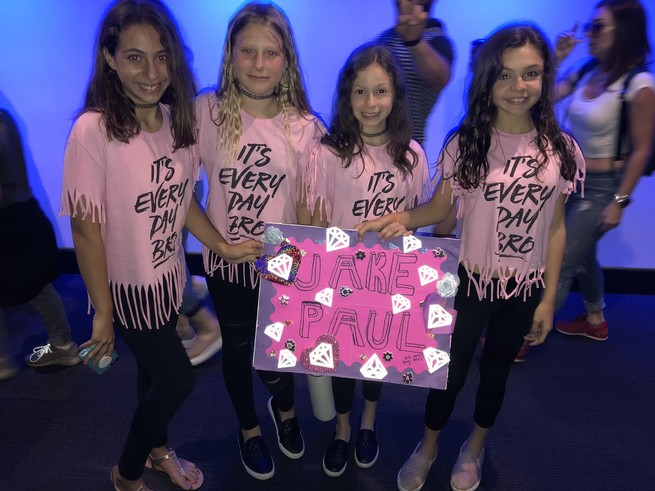 The show's problems didn't end there: The basement venue offered little to no cell-phone service—strange, for a show centered around social media. A staffer said she was surprised that Paul's team hadn't coordinated with the venue to provide wifi. "Usually with social-media stars they do, but he didn't."
And outside the venue, teenage hecklers taunted the younger kids, mostly ages 7 to 11, waiting in line to see Paul.
"Jake Paul is an asshole," one shouted. Her friend added that Paul "tries too much. He needs to act like an adult instead of being a 21-year-old little kid," she said.
"He's just trying too hard," said a third.
"Dumb kids who don't know anything start following him and they don't know better," said another, a Latino teen. "It's just a bunch of white kids listening to him and following him. It's over."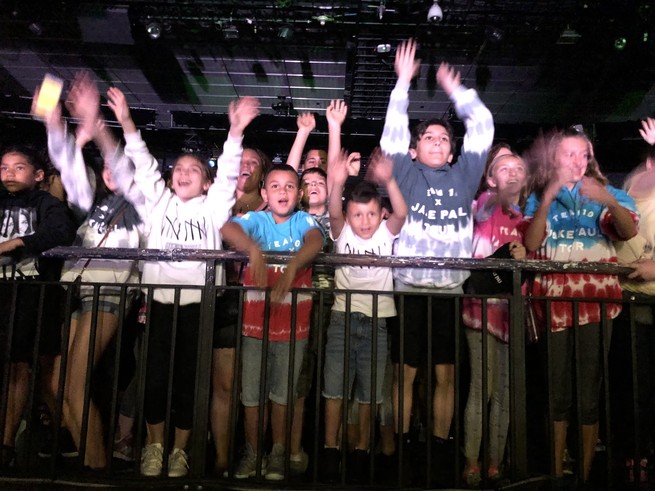 Around 8 p.m., Paul took to the stage in an acid wash Canadian tuxedo and hot-pink shirt from his own merch line. After a brief skit, he shouted to the crowd, "If it's your first time at a concert, put your hands up!" Seventy percent of the hands in the crowd shot to the ceiling.
What followed was around an hour of skits, rap songs, cameos, and dancing peppered with swear words and sexist jokes. Paul introduced two current Team 10 members by talking about their hot female relatives (a mom in one case and a sister in another). He mock-swiped on Tinder for his friend with the audience's help, participated in a dance battle, rapped about his merch, and pretended to Skype with his brother.
After an extended skit bemoaning school as useless because it doesn't teach you critical life skills such as "counting stacks," Paul declared, "No one knows anything about the revolutionary war but I do know a lot about Instagram!" Then, in a staged stunt, the real-life teacher whose diss track against Paul went viral appeared on stage behind him. The teacher delivered a counter rap advocating for the importance of a good education. When he finished, Paul apologized and said he loves teachers.
Later, when Paul shared some inspirational words about keeping positive and "dabbing on the haters," he was drowned out by a sea of children chanting, "Beat Deji's ass, beat Deji's ass" (a reference to a planned fight with a rival YouTuber).
He ended the show with a blowout performance of "It's Everyday Bro," his most famous rap song. Parents hoisted their children up on their shoulders to see the stage, obscuring the view for regular bystanders. A 6-year-old girl in a pink hat shouted her lungs out.
Promptly at 9, Paul signed off. He told the kids to have a great night and that he'd "see them at the merch stand," something every child in the crowd took literally, stampeding to the doors, only to be disappointed when he didn't actually meet them there. ("This is a huge fire hazard," Angela, a mom, said, which prompted her daughter to cry, saying that she was "ruining the night.")
Though plenty of Paul's fans ultimately declared the show the best night of their lives, others indicated that Paul's reign is waning. All entertainers have a shelf life, after all, and Paul is just the latest in a line of popular young YouTube stars, including Cameron Dallas and Nash Grier before him, who have seen their popularity skyrocket for several years, only to be cast aside as their young fan base ages.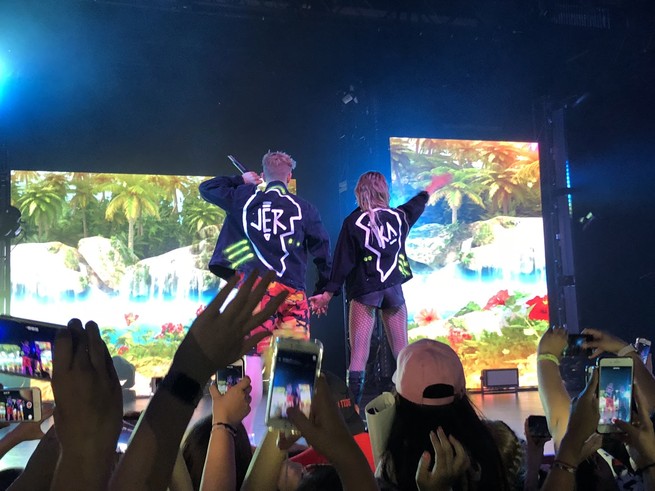 Sienna, a 13-year-old, said although she was thrilled to see him live on Thursday night, she thinks she'll grow out of her "Pauler" phase by high school, the same way she lost interest in her favorite Minecraft YouTubers a few years ago. "I'll watch maybe until eighth grade," she said. "His content is for younger kids. You're not going to be 21 and watching his videos."
Rachel, a 12-year-old, said that she regularly cycles through YouTube stars. She said she'll stay with Paul as long as his videos remain entertaining, but she doesn't know how long that will be.
"It depends on what he uploads and how he acts in the media," she said, noting that she had stopped watching Paul's brother Logan after he vlogged a dead body. "If Jake starts being super rude to everyone, no one is going to watch him anymore."
And while 15-year-old Giuliana Brown declared the show "amazing" and Paul inspirational, she said she hopes for his sake that Paul doesn't squander his time in the limelight.
"I feel like everyone hits their peak," she said. "He should have something for later. YouTube won't be around forever. He should start a charity or something."