Will Uber and Lyft Become Different Things?
Ride-hailing companies are diversifying away from their core business, but right into more direct competition.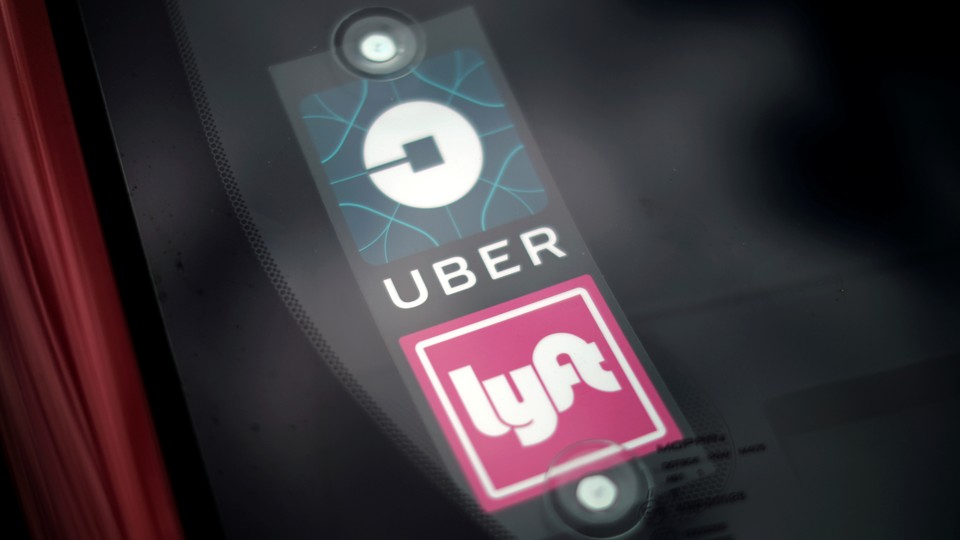 For most people, an Uber is a Lyft and a Lyft is an Uber.
Uber's roots are in the black-car business, while Lyft's predecessor, Zimride, was a carpooling app. Yet over the last six years, as the two ride-hailing companies have been in direct competition around the nation, Uber and Lyft have essentially served as exact substitutes. Drivers seem to find them interchangeable, too, often suctioning two phones to their windshields—one for Uber, one for Lyft.
Lyft has tried to differentiate itself as the kinder, gentler Uber. But under the newish CEO Dara Khosrowshahi, Uber has become the kinder, gentler Uber. So ... where does that leave Lyft?
Today, Lyft announced a new passenger app that represents its vision for the future of urban mobility. Lyft's VP of design, Katie Dill, who came over from Airbnb late last year, walked me through the new app. "It's pixels. It's product design," Dill said, "but really what it is trying to do is have this major impact on how people behave and how people move through cities."
From the screenshots I saw, it's a slicker experience, more like Uber's app. The company has also vowed to make 50 percent of its trips shared between multiple passengers (up from 35 percent now where their ride-sharing feature exists). And representatives stressed the company's work with transit agencies—announcing 25 partnerships—and cities.
"It's a first or second of many steps to design products that help design cities, that embed city planning in app design," said the Lyft co-founder and president John Zimmer in a video-call interview.
Lyft presented itself not merely as a ride-hailing company, but as a kind of ligature for transit modes, tying together all the ways you might get around a city. It wants to be the software layer for city planning, partnering with municipal governments and transit agencies. One example of that collaboration is a program it put together with the city of San Francisco to push people off Valencia, the Mission District's hipster corridor, to dedicated Lyft pick-up locations on side streets. Lyft claims 20,000 pickups were affected by the app's prods, helping congestion on the street (congestion that ride-hailing helped create, but still).
"Our vision is to improve people's lives with the world's best transportation," Zimmer said. "We want to completely replace and provide an alternative to car ownership."
Which, actually, sounds a lot like what Uber executives have been saying recently."We want to be a platform that gets you from A to B in the most convenient, cost-effective way, regardless of whether that's in a car," Andrew Salzberg, Uber's head of transportation policy and research, told me. "Cars are for us what books were for Amazon." He pointed out that Uber partnered with and then purchased Jump, a shared electric-bike provider, in addition to partnering with the car-sharing company Getaround.
Uber has also been partnering with transit agencies since February 2016, when it directly tied its software to the Pinellas Sun Coast Transit Authority in Tampa Bay, Florida. Salzberg estimated the company now has three dozen arrangements with agencies. In some cases, Uber solely provides information about available transit options, but in others, it creates a financial arrangement to tie its services to public transportation. In Tampa, the government agency subsidizes Uber to provide rides from designated bus stops over "the last mile" to people's final destinations.
As for shared rides, an Uber spokesperson told me that around 50 percent of Uber's rides in its longest-running market, San Francisco, are already split between passengers.
Which is to say: These two apps—which have served the same purpose for most users—are both rapidly evolving away from their core business. But what they are turning into is ... the exact same thing again? Uber would certainly note that all the things Lyft is touting are things it is already working on. And maybe—as a much larger company serving more small cities and suburban markets—Uber is ahead of Lyft in deed, if not in word or reputation.
So I just asked Zimmer: Are you and Uber two versions of the same thing or two different things?
"We started with two very different visions," he said. Lyft was rooted in the co-founder Logan Green's interest in transit, and in Zimmer's background, hospitality. The Uber founder Travis Kalanick was a more traditional technology start-up guy, Zimmer explained, and his company's literal motto used to be "Everyone's Private Driver." And in the early days, Kalanick chose to battle local governments while Lyft took a friendlier approach in most cases. (I would add that's at least partially because they could: Uber had usually already bored the hole in the governmental defenses.)
But the differences I could see are cultural, subtle. The visions, divergent as they once seemed, have begun to come together.
One reason is that transportation planners have been trying to drag people out of their cars for decades. "Anything we can do to provide alternatives to the basic system in the United States—which is everyone drives their car everywhere all the time—is good," Salzberg said. "I'm happy to say as someone from the planning world, that's been a goal of progressive transportation planning for a very long time. So, we're not creating a new objective, we're creating new tools for meeting an old objective."
Another reason is the newly widespread existence of smartphones on wheels (like scooters, but not only scooters), and increased variety of vehicles that can be shared and driven in bike lanes. These have such an obvious place within a Lyft or Uber app that they created the immediate imperative to incorporate them.
And most importantly, both companies see clearly that they are competing with the owned-and-operated car. The vast majority of trips in this country still consist of a single person driving his or her automobile somewhere. And any one mode of transportation that's not a car cannot compete with a car. Shared electric bikes, scooters, walking, ride-hailing, buses, light rail, specialized shuttles, trains, or subways cannot do it alone. But maybe all of those things tied together with high-quality, real-time information can create a true competitor to take on the car. There are only so many ways to weave together all these services, which is why the future of these apps is as likely to seem as similar as their past iterations.
From the beginning, analysts have wondered if ride-hailing might be a winner-take-all market. Certainly, there are major network-effect bonuses to having large numbers of drivers and riders in the same city. But even as both companies diversify away from the core business that built them into corporations with multibillion-dollar valuations, they are tracking each other closely. Maybe as the venture capitalist Jake Kupperman recently argued, the market is not winner-take-all. "The higher likelihood," Kupperman wrote, "is that ride-sharing turns into an airlines-esque market in which there is fierce competition, local winners, and low profits."
Certainly, Uber and Lyft are remarkably competitive with each other: They throw elbows on and off the record, always with the remarkable skill of never once mentioning the other by name.
"We're not just talking," Salzberg said, noting the breadth of Uber's transportation investments outside traditional ride-hailing. "I think that's where we're ahead of other players."
"Partnerships are going to matter more than ever," Zimmer said, side-eyeing Uber's reputation. "And we are the company who has worked well with cities and partners."
Maybe someday, after the dust settles, one of these companies will even make money.