Who Gets to Live in Silicon Valley?
Google and San Jose hope to make the city more affordable for working- and middle-class families, but they make matters worse.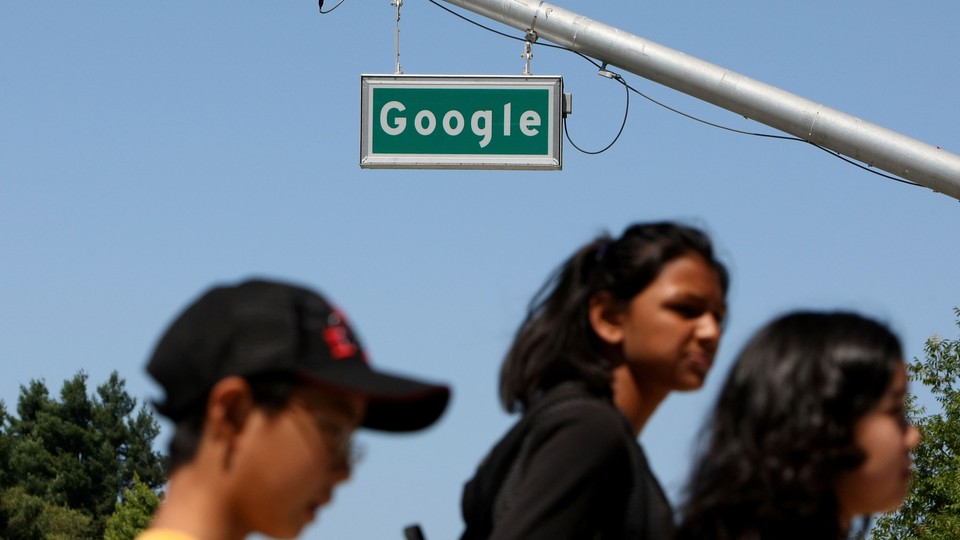 "Silicon Valley" was not always just a name for the computer-technology industry. Today, the phrase mostly conjures up a catalog of corporate successes: Hewlett-Packard, Oracle, Facebook, Google, Apple, Uber, and all the start-ups aspiring to similar wealth and glory.
But Silicon Valley is also a real geographic place, with a real history, where real people live and work—and not just in tech, but also in its shadow.
That place can be difficult to describe to folks outside the Bay Area, because as far as places go, Silicon Valley is a pretty banal one. Seen by car (the dominant local mode of transportation), the two counties and dozen or so cities and towns that comprise the region blend into a single, seamless expanse of suburbs, strip malls, and tilt-up concrete office buildings. Starchitect-designed tech campuses have only recently begun to punctuate that monotony. The scarcity of architectural monuments and disorienting car culture make defining the heart of the area challenging. Writing for The Atlantic, Alexis Madrigal once fixed the "center" of Silicon Valley at a storage unit in Sunnyvale.
Amidst that scene, many cities in Silicon Valley have tried to claim the mantle of the region's epicenter. Palo Alto has the strongest historical title as home to the Stanford Research Park, which lured engineering firms to the region beginning in 1951. It's also the site of two landmarks of high-tech industry—the garage where Hewlett-Packard began its business, and the office where Fairchild Semiconductor perfected the integrated circuit. Mountain View also makes a strong case. It is home to the decommissioned Moffett Field Naval Air Station, where the defense industry took an early foothold in the region; today it hosts the Googleplex.
San Jose, the largest city within this sprawl and the tenth-largest city in America, bills itself as "the capital of Silicon Valley," although even the city's most loyal residents will admit that's a bit of a reach. Mostly it is perceived as the bedroom community for people working elsewhere along the peninsula. But some hope that might be about to change.
As the anchor company in a massive, multiyear downtown revitalization project, Google is embarking on an ambitious development plan in San Jose. It includes new office space for the company and new residential housing. The project could dramatically reshape a city that, despite its size and Silicon Valley affiliations, has long been treated like a Bay Area afterthought. The city's government and residents are waiting to see if the effort will offer a meaningful alternative to the displacement that has defined the region for years, or if it will perpetuate a long history of industry redefining the California landscape in its own image. Given its history and base of community organizing, San Jose might be better positioned to revitalize itself than its valley neighbors.
---
Facebook and Google have led the way in a series of new proposals from big tech companies seeking engagement with urban developments in Silicon Valley. Facebook is working on a residential development near its Menlo Park offices that promises at least 1,500 housing units. And last December, Mountain View approved a plan around Google's campus that includes 9,850 housing units, anchored in part around the company's new Bjarke Ingels–designed office building.
The initial announcement of these projects inspired anxiety and criticism among tech and architecture journalists deriding the possibility that Google and Facebook might turn their campuses into "company towns." But these ripostes seemed to forget the extent to which the towns of the Santa Clara Valley—the older name for the region Silicon Valley inhabits—have long histories intertwined with corporate fortunes, albeit with the particular companies and framings changing hands over the course of the last 150 years.
Before data mining was the preferred extractive industry of the Santa Clara Valley, mineral extraction built one of the region's earliest variations of the company town. Back in the 1850s, the New Almaden mine, located south of San Jose, fueled the Gold Rush as one of the most productive mercury mines in the world (mercury being a valuable mineral for refining gold and silver ore). Modeled on Spanish haciendas, immigrant miners from Mexico and Chile lived on parcels of land belonging to the mine's corporate owner.
The other major industrial influence in the Santa Clara Valley was agriculture. It fed California's development for decades before software ate the world. Californians sometimes recall this era with images of idyllic, small-scale fruit orchards—the poet Clara Louise Lawrence called it the "Valley of Heart's Delight" in 1931. But that pastoral vision was already disappearing by the 1920s. By then, the region was producing 90 percent of California's fruit and vegetable yield, and the California Packing Corporation had industrialized the production process, relying heavily on a low-wage and largely disposable Mexican and Latino immigrant workforce to do so with minimal liability. San Jose was also where Cesar Chavez would first learn about labor organizing, after cutting his teeth in agriculture.
That labor pool, along with Vietnamese and Filipino immigrants, would eventually go on to work in the semiconductor manufacturing plants that sprang up after Fairchild's breakthrough discovery in 1959. In this era, tech had a less explicit influence on housing development than the New Almaden model had, preferring to act through understated local philanthropy and by lobbying local governments via the Silicon Valley Manufacturing Group (now Silicon Valley Leadership Group), an industry association first convened by David Packard in 1977.
It's not in tech's interest to look like a company town. "Capitalists have learned from Pullman and other company towns that they make it too clear who is in charge," said Richard Walker, a geography professor emeritus at UC Berkeley and author of Pictures of a Gone City: Tech and the Dark Side of Prosperity in the San Francisco Bay Area, when I suggested the comparison. Instead of direct intervention into city planning, Walker told me, companies have benefited from the fact that Silicon Valley is not one city but a collection of smaller cities, each with different agendas and priorities (and bureaucracies), and each too small to challenge big companies or make credible demands of them.
---
The more unusual aspect of Google and Facebook's projects, then, is not that companies of the Santa Clara Valley took interest in shaping housing development—it was that they were so explicit about doing so. But coverage also oversimplified the mechanics of these projects, which offer some degree of corporate deniability. In Google's case, the company isn't technically building housing. Instead, it's buying land and issuing ground leases to developers on land the company owns. Google also isn't submitting proposals on a whim: Both the Mountain View and San Jose projects build on existing plans the cities had been working on for quite some time.
In San Jose, the original vision for the Diridon Station Area Plan (DSAP, named for the city's downtown train station) was approved in 2014. It centered around building a baseball stadium, with the dashed hope of enticing the Oakland A's to relocate to the city. It was also spurred by some much-needed transit developments, including the long-awaited California High-Speed Rail project, an extension of BART into San Jose managed by the Santa Clara Valley Transit Authority, and the electrification of the CalTrain commuter rail system. Google initially approached the city about getting involved in an update to the Diridon plan in 2017, although the company had been quietly acquiring property in the area as far back as December 2016. As of right now, Google owns roughly 50 of the acres in the 240-acre development area, including nine parcels of property the city council approved selling to Google for $67 million.
With so many stakeholders (three transit agencies, the local airport, the downtown hockey stadium currently suing BART and the VTA over the project, the city, its residents, and Google) and such a long time frame for development, one might understand why the DSAP vision is a little hazy. While the original DSAP plan envisions 2,588 homes in the 240-acre project (which, according to city officials, may increase) and in theory the project is subject to the city's inclusionary housing ordinance that requires 15 percent of new residential units to be earmarked as affordable, the exact number of units expected to be below market rate or earmarked as affordable housing hasn't been finalized, nor is it entirely clear how the city might protect residents displaced by further-rising rents due to the mass influx of tech workers the development might bring. In late February, the city convened the Station Area Advisory Group (SAAG), which is supposed to represent residents, transit agencies, companies, and other stakeholders steering the project over its long development process.
In an April 9 SAAG meeting, Google's senior director of development, Joe Van Belleghem, presented an overview of the company's "principles of place," which he said guide their vision for the project. Van Belleghem spoke about the importance of balancing the four pillars of community, nature, innovation, and economics—although his examples for striking that balance included a controversial development in London, in which affordable housing was sacrificed for luxury high-rises. Van Belleghem urged that Google couldn't single-handedly solve the myriad of development issues San Jose faces, but he also said that the company's goal was to see Google and San Jose thrive together: "We really fundamentally believe that we can be part of the solution by working with the community."
The city seems optimistic about the partnership. "This is unprecedented in terms of civic engagement around a particular tech company coming into our community in terms of starting at the early conceptual phase," Kim Walesh, the deputy city manager for San Jose, told me. "[Google is] doing this deep listening to incorporate residents' ideas. We started a year away from there even being a defined project."
And San Jose residents are making themselves heard pretty loudly. The May 23 SAAG hearing was disrupted by Serve the People San Jose, a grassroots group that represents immigrants and working-class residents. In an editorial, the activist and organizer Katherine Nasol explains that the organization's actions sought "to center those who have been impacted by this war [against poor people] and who are consistently erased from corporate- and city-sponsored dialogue." More parks and bike paths are good, Nasol concedes, but not before addressing "the very basic need of housing for our people, which SAAG has yet to truly center."
But Maria Noel Fernandez, the campaign director for the advocacy group Silicon Valley Rising, who also grew up in San Jose, expressed concern that the long time frame is putting off major decisions. "Of course the process is long, but these benefits are usually determined early on. Community is usually at the table for the entirety of the process," Fernandez said, noting that Silicon Valley Rising had to fight for greater resident representation on the SAAG (there are nine representatives from various neighborhood associations in the 38-person advisory group, which includes a representative from Google). Through town halls and other community outreach efforts pursued prior to the first SAAG meetings, Silicon Valley Rising established a set of demands for Google, including signing on to a community benefits agreement and backing a community-managed affordable-housing fund.
But that doesn't mean Silicon Valley Rising wants Google to leave the city alone entirely. They believe that tech companies must respond to a regional housing crisis their prosperity has exacerbated. In that respect, Fernandez found the stereotypical anti-growth NIMBY culture that has plagued much of the peninsula frustrating. She cites Cupertino's backlash to new development following the completion of the new Apple campus as an example of what San Jose needs to avoid. "We're not anti-tech—we just want to know what this project will look like for working families." According to Fernandez, the community also wants to know how Google will support and protect the unique culture that, contrary to some public perception, does exist in San Jose's many diverse neighborhoods.
---
Residents have good reason to be concerned that this development could displace what little affordable working- and middle-class neighborhoods remain in San Jose: It's already happening. At a meeting for SAAG's working group on housing, displacement, and gentrification, residents reported Apple employees snapping up homes in all-cash deals, seeking proximity to Route 85 (which offers an easier commute to the new Cupertino campus). Others described multiple families crammed into single-unit homes converted into tiny apartments, noted the growing numbers of people living in cars and RVs, and cited the city's count of 4,300 homeless residents as examples of how much work on displacement and housing access needs to happen regardless of what promises Google ultimately makes.
Those who can't afford to stay in San Jose or elsewhere on the peninsula join the growing numbers of the Bay Area's mega-commuters, spending at least three hours in traffic each day. Sometimes they take circuitous mass-transit routes, but driving remains the primary mode of transportation. If "Silicon Valley" names the community that assembles in this place for work during the day, then its current boundaries extend farther and farther outward into the Central Valley as the service workers who feed, drive, and clean up after shuttle-bus-driven tech workers seek affordable options on subcontractor wages. At one point, an attendee of the SAAG meeting proclaimed, "Our only hope is connecting Silicon Valley to Fresno," 130 miles southeast of San Jose.
He wasn't joking. A Fresno–San Jose connection is a component of a California high-speed rail project currently under construction. But the idea that such a connection is a suitable balm for Silicon Valley residents displaced by unaffordable housing reflects a broader anxiety about asking too much of Google. Some locals fear the company might walk away from the project if the city makes too many demands.
It's hard to tell what Google really thinks. When I asked about affordable housing, a Google spokesperson told me that the company is supportive of housing development in general, but when it comes to specific types and numbers of units, "the city and community leaders will lead on housing policy." On the one hand, the company seems earnestly engaged with the San Jose community (and probably doesn't want to fulfill the company-town stereotype by taking a too-explicit position). But on the other hand, because Google has left the ball in San Jose's court, the city is forced to guess how far they can push for demands like those put forward by Silicon Valley Rising.
When I asked what advice she would give to San Jose based on her own experiences negotiating with Google, one Mountain View city council member, Margaret Abe-Koga, offered cautionary encouragement. "Don't sell your city short," she said. "I don't think [San Jose] should operate with that fear. At the end of the day, companies come and go but a community has to stay intact for the long haul." Abe-Koga said that her small city wasn't fully armed to negotiate effectively with Google—the city council is just seven people, the mayor isn't even an elected position (council members rotate through the role), and the community was admittedly a little starstruck when initial development plans began in 2008.
Although she ultimately voted to approve the plan, Abe-Koga was disappointed in the final number of proposed affordable-housing units (there's a promised "goal" of 20 percent). She's also a little skeptical at the type of residences promised: 70 percent of the housing plan is devoted to studio and one-bedroom apartments. That kind of housing, while certainly needed, will primarily help young Google employees looking for a place to live near work. Maybe it means Google will run fewer buses, but it doesn't do much for working-class families, or individuals who'd like to start families but can't afford to stay in the area and aren't qualified for specialized, high-paying tech jobs.
When I brought up STEM education initiatives with Fernandez—a philanthropic concession that tech companies often lobby for—she laughed and asked how many children will be left to benefit from those resources. Public-school enrollment has shrunk in districts of Santa Clara County, especially in San Jose. Other Silicon Valley cities, along with San Francisco, are experiencing declining birth rates much higher than other cities across the nation—cities that haven't experienced similarly stratospheric increases in housing costs. Fewer child residents isn't necessarily the top metric for a city's health, and declining birth rates in the Bay Area do reflect nationwide trends. But it's a little unsettling to imagine Silicon Valley cities where the only "children" are tech wunderkind fresh out of engineering school. Looking at Google's architectural renders for its Charleston East project, I wonder if its clip-art kids might represent the last generation of Silicon Valley children. Or perhaps they were imported for effect, on loan from somewhere in the Central Valley.
---
Companies like Google, Apple, and Facebook aren't entirely to blame for this childless dystopia, or for the housing crisis perpetuating farther and farther dislocation and traffic. Forty years of a paralyzed property-tax system, decades of freeway-centric transit design, and policies supporting regional segregation also made significant contributions. Unlike the fellow Alphabet company Sidewalk Labs' smart-city proposal in Toronto, which hopes to start a new community from scratch, Google has to untangle and reckon with a lot of legacy planning decisions to build a Silicon Valley of the future. Tech can't entirely undo the region's questionable tax and transit past, but the long-term future of cities like Mountain View and San Jose hinges in large part on what responsibilities big tech companies bear—and who gets to be a part of the future they bring about.
The past offers some answers. Local historical monuments often celebrate humble origins and genteel wealth—the scrappy little Hewlett-Packard garage or the idyllic, intellectual enclave of Stanford University. These landmarks serve a mythology and aesthetic that the UC Berkeley landscape architect Louise Mozingo has called "pastoral capitalism"—the idea that innovation and corporate power thrives in bucolic campuses and secluded suburban office parks, not mines, factories, or cities.
But the tech industry has other lasting local effects that don't often receive the commemorative-plaque treatment. The chip-fabrication facilities that companies like IBM and Fairchild built in Silicon Valley left Santa Clara County with more Superfund sites than any other county in the country. The venture-capital offices nestled on Sand Hill Road exist expressly to transform garage tinkering into massive, corporate behemoths concerned with global reach (and global profit), not local service. Manufacturing electronics and scaling businesses requires more than just clever garage tinkerers and smart Stanford grads—it also demands a low-wage labor pool. Forty years ago, that labor pool manufactured silicon chips; today it restocks kale chips in campus cafeterias and drives engineers to and from San Francisco. For a time, San Jose was known as the city where the working and middle classes that helped realize tech's advances could afford to live, own homes, raise families, and build generational wealth. Not anymore. Some of them saw their jobs eliminated or outsourced, and others can't afford to live here any longer on service-sector salaries.
Now San Jose has an opportunity to lift up these workers placed at the bottom of the tech industry as much as the wealthy heroes at its top. If Google makes good on the "deep listening" it has promised, and if San Jose residents continue to challenge the company's vague promises, the Diridon project might stand a chance of putting forth a genuinely visionary alternative to the current way of life in the Santa Clara Valley and the founder-centric, organized-labor-allergic ideology of Silicon Valley. If it does, San Jose might yet justify its claim to be the center of Silicon Valley—if not as its capital, at least as its heart.