Will a New Supreme Court Decision Change Online Shopping?
The Court just ruled that a state can collect taxes from a retailer that doesn't have a physical presence in the state. Here's what that means.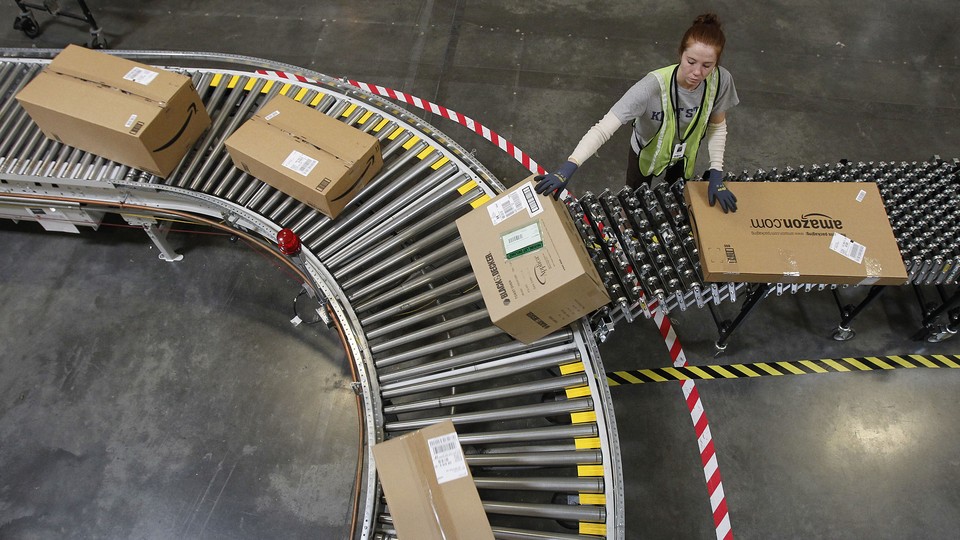 As consumers shop more and more online, they've often stumbled across a delightful fact: Many online purchases are tax-free. This can mean consumers save a few dollars on small purchases, and even more money on big-ticket items, making it even more difficult for physical stores to lure in buyers. It's a boon for shoppers in the states that don't collect sales tax for online purchases, but has severely hurt the ability of states across the country to close budget gaps.
But all of this may soon change. For a long time, online retailers did not collect sales tax on many purchases because of a 1992 Supreme Court case, Quill Corp. v. North Dakota, which prevented states from collecting sales tax from retailers that didn't have a physical presence or employees within their borders. On Thursday, the Supreme Court overturned that ruling. In South Dakota v. Wayfair, the court ruled that the Quill decision was "flawed," and that rejecting it "is necessary to ensure that artificial competitive advantages are not created by this Court's precedents."
This doesn't mean that websites will all of a sudden start collecting sales tax, even if they don't have a physical presence in the state. In the Wayfair ruling, the Supreme Court was looking specifically at a law passed in South Dakota that sought to collect sales taxes on online purchases. The state of South Dakota, which was especially impacted by the Quill case because it has no personal income tax, had passed a law in 2016 requiring out-of-state sellers to collect and remit sales tax as if they had a physical presence in the state. Online retailers including Wayfair, Overstock.com, and Newegg argued that the law was unconstitutional. In its 5-4 ruling Thursday, the Court ruled that the South Dakota law is constitutional. This means that South Dakota can collect sales taxes from online retailers as it set out to do in 2016. The state's law applies only to sellers that sell more than $100,000 worth of goods in South Dakota, or have more than 200 separate sales in the state, and is not retroactive, meaning the state can't collect the estimated $48 to $58 million a year it's lost in online sales taxes.
What this means for other states, and the people who shop in them, is still unclear. There are 31 states that currently have laws that tax internet sales. But these laws may be more restrictive than South Dakota's law, and so may not hold up in court. In the majority opinion, Justice Kennedy lauded South Dakota's law as one that is designed not to impose "undue burdens" on interstate commerce. "This ruling is not a blank check for states," Joseph Bishop-Henchman, the executive vice president of the Tax Foundation, wrote in an analysis of the ruling. States will now likely revisit their laws and try to model new bills after South Dakota's so they can begin collecting sales tax on online purchases; some, including Vermont, Indiana, North Dakota, and Wyoming, have already passed laws similar to the one on the books in South Dakota. Congress now also may weigh in; it had previously been restricted by Quill from passing any sort of sweeping law. An amicus brief filed by four U.S. Senators argued that Congress has been unable to "reach a consensus" on a legislative solution, in part because of Quill.
The ruling could be a huge boon for states that have recently struggled to bring in enough revenue. An estimate by the Government Accountability Office found that state and local governments could have collected about $8 billion to $13 billion last year alone if they could require sales tax from all remote sellers. But it may also lead to new court cases as states try to get aggressive in passing wider sales-tax rules. Massachusetts, for instance, has argued that companies have a physical presence in the state if users store "cookies" on their computers to buy their goods.
The ruling will not make a difference for shoppers who use certain sites; in many Amazon purchases, for instance, the company already collects sales tax because it expanded its fulfillment centers and offices so rapidly that it has a physical presence in most states. But Amazon does not currently collect sales tax for items bought through its third-party sellers, which are stores that use Amazon to sell goods, but that take care of fulfilling orders and providing customer service on their own. Third-party sellers make up about half of all goods sold on Amazon, the company has said. This may be why President Trump has focused some of his criticisms of Amazon on the sales-tax issue, tweeting in August that "Amazon is doing great damage to taxpaying retailers." (Two states, Washington and Pennsylvania, do currently collect sales tax on behalf of third-party sellers.)
Third-party sellers on Amazon, and other merchants that have not been collecting sales tax in states where they don't have a presence, are now scrambling to figure out what various states say about collecting sales taxes, and how to collect them. This could be a costly proposition for small merchants who sell across the country but who haven't had to invest in tax attorneys before.
The process of figuring out how to collect and remit sales tax in states where you're not located is a very complicated one. "The biggest challenge for most of the sellers on these marketplaces is the confusion about what to do now," Juozas Kaziukėnas, the founder and CEO of Marketplace Pulse, an e-commerce research firm, told me. In some cases, this may lead to small sellers charging slightly more for items because they have to hire attorneys who can tell them the law in each state, Kaziukėnas said. Big retailers, on the other hand, who already collect sales taxes because they have a presence in most states, have few changes to make. This may also create difficulties for states that try to collect sales tax from sellers based in China or overseas. An increasing number of online retailers are located in China, rather than in the United States, and states have bemoaned the challenge of getting these retailers to follow a number of laws, including sales-tax-collection statutes.
The Wayfair decision is almost certainly too late, though, to change consumers' dramatic shift from shopping in stores to shopping online. Had states been able to collect sales tax from all online retailers since the beginning, it's possible that shopping online would have been less appealing to consumers, because they had to pay delivery fees and sales tax. Brick-and-mortar retailers, charging the same price for goods as online retailers, may have been able to stay relevant a little longer, instead of competing with the convenience and lower prices of online sales. But those are all big ifs. Consumers like the convenience of shopping online. Now that they may have to pay a tiny bit more for it, that's not likely to change.