The Making of an Online Moral Crisis
How the many-chambered heart of the internet turned the Trump administration's family-separation policy into a different kind of scandal.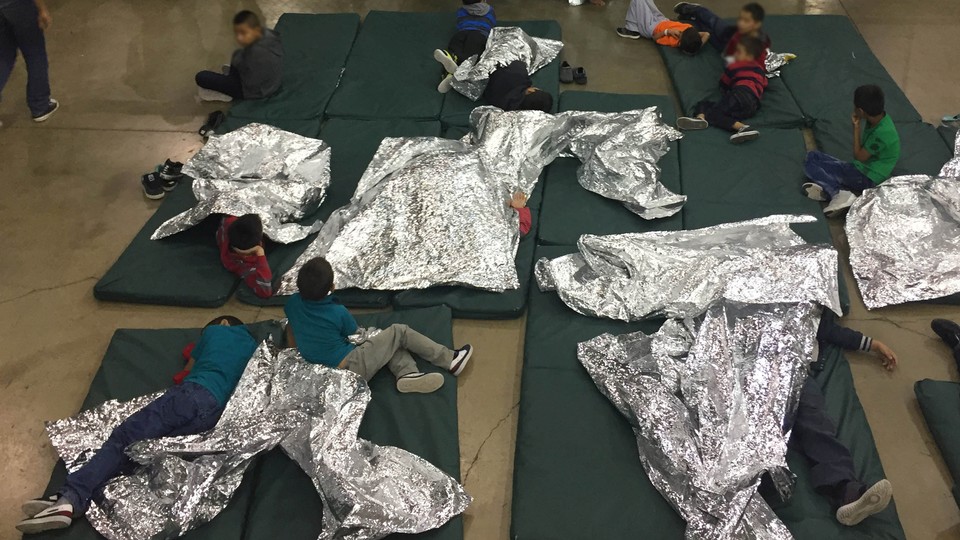 Children as young as 2 have been pulled from their parents and moved to facilities that are, as Laura Bush put it, "eerily reminiscent" of the Japanese American internment camps of World War II. Families are being separated. Kids are sleeping under foil blankets inside cages.
The main reason that this story has received so much attention is simple: It is awful. Of course most of the American voters who were shown images of crying children or who heard audio recordings of them calling out for their parents had an intense negative reaction.
But in today's splintered and strange media environment, the more difficult question to answer is how so many people did end up seeing these images and hearing these stories. After all, this may now be the most notorious injustice at the American border, but it's not the first.
"Americans are discovering how our immigration system works, and that is generally a good thing," tweeted the Washington Post reporter Nick Miroff. "But some of the things that are drawing outrage, like the dog-kennel detention pens at Ursula (McAllen) [the largest Customs and Border Patrol detention center] are not new."
Americans like to believe in transparency, that, as Justice Louis Brandeis once put it, "Sunlight is said to be the best of disinfectants." But sunlight no longer shines out solely from newspaper front pages or television broadcast towers. It is Facebook videos and memes, tweet-storms and viral images. That's not to say that this story bubbled up solely from the corners of the internet, though. Immigration and investigative reporters were on it for more than a year. Senator Kamala Harris first spoke about it in December. But it wasn't until late May that it became the biggest news in the country. How?
This history arguably begins March 3, 2017, when Reuters' Julia Edwards Ainsley reported that the Trump administration was considering a family-separation policy. That prompted CNN to invite on John Kelly, then head of the Department of Homeland Security, where he admitted to Wolf Blitzer that the administration might separate families.
Both Ainsley's and CNN's reports were widely read and shared. Ainsley's caught the attention of George Takei, who maintains one of Facebook's most popular pages, as well as Congressman Joaquin Castro and the ACLU. CNN's got a response from the head of UNICEF.
But that week last March was a brutally heavy one in Trump-administration news. The story submerged into all the other news until major reports in The Washington Post and The New York Times in December 2017. The Post report got the attention of Senator Kamala Harris, who posted it to her Facebook and Twitter accounts. "It's moments like these that we have to look in the mirror and ask, who are we as a country?" Harris wrote.
This framing—that the program endangered America's moral identity—became a major part of the coverage at the time, and more recently. "Splitting families and spreading fear—Trump's inhumane immigration initiative is a shameful new low for this administration," Senator Richard Blumenthal tweeted, linking to the Post story. "Not in America."
But there was no evidence from the border yet to indicate what was happening. There were ominous reports, but not stories of real people's ordeals.
And then came a bombshell April 20 story in The New York Times. "More than 700 children have been taken from adults claiming to be their parents since October, including more than 100 children under the age of 4," wrote Caitlin Dickerson. Now, there was Mirian.
"On [February] 20, a young woman named Mirian arrived at the Texas border carrying her 18-month-old son. They had fled their home in Honduras through a cloud of tear gas, she told border agents, and needed protection from the political violence there," Dickerson wrote. "She had hoped she and her son would find refuge together. Instead, the agents ordered her to place her son in the back seat of a government vehicle, she said later in a sworn declaration to a federal court. They both cried as the boy was driven away."
A week later, in a Congressional hearing, a Department of Health and Human Services official admitted that the government had lost track of about 1,500 children who had been placed with sponsors across the country.
Then, during a May 15 hearing, Senator Harris pressed Kirstjen Nielsen, the DHS head, for answers on parental separation, which generated another flurry of news coverage in political publications. Eventually, their exchange would get packaged by NowThis Politics into a viral video that was shared more than 77,000 times on Facebook, but that wouldn't come until May 28.
In the meantime, the story of the 1,500 children was brought to prominence by the Arizona Republic columnist E. J. Montini, after his piece limning the problem was syndicated by U.S.A. Today. This seems to have been the match that set off the righteous frenzy.
The opinion piece started percolating through the subreddit "politics," then took off through the liberal world when a Wisconsin congressional candidate, Cathy Myers, posted it to her Facebook. On Twitter, the former U.S. Attorney Preet Bharara wrote, "What is more shameful than forcibly separating, in America, parents from infant children at the border? And then, losing track of those children?" It got 80,000 likes and more than 26,000 retweets.
Over the course of the day, the topic gathered attention. The original report was often misinterpreted as the government actually losing 1,500 children, which was not entirely accurate. Nonetheless, the combination of cruelty and incompetence drove the outrage to new levels, and sprung it from investigative report into hashtag prominence. #WhereAreTheChildren and #WhereAreOurChildren continue to be tweeted massive numbers of times.
As Friday stretched into Saturday, all kinds of liberal Facebook pages—Millennials for Revolution, Justice Democrats, No Racism No War—posted the editorial. On Saturday morning, Being Liberal's Facebook post took off, and in the afternoon, the actor Misha Collins made two wildly popular posts to Facebook and Twitter, which sent the story into the next level of notoriety. Myers, Being Liberal, and Collins alone drove more than 56 percent of the interactions with (and, by proxy, attention to) the column.
On Saturday, a tweet-storm—a series of connected tweets—by @nycsouthpaw put the whole story in context. It got thousands of likes and retweets, even with the Memorial Day Weekend.
Still, despite the reporting that children were being separated from their parents and kept in detention centers, no one had seen any photographs of what was happening. The world was desperate for some images to make sense of the story: What did this look really look like? NowThis Politics rolled out the old Kamala Harris footage and it took off.
In fact, the controversy became even more prominent because of that desire for visual evidence. A variety of well-known liberals including Congressman Joaquin Castro, the actress Mia Farrow, the former Los Angeles mayor Antonio Villaraigosa, and the former Obama speechwriter Jon Favreau tweeted photographs of a now-defunct detection center from 2014.
Then something really important happened. President Trump stepped in to fire back at the Democrats. "Democrats mistakenly tweet 2014 pictures from Obama's term showing children from the Border in steel cages," Trump tweeted. "They thought it was recent pictures in order to make us look bad, but backfires. Dems must agree to Wall and new Border Protection for good of country ... Bipartisan Bill!" It got nearly 30,000 retweets and 100,000 likes, planting the topic at the very top of the week's news cycle.
Strangely, but also very 2010-ishly, it was the bad information—these old photographs tweeted as new—that touched the crisis to the Trump third rail. News organizations began to throw everything they had at the story.
The reporting about what was happening at the border, which had been sparse, flowed in. ABC News had a heartbreaking story about a mother's separation from her son for months. The Boston Globe delivered a powerful story that led with Wil, a 6-year old who, every night before bed, "says his prayers and then kisses two printed-out photos of his mom and dad that are taped on the wall by his bed good night," as Liz Goodwin wrote.
Senator Jeff Merkley visited a detention center and was able to describe that the conditions were very rough, as bad as the 2014 photographs. Trump had implicitly criticized the content of the photographs: The "steel cages" "make us look bad." But then there were, in fact, steel cages.
The border crisis became a story both about the daily churn of Washington fighting and about the fundamental nature of the country. Yet the day-to-day tactics continued. Conservatives began to argue about the definition of the word "cage" to describe the fences kenneling in children.
While Trump and his surrogates tried to pin the problem on the Democrats, the UN Human Rights Council pleaded with his administration to stop separating families. NBC News posted the council's statement to its Facebook page, drawing almost 50,000 shares.
At the end of last week, reporters were finally able to get inside the detention facilities. The MSNBC reporter Jacob Soboroff's account provided striking and you're-right-here details. The kids were being held in a converted Walmart. There was a Trump mural on the wall.
The photojournalist John Moore delivered a photograph of a 2-year-old girl from Honduras screaming.*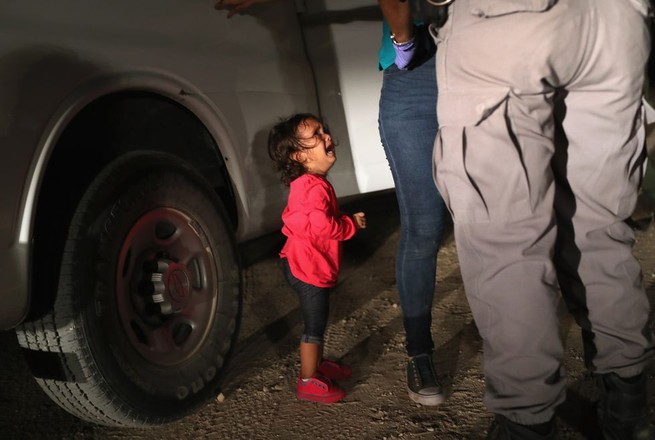 Then came the Sarah Huckabee Sanders press conference in which a clearly angry White House press corps pressed her for answers on why the administration was claiming it had to separate these children from their parents, when they actually do not. That generated, by far, the widest-traveling pieces of media of the whole crisis. Different clips of the presser posted by Ezra Klein, Vox, and ABC were viewed millions of times.
Left-wing meme makers had also gone in on the topic full-time. For example, nearly every recent post on the 550,000-like page WokeFolks is about the border crisis. They are generating tens of thousands of shares for screenshots of anti-Trump Tweets and memes about the separations.
Even refugee fundraising has gone viral. The organization RAICES has had dozens of people set up fundraisers for them on Facebook. Among all the $500 and $1,000 efforts, Charlotte and Dave Willner, a California couple, have now raised $4.5 million. (At first glance, they seem like any other parents of a young child. As it turns out, both are highly connected members of the Bay Area tech world. Charlotte is a safety manager at Pinterest; Dave is head of community policy at Airbnb. Both previously worked at Facebook.)
Sometimes the way something becomes truly huge news is mysterious and strange, but that's not the case with this fundraiser, nor with the family-separation story generally. Reporters spent months digging into this story, and legislators spent months talking about it. Their work eventually translated into a burst of sustained attention that created highly shareable media objects. Those were distributed by media organizations, celebrities, and large left-leaning Facebook pages.
What is remarkable, however, is that as the news cycle has fed through the many-chambered heart of the internet, it has not driven the country apart. In fact, a large consensus has emerged: Two-thirds of Americans don't want the family separations to continue, including majorities of every group of gender, race, age, and education level. The cumulative force of all the stories, tweets, videos, and photos was centripetal, spinning the country closer together.
It is basically the dream of the techno-utopians, finally finding reality in the nightmares of the children at the border.
---
* This article previously mischaracterized the content of Moore's photograph.