That Merkel Photo Is More Like a Meme Than a Renaissance Painting
The viral image from the G7 summit is powerful, but it also resembles something mundane: Yanny vs. Laurel.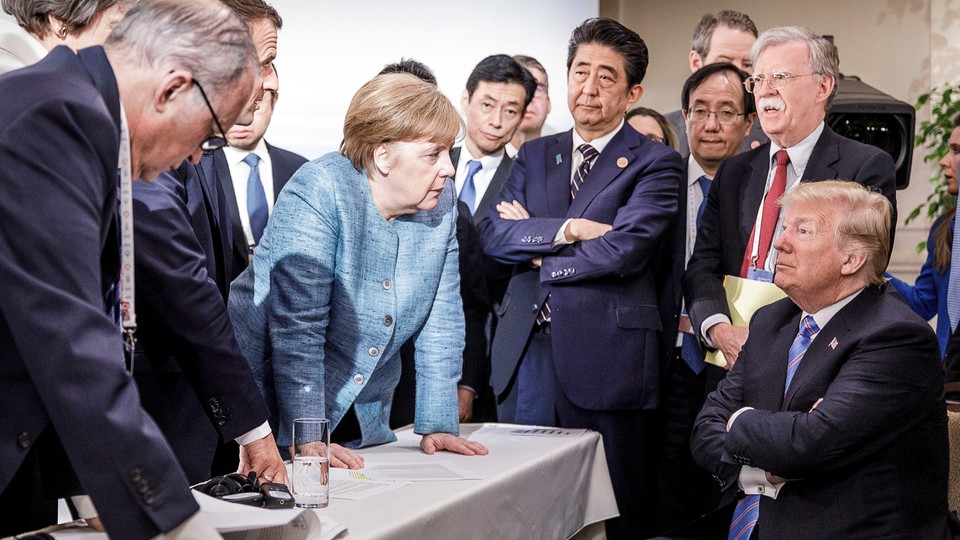 What do you see in the now-famous photograph of Angela Merkel and Donald Trump at the G7 Summit? Perhaps you see a woman leader, in a room full of men, scolding a petty man refusing to cooperate. You might see a bold U.S. president patriotically defying those who would stand in the way of what's best for the United States. You might see one more indicator of the West's decline as a unified political force.
Most importantly, what you saw, whatever it was, is part of a larger trend: Geopolitical contention is frequently expressed through the language of online visual media. Merkel's team, which posted the photo to Instagram, offered a generally staid description—"spontaneous meeting between two working sessions"—but the image jumped out for its composition, soft ambient lighting, and what seemed like an incredible moment of contention.
The relative absence of context—there's no telling from the photo what Merkel was saying, for example—is part of what made it so ready to become memetic. The image easily serves as a sort of Rorschach test for our political moment, open to interpretation by anyone, including many with competing agendas and narratives. A number of folks online observed that Trump looked like a defiant child, and Merkel stood in a dominant position. Not everyone saw it that way, of course. National-Security Adviser John Bolton posted the exact image, noting that "other countries expect America will always be their bank."
Meanwhile, the People's Daily, an official newspaper of the Chinese Communist Party, posted the same photograph in contrast with a photo from the Shanghai Cooperation Organisation (SCO) summit. The SCO photo showed Xi Jinping, Vladimir Putin, and others walking in unity.
The German newspaper Die Welt posted the same photo, describing it as "the moment that broke the West." Belgium's former Prime Minister Guy Verhofstadt used it as an opportunity to recall the ongoing Mueller investigation and the President's tweeting habits.
Some have described the image by Jesco Denzel, an award-winning photographer with many stunning compositions, as a Renaissance painting or the work of a Dutch master. Indeed, its composition resembles famous artistic portrayals of contention, from Caravaggio's The Calling of Saint Matthew to Edgar Degas' Rehearsal Hall at the Opera. Its ambient quality speaks to the work of Johannes Vermeer, who so skillfully blended light and color to tell a story. Indeed, the image is otherworldly and surreal, in many ways more like a painting in a museum than a photograph from a geopolitical summit.
But the photo reminded me of something more mundane: Yanny vs. Laurel, a debate spurred by an audio clip that was shared widely online last month. The recording sounded to some like "Yanny" and to others like "Laurel." (Really, you have to listen for yourself.) These sorts of sensory illusions are a common genre of online media, from the famous blue/gold dress to the picture of Reese Witherspoon with three legs.
While these are largely well-known perceptual tricks, the internet has shifted real social dynamics by showing visible disagreement amongst broad swaths of society and competing visions of reality. There's a sense of cognitive dissonance—"how you could you possibly hear 'yanny' when I hear 'laurel?'"—that perpetuates conversation and controversy. Images in particular are more subject to interpretation than text, and our culture rewards those who can skillfully tap into that ambiguity to generate conversation.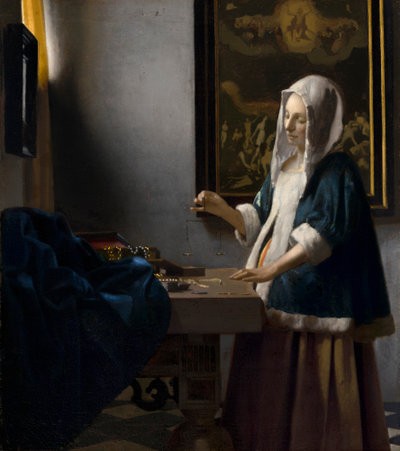 In the case of the G7 photograph, while memes flowed from all directions, the fact that Merkel, Bolton, Verhofstadt, and the People's Daily all published commentary reflects the fact that governments and government leaders are now well-established online voices, even in the realm of memes and visual discourse. States have become skilled at reframing images, capitalizing on attention and promoting their own agendas and narratives.
This is not new, of course—states have long leveraged imagery for social and political influence, but today, a resonant image can spark a vibrant online discourse, which can in turn help shape discourse in favor of state agendas. This is the international politics version of what's sometimes called "echo slamming," a phenomenon wherein people online perform their politics for those on their side of the echo chamber, rather than try to change minds per se.
There are several infamous recent examples of this new convergence of memedom and state propaganda. Images from the Internet Research Agency's influence operations show a sophisticated effort to tap into American meme culture. A declassified version of a 2017 U.S. Director of National Intelligence report described a strategy by Russian operatives that blended covert intelligence operations with "overt efforts by Russian Government agencies, state-funded media, third-party intermediaries, and paid social media users or 'trolls.'"
The Israeli Embassy to the United States recently used a GIF from Mean Girls in response to a tweet from the Iran's Supreme Leader Ayatollah Ali Khamenei stating that Israel should not exist. After Trump pulled the United States out of the Iran Deal, Khamenei posted an Instagram photo—though not quite a selfie—reading Michael Wolff's scathing book about the Trump administration, Fire and Fury.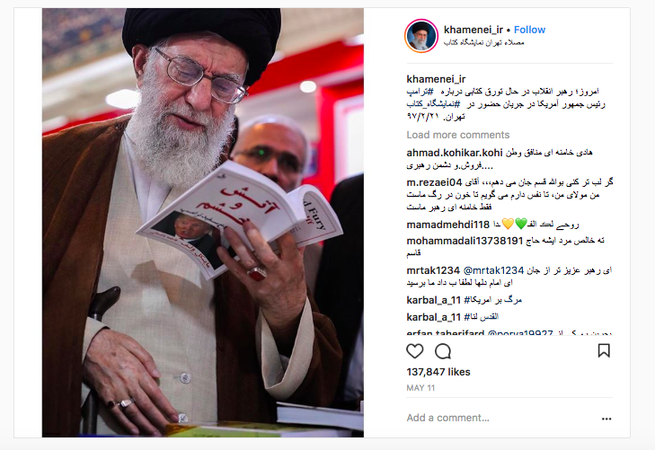 There is legitimate concern these days about the spread of falsified and manipulated imagery. Shortly after the 2015 terrorist attacks in Paris, an image circulated of a Sikh man in Canada that was photoshopped to make it look like he was wearing a suicide vest and holding up a copy of the Quran (he was originally taking a selfie with an iPad). Most recently, a digitally manipulated video of Donald Trump, known as a deepfake, depicted him mocking Belgians for not pulling out of the Paris Agreement. Its creators said they intended it as a kind of meta-commentary, but many viewers seemed to think it was real.
That said, recent research from Harvard's Shorenstein Center and the Visual Social Media Lab at Manchester School of Art has shown that, today, the most common visual misinformation that circulates on the internet is not falsified but miscontextualized. Analyzing images from the French elections and the recent U.K. general election, researchers found that a plurality of photos were factually correct—that is, undoctored—but ultimately framed in a misleading way. This highlights something important: Issues like narrative framing and context play a key role in how misinformation can spread online, in addition to more straightforward cases of falsified or manipulated images.
Trump and North Korean leader Kim Jong Un are both regular fodder for memes. As they prepare to meet in Singapore this week, a range of images from the summit are likely to emerge—interpreted and re-interpreted by both states and citizens alike. Already, Dennis Rodman, who is not officially attending the summit, has posted an odd image of himself with the world leaders and a big block of text saying "UNITE," Twitter has established a hashtag for conversation about the historic event, and reporters have received packages that include selfie-ready placards of the two world leaders.
Trump swept into office with a norm-shattering social media style that included raw emotion, controversial images, and a penchant for all-caps flourishes. His style represented a departure for a U.S. president, but fit right in online. Today, global geopolitics is catching up to this more social-media-savvy way of communicating, as contentions between states are played out through memes.