Porn's Uncanny Valley
The San Fernando Valley was once the bedroom community of the adult industry. Now technology hopes to disrupt traditional pornography—and the city it calls home.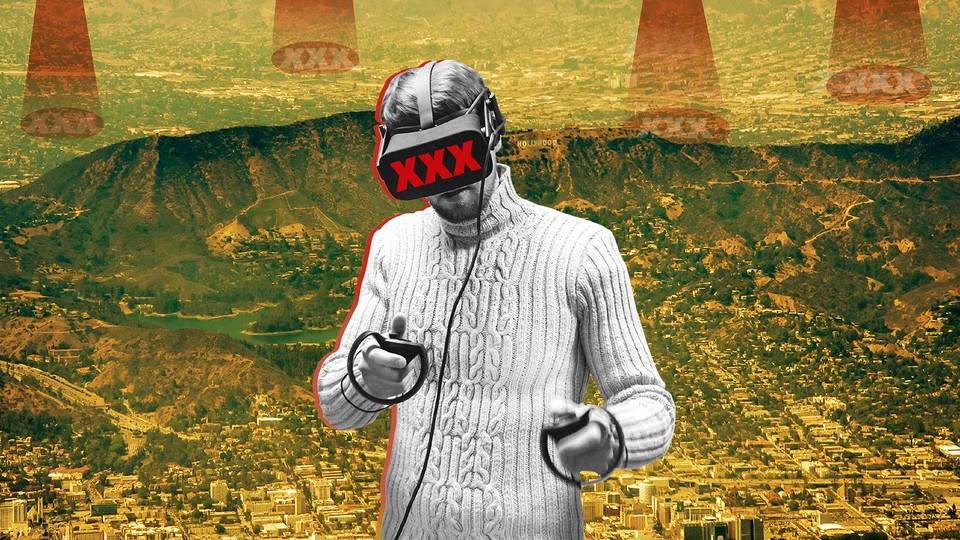 "It's a phantom-limb penis syndrome," said a tall, British man who goes by the name Adam Sutra. Adam is the CEO of CamasutraVR, a company that makes, among other products, virtual-reality pornography. He was trying to explain to me what it's like when you're a man, you're immersed in virtual reality, and you look down at yourself.
Adam works in a downtown Los Angeles loft that was arranged like any start-up with ambitious goals. High ceilings, concrete floors, and skateboards leaning against a wall upon which hung a poster for the indie rock band Pavement. Outside, there was the clamor of construction in a neighborhood busily gentrifying. Inside, the late-morning sunlight illuminated the room.
On the computer screen before us, a 3-D rendering of a naked man was stomping around a virtual apartment. "I'm now in the body of a black, male performer with a 12-inch penis," Adam announced. The virtual apartment's decor was banal: a white coffee table next to a sofa, a bowl of oranges on the kitchen counter, an Oriental rug on the floor. But in the main room, the real porn star Casey Calvert had been digitally scanned and recreated as a digital doppelgänger. She was dancing around a stripper pole, grinding to the ominous chords of Metallica's "Enter Sandman."
For the new pornographers like Adam Sutra, technology can erase the material world. In virtual reality, there are no limits, not even when it comes to sex. "If you can meet in your virtual-reality space, anything's possible," Adam observed coolly as the man bore down upon the woman, her prerecorded moans filling the air.
Porn wasn't always like this. It used to be real. Real people made real porn movies on real movie sets in the San Fernando Valley, earning the area the nickname "Porn Valley." Now virtual reality is their competition. Start-up bros with computer-science degrees and blockchain fetishes are hoping they can sell virtual sex to the masses.
Whether or not people get turned on by VR pornography, the technology is changing the places where adult content has traditionally been created. Porn Valley is being displaced by porn's uncanny valley—an X-rated version of the theory holding that a robotic or simulated entity that appears to be human, but not quite fully human, revolts us. Losing a connection to the material world—the skin and sweat of reality—may also lose what makes porn alluring.
The 1960s and '70s were the Golden Age of Porn. Back then, adult movies were shot on film and the business of producing pornographic movies was decentralized, operating primarily out of New York, San Francisco, and Los Angeles. In the '80s, adult-movie production was centralized in the San Fernando Valley, northwest of the Los Angeles Basin. Cheap rent and the proximity to the entertainment industry made for an ideal location. Porn Valley was born.
In 1998, I moved from the San Francisco Bay Area, where I was born and raised, to Los Angeles. I was a freelance journalist with an interest in the adult-movie industry. By then, the business had grown exponentially. The barrier to entry was lower due to the newly affordable video camera, the internet was delivering adult content directly into consumers' homes for the first time in history, and a two-term liberal administration in the White House and an attorney general who had little interest in pursuing federal obscenity prosecutions had combined to create an "anything goes" atmosphere in the manufacturing of pornography. Business was booming.
Every so often, I headed over the Cahuenga Pass and descended into the Valley, where I watched as porn movies were shot in rented, ranch-style homes and on massive soundstages, as cowboy-boots-wearing adult-talent agents in wood-paneled offices hosted cattle calls in search of fresh-off-the-bus talent, as cavernous warehouses were stocked to the rafters with dirty movies.
When I moved back to Los Angeles last year, I rented an apartment in the Valley. I wanted to know what had become of the adult-movie business. As it turned out, Porn Valley had changed. Technology had transformed it. A perfect storm had slammed the industry. The Great Recession had hit it hard, a handful of federal obscenity prosecutions during the Bush administration had caused a chilling effect, and widespread digital-content pirating had oversaturated the market and devalued the product, decimating the competition and slashing profits by the double digits. Once upon a time, porn had led technology, adopting VHS over Betamax in the video-format wars of the late '70s and '80s. In the new millennium, technology was porn's undoing.
Could technology transform porn once again?
---
With an Oculus Rift virtual-reality headset strapped to my head, I wandered through Adam Sutra's virtual apartment. The man with the 12-inch penis was nowhere to be found. At the window, the nighttime skyline glittered on the other side of the glass. I looked down at my virtual hands, controlled by my haptic gloves, opening and closing them. In the kitchen, I picked up a red gun that I'd seen the man use. In the living room, I aimed the gun at Casey as she danced. Then I pulled the trigger. A shower of dollars bills rained down on her. I reached out and touched her breast; the flesh depressed. She looked real, but I couldn't feel her. Moments later, the man reappeared, but when they had sex, I wasn't able to shift my virtual perspective to his point of view, due to an unresolved bug in the programming's software.
Adam and his team had spent a year building a virtual porn world "the size of Grand Theft Auto," but the technology wasn't perfect yet. No matter. Their population was growing. They were scanning more porn stars and shooting adult performers in motion-capture suits bouncing lustily on top of each other in an array of sexual positions. The results were impressive. Casey's skin was eerily lifelike, porous and pliant. Their genitals were, well, sufficiently realistic. ("It's easier to do a hard penis than a vagina," Adam confided.) There was something disconcerting about the simulacrum of Casey, though, especially in her face, which was weirdly human and disturbingly not, more uncanny valley than Porn Valley.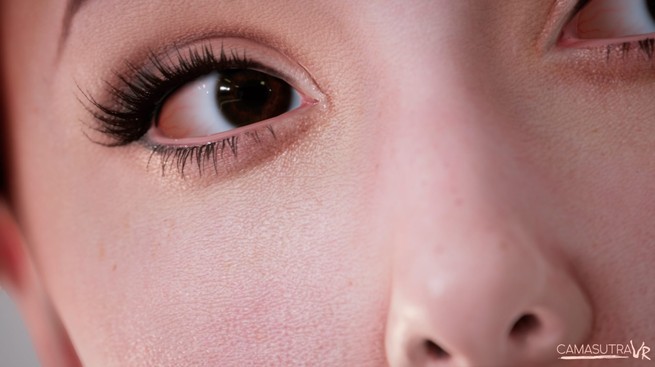 The scenery changed, and the man moved aggressively through a dimly lit strip club with red velvet seating and a full bar. Casey reappeared, and the two had sex as I watched. Abruptly the man's penis detached itself from its host. Seconds later, the disembodied phallus reappeared. It had transposed itself onto Casey's stomach. The effect was disturbing. In the uncanny valley of virtual sex, bodies can break into pieces as quickly as desire can be transformed into revulsion.
---
On a recent Saturday morning, I took a drive around the city. I wanted to see how technology had altered the landscape of pornography in the real world. When I first became interested in Porn Valley years ago, I used to take photos of adult storefronts. In my mind, the stores inhabited the same interstitial space porn did in America's collective unconscious. They were everywhere and nowhere, brick-and-mortar structures people walked past but pretended didn't exist, their X-rated wares as ubiquitous as they were invisible.
At Hollywood Boulevard and Western Avenue, Le Sex Shoppe was gone—a Yelp reviewer had once claimed it was "the poet Charles Bukowski's porn shop of choice back in the day." It has been replaced by a Petco. At Western and Sunset Boulevard, the X-rated Pussycat Theater was no more. An apartment building and a Walgreens stand in its place. On Santa Monica Boulevard, near the 101 Freeway, the Tiki Theater was still standing. Years ago, I'd photographed it, but I'd never been inside. "It's porn movies," the man in the front booth emphasized when I paid my $14. "I know," I replied. In the gloom of the tiny theater, four men were scattered around on random chairs. On the big screen, a cheery blonde was performing oral sex on a man who seemed to be appreciating the attention. On the TV set that had been erected next to the bigger screen, a different porn movie was playing. Neither one had sound. It was not quite 9 o'clock in the morning. In this hidden world, the porn was real—almost too real.
From there, I made my way into the Valley. Years earlier, I'd visited the talent agent Jim South at his World Modeling Talent Agency on Van Nuys Boulevard in Sherman Oaks, but an insurance company appeared to occupy the space. Down the block, I ducked into Romantix, an adult store, to see if virtual reality had hit the retail market. Amidst the DVDs and adult toys, I located a lone virtual-reality experience offering. On the box, a man with impressive abdominal muscles had donned virtual-reality goggles and inserted his penis into a black, plastic device that resembled an oversized hand weight. Behind the counter, the salesman I'd asked about the virtual-reality porn selection was attempting to predict if the future of pornography would work for him. "My one eye's messed up, so my depth perception is off, so I don't know if I can even do it," he mused to his female coworker, who said nothing.
---
Today a new generation of hipper, shrewder, and more digitally minded pornographers is making money at making porn in the San Fernando Valley. They've learned discerning consumers are overwhelmed by the glut of low-quality and frequently pirated dreck on adult tube sites. People are willing to pay for high production values, compelling storylines, and whatever sates their fetishes.
Last November, I visited one such porn set. The shooting location was a house that was on the market for a few million dollars, and the plotline concerned itself with two women who were supposed to work together but ended up having sex instead. To film the sex scene, the crew crammed into a small guest bedroom. Someone had blocked the window so the neighbors wouldn't know a porn movie was being made on a suburban street with a spectacular view of the sprawling valley floor. I watched from the bathroom; there was nowhere else to stand. The cameras recorded. The director directed. The nude girls writhed on the bed, intertwining and unwinding. There was nothing virtual about it: not the floral bedspread, not the faint scent of their feminine exertions, not the point at which the blonde lay on her back during a break in the action and hugged her legs into herself. It was endearing in its realness.
Porn Valley is real, but you'll never find it on a map. It has its own population, laws, and language. Reviled by outsiders and misunderstood by most, it depends upon the fickle fantasies of those who consume it and staves off attacks by those who believe it a social menace. It has thrived during economic booms and survived economic downturns. But due to our own conflicted relationship to sex and pornography, people pretend as if this very real place doesn't exist.
For me, its streets are a maze of memories. There's the soundstage where a famous male porn star, full of confidence and bravado, informed me: "If I was a billionaire, I would still do porn." There's the warehouse in which I spotted a giant vagina costume lurking in the shadows. There's the building in which, not long ago, I witnessed a cherubic porn star burst into tears during an audition because she had forgotten the single line of dialogue she was supposed to memorize. It's a place where you can lose yourself. For a while I did. Sometimes I still do.
---
I always intended to write a book about Porn Valley, but it never really happened. I guess you could say my life got in the way. At one point, I put together a book proposal about the adult-movie business, but no editor in the New York publishing industry wanted to buy it. Why would anyone want to read a book about the porn industry, one editor wondered, when you could watch porn on the internet for free?
Today the adult-production-company studio system that spawned crossover stars like Jenna Jameson have ceded ground to surveillance-filled houses stocked with cam-girl performers and amateur starlets who charge online customers for bespoke experiences and accept cryptocurrency. A few years ago, a law requiring the use of condoms on adult movies shot in Los Angeles County passed, sending the adult industry back to the place from whence it had come: the underground.
"Everyone wants to feel something," Adam Sutra told me of his experiments in virtual pornography. He's right about that. Porn isn't about sex at all, I've learned. It's about wanting to feel something. And until technology figures out how to make me feel the way that I do when I'm on a porn set, I'll leave virtual-reality sex to the start-up boys.