Transitioning on YouTube
While the platform's other stars pull pranks in the hopes of going viral, Miles McKenna is helping fans figure out who they are.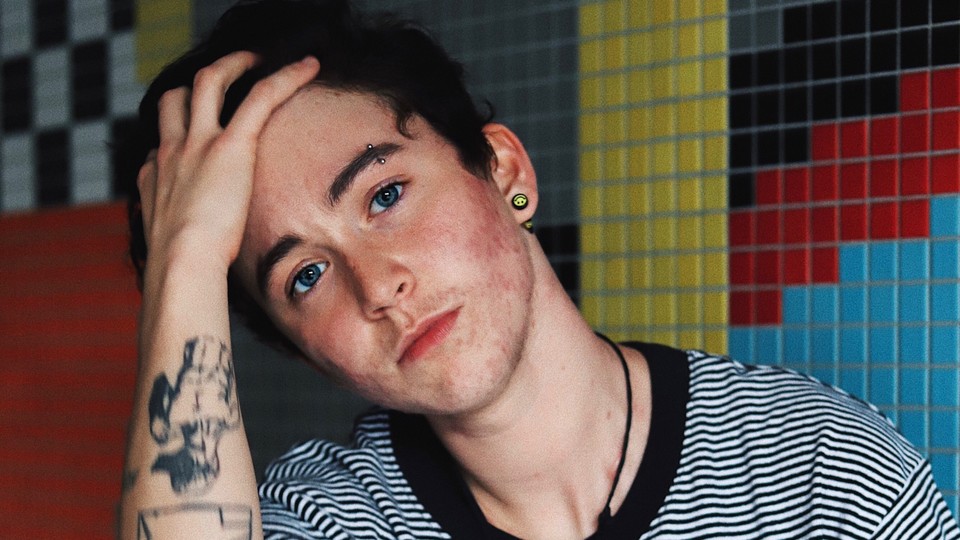 When Mary first stumbled upon Miles McKenna's YouTube channel via a search for the platform's LGBT tag, she was 12 years old and had never heard of a woman identifying as gay before. She was raised in a very conservative Catholic environment, and "being anything other than a straight, cisgender female was never really presented to me as an option," Mary, now 16, said via Instagram direct message.
At the time she was pretty sure she wasn't gay herself, but also pretty sure she wasn't straight, either, and had been struggling to define her identity. Like many young people, she turned to YouTube for answers, and McKenna's channel proved to be a powerful source of information.
McKenna is a hugely popular 22-year-old trans YouTuber who fans say has been critical in helping them come out as queer, nonbinary, trans, or however they identify. "When you're a closeted transgender teen it's really important to have people to look up to," says Leo, a 16-year-old in the Pacific Northwest. "Miles has created this support for people who maybe don't know who they are or aren't totally sure."
Part of the reason that McKenna is so adept at helping teens figure out their own identities is that he spent years trying to figure out his own—and documented much of the experience on YouTube.
He spent the better part of his teenage years in Orange County, California, where he struggled to fit in and hated being seen as a girl. He turned to the internet for solace, stumbling upon videos from the LGBT YouTuber Tyler Oakley and some blogs about the trans experience. He began making confessional-style videos in his bedroom in 2011, came out as trans in 2015, and has vlogged his way through his transition, documenting family struggles, appearance changes, and the ups and downs of hormone-replacement therapy. Today, he has more than 1 million YouTube subscribers and an army of online fans, most of whom are young and LGBTQ, according to McKenna.
"If there's been one message that Miles has always had, it's that you'll always find someone to love you for who you are, no matter what your blood family thinks," Mary said. By and large, McKenna's channel is less prescriptive than descriptive—he doesn't dole out advice on products like chest binders or packers, he says, but rather details his day-to-day life as a young trans person. And this being YouTube, of course there are stunts: trying on meme Halloween costumes, recreating fan art, dyeing his armpit hair.
"Seeing Miles go through hormones and getting top surgery has been such an amazing thing, and the guy is just so incredibly strong," said Mary. "I'm so glad I found him when I did."
Many of McKenna's subscribers say that watching his videos empowered them to be more open about their own identities. In one video titled "Send This Video to COME OUT 2 Someone," he poses while words pop up on screen reading, "Whoever sent this is gay or bi or transgender or pansexual or asexual or nonbinary idk ... just go love that little bitch."
Caroline, an 18-year-old in Florida who asked to be described with a gender-neutral pronoun, used some of McKenna's tips when they came out to their family as queer. "I have suggested his channel to so many of my closest friends who struggle with ideas other people have about their own sexuality," Caroline said.
McKenna told me he's flooded with message from young people who feel ostracized by their own communities.
But it's not always easy being a queer YouTuber. McKenna and creators like him are frequently targets of harassment campaigns and some say they have seen their YouTube channels demonetized without explanation. YouTube also allowed homophobic advertisements to run on the channels of queer creators, Polygon reported earlier in June. Trans creators told The Verge that they've regularly experienced having their channels restricted from younger users, and that use of the word "trans" or "transgender" in video titles triggered instant demonetization. YouTube denies all these allegations.
And then there's the fact that documenting your transition for millions to see is complicated. In February 2018, McKenna privatized his coming-out video, along with years' worth of old YouTube videos and Instagram posts. So many fans reached out afterward that McKenna produced a YouTube video explaining why he made the choice to remove his coming-out video. McKenna had initially come out as nonbinary, but now identifies as male, and it felt weird keeping up a video that was no longer an accurate depiction of how he identifies, he said.
But the larger issue had more to do with how fans perceived him. Over the past year, McKenna has gotten top surgery to remove his breasts and begun hormone medication, which deepened his voice and altered his appearance. Reconciling his new current online presence with his pre-transition one was hard, and McKenna ultimately determined that the best way to move forward was a fresh start.
"People were finding videos of me pre-transition, subscribing, thinking that was me currently, not watching recent videos ... coming on my recent videos and commenting my dead name," he said, referring to the name he was given at birth, which he no longer uses, which was hurtful and hard for him to deal with.
"I thought I would never take down any pre-me, pre-transition videos because I remember what it was like being that 11-year-old boy and being able to find a trans guy on the internet and be able to scroll all the way back on his pictures and his videos to find what he looked like when he looked like me," McKenna said in his video, "and that gave me so much hope." He explained that though he didn't want to take that away from any kid, he felt like the refresh was necessary in the end for his own mental health.
"Coming out as a concept is so archaic and scary," McKenna said. "You figure out why you felt out of place for so long then it's like, cool, now I'm going to tell everyone in my life and hope they still love me! I say, just be you. Just do it. Just be the best you you can be. Just be whatever the hell that is. As long as you're not hurting anyone else, you're fine."