The Death of a Gig Worker
An SUV killed Pablo Avendano as he picked up jobs for the food-delivering app Caviar. Who is responsible?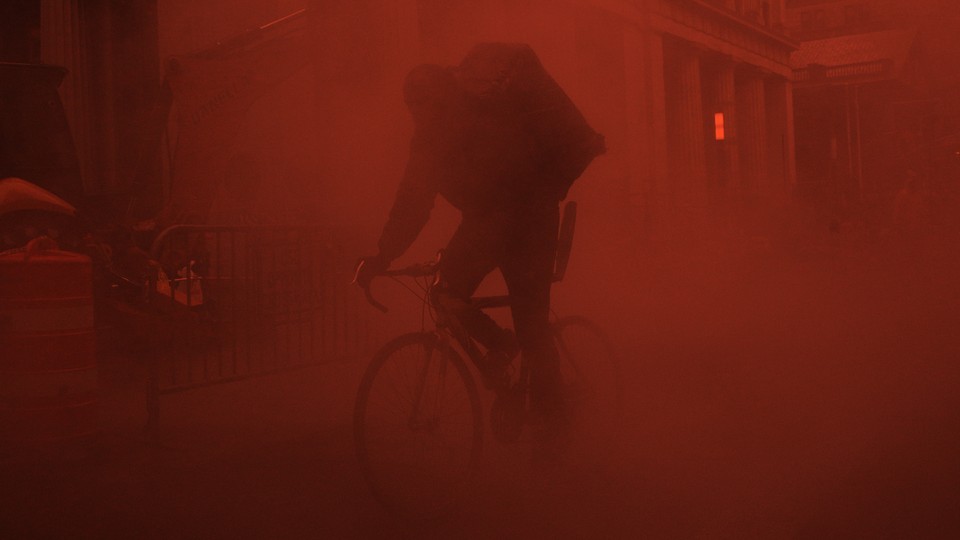 Editor's Note:
This article is the first in a series about how the gig economy is shaping the future of labor.
An 8-year-old told me about Pablo Avendano's death: "My dad's friend was just killed riding his bike." The 8-year-old was a friend of my son, Dai. I had taken the boys out for water ice in our neighborhood in Philadelphia. "He went out to work and he's never coming back," my son's friend said, bobbing on his feet. "And he didn't even like his job!" Avendano made deliveries through Caviar, the food-ordering app."His boss is probably in trouble," Dai said.
Avendano was joyous, passionate, a rush-seeker. He partied, always smiling. "Totally gregarious. Tequila bottles did not stay full," his roommate told me. He gave his friends the impression that, when they spoke, they had his full attention. He looked for people who were alone, and tried to connect. "I never had a brother, but whenever I saw Avendano, we hugged, we kissed," Randon Martin, a blue-eyed, dreadlocked young man who worked with Avendado, said. "I loved him, and he made you feel loved."
Avendano, like many of his friends, considered himself an anarchist and a communist. He grew up in Miami and studied political science at Florida International University. While there he once slept in a cardboard hut on campus for three days in solidarity with the homeless in Miami's Liberty City. He organized students in support of campus janitors fighting for higher wages. In Immokalee, Florida, he marched with workers against exploitative labor conditions in the tomato fields, part of a movement that would eventually result in a deal for better pay and working conditions. After college, Avendano worked in restaurants, in retail, and for cleaning and landscaping crews. He stayed political. Martin showed me a picture on his phone taken by the photographer Devin Allen during the 2015 Baltimore riots. In black and white, Avendano is smiling, washing pepper spray from his eyes with milk.
After moving to Philadelphia in his late twenties, Avendano started working as a bike courier for Sparrow Cycling Couriers, a worker-owned collective run out of a storefront in Center City. Sparrow's couriers mostly deliver food and legal documents. They put business decisions to a vote, and their work earns them wages and a stake in the company. But for Avendano, it wasn't enough to live on; to make rent, pay bills, and have fun. So he picked up delivery work through Caviar. As a Caviar courier, Avendano earned according to a formula that weighs demand, distance, and riders. He got a bump during peak hours: meal times and some other periods, as determined by the app. Rain, according to online postings from people identifying themselves as Caviar couriers, raises pay. Of course, rain also makes the work more dangerous. Avendano signed the 11-page Courier Agreement, which says in capital letters, in three separate provisions, that it disclaims liability for all work injuries, including death.
The evening of Saturday, May 12, the clouds had burst, pouring down rain, so people were ordering in. Avendano decided to deliver some food through Caviar to make some extra cash. He was riding his bike down Spring Garden Street, which divides Center City and the northern neighborhoods, when a Mitsubishi SUV struck and killed him.
Three hours later, Avendano's younger brother Bryan and their mother, Graciela, were watching a Spanish show called Merlí on Netflix, at Graciela's row home in south Philadelphia, when there was a knock on the door. Bryan answered and an officer asked whether Avendano lived there. Bryan balked. Avendano had always told them, "If the cops come looking for me, don't let them in." But Bryan did, shifted by a gravity in the officer's voice. He found himself between the police officer in the foyer and his mother on the couch, translating as the officer told his mother that her eldest son was dead. Avendano was 34 years old.
One night not long after Avendano's death, I went on the Ride of Silence, a yearly eight-mile procession that mourns cyclists killed in traffic. Three hundred or so cyclists gathered in the rain at the Art Museum for the pre-ride ceremony. The lead organizer read the names of the dead over a PA system. Avendano's was the 11th name, the most recent death and the last on the list. The organizer flubbed the name and read, "Pedro—"
"Pablo!" came a shout from the crowd.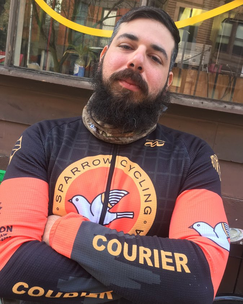 Avendano had friends there. Mostly young and clad in black, they held their bikes with one hand. With the other hand they held each other. Later that night, Avendano's body was laid out in an open casket in a funeral home on South Broad. His face was pale, his eyelids bruise-dark. His body, dressed in a dark suit, somehow looked unharmed. Avendano's mother, Graciela, knelt before the casket and sobbed and sang. His brother, Bryan, hit play on Black Sabbath's "Black Sabbath," and from speakers, rain and bells sounded.
At the Avendano family home, Pablo's bike, the one he died on, leans against the wall, hemmed by flowers. On it sits a poster-board collage of photos. Avendano in cap and gown, graduating from Florida International University. Avendano and his brothers in karate gis, dukes up. Avendano had been the first of four sons. His parents called him Osito, or little bear. As a kid, he staged uprisings among his GI Joes, and as a teenager too young to drive, he dissected "Rage Against the Machine" lyrics. He started studying the Black Panthers, reading Frantz Fanon's The Wretched of the Earth and sporting a Che Guevara T-shirt. His father Nicolas, who escaped Argentina's Dirty War, worried that Avendano had no idea where revolution led. They fought, but Avendano didn't change, and they had a falling out that left them estranged for years. Then, earlier this year, they started to text. On April 21st, Nicolas' birthday, Avendano texted him birthday wishes and said that they should, at long last, get together. They never did.
---
Caviar represents itself as a food-ordering platform, not a food-delivery service. Couriers are not employees. Along with the millions of workers who earn through Uber, UberEats, Lyft, DoorDash, Postmates, GrubHub, TaskRabbit, and more, Caviar couriers are considered independent contractors. In this gig economy, liability for work injuries, including death, falls on the worker and their family. "All of us at Caviar are deeply saddened by this news," a Caviar spokesperson wrote to me in a statement. "This is a horrible tragedy and our thoughts are with Pablo's family. We will work closely with authorities and assist in any way we can."
Avendano knew that Caviar's incentive structure could lead to danger, and that he was vulnerable. According to several friends, he talked about unionizing Caviar riders. But more than a union, Avendano wanted out. Bryan, his brother, who is a court interpreter, says that Avendano had started a course to become a translator. Avendano's girlfriend, Anne Marie Drolet, also a Sparrow courier, said that she and Avendano had talked about becoming teachers, moving to Spain, and perhaps having children.
Since his death, Avendano's friends have organized themselves into a group called The Friends and Comrades of Pablo Avendano, and they have demands. They want a union for Caviar couriers, a wage starting at $20 per hour, benefits including hazard pay, and for Caviar to reclassify couriers from independent contractors to W-2 employees. None of this appears likely to materialize—gig-economy companies have often brushed off similar demands in the past—but then, neither did the tomato workers' demands back in Immokalee.
In fact, the lack of protection for couriers is not unique to gig-economy companies like Caviar. Sparrow couriers are independent contractors too (that's the industry standard), albeit, in this unusual case, contractors with an ownership stake. Like all bike couriers, Sparrow riders sometimes get hit by cars. Sparrow carries liability insurance, which typically covers things like packages delivered, but no workers'-compensation insurance, which would cover harm to couriers. Martin told me that the day after Avendano died, he had called for a quote on a workers'-comp policy. The premium would bankrupt Sparrow. If Avendano had died on the job for Sparrow, there still would have been no coverage.
Still, Sparrow and Caviar are different in several ways that some workers find meaningful. Sparrow is made up of a dozen friends who work together, share profits, and make collective choices about whether, and how, to protect workers. To go without workers' comp may be unfortunate, but it's their decision. In contrast, Caviar's parent company, Square, which brought in $669 million in revenue in the first three months of this year, is publicly traded. Its executives make decisions for the benefit of distant shareholders; workers' well-being is not the only consideration.
The Friends and Comrades of Pablo Avendano, in a style that surely would have appealed to Avendano, began with a rally that doubled as a memorial service. A week after Avendano's death, a few dozen of his friends gathered in a bar called Tattooed Moms. They took over the second floor, a windowless stretch of three chambers where every last inch of wall space is covered with scrawl, graffiti, and wheat-pasted art. After a few hours, Avendano's friends trickled out onto the street. Graciela, Avendano's mother, was there. As her son's friends mounted their bikes, she screamed in the street, "Pablo, tu gente esta contigo!" Your people are with you. The riders cheered and howled, then some hundred of them rode off to the corner where their friend had died.
Some rode with lit road flares in hand. A few times, cyclists fished small chunks of concrete from their hoodies and pegged cars parked in the bike lane. No windows broke. The riders chanted, "Pablo! Viva Pablo!" and their voices resonated up the glass face of the convention center where Wizard World Con was underway. A couple cosplaying as Doctors Doom raised fists and cheered the riders.
On the intersection where Avendano was killed, more friends were waiting, and upon arrival, the procession shut down the eastbound lanes of traffic. The police arrived, in seven vehicles, but the atmosphere was neutral. Near the corner, someone had lit candles around the trunk of a tree. Black, red, and white scarves hung from the branches. Avendano's friend Randon Martin, who had been a Sparrow co-worker, locked a "ghost bike"—a bike painted white to honor the dead—to the tree. Nearby, a banner hanging from an abandoned train trestle declared, "The gig economy killed Pablo. Rest In Power."