Gambling Channels Are the Latest Victims of YouTube's Arbitrary Moderation Process
"This is my full-time job. You spend so many years to build it up and they can just erase it with one button."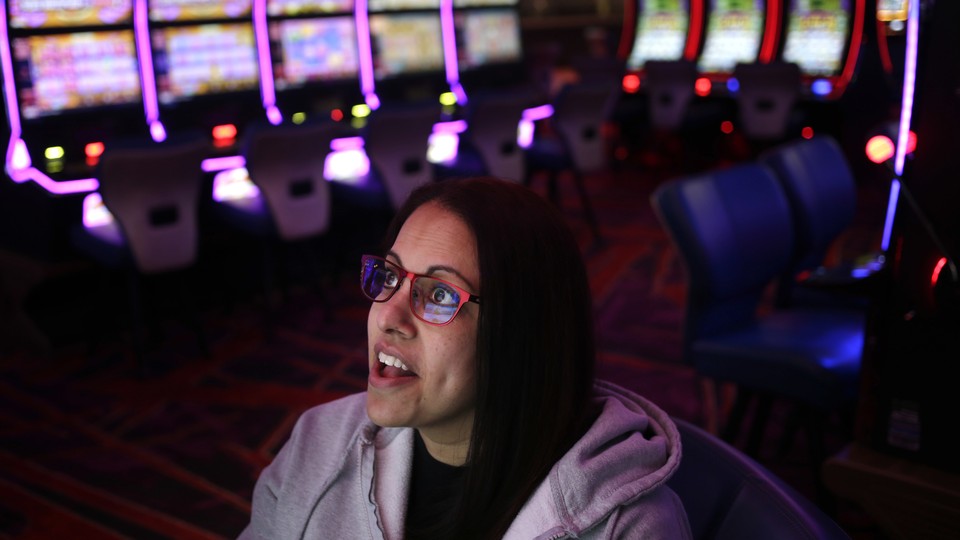 Days before he was set to begin a month-long promotional tour for his YouTube channel, Brian Christopher learned that his account had been abruptly terminated.
In the two years since Christopher has been running BrianChristopherSlots, he's produced more than 1,100 vlogs of himself gambling, mostly on slot machines, and racked up 50 million views and 80,000 subscribers.
But then, last week, his account was suspended, along with many other prominent YouTube gambling channels. In an email, YouTube explained the suspension was due to "repeated or severe violations" of its community guidelines, which prohibit "violent or dangerous acts that have an inherent risk of serious physical harm or death." (YouTube did not respond to requests for comment from The Atlantic.)
Like many top creators, Christopher makes his full-time living from YouTube, and he's terrified of losing his primary income source. He said he's careful to get approval from the casinos he vlogs from as well as the slot-machine manufacturers before publishing his videos. He doesn't swear, feature explicit content, or do anything else he thinks might be perceived as violating YouTube's notoriously vague guidelines, which he and many creators can almost recite by heart.
Christopher and other top creators are in a precarious position: Though their videos provide a steady stream of income to YouTube via advertising, they don't work for YouTube directly, and the company has a long history of deleting channels, demonetizing videos or accounts without warning, and leaving creators with little to no recourse or explanation.
In January, YouTube made sweeping, sudden changes to the qualifications it used to judge whether channels were eligible to earn money on the platform. Thousands of small channels lost their ability to generate money on YouTube overnight and had no way to appeal. For the vast majority of YouTube creators who aren't members of YouTube's top 3 percent, there's almost no direct line of communication to the company: Creators get automated emails saying their channels are penalized. When they try to reach out to YouTube, rather than get a person, they get more automated responses. While some encourage their fans to tweet at YouTube's various Twitter handles, that usually proves fruitless, too.
This spring, some creators attempted to ban together and start a union, hoping that collective bargaining might help them better reach the company. Others simply quit the job entirely.
Ben, a vetted volunteer " trusted flagger," who helps YouTube identify problematic content and offensive channels, said that after four years as a volunteer for YouTube, he's seen tensions between YouTube and its creators peak in the past year.
"YouTube needs to be more transparent in their policies and give in-depth information to creators," he said. "If a YouTube Trusted Flagger can't distinguish whether there has been a violation based on the public information they give out, I cannot see how they could expect most users to do so either."
The YouTube gambling community isn't massive, but its biggest channels have tens and sometimes hundreds of thousands of loyal and active fans, which allows them to broker brand deals with big-time casinos, gambling-machine manufacturers, and online gambling sites in Europe. After his channel was taken down, Christopher spent days trying to renegotiate deals he had made with casinos throughout his tour.
"YouTube doing this stuff absolutely jeopardizes my business relationships," Christopher said. "I'm in contact with the casinos I was supposed to visit, I'm trying to put them at ease and continue on Facebook. I know I haven't lost my brand ... but it's tough."
Christopher's channel was reinstated shortly after he spoke to The Atlantic, but other popular gambling channels have received permanent or temporary bans, or have had features, such as the ability to livestream, revoked.
"I've spoken with other channels, no one knows what's happening," said Christopher. "No one has any facts, including myself. No other channels know how to prevent this. They're scared, they're deleting videos saying 'maybe these are ones that YouTube won't like.' They're afraid to go live." He added that even after he received an email saying his appeal was granted and channel reinstated, he wasn't given any explanation for why the initial deletion occurred.
Gambling YouTubers have taken to group chats, Twitter, and private messaging over the past several days, trying in vain to figure out why their channels are suddenly being targeted. "What I find awkward is no one is 💯 sure what's going on. Everyone is just speculating," one user wrote on a forum thread discussing the issue. "Also I don't get how hard it is to contact anyone from YouTube it's like their friggin invisible."
Kim Hultman, a Swedish YouTuber who runs the gambling channel LetsGiveitaspinTV said that he was mid-livestream when he found out YouTube shut down his channel.
"I checked my channel and it was gone. YouTube had shut it down completely. No notice," he said. "I appealed and said I've been doing this over two years, I don't understand why you'd decide to shut me down right now. They sent another generic mail saying we reviewed your appeal."
"This is my full-time job," he added. "You spend so many years to build it up and they can just erase it with one button."
Since the first wave of bans, YouTubers said that they've felt a familiar wave of panic, knowing that they could be next. Though many attempt to diversify, YouTube's platform is unique and many creators have been unsuccessful in their efforts to build audiences on other platforms to a similar scale.
"You need something like YouTube to help people find your channel," Raja, who runs the YouTube gambling channel Raja Slots said during a livestream shortly after his channel was deleted, then reinstated earlier this week. "We have explored other options, but those other platforms aren't going to help grow a channel."
Still no reply about @YouTube from @TeamYouTube , it's a shame they decide to shut an entire section and keep us in the dark.

— LetsGiveItASpin (@LetsGiveItASpin) June 1, 2018
Christopher said that he hopes YouTube will soon realize the effect that even the smallest platform or policy changes can have on creators like him.
"I just hope that YouTube comes through," he said. "I just hope that they will open a dialogue with me ... I made them a ton of money over the past few years. For them to just close up shop with zero way of communication is a slap in the face."