Brexit Could Cripple Britain's Ports
Technology has streamlined Dover, the busiest port in the United Kingdom. But nothing has prepared it for the Brexit transition.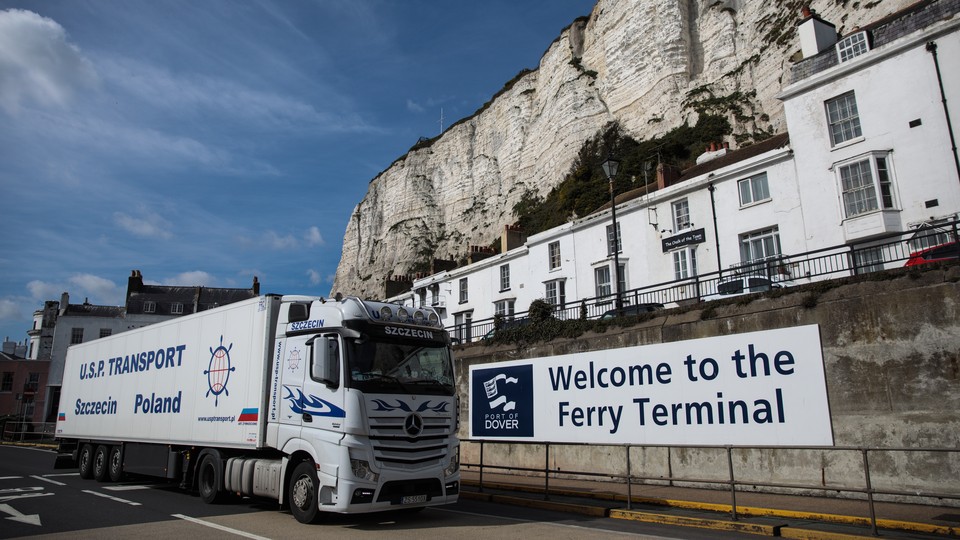 I arrive in Dover, England, on a Thursday evening in late spring, a few hours before sundown. On my left as I emerge from the railway station is a pale cliff face with a castle on top. I go right up Folkestone Road, passing a flurry of guesthouses and allotments. It is golden hour and, apart from some furious seagulls, peaceful and quiet.
You wouldn't know it from where I'm standing, but Dover is home to the busiest seaport in the United Kingdom. Situated on the southeast tip of England in the county of Kent, it is the nearest British port to France, with the city of Calais a scant 27 miles away. Every year, 2 million lorries pass through this small town on their way to and from the port.
Through the past two bruising years of British politics, Dover has been emblematic of all the chaos that followed the referendum to leave the European Union, a.k.a. Brexit. Described as the "Gateway to England," the town and its scenery are constantly invoked in rhetoric around borders and national identity. On the day that Article 50 was triggered, the right-wing tabloid The Sun projected a series of messages onto the cliff face, including DOVER AND OUT and SEE EU LATER. The following month, the betting company Paddy Power erected a gigantic effigy of Prime Minister Theresa May on top of the cliffs, wearing a Union Jack and making a V-sign (an offensive gesture in the United Kingdom) out to the continent.
The Port of Dover lurks in the shadow of the chalk and flint. Today, it operates smoothly within systems that permit people and freight to seamlessly bounce between one country and another: the customs union and the single market. There are many questions about what will happen when—and if—the United Kingdom extricates itself from these systems; how goods will flow, how the port will operate. When quizzed, British politicians have frequently invoked notions of new and emergent digital technologies, which will somehow permit business as usual in Brexit's brave new world. But most of these promises have been shot down by European politicians as "magical thinking."
Whenever this phrase is invoked by Brussels, I think of the writer Joan Didion. In The Year of Magical Thinking, Didion describes the rituals she found herself performing following the sudden and unexpected death of her husband. In extreme shock and grief, her thinking steered into an irrational place where, as she writes, "there was a level on which I believed that what had happened remained reversible."
The outcome of the European referendum, with its narrow margin, came as an enormous shock to the British populace. The then–prime minister, David Cameron, resigned directly in its aftermath. The country remains incredibly divided, newly vulnerable and dealing with an irreversible psychic change about its place in the world. Brexit is an excruciatingly complicated proposition—a thicket of regulations and relationships whose complexity seems to surprise everyone involved. I've come to Dover to find out how one aspect of world trade, a major port between Britain and the continent, is reacting when its political leaders, like the grieving Joan Didion, seem to be in denial of the reality of the situation.
---
The next day I sail from Dover to Calais and back again.
There's a foggy haze in the air on the walk down to the port. At a T-junction on the seafront there is a huge trompe l'oeil mural by the artist Banksy, depicting a worker in dungarees chipping off one of the twelve golden stars from the European flag. The action of his hammer sends fault lines into the wider structure. It's not subtle.
The lorries are everywhere, barreling across the junction. Richard Christian, the head of policy and communications at the Port of Dover, tells me that extensive traffic-management systems have been implemented to guide heavy vehicles toward the port via two major roads, the A20 and A2, rather than spilling into the town itself. Very occasionally a lorry driver gets lost down a side road and, mis-calibrating the size of the vehicle against Kent's built environment, crashes into a bridge.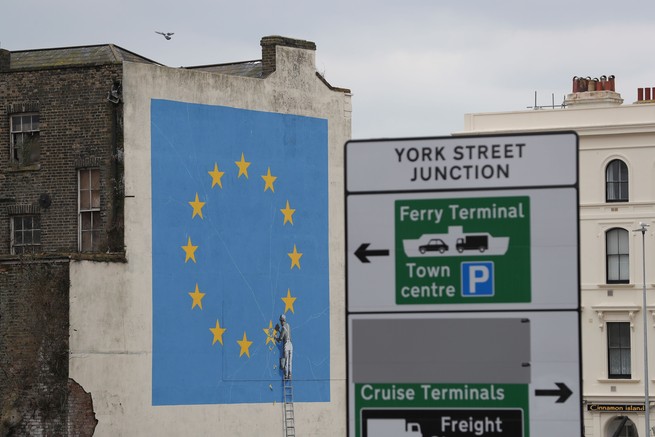 Digital sensors at Dover Port detect anonymous Wi-Fi and Bluetooth signals from local vehicles to map the flow of traffic across the highway system, but ultimately are in service to the roadways that cars and lorries drive along. This "innovative roadway system," as Christian describes it, continues into the port through a series of curved, raised roads that split inbound and outbound traffic to control flow.
I cross several lanes to the plain and unassuming passenger terminal. Inside, a micro-branch of Costa Coffee serves up hot drinks and pastries. There, a laminated sign on the counter testily reminds workers that their Dock Pass discount is not an entitlement but "a polite gesture on our behalf." The port is the major employer in the city, currently supporting around 22,000 jobs, and hundreds of extra border staff are anticipated to be recruited in the run-up to Brexit. On the wall opposite, a poster from Essex police offers a £10,000 reward for information leading to the capture of a man wanted for murder. The port funds its own police force, and my host in Dover tells me that these positions are favored over the usual "bobby on the beat" work in Kent—more prestige and a sense of contributing to international security.
I buy a coffee but see no murderers. My passport is checked, and then checked again, swiped through a device attached to a Samsung phone. I am given a blue tag reading BON VOYAGE before my fellow foot passengers and I are ushered onto a small bus to take us to our ferry.
---
Think of a port and you're likely to get visions of shipping containers hoisted onto and off of huge vessels. A few days before coming to Dover, I attended the Tenth Annual U.K. Ports Conference in London, which is a pretty big deal in maritime-logistics circles. Opening the event was Maritime Minister Nusrat Ghani, who brightly stated, "We spend a lot of time thinking how many boxes we can fit on a ship, but sometimes we have to think outside of the box!" It was a slightly cringeworthy moment in an otherwise sober conference, and also misplaced: Containerization has certainly transformed the global shipping industry, but the majority of freight that comes through British ports arrives on ferries via lorry, not in containers to be placed on rail flatbeds. Richard Ballantyne, the director of the British Ports Association, cites Great Britain's physical form: "Given our island nature, and that we're a relatively small geographic nation, getting things onto rail can be costly. It's much cheaper to just have a lorry drive [freight] to its destination," he tells me.
There are 51 major ports dotted around the U.K. coastline, all privately owned and in competition with each other. Of these, 35 are "Ro-Ro" ports where vehicles—cars, lorries, buses—roll on and roll off the ferry on their own wheels. If a container port like Rotterdam is a glitched landscape of cuboid mountains, a Ro-Ro port like Dover resembles a motorized loading bay for Noah's ark: scores and scores of variant vehicles waiting patiently in parallel lines to be summoned aboard.
Everything is in constant motion: Flow is at the heart of a functioning Ro-Ro port. Unlike containers, lorries cannot be stacked, and many carry livestock or perishable goods that need to get to their destination as soon as possible. "You have two minutes to get a truck through Dover," the freight-transport economist Chris Rowland tells me. Any longer and things start backing up horribly. There is only so much space, landside and wet-side, where vehicles and vessels can wait.
Right now, by dint of being in the EU customs union and single market, the level of friction trucks experience when traveling through the port is minimal. Even so, the authorities have still been introducing low-tech tricks to shave further seconds off processing time, such as steering lorries into the inspection sheds with nonverbal notifications. "Rather than stopping a vehicle and holding everyone else up and saying, 'Ooh hello Mr. Driver, we need to have a look at you, would you mind awfully going into this area over here where we can look at you a bit further?' we'll hold up a paddle and wave them into a separate lane," Christian tells me.
Brexit has the potential to upend all this. How border checks, freight tracking, and goods agreements will operate as the United Kingdom extricates itself from the EU is unknown. "Certainly what we need is more clarity and certainty on which route the U.K. wants to go down," Christian says. And yet, even if any real technological solutions were on offer, "there's still not a lot of time to implement anything." Instead of clarity, there are only more ambiguous promises for how technology will magically alleviate the port's forthcoming challenges.
---
There is an intimate relationship between magical thinking and technology. The sociologist William A. Stahl has described how magical language has been used historically to diminish tensions and anxieties brought about by advances in information technology. Such language is, in his words, a "declaration of hope in the face of fear and powerlessness." As the deadline to Brexit advances, such thinking seems rife in the face of seemingly impossible questions around how to construct Britain's new borders.
The language of "smartness" floats across these discussions. Some witches' brew of automated number-plate recognition, smartphone apps, and radio-frequency identification (RFID) systems is imagined, all of which might yield a perfect, frictionless border. A report prepared by the European Parliament, "Smart Border 2.0," imagines what post-Brexit borders might look like if they become embedded in a fully electronic environment. The document offers vague invocations of the "latest technology" and "international standards," and finishes with hopeful comment that Brexit might even be an "opportunity to redesign the border concept."
Any uncertainty about post-Brexit port operations is brushed aside with the assurance that there will be a technological fix to it all. In March of this year, Brexit Secretary David Davis claimed that a "whole load of new technology" existed to create an invisible border in Northern Ireland, free of checks. He was promptly slapped down by the opposition politician Chuka Umunna for creating infrastructure "out of nothing but spiderwebs and magic." The favored approach of the U.K. government—maximum facilitation—relies on some as yet undeveloped and untested technology to electronically track and pre-check goods with customs authorities, removing the need for physical checks. The second, a customs partnership, also relies on new IT systems that would remove customs checks and allow the United Kingdom to collect tariffs set by the EU Customs Union; this, too, has been dismissed by the EU as "magical thinking."
---
Back in Dover, the bus takes us into the 11 demarcated entry lanes that funnel into the port, allowing traffic to be separated out and managed. "In the past, if one ferry operator had a problem then everyone got caught up in it, but now we take it off-line and keep the rest of the traffic moving," Richard Christian explains. There is a perfunctory sweep through French border control (located on the British side of the Channel), and then we zip along to the edge of the dock where our ferry, the MS Pride of Canterbury, is waiting. Foot passengers are last on; seconds after we hop up the ramps, the doors are closed behind us and the ship sails.
It's the start of a public holiday weekend, and inside the ferry feels like the domain of the leisure traveler with slot machines, duty-free shops, and a sizable canteen serving full English breakfasts. Schoolchildren careen about, making a break for the smoking bay. After a stroll through the decks I see signs of the international supply chains that the ship is stitched into. Around the corner from the canteen is the Routemasters restaurant—a place for exclusive use by freight drivers with showers and places to sleep. Out on the bow are two lorries nestled side by side, ready to roll off as soon as we hit Calais.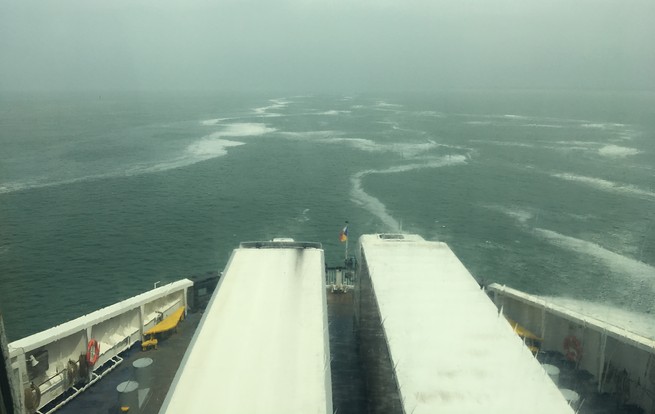 Calais and Dover are intimately entangled—as Rowland puts it, if Dover gets a cold, Calais sneezes. When industrial action happens in Calais, lorries back up in Kent. Richard Christian tells me that the two ports work closely together to stay in lockstep: "It's no good if one side expands capacity and the other doesn't, or one puts in a berth that can take one size of ferry and the other doesn't. The system doesn't work." The same holds for any of the proposed, if hypothetical, magical technologies—anything introduced at one end has to be replicated, tested, trained at the other.
A fog of uncertainty shrouds the fates of both ports over the next year. At the end of a downcast Brexit panel at the U.K. Ports Conference, one audience member asked, with some slight exasperation, what the upsides to Brexit might be and what systems might be built to support it. The panelists responded that until they knew what Brexit would entail, they didn't know what they should build for it. The technologies used in border crossings between other friendly nations aren't necessarily useful in thinking about Dover because of the issue of flow, Richard Ballantyne explains. Queues caused by checks, which are a minor annoyance between the United States and Canada, or Norway and Sweden, could lead to massive tailbacks and lockdown in the time-sensitive space of Ro-Ro.
At the Ports Conference, several heads of U.K. ports associations indicated that they are consulting with the British government on possible technological solutions but, due to nondisclosure agreements, they were unable to give specific details. In a coffee break, I joined a gaggle of attendees who quietly wondered if there was any "there" there in the presentations, or if this was all smoke and mirrors, another way for the government to buy time against the looming deadline of exit.
---
We sail across the Channel in a swift hour and a half. The sea is still and the mist burns off. I only notice the border crossing into French waters when my mobile phone carrier changes. The Pride of Canterbury docks into a mirror of Dover's port at Calais, and I do the switch-around in reverse for my return journey—another bus, another set of inspection sheds, another round of passport checks (British border control, so more Union Jacks), another poster depicting murderers, another patriotically named ferry (the MS Spirit of Britain).
We arrive back in Dover as the sun is low. The cliffs are glowing and seem permanent, unchangeable geological megastructures.
Brexit was promised as a great and disruptive change; a magnificent unfolding of new trade structures as borders tightened. Its outcome grumbles slowly, miserably forward. Yet at this physical place where the change will happen, the ports and the people hope things stay the same. Richard Christian emphasizes that the majority of traders don't want to change their supply chain; the cross-channel routes are the shortest and most efficient way of getting just-in-time goods to where they need to be. "It's replicating what we have now which is the challenge" Ballantyne tells me.
For Joan Didion, magical thinking permitted a way of denying the material brutality of death and the flimsy vulnerabilities of the human form; a way to survive and perform normality against a sea change. "I was thinking," she writes, "as small children think, as if my thoughts or wishes had the power to reverse the narrative, change the outcome." As the juggernaut of Brexit rolls into view, British politicians seem to be operating under the same delusion.