An App for Ejecting the Homeless
Amazon's hometown has one of the nation's worst homelessness problems. But instead of using its technology and its wealth to fix it, the city is making the problem worse.
Editor's Note:
This post was updated on June 28 at 7:23 ET to reflect new information.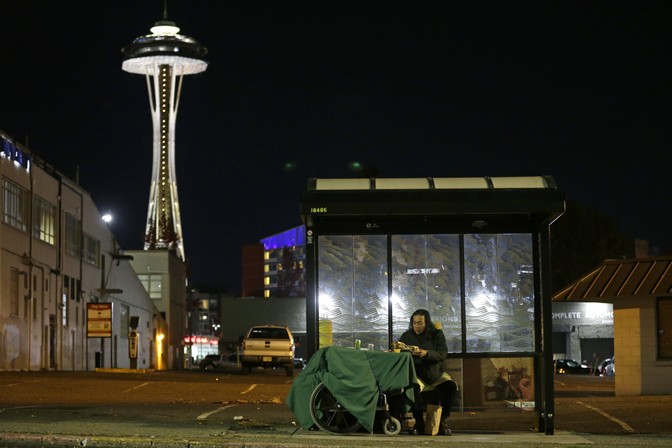 Updated on July 2, 2018
Surrounded by the vibrant, emerald trees that give the city its nickname, Seattle's Ravenna Woods seem like the perfect place for homeless people to build shelter without disrupting metropolitan life. If not for a large, homemade banner at the entrance of the encampment that read, "Do Homeless Lives Matter?" you might not even have noticed they were there. Earlier this year, I visited the Ravenna Woods encampment, both to protest its removal and to interview homeless people about their experiences there.*
But someone did notice eventually, initiating months of cat-and-mouse between the City of Seattle and the unsheltered community living here. Residents of the camp received a notice of removal from the city in December 2017, swiftly diminishing the community. The city would spend over $10 million on this and similar homeless sweeps in 2017 alone.
Encampments like the one in Ravenna Woods are reported to the city regularly. The City of Seattle even offers an app to make the process easier. The Find It, Fix It app was originally designed to allow community members to report potholes, dumping, signal issues, and other neighborhood problems. But the app has warped into a powerful instrument for high-tech community patrolling, enabling individuals to report abandoned vehicles and homeless encampments.
The dearth of affordable housing is a major cause of homelessness here, where a tech boom led by Amazon has helped push home prices up by 19 percent a year. But homelessness also disproportionately impacts people of color. Twenty-seven percent of King County's homeless population is black, yet black residents only make up 6 percent of the county's overall population. This year, 14 percent of the people who died as a result of living outside in King County were black. These figures make Seattle's approach to homelessness an issue of race as much as affordability. That connects an app-based "solution" to the problem of homelessness to a dark history of American self-policing, in which public order is delivered at the cost of the most vulnerable.
---
It has been almost 1,000 days since Seattle declared a state of emergency around homelessness, but a recent study showed that Seattle's homelessness crisis is only getting worse. "This is the sixth time we've been swept," Sean, a longtime resident of Ravenna Woods, told me. "Many of our friends have moved on to other, sometimes dangerous, places because they can't be here." A January count of homeless individuals in King County, home to over 2 million people, reported 12,112 residents identifying as homeless, 6,320 of whom lived unsheltered. This ranks King County's homeless crisis third worst in the country by some measures.
August Drake-Ericson, a program manager for the Seattle Homeless Encampment Response team, shared during an encampment-removal review meeting that Find It, Fix It was the primary source of complaints regarding unauthorized encampments and requests for removal. The total number of complaints received last year was 12,500, an average of 34 a day. Between February and April of this year, 1,444 unique complaints of unauthorized encampments were submitted.
"The volume of complaints sent through the app does not necessarily impact how removals are prioritized, though," explains Will Lemke, the director of communications for the Seattle Homelessness Response team. Instead, "the complaints sent through the app can help identify a new encampment for the city," he says. At this time, the city is not interested in preventing people from using the app to report homeless encampments. For its part, the city says the encampment was moved onto a priority list in April after police arrested one of its residents on charges of being a felon in illegal possession of firearm ammunition.
According to the county's homeless-services agency, King County shelter beds regularly fill to 90-percent capacity. Their one-night count conducted in January of this year shows that there is a current shelter population of 3,585. If that figure represents a 90-percent capacity, it would mean almost 400 more beds sit empty most days.
But that's far fewer available beds than are needed to house the city's homeless; almost 6,000 more people require shelter. Of those living unsheltered, 3,372 are living in vehicles, 1,465 outside or on the street, and 967 in unsanctioned encampments. The county cannot currently meet the need for shelter. Seattle Mayor Jenny Durkan has a plan to fund about 500 more immediate shelter beds, but even if realized, it will only put a small dent in addressing the overall need.
That makes the app-driven sweeps of the encampments sting even more. A resident near Ravenna Woods told me that she has used the Find It, Fix It app many times to report the encampment. Other methods might also have alerted authorities, but the ease and anonymity of the app helps it encourage informants. The authorities' removal notices were posted on nearby trees, and five days later a dozen Seattle North Precinct bike cops surrounded the Ravenna Woods encampment and began an aggressive interrogation. Officers arrived and began to run names, checking for outstanding warrants while the residents that remained were packing their belongings.
Jamaal, a black youth living in Ravenna Woods, sat on a log, head down, as officers continuously questioned his reason for being there. "I bet you have a warrant for something. Either DV [domestic violence] or burglary," an officer repeated. Jamaal's story is an unfortunate reflection of the fact that over half of all residents that are currently living unsheltered in King County have reported that they've had some kind of confrontation with law enforcement.
Jamaal had been a resident at the camp for nearly three months, through a cold and wet Seattle winter. The tent he inhabited offered heat and a community he could rely on for company and food, a rarity for those living outside. According to Tim Harris, the founding director of Real Change, a Seattle-area weekly newspaper, the region is on pace to beat last year's record number of homeless deaths in King County. Unsheltered Seattleites are more exposed to Seattle's infamous rain tantrums, which flood tents and soak blankets and belongings, subjecting the unsheltered to a brutal frost when the temperature drops.
Finding relief from the Pacific Northwest's penetrating damp weather has become harder after the city's implementation of "anti-homeless architecture" projects. Bike racks installed under bridges and overpasses make it impossible to pitch tents under the shelter those structures provide. The weather also exacerbates chronic illnesses that may go untreated, one of the reasons that "natural causes" is the leading cause of death among the homeless in Seattle. As of June, 52 members of the homeless community in Seattle had died in 2018, according to the Homeless Remembrance Project, a local community group. Those add to the 697 who died between 2012 and 2017.
---
As a pair of officers hovered over him, repeatedly asking him his name, Jamaal hesitated to give it. Law enforcement's selective targeting of areas with higher reported crimes makes it more likely that minor transgressions (like vandalism and loitering), which might go unnoticed in places with less police presence, will result in incarceration.
"The cops knew exactly what they were doing," Sean remarked. "They ran our names one by one looking for a reason to arrest us but questioned Jamaal the most." When he finally relented, the officers discovered a misdemeanor warrant in his name. Residents tried to explain that Jamaal was handling his case and was scheduled to attend a hearing the next day. After much pleading, the officers eventually moved on from the camp. They justified their actions as "proactive policing."
Controversial policies pursued under that name have popped up all around the country. NYPD stop-and-frisk incidents overwhelmingly target African American or Latino individuals, most of whom are innocent, according to the New York Civil Liberties Union. Recently, Yale University campus police interrogated a black graduate student, Lolade Siyonbola, after responding to a call made by another student who did not recognize Siyonbola when she fell asleep in a dormitory common room. In Oakland, a similar scenario played out when a white woman called the cops on a group of black people having a cookout. Seattle's Find it, Fix it app might not look like a race-driven self-policing apparatus, but it helps promulgate similar outcomes.
Race has long served as a hidden rationale for policing in America. In the South, formal police forces trace their origins to slave patrols used to control and contain black people. After the Civil War, convict-leasing systems were used to manage former slaves and exploit their labor. Vagrancy laws recast former black slaves as vagrants in order to control or eject them from places they were deemed undesirable. African Americans aren't alone in such targeting, either. In Hawaii, vagrancy laws were used to enforce colonial order, coercing native Hawaiians to work on the plantations. Today, anti-homeless laws in Hawaii perpetuate that tradition, even as the state's homelessness numbers soar.
The Office of the United Nations High Commissioner for Human Rights has excoriated the United States for its treatment of the homeless, saying that "in many cities, homeless persons are effectively criminalized." The bureau cites regressive policies like unpayable fines and infraction notices that stigmatize and criminalize homelessness, making it difficult for houseless citizens ever to get a foothold in American cities. The fact that an ordinary, even pedestrian technology like a smartphone app is facilitating and even exacerbating this situation in Seattle is paradoxical, given that American technology is such a symbol of wealth and opportunity. As the UN's report puts it, "much more attention needs to be given to the ways in which new technology impacts the human rights of the poorest Americans."
---
The Ballard Alliance, a neighborhood business group located 10 minutes west of Ravenna Woods whose board includes upper-class, white business owners and attorneys, is among the Find It, Fix it app's boosters. In support of their mission to "ensure the Seattle neighborhood of Ballard remains a unique and economically vital community for its visitors, residents, businesses and property owners," the organization's executive director, Mike Stewart, promoted the service to residents who were concerned about the homelessness crisis. Stewart's idea was to use this app to bombard the inboxes of city officials with homeless-encampment sightings around their neighborhood, hoping to create a sense of urgency for the city to remove homeless people from Ballard. When I tried to talk to Mike Stewart about where he thinks the homeless of Ballard should go instead, he declined to comment.
The authorities also appear to be committed to spreading word about the Find It, Fix It app as a homelessness-prevention tool. Tiffani McCoy, an advocacy organizer at Real Change, recalls an instance when two Seattle police officers came to her office after several Find It, Fix It users had reported homeless individuals sleeping outside. After telling the officer that her organization gave the homeless permission to be on their front steps, the officers tried to teach Tiffani and her staff of homelessness-advocacy journalists and organizers how to use the app in case they changed their minds. The well-off don't want to see the homeless on the streets. But they have nowhere else to go.
Making homeless people invisible has deep roots in Seattle, especially in the years following the "Amazon boom" that began in 2012. Rather than eradicate homelessness at its root, the city's strategy thus far has been to sweep the homeless from public view; destroying their encampments, issuing tickets for their vehicles, and installing hostile architecture that keeps people from sleeping on benches and in city parks. These strategies are endorsed by many of Seattle's newer residents, many of whom work in its burgeoning tech industry.
On Thursday, May 31, the City of Seattle hosted a community meeting in South Lake Union, the home of Amazon and a neighborhood that has undergone massive redevelopment over the last decade, since Amazon started moving its corporate headquarters to the neighborhood. At the meeting, the city presented a plan to install tiny-house villages in South Lake Union as part of the response to unsheltered homelessness. Dozens of residents attended, and public responses ranged from "I will not feel safe walking my dog at night" to "I don't like the possibility of more drugs and more alcohol." Several residents offered that they had moved to South Lake Union from other Seattle neighborhoods to leave issues like homelessness behind. The area has gentrified considerably since Amazon moved in. It primarily serves techies, who tend to be white people ages 25 to 34 with college degrees and incomes that surpass the city median. Given Amazon's investment in making the neighborhood an idyllic, walkable urban neighborhood for its workforce, it makes sense that the company would want to keep homelessness at a distance. But for its part, Amazon has launched its own initiatives to address homelessness. It has committed $40 million to the local homeless-support organizations Mary's Place and FareStart. And the company has also announced plans to dedicate a portion of one of its buildings to a Mary's Place shelter, where it says 200 families will be housed by 2020.
Even so, the city has started to respond to corporate pressure when it comes to municipal efforts to reduce homelessness. Last month, the Seattle City Council made headlines after passing a tax on full-time employees of the city's largest businesses, the proceeds from which were meant to address homelessness. But a few weeks later, it repealed the tax. The employee-hours tax would have helped fund affordable housing and homeless services, allowing Seattle to address the root causes of homelessness while meeting the immediate needs of those living unsheltered. Corporations like Amazon opposed the measure from the start, threatening to put a hold on construction in the city until it was dropped. Initial pressure from Amazon and others succeeded in reducing the tax rate, and therefore the revenue it would generate from $75 million to about $45 million a year. But a campaign funded by Seattle's Metropolitan Chamber of Commerce, whose membership includes Amazon, Starbucks, and thousands of other local businesses, sought full repeal, ultimately killing the ordinance.
"I was quite impressed in how the business community were so aggressive in fighting the employee hours tax," explained Seattle City Council President Bruce Harrell the night before city council was set to vote on repealing the tax. Four City Council members, including Harrell, were backed by the Chamber of Commerce during their campaigns.
A 2013 Amazon recruitment video presents Seattle as a quaint utopia, free of urban poverty and racial hierarchy. The ad relies on preexisting inklings about the city, like the one perpetuated by the television show Frasier, as a bucolic paradise for outdoor life and white-collar professionalism. The technology industry, which has gentrified South Lake Union and its surrounding areas, have only amplified that impression. But that image hides another truth of Seattle: It is a city where the most helpless communities are being systematically displaced to make room for others.
It's ironic that a part of that process is being facilitated by an app called Find It, Fix It. If anything needs to be fixed here, it's the fact that a city with so many resources is not using its financial might and technological prestige to help the vulnerable few.
---
* After publication of this article, The Atlantic learned that its author did not attend the removal of the Ravenna Woods homeless encampment as a journalist, but instead as a protestor. The article has been updated to reflect this information.