Digital Jukeboxes Are Eroding the Dive-Bar Experience
The fight to control the playlist is a struggle between the group's happiness and the individual's.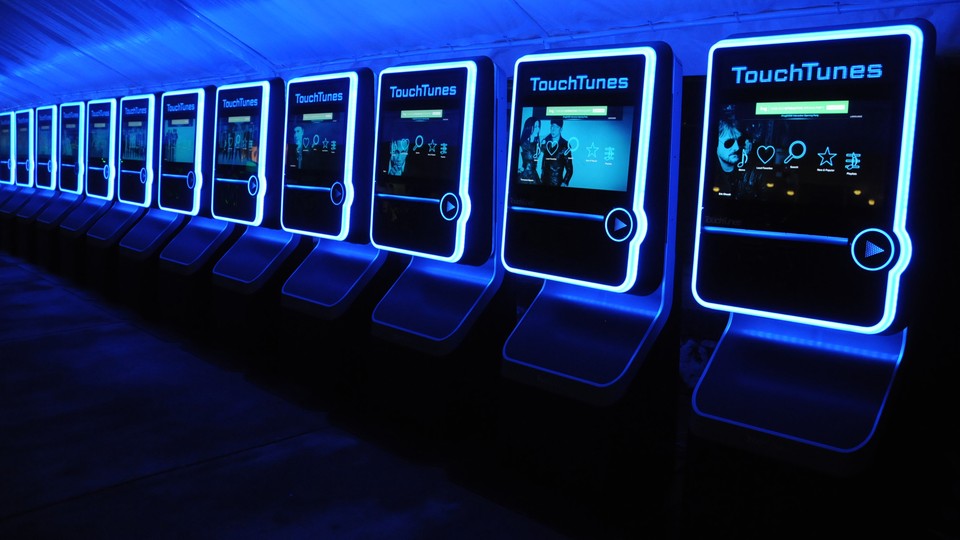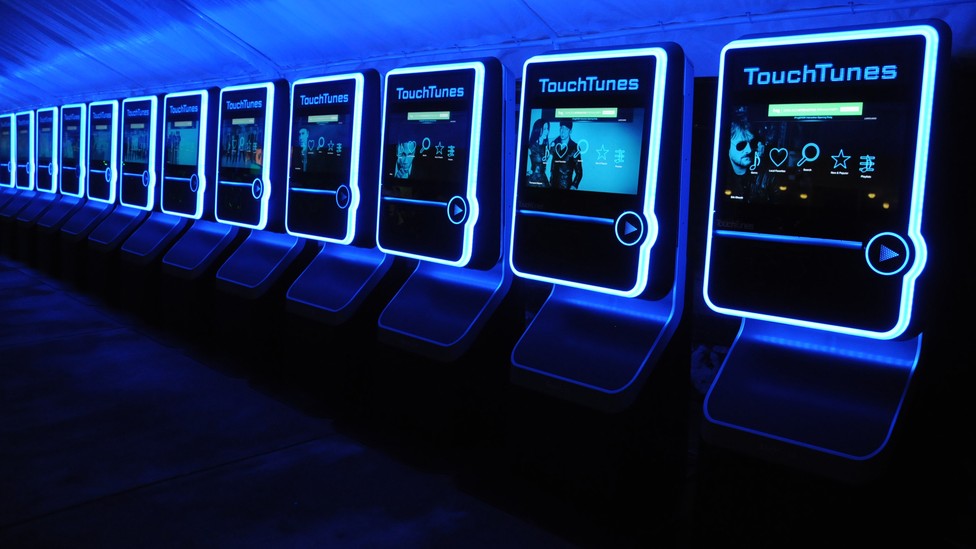 By the time I moved to Chicago's North Side, true dive bars had become rare as pearls in a sea of fakes. The wood paneling, fluorescent beer signage, and Spartan restroom facilities of the imitators conjure the working-class homeyness of the American classic, while the prices, clientele, and subsequent atmosphere undermine that nostalgia wholeheartedly. The transformation—from earnest to faux—is, of course, not unique to Chicago's gentrified North and West Sides, but is a broadly urban phenomenon synonymous with the rise of brunch culture. Nearly two years ago, in Eater, Matthew Sedacca mourned the decline of the "great American dive bar" as it once existed in urban environments, hustled on as neighborhoods get hipper, rents go up, and middle-class patrons care more about a working-class aesthetic than the down-to-earth folks and cheap beer that occupy true dives.
On either side of economic crisis, dive bars traffic in fantasy. The supposed relic of Americana purity still exists in solidly ethnic neighborhoods and across the massive rural swaths of this country. Dive bars are romantic like pickup trucks are romantic, cherished as a symbol for a certain national way of life presumed to be fading. The fakes capitalize on this rosy vision, trotting out yellowed baseball memorabilia and putting American lagers front and center (never mind that that lager will run you $6). In turn, these icons have begun to suggest something different than what they previously stood for. The distinct blue and yellow of an Old Style sign, for example, was once a beacon for a certain kind of chill, affordable, neighborhood establishment, and sometimes still is. But now, it might also hang outside the type of bar where one would only order Old Style ironically, but more likely not at all.
Another increasingly common feature of these establishments threatens to further unravel the dive-bar aesthetic—the digital jukebox. More specifically, the TouchTunes digital jukebox. By no means the only digital commercial jukebox (other brands include AMI Entertainment and NSM Music), TouchTunes made itself a visible front-runner in a jukebox revival of sorts, in part because it allows users to choose music from their phones. In March 2016, the company—which has since merged with PlayNetwork—debuted an overhauled version of its mobile application which now "allows users to be the DJ and take control of TouchTunes' jukeboxes" in 65,000 locations across North America. Through the app, these locations delegate musical, and therefore atmospheric, control to patrons and profit in the process. For dive imitators, these devices make it harder to maintain their neighborhood-bar veneer, while actual dives start to resemble their faux peers. TouchTunes erodes the premise of quaint regionalism as bars of all kinds transform into Top 40 danceries.
TouchTunes began simply as a more convenient version of a pay-for-play jukebox. Launching its first prototype in 1993, by the late '90s TouchTunes distinguished itself as a leader in digital jukeboxes, anticipating the MP3 as the next wave in music storage and playback. "We at TouchTunes envision a world in which the hassles of operating a jukebox become a thing of the past," said the company on a 1999 version of its website, "where operators effectively manage their jukebox and use that information and free time to really do business, to watch it grow, sit back, and enjoy music once again." Compared to the CD disc-changer standard, with selections limited by available space, TouchTunes jukeboxes allowed businesses to download and store hundreds of songs for a lower cost. "You guessed it—THERE ARE NO CDs," TouchTunes enthused in 1999, "(that is what we mean by digital)."
Decades later, the jukebox remains a visible feature of the brand, upgraded and multiplied across a range of fluorescent-lit products, which sometimes include additional features like a photo booth or karaoke, or perhaps the thing that most sets the company apart—integration with its app.
The TouchTunes app, working in conjunction with its jukeboxes, allows users to pay-for-play from the comfort of their barstools. Users "check in" at an establishment with the assistance of a Foursquare property called Pilgrim SDK that's integrated into the app. Pilgrim SDK is a sophisticated approach to location intelligence more precise than just GPS that uses time stamps and foot traffic to determine a user's likely location. Pilgrim SDK also allows TouchTunes to send alerts to users in range if the app's location services remain enabled when the app is not in use ("There's no wait! Play your songs now and see what's hot at Generic Tavern!"). The check-in requirement forbids users from, say, fiddling with a jukebox several states away. (Not that anyone would want to do such a thing ...) From there, patrons interact with the playlist much the same way they would with a physical jukebox, purchasing credits and using them to add songs to the queue. Credits can be purchased in $5 (12 credits), $10 (24 credits), or $20 (48 credits) increments via credit card, PayPal, or Apple Pay. Song prices (in credits) are set by the venue and credits purchased are limited to that venue. (So if you purchase $20 worth of credits and your group decides to hop over to the next bar, you're out of luck until the next time you visit the first bar.)
Like so many apps, there's an obvious convenience to doing a seamless transaction via device that once would have required cash or a card swipe as well as actually standing up. Aside from in-app control, "I also like the anonymity of requesting a song on your phone," Jessica Slavik, a 26-year-old account manager living in Lincoln Park, told me via email, instead of "walking up to a jukebox where everyone can see exactly which songs you're requesting." However, the anonymity works better in theory than in practice, I've found. (It's hard to remain anonymous when you're the only table belting the lyrics to Celine Dion's "That's the Way It Is," to use a hypothetical example.) The app does consolidate the time otherwise spent flipping through the catalog, or waiting for someone else to finish their turn. Many customers can have the app open at once, purchasing credits and adding to the queue when it suits them.
Other in-app exclusives include bonus credits rewarded to frequent users and foresight into upcoming songs in the rotation. Slavik, at "Emerging Artist" status (achieved after playing 100 songs through the app), can see the next five songs queued at a given venue and considers this her favorite feature. "I am a Headliner," a frequent user of the app, Patrick Murphy, a 27-year-old accountant who also lives on Chicago's North Side, told me via email. "Is that good?" At his current status he can see the next six songs. (An "Opening Act" like myself, meanwhile, can only see the next three. Users begin as "Debut Artists" only able to see the next song in the queue.) This is a useful superpower to have, as anyone who's ever been stuck in the bathroom just as a certified jam began to play can imagine. Users can avoid jostling the vibe by interrupting a series of soft-rock anthems with something from the party-rock family (or vice versa). It also helps avoid a close-quartered set of repeats, in the case of users who might otherwise request the same song. "Sometimes if I like the songs I won't have to actually buy my own credits," says Slavik. The curatorial responsibility becomes an exercise in communal playlist management, not unlike the jukebox of old.
An app, however, unlike a traditional jukebox, introduces a tension between the cooperative end result and an interface primed to make things personal. Accounts keep a running archive of prior check-ins, plays, and favorited songs, organized in the proprietary folder "My Music." The app can also sync with users' Spotify and iTunes accounts. These "personalization features," says TouchTunes, are intended to "combine each user's play preferences with the venue's vibe to help users discover the music they have in common with each location." The admixture makes itself known in a folder called "Hot Songs You Like Too," popular songs at a given venue that a user has also favorited. But for the most part, users' personal tastes outrank whatever "vibe" they've checked in to. Below the "Now Playing" queue, a hierarchy of scrolling rows sort activity into sections like "My Recent Plays" and "My Top Plays," with "Hot At [Whatever Venue]" third in the list. Unless user and bar are already a match made in heaven, it takes real effort to attenuate one's inclinations to match the location at hand—though what incentive is there to subsume your preferences to a greater vibe when you're paying for the playlist?
With the older jukebox model, selection was necessarily limited but in tune with the character of a place. "No matter how much work was put into choosing a bar's jukebox music, it was a selection. Certain music fit in certain bars," Philadelphia magazine's Dan McQuade lamented in 2012, after his favorite watering hole fell to the TouchTunes revolution. "Every bar's jukebox is becoming the same."
In an October 2009 column, The Bollard's Chris Busby had a similar gripe: "TouchTunes dictates and homogenizes the experience of listening to music," much like commercial radio.
But something about the nature of Busby and McQuade's complaints smacks of rock-ist romanticism. Music is never a neutral topic and the staunch protection of a certain way of doing things resists cultural evolution and can amount to a subtle form of discrimination. The songs played on jukeboxes, be they radio hits or dad-music antiques, are selected by real people. But even with TouchTunes installed, some bars have found ways to protect their vibes—or seen another way, filter out certain clientele—with the targeted exclusion of certain genres. Last year, Gina Heeb of the University of Wisconsin at Madison's The Daily Cardinal found that over a dozen popular rap artists—such as Drake, Lil Wayne, Kendrick Lamar, and Kanye West—had been deleted from the TouchTunes listings of prominent, campus-adjacent bars. One owner didn't want "gangster hip-hop" at his establishment, which was, as he told Heeb, a "safety-driven" decision—a not-so-subtle implication that black music, which attracts black patrons, means danger. Not all vibes are good vibes.
But if there's a happy collaboration between past and present, old and new regulars, I'm still not sure TouchTunes is it. The very features that make the app feel liberatory transform it into an un-fun experience for the bar at large as selfishness takes over the deeper into the night you go. Murphy admits he likes to "feel like the bar is at my mercy" when using the app, and while Slavik will defer the playlist when the songs align with her interests, "on the other hand, if I hate the songs, I'll often spend extra credits to jump the queue and have my songs played first"—a feature called a "fast pass." On a slow night, this places the song up next, but as the queue grows longer and these fast passes accumulate, you might still have to wait a while, even if you pay extra. "It does get annoying when so many people are also fast-passing that you get added to a 15-song fast-pass queue, which defeats the purpose of spending the extra money," says Slavik. Fellow bar-goers can turn to adversaries, each one trying to get their songs played first. Sometimes a fast pass is the only way to ensure a song will be played before closing time.
While it's a comfort to know that you will not be at the mercy of one bartender's iPod, playing DJ isn't all TouchTunes promises it to be. The app replaces the predictable rhythms of a local bar environment with the possibility of something choppier, if or when someone decides to supersede the sonic lay of the land. The classic contract between bar and patron is dated, but practical. You provide liquor and ambiance, I offer legal tender and agree to not make a mess. But while TouchTunes undermines that agreement, the most disruptive force is enabling people's own desires. The age of social media and customized entertainment primes users to expect their tech to adjust to their habits and preferences. Just as auto-fill in web browsers intuits our favorite websites and Netflix adjusts to our tastes, TouchTunes most simply makes the personal more immediate.
Unlike its peers, however, TouchTunes projects the personal into a physical space, a synecdoche for the ongoing instability of what it means for a space to be "private" or "public." Private enterprise is enfolding many once-public spaces—schools, transportation, and public-works projects, for example. Meanwhile, many private businesses, while not exactly making themselves more accessible, foster choice in a way that at least suggests an individualized experience—letting a public made of walking personal brands assert their tastes in privately owned places. But the ability to "build your own" sub sandwich or playlist comes with a surcharge. It seems many are willing to pay it. A new contract is at work here. They who fill the space control the vibe.