The Radical Preacher of Palo Alto
A pastor who resigned after tweeting scathing criticisms of liberals in Silicon Valley proved too leftist even for California.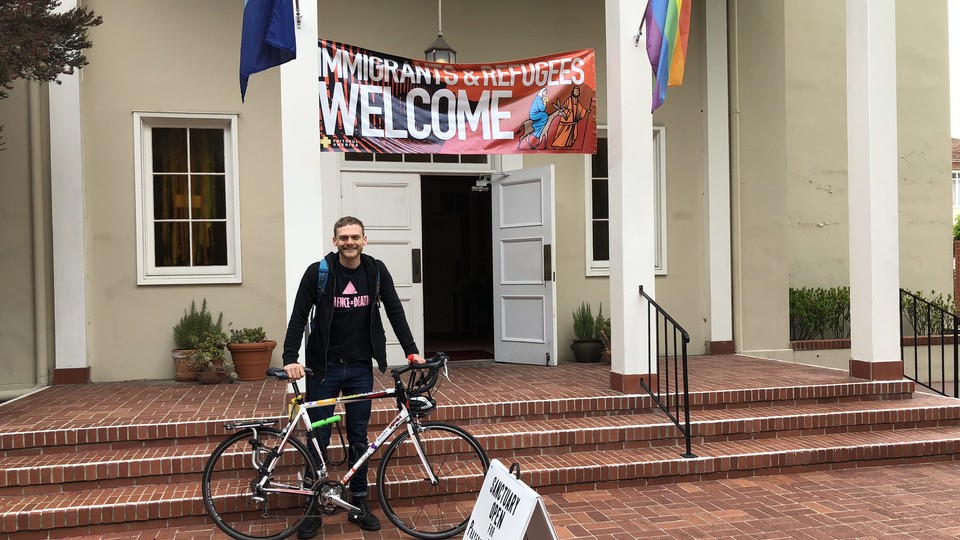 His conservative Christian family in Florida disdainfully called California the "Left Coast," but Gregory Stevens was eager to embrace the Golden State. He'd grown up queer in a town where he believed everyone looked the same, where people referred to the non-Christian woman in the neighborhood as "the Jew," where the khaki pants and polo shirts recently co-opted by white supremacists were an unofficial uniform. California, he imagined, would be different—a place where liberal ideas flourished and where people were willing to rally against inequality and injustice.
But Stevens, now 28, did not end up in the liberal den of San Francisco, the stoner paradise of Humboldt County, or the alternative-living community of Slab City, in the Sonoran Desert. After finishing seminary at the progressive Claremont School of Theology, in Southern California, Stevens got a job as a pastor in Palo Alto, one of the wealthiest communities in the country, where the median family income is around $163,000 and the median home price is over $3 million. He settled into his job at the First Baptist Church of Palo Alto, a historic church located in a neighborhood that's also home to Google co-founder Larry Page and Laurene Powell Jobs, who founded the Emerson Collective (which owns a majority stake in The Atlantic).
Stevens's job was to get young people involved in a church that skewed older, and to partner with other religious groups to address some of the needs that weren't being met in the community. So he created a chapter of the Food Not Bombs meal-share group, planted a Black Lives Matter sign in the church's yard (it was promptly stolen), and set about preaching what he believed: that to truly help eradicate inequality, people needed to rethink capitalism. But Palo Alto did not embrace Stevens' radical approach to wealth inequality, and this began to frustrate him. He chafed at a community where he thought people put too much emphasis on money and social status, where people didn't empathize enough with the poor around them. "Why do we worship a homeless man on Sunday and then we worship everyone with Rolexes every other day of the week?" he asks.
Stevens got a bigger microphone than he anticipated as a pastor when a series of tweets he had written about Palo Alto surfaced ahead of a city-council meeting earlier this month. Both raunchy and radical, the tweets managed to castigate Palo Alto's elitism while also referring to Beyoncé's bowel movements. "Palo Alto is an elitist shit den of hate," Stevens wrote, in one tweet. "Any church that's not explicitly anti-capitalist isn't a church. It's a social club," he wrote in another.
After he resigned his post over the tweets, Stevens received national attention, with publications like The Guardian and the New York Daily News writing about his comments. Now, he has been embraced by the radical left, and he has continued to tweet his opposition to what he sees as white liberalism and apathy. On Tuesday night, the group Resistance SF will project the worlds "elitist shit den of hate" onto the Twitter building in advance of the company's annual shareholder meeting. (Stevens was scheduled to perform an "exorcism" at the event, but the group announced on Tuesday that an illness will prevent him from attending.)
I drove down to Palo Alto last week to meet Stevens at a tony cafe, because I was curious about what he had seen that had so soured his views of the city, and about whether he had any ideas about what could ameliorate one of Silicon Valley's most pressing problems: the stark income inequality dividing the haves from the have-nots. What I encountered was instead a tall firebrand with a blond beard who thinks that to change anything in Silicon Valley, or in the wider country, it's necessary to tear down capitalism entirely, and build something new in its place. "I think the whole system is broken," Stevens told me.
His radical approach to tearing down the system means he has very few tangible solutions to the inequality that plagues Silicon Valley. When I asked Stevens what Mark Zuckerberg or other billionaires should be doing to eradicate inequality, he said the Facebook founder should "transform" the way his business is structured, perhaps dividing shares among employees, maybe turning the company into a worker cooperative. Wealthy people in Palo Alto need to "join the revolution," he told me, and engage in "collectivized participatory communal-type work." Americans need to rethink the ability to patent ideas, and instead collectivize the process of patenting. "To me, that larger systemic critique is what we should be doing, because otherwise, we're never really getting to the actual problem," he said.
Stevens may be right that some sort of greater changes are needed to reduce inequality, but talking to him, I was more struck with how far his ideas were from something that most people in Palo Alto—and really, in California—would accept. Perhaps a few decades ago, people in the Bay Area were willing to believe in revolution—to tune in and drop out, protest against Vietnam, join the Black Panthers. But today, the vast majority of liberals in California seem to have embraced capitalism and the tech industry. Gregory Stevens is a Californian from another era. In some ways, it's fitting that his rise and fall are the products of Twitter: It's a place that allows people to discuss the ideas he raises ad nauseam, while sidestepping his calls for revolution.
Stevens' radicalism made it difficult for him to find people cut from the same cloth as him in Palo Alto. He could not understand others accepting a world where people are starving and yet church neighbors live in houses that cost $30 million. He recalled a dinner party he attended with the staff of a wealthy family foundation, where people talked about how they had no worries about money or security. Stevens began to wonder how that foundation could really help the poor. "Jesus was not a philanthropist," he likes to say; Jesus spent time with misfits and rebels, not with the people in power. Stevens cringed when Palo Alto residents expressed their support of Earth Day by organizing a "Ride & Drive" in their $100,000 Teslas, or when they talked about calling the police on homeless people outside their homes.
Most exasperating to Stevens, he said, was that people gave lip service to liberal ideas, and then wouldn't do anything about them. "They were more than happy to talk about Hillary [Clinton]'s platform or something, but when it came time to go and engage with people who are misfits, people who don't have resources to live, it was like, you're asking too much," he told me. What's more, he said, the city of Palo Alto was increasingly trying to rid itself of the homeless. The city recently passed a law making it more difficult for people to live in RVs in the city, for example.
It frustrated Stevens that he was encountering these attitudes in one of the most liberal places in America. He grew up in an extremely conservative, religious family in Florida, to a nurse practitioner mother and a therapist father. The church had provided him solace when his sister died when he was younger, but he also pushed back against it. Once, when he was working for a Methodist church, he nearly lost his job, he said, after he refused to stand up for the national anthem because he thought Jesus would disagree with the violent policies of the United States military. More recently, he shared on Facebook an image on Memorial Day lambasting the army as a place "where the rich send working-class youth to be maimed and killed for profit." He had thought, when he left California, that he was finally in the land of the left, but his liberal friends disappointed him, he said. When he painted his fingernails purple once, church members and local activists couldn't stop asking about it, wondering whether he dressed up in drag or was transitioning to female. His friends in Palo Alto talked about seeing the newest movies or TV shows, and not about revolution.
Stevens cuts a strange figure as a pastor. When I met him, he was wearing Doc Martens, a hoodie, and a black T-shirt with a pink triangle—the symbol of queer resistance—imprinted with the words SILENCE=DEATH. He doesn't have a car; he gets around Palo Alto in a white bicycle plastered with stickers that say things like "Resist Capitalism!" and #NoBanNoWall and "Smells Like Queer Spirit." He is pursuing a Ph.D. in anthropology and social change at the California Institute of Integral Studies. He befriends people on Twitter, including another gay man named Gregory Stevens who has served as a mentor of sorts. One of his other mentors is a Sufi Muslim. But he still believes in doing social-justice work through theology, he said. Christianity is the language that he knows best.
Stevens was unashamedly radical for the three years he worked at the First Baptist Church of Palo Alto. He started a radical reading group in which he would hand out readings about police violence and anarchism, and then discuss those topics with willing community members. One of the sermons he preached in April told the congregation that they should not be content just being philanthropists and being kind. They had to rise up, and their actions should look like "organized resistance to social and economic systems that impoverish people from life, liberty, and the pursuit of happiness," he said. Senior pastor Rick Mixon told me the congregation seemed to like the sermon. Stevens told me he was disappointed that people seemed to just politely listen and then go about their lives.
Mixon said he does not disagree with some of the sentiments behind Stevens' tweets. "I'm sure that part of Gregory's frustration I share, to some degree," he told me. Mixon also struggles with some of the larger issues Stevens raised, over the dilemma of how to raise awareness about poverty and homelessness in the wealthy environment of Silicon Valley, he said. He sometimes has "church envy" for congregations that have poor and homeless people to minister to on their doorstep. The people on his doorstep, by contrast, have everything they could ever need. Many of Stevens' critiques of capitalism and inequality are within the lines of what Mixon himself preaches. Mixon's sermon from May 13, for example, calls upon congregants to "ensure distributive justice" and "economic equity." Pamphlets in the front of the church urge people to report ICE activity and protect the community, and the church flies a rainbow flag and a banner that reads, "Immigrants and Refugees welcome."
While Mixon doesn't agree with the ways Stevens publicly criticized the community, Stevens, Mixon told me, is doing some of the same things Jesus did—challenging the system loudly and dramatically, rattling the cages of the people in power.
This radicalism was not what made Stevens resign. Instead, a local resident used Stevens' tweets as a weapon in the course of a long-running feud with the church. The resident was trying to convince the city that the First Baptist Church of Palo Alto, which has been located on the same street corner since 1947, should no longer be able to host secular activities. A small group of neighbors have complained in recent years that traffic and noise from activities like a girls' choir, a music school, a therapist, and a folk-dancing group are too disruptive to the neighborhood and should be curtailed. Though the church paid to install air conditioning and has soundproofed windows in order to minimize the noise, neighbors continued to push to prohibit the church from holding any activities that weren't church activities, Mixon told me. One of the music schools, a folk-dancing group, and a therapist have all left in recent months.
In advance of a city-council meeting that would determine the status of permits that would allow the church to continue to hold community events, the mystery resident dropped off printouts of some of Stevens' recent tweets on the doorsteps of city-council members. "I thought some of his recent tweets should come to the attention of Palo Alto city leaders and the residents of Palo Alto," the resident, who didn't type their name but did sign in a messy scrawl, wrote. The resident then urged the city to "severely restrict the non-church-related rental activities being conducted at the church." (City Clerk Beth Minor told me the city had no record of who submitted the documents.)
The printouts, as a matter of public record, were added to the back of the city-council agenda, where Stevens's tweets soon gained national attention. Fury over the tweets, which also covered topics like the tendency of elderly people to fall asleep during church council meetings, the experience of watching someone pop a zit, and the female punk-rock group Pussy Riot, grew after council members asked First Baptist Church Pastor Rick Mixon about them at the council meeting on May 14. The Daily Post, Palo Alto's newspaper, put the story in the front page, under the headline "Pastor slams city in nasty tweets."
Mixon told me that he and Stevens decided it would be best for Stevens to resign, rather than distract from the ongoing conflict over the church's role in the community. Stevens' contract was up in a few months anyway, and it was becoming evident that the work he was trying to do to get the community more involved in the church was not working. Stevens himself told me community members did not show up to events hosted by the church about social activism. (Religion is a difficult subject in the Bay Area. In a recent episode of the television show Silicon Valley, an entrepreneur is embarrassed to be outed as a Christian, which, he says, will ostracize him from the people in power in the region.) Stevens also told me that he was asked to write a letter of apology to the city, and that he did not want to do that because he does not believe that institutions like the city council or the police are legitimate.
When his lease is up in a few months, Stevens plans to head for San Francisco, where he says there are still some true liberals that exist, some people that believe in social-justice advocacy. He hopes to find work in a nonprofit, organizing the poor. In San Francisco, he told me, he'd be able to find a community of like-minded people, and look up to elders who were still content to advocate for revolution. When I asked him if this wasn't just preaching to the choir, rather than interacting with the people in Palo Alto whose minds he might be able to change, he agreed that it was. "I guess I'll be preaching with the choir," he said. "Or screaming with them." The minds of older liberals and conservatives in Palo Alto, he told me, are never going to change.
Stevens may not have fit in Palo Alto, but without people like him, all vestiges of radicalism may disappear. When I talked to Mixon on Thursday afternoon, he sounded tired and defeated. He's especially frustrated by the constant complaints from neighbors about the church, which is trying to provide affordable space for non-profits to do community work, and how the city seems to be avoiding the conflict.
When I asked him what he was going to do about the church's permits, and its constant battle with the community, he said he's started to think that the capitalist approach to helping the poor might be the best he can do. He could give up the church, put the plot of land up for sale, and give the money he makes from selling the land—surely worth millions—to charity. It would seem to fit today's California—a place where McMansions could replace a church in one of the most liberal cities in America, and where doing good is sometimes a matter of withdrawing any reminders that poverty exists at all.