Is Social Media Luring Hikers Into 'Death Gully'?
On one Instagram-famous Colorado peak, five people were killed in six weeks.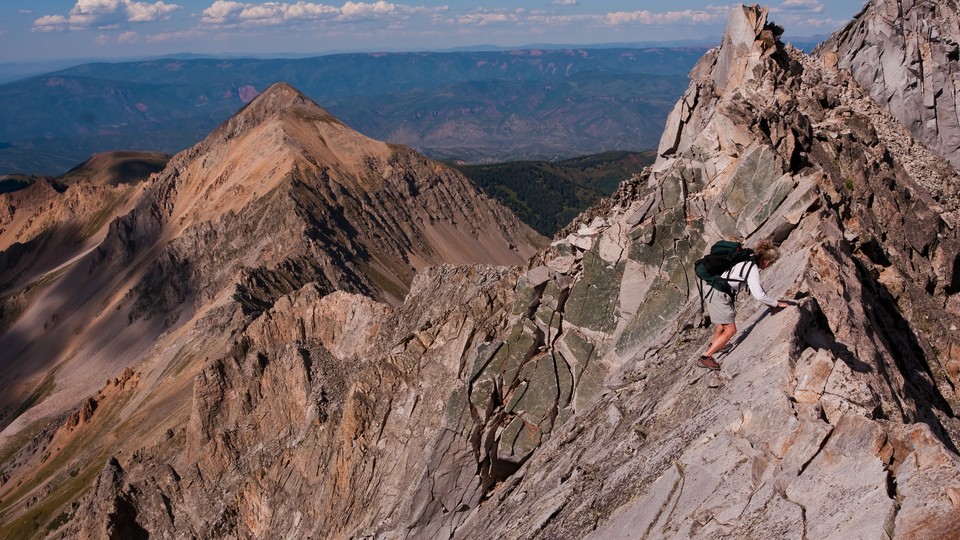 On July 14 of last year, Peter Doro and Jake Lord joined the Friday-afternoon stream of people leaving the sprawling cities of Colorado's Front Range for the mountains. They planned to summit Capitol Peak, a soaring mass of granite about 14,130 feet tall near Aspen on the state's Western Slope. They reached Capitol Peak's trailhead late in the day and set off on the 6.5-mile hike to the mountain's base. The sun sank low, filling the sky with streaks of red, purple, and orange, and a few cows meandered across the trail, which followed a creek through a sliver of valley that widens abruptly into a vast alpine basin. Capitol Lake lay before them, ringed by the high peaks of the Elk Range, a view so stunning that Doro felt as if he had entered J. R. R. Tolkien's Middle Earth.
The Elks are among Colorado's highest and most challenging mountain ranges, with seven of the state's more than 50 peaks over 14,000 feet. And Capitol Peak is considered the hardest of them all—so difficult, in fact, that the Forest Service posted a sign near the trailhead, cautioning would-be climbers about "down-sloping, loose, rotten, and unstable rock" that "kills without warning."
For Doro, 25, and Lord, 24, both avid outdoorsmen, the sign was little more than a formality. As they hiked, their thoughts were not of death, but of the endless beauty and possibilities that the mountains seemed to hold.
In those mountains, Doro saw everything he missed about his native Colorado. He had recently moved to the Midwest for work, and though his job took him to Oregon frequently, the Cascades never inspired him the way the Rockies did. "There's something that's so striking about mountains that tall," he told me. "Like there are just big adventures everywhere."
Doro, who competed in triathlons, found the hike to Capitol Lake easy. "What's the big deal?" he asked Lord jokingly as they neared the lake.
"No, trust me," Lord replied, "the last two miles will be difficult."
Neither Doro nor Lord anticipated how difficult their trek would be—or that the mountain they climbed the next day would be so different from what they imagined.
---
Colorado's fourteeners offer an alluring mix of adventure and accessibility: close enough to Denver for a weekend trip, with relatively short hiking approaches, thanks to the abundance of mining roads carved out during the 1800s. Most of the climbs are relatively easy, too; trails are well marked and routes rarely require ropes or technical mountaineering skills. Lloyd Athearn, the executive director of the Colorado Fourteeners Initiative, a trail-building and education nonprofit, calls them "approachable Everests."
Today, they've become a high-altitude fun zone for the growing numbers of people seeking adventure in Colorado's high peaks, with 311,000 hikers estimated on the fourteeners in 2016, according to a survey from the Colorado Fourteeners Initiative. The most popular summits are those closer to Denver, like Mount Bierstadt and Grays and Torreys' twin summits. The Elk Mountain fourteeners see far fewer climbers, and their peaks are among the most dangerous.
Just a few decades ago, few but seasoned mountaineers attempted to climb Capitol Peak. Much of the route involves difficult rock scrambling with a lot of exposure—the kind of terrain where the simplest mistake can be deadly. But the internet has opened up a world of free online guidebooks filled with detailed route descriptions, like 14ers.com, while social media has helped fuel a new appetite for outdoor excitement, broadcast through electrifying GoPro videos and Instagram selfies.
And the consequences of this are becoming increasingly clear: Across the West, more people than ever before are tackling the highest peaks, from Colorado's fourteeners to Washington's Mount Rainier. As a result, search and rescue teams are responding to more calls. The mountains are more accessible than ever, and to our wired selves, they often appear less dangerous, too, their risks obscured by an expanding digital universe of information and its strange mix of security and adventure. A world where no edge is too thin and no hold too unstable—where nothing is impossible—and no mountain could ever kill you.
---
Doro and Lord arrived at Capitol Lake around 9:30 p.m. It was nearly dark. They set up camp on a grassy knoll below Capitol Peak's massive north face and crawled into their tent to sleep without making dinner. But Lord slept poorly. At 3 a.m., he woke Doro, insisting there was a bear rummaging around outside the tent.
"I hear rustling," he whispered. Unsettled, they stayed in the tent, debating what to do. Finally, Lord plucked up the courage to stick his head out the door of the tent, shining his headlamp around. There was nothing there—just the coyotes howling and the wind shaking the nearby bushes.
Still, Lord was not satisfied. He wanted to gather their food and hang it in a bear bag—something they should have done before they went to bed. Doro sighed. He was tired, and that was the last thing he felt like doing.
"All right, fine, Jake," he said. They hauled themselves out of their sleeping bags, threw some energy bars and trail mix into a stuff sack and flung it over a tree 20 feet from the tent. Doro got a blister on his thumb from handling the rope, but at least Lord could get some sleep.
"It was not a good plan," Doro later told me, referring to their belated bear-bag efforts. In hindsight, though, he wondered if perhaps Lord's anxiety over the nonexistent bear was the mountain sending them a warning that they weren't quite ready for the climb.
---
The two men grew up in Colorado. As a kid, Doro was in the Boy Scouts and later, on the Winter Park ski patrol. He met Lord at Colorado State University in Fort Collins, bonding in shared engineering classes and in the run-down fraternity house where they both lived. But it was in the mountains that they really became friends. Lord, with his wiry frame, preferred rock climbing, while the burlier, six-foot-five Doro was more of a hiker. Toward the end of college, Lord began climbing fourteeners, spurred by a mutual friend and classmate, Andy Terhune.
After college, Doro got a job as a project manager at a health-care software company and moved to Madison, Wisconsin. He often felt homesick for Colorado. He missed its mountains and its culture of "getting after it," and felt bored and shut in by the city and the gray Midwestern weather. Wisconsin was "a bit depressing," he told me.
Lord's life was at a turning point, too: He had recently proposed to his longtime girlfriend and was beginning to think about applying to graduate school. "Everything was looking good," Doro told me. "He just had so many things going for him."
So last summer, while traveling for work, Doro impulsively called Lord and proposed stopping off in Colorado. The two friends could spend a weekend in the mountains together, just like old times. Doro suggested hiking to Conundrum Hot Springs, a popular backcountry camping spot near Aspen, and enjoying some easy day hikes.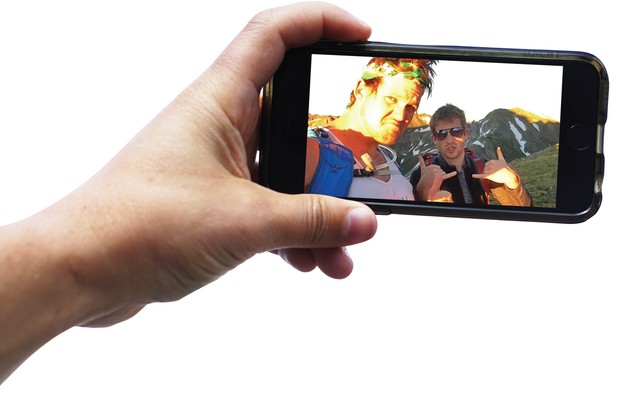 But Lord wanted to try something more ambitious. The summer before, he and Terhune had climbed North Maroon Peak, a 14,014-foot summit in the Elk Mountains. North Maroon—and its twin Maroon Peak—are the deadliest of Colorado's fourteeners, with 20 climber fatalities between 2000 and 2015.
Despite its reputation, Lord had no difficulty reaching the summit. Near the final part of the climb, they reached the crux: a difficult vertical chimney where a fall meant serious injury or death. But Lord found a way around it, a lesser-known route that was much safer.
"It was a classic example of ever-cautious Jake," Terhune told me. Their success bolstered Lord's confidence, and by the time Doro called him last summer, a new mountain had entered Lord's imagination: Capitol Peak.
When Doro searched for Capitol Peak on the internet, he found YouTube videos of people making their way across the Knife Edge, a notorious section of the route along a ridge so sharp that most climbers shimmy along the top of it on hands and knees. Other climbers prefer to grab the top of the ridge and shuffle along, using their feet to smear the rock face, above a roughly 1,500-foot drop.
Though Doro was afraid of heights, Lord reassured him and reminded him how triumphant they would feel after the climb. The YouTube videos thrilled Doro, too. "OK, man, I'm in," he told Lord over the phone. When they hung up, Doro sent the harrowing videos to his friends via Snapchat.
"This is what I'm about to do," he messaged them. "It's going to be sick."
---
On the morning of their summit attempt, Doro and Lord woke at 5 a.m., after a night of fitful, interrupted sleep, and began hiking quickly toward the base of Capitol Peak, their headlamp beams moving like two bubbles of light suspended in a vast darkness.
At dawn, they crested the saddle that leads to the long summit ridge, where the harder terrain begins, and came across two other climbers feeding a pair of foxes. Doro took a video with his phone to share on Snapchat later.
Social media had become an inseparable part of the two friends' outdoor experiences. Whether it was the YouTube videos of the Knife Edge that first tempted Doro, or the desire to record and share their adventures, the boundaries of their digital world and the "real" world felt increasingly blurred.
In The Four-Dimensional Human: Ways of Being in the Digital World, British writer Laurence Scott explains that social media often collapses those boundaries, redefining our own physical limits and the relationship between our bodies and the world around us. Our "everywhere-ness inevitably alters our relationship to those stalwart human aspects of self-containment, remoteness, and isolation," he writes. Even in the wildest places, we are connected to a universe of people and information through Instagram and Facebook, while those same apps bring distant landscapes into the comfort of our living rooms.
That can affect people's assessments of how dangerous things are: What once seemed extreme becomes normal if you look at enough Instagram photos showing other people doing it. Jerry Isaak, a professor at the State University of New York at Plattsburgh, first began studying how the prevalence of social media affects decision-making in remote, high-risk environments a few years ago. In one of his classes, he heard students describing a recent day of backcountry skiing, during which they built a large jump out on a slope. The students spent the day filming each other going off the jump and later posted a 15-second clip of it on YouTube.
What troubled Isaak was less the danger of skiing off jumps in the backcountry than how others might perceive the video. The clip itself represented just a tiny fraction of the day, and Isaak worried that viewers would get a false impression of backcountry skiing as merely a fast-moving series of thrills. The video leaves out the less entertaining parts: the hard falls, the risks, and the potential avalanche danger.
Later, Doro realized that he had come to see fourteeners like Mount Bierstadt, a popular mountain on Colorado's Front Range, as too easy, the kind of "piddly hike you take your aunt on." Capitol Peak, in contrast, was a real climb—the kind of mountain where a summit selfie or video of the Knife Edge traverse would attract people's notice and elicit admiring and envious comments.
If mountain climbing has traditionally reflected the most heroic versions of ourselves—triumphant and invincible—social media has amplified that projection.
Lots of people had climbed Capitol. Doro told himself, "If some dude from Kansas can do it, then I can do it." His fear of the peak fell away, replaced by glowing images of success.
---
After the saddle, the normal route up Capitol dips down to the east and then crosses a steep rocky slope, before rejoining the main ridge near K2, a nearby thirteener. But just past the saddle, Lord decided to veer off the main trail, which was covered in old snow and hard to follow, and to stay on the ridge instead.
When it came to making decisions about the mountains, Doro had always deferred to his friend. Lord was more of a planner: Days before a big climb, he checked weather forecasts and spent hours reading over route descriptions on 14ers.com. He would look at the dozens of pictures, taken every 400 to 500 feet up the route, which you can print out and use as navigational cues. For first-time climbers, this information is especially useful, breaking down vast, complex landscapes into simple steps—like reading the directions about how to assemble a bookcase from Ikea.
Although Lord was no amateur, he consulted these route instructions and the accompanying pictures religiously at every intersection, cross-referencing them with a topographic map and the altimeter reading on his watch. On another climb, Terhune recalled, Lord walked almost a quarter of a mile back down a trail to make sure the bridge they had crossed looked like the one in the picture.
"He always wanted to know where he was going, without a doubt," Terhune told me.
So when Lord said they should take the ridgeline, Doro followed. Later, as they picked their way over large boulders, Lord told him that they were not on the standard route. But it was fine, he said; the ridge was still a route.
Doro found the terrain increasingly terrifying. The ridge was a massive pile of rocks stacked like Jenga pieces with hundreds of feet of air on either side. Lord, comfortable with the exposure and delicate climbing maneuvers, had no trouble. At one point, Doro pulled on a large rock that came loose and nearly hit him. "That freaked both of us out," Doro recalls.
After the near-miss, Lord took the lead, while Doro followed, reminding himself to keep three points of contact on the rock at all times. They stuck to the eastern side of the ridge, which was less exposed and felt safer, traversing along the side of it. Lord moved deftly through the maze of rocks, often stopping to wait for his friend. Despite the stomach-turning drops on either side of them, Lord was calm and confident; he had done this kind of climbing before.
---
Just after 7:30 a.m., they were not even halfway to the summit. Ahead lay about a mile of ridgeline, with loose and stable rocks all jumbled together. It was nearly impossible to tell them apart, so Lord moved with extreme caution. He put his hand on a rock in front of him to steady himself while he moved carefully around it.
Doro was thinking about the weather. Summer in the Elks is mercurial: Within minutes, skies darken to the color of lead, bringing sheets of rain and flashes of lightning to the high peaks. But the morning of July 15 was windless and blue, without a cloud in sight. Doro marveled at their luck—they were both climbing in T-shirts. At that moment, he thought, they could not have picked a better day to climb Capitol Peak.
The next moment, the rock shifted, dislodging itself from the ridge and toppling onto Lord. Doro watched in shock as the rock sent his friend tumbling down the mountain like a rag doll. Without thinking, he rushed down the steep slope to the spot where Lord had come to halt—roughly 150 feet below—scrambling faster than the treacherous terrain should have allowed. He knew that Lord had to be injured, but told himself that everything would be okay; people get hurt on fourteeners all the time.
But when Doro reached Lord, he was unresponsive. He tried to rouse his friend and then to figure out what his injuries were. Doro's first-aid training had taught him to stabilize the spine, which he did, working swiftly, but as he did so, he realized that Lord's skull was severely injured. His friend's right arm was out of its socket, his shinbone poking through his skin.
Not knowing what else to do, he pulled out his cellphone. At least he had a bit of reception, he thought. He dialed 911, describing his situation and requesting help. Then he started doing CPR on Lord. Soon, another climber appeared on the scene and began to help. But the breaths weren't going in, and Doro grew more and more frantic.
"With my first-aid training, I had an inkling about things," he told me. "(Search and rescue) said they were coming, but with brain damage, the window obviously is a few minutes—half an hour tops."
The climber came over and gently tried to tell Doro that CPR was useless. But Doro refused to listen. If search and rescue could just arrive soon, he thought, maybe there was a chance that Lord could survive.
The wait was agonizing. "Time was passing in a weird way," Doro told me. After 30 minutes, he stopped performing CPR and let the other climber lead him away from the scene.
The rescue helicopter landed on the ridge above the fallen climber at 9:37 a.m., two hours after Doro's call. Doro watched as the rescuers began down-climbing from the helicopter to where Lord lay. At 9:46 a.m., one of the paramedic-trained rescuers noted that Lord's condition was "inconsistent with life." Doro saw them pull out an oblong red bag, wrapping it around Lord's body, and he went over to them to be near his friend. When it was time to load Lord's body into the helicopter sling, the volunteers and the other climber had to pull Doro away from Lord.
Above him, people continued along the ridge toward Capitol's summit, as Doro watched his friend spin upward into the sky.
---
A little over three weeks after Lord died on Capitol Peak, Jeremy Shull, a 35-year-old from Parker, Colorado, died after falling 200 feet off the east side of the Knife Edge while ascending the same peak. He was an experienced climber, an addiction counselor, married with a 2-month-old son.
Roughly two weeks later, Ryan Marcil, 26, and Carlin Brightwell, 27, a young couple who lived in Aspen, died after falling from somewhere above Capitol's north face. According to witness reports, the pair reached the summit around 11:30 a.m. and stayed there for about an hour, chatting with another couple they met during the climb. Hoping to descend as quickly as possible, they discussed taking "the other route down," though a member of the other party told them they would need a rope and climbing equipment. Brightwell, who had hiked around 20 fourteeners, snapped a photo of Marcil on the summit. Two days later, they had still not returned, and Brightwell's sister reported them missing. They were found at the base of Capitol's north face. The Pitkin County Sheriff's Office concluded that the couple had attempted to descend by an apparent shortcut that ends in a cliffband.
On Aug. 27, two days after the memorial service for Marcil and Brightwell, Zackariah White, a 21-year-old from Pine, Colorado, was descending Capitol with his partner late in the afternoon when the two of them got into a disagreement over a potential shortcut back to Capitol Lake. According to police reports, White looked down the north face, claiming that he thought he saw people hiking down that way. His partner pleaded with him to stay on the main route, but White took off down a steep rocky chute. He never made it back to camp. Search and rescue volunteers discovered his body the next day in a snowfield below Capitol's north face.
Responders from Mountain Rescue Aspen said he fell between 600 and 700 feet. Following the accident, The Pitkin County Sheriff's Office released a statement clarifying that there is no alternate hiking route down the north face of Capitol Peak. "If there were a safe shortcut, it would be the standard route," it said.
Altogether, Capitol Peak claimed the lives of five people in about six weeks—an unprecedented number in the mountain's history. The string of tragedies so close together left many people reeling.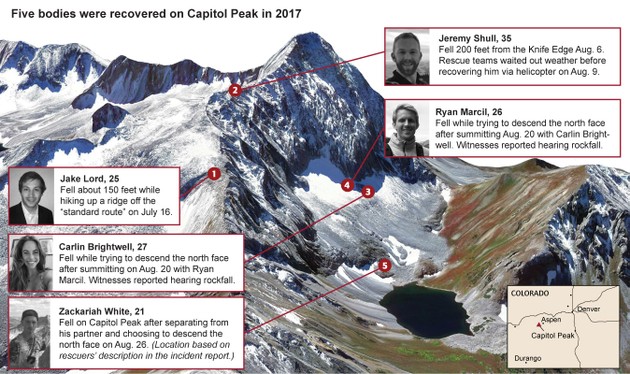 "It felt like we were losing someone weekly," Karen Schroyer, the Forest Service District Ranger for the Aspen-Sopris District, told me.
Jeff Edelson, the former president of Mountain Rescue Aspen and one of the organization's current rescue leaders, told me they typically see between one and three fatalities in the Pitkin County backcountry over the course of the summer. Never had they seen so many deaths in a single season on the same peak. "We never anticipated having to respond to something like this," he said.
The sheriff's office, Mountain Rescue Aspen and the Forest Service began discussing how to prevent another summer like 2017. Many of their conversations centered on the irony that even though people have access to an almost infinite amount of information about Colorado's high peaks online, that material does not always make them safer.
"In some respects, there's too much info out there," Schroyer told me. "Someone climbs Capitol and they post it and 200 of their friends see it." But she wonders how many of the people who are then drawn to those mountains have the information, skills and awareness necessary to climb safely.
"You read about people who just didn't seem to have any comprehension of what they were biting off, and that's who we need to focus on," said Athearn. Although both Lord and Doro had experience on fourteeners, neither believed that climbing one could be so dangerous or that people could die on Capitol Peak. "That's a statistic I wouldn't want to know going up," Doro told me. "But it's a stat that probably should have played into my decision-making about which mountain I chose."
To help reverse that trend, the Colorado Fourteener Initiative is putting together an educational video series about the more challenging fourteeners, which will run on YouTube. Mountain Rescue Aspen will host a series of workshops on the Front Range this year about how to climb fourteeners more safely as well as field sessions for people who want to learn the basics of climbing through steeper, exposed mountain terrain.
But for today's social-media-connected outdoor enthusiasts, the most effective education tool might be the same one that pushes so many to take risks. A growing number of sponsored and recreational athletes are using Instagram to share their stories about accidents in the backcountry in the hopes that others may learn from their mistakes. Take Colter Hinchliffe, a professional skier from Aspen, who was backcountry skiing with some friends in January 2017 when an avalanche released, dragging a member of his group through some trees and breaking his leg. After the accident, Hinchliffe posted a picture of it on his Instagram feed, with a long caption outlining what happened and how difficult it was to carry out the rescue. "I only share this in hopes that you can get a taste of our experience of how quickly things go from good to bad to terrifying, and learn from it," he wrote.
Internet guidebooks like 14ers.com could play an important role, too. The site now has an open forum called "Climbing Accidents: Info and Analysis," where people can post information related to fourteener accidents. In early September, someone began a thread titled, "Capitol's Death Route," with a picture of a pseudo-trail leading down from the standard route into the so-called "death gully" where mountain-rescue volunteers believe one of the tragedies on Capitol occurred last summer.
"Gives me chills looking at that," one person commented. "It looks so inviting."
---
After the accident, Doro went to his parents' home in Littleton, Colorado. He spent a week there before returning to work, unable to think about much at all. But later, he would replay the accident in his mind and wonder how things might have gone differently. Maybe if they had been roped together, or had taken a different route, or were wearing helmets. But they still would have encountered loose rock and the same exposure. Sometimes, the margins for error are so small.
"To a certain degree, it's nothing that you can control," Doro told me. "You don't expect a giant rock to be loose. You expect that if you grab something as big as your body, it's going to stay put."
And he thought about why they had chosen Capitol Peak, about the hype surrounding it. They were so focused on the descriptions—the thrill of the Knife Edge, the endorphin rush at the summit, and the desire to see themselves among all the others they knew had stood on the top of that mountain.
A few weeks after the accident, Doro was scrolling through Facebook and came across a post about Capitol Peak that tagged a news article about Lord's accident. "Hardest peak ever," the post read. "So many people have died, but I crushed this mountain."
---
This post appears courtesy of High Country News.