Should the U.S. Break Up Amazon?
The Atlantic's newest podcast "Crazy/Genius" takes on the retail giant.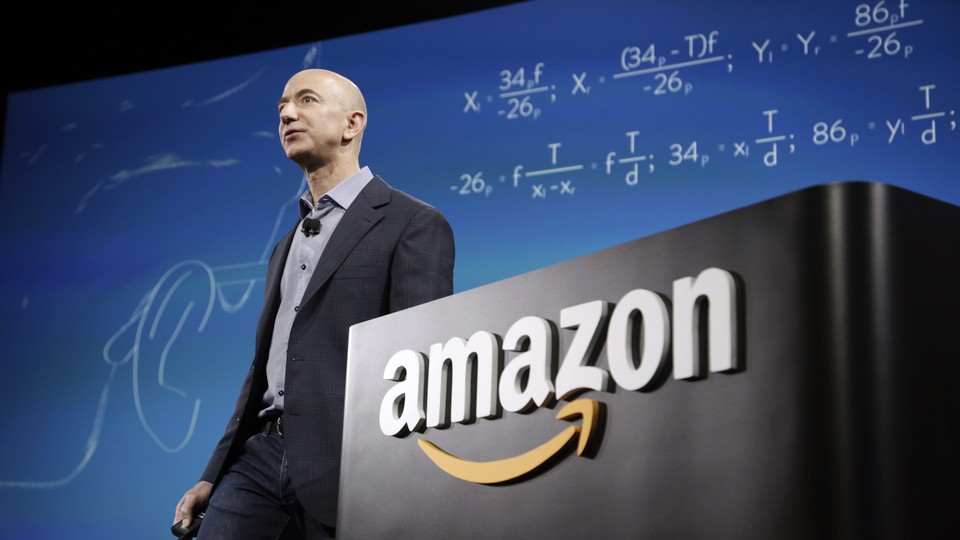 Some time later this year, Amazon could become the first trillion-dollar company in American history. Its valuation has already doubled in the last 14 months to about $800 billion, and Jeff Bezos, its founder and CEO, is officially the richest man on the planet.
There are ways in which Amazon seems to be the greatest company in American history. It's revolutionized the global shopping experience and expanded into media and hardware, while operating on razor-thin margins that have astonished critics. But some now consider it the modern incarnation of a railroad monopoly, a logistics behemoth using its scale to destroy competition.
So what is Amazon: brilliant, dangerous, or both? That's the subject of the latest episode of Crazy/Genius, our new podcast on technology and culture.
To build the case for breaking up the Everything Store, I talk to Scott Galloway, a professor of marketing at NYU and an outspoken critic of big tech, and Lina Khan, a researcher at the Open Markets Institute and a leading expert on antitrust policy. Both of them encourage me to see how a company famous for low prices can still behave in an anticompetitive manner. Making the case against heavy regulation for Amazon are Rob Atkinson, the president of the Information Technology and Innovation Foundation, a tech think tank, and Michael Mandel, an economist with the Progressive Policy Institute who researches technology and e-commerce. Both encourage me to focus not only on the hidden costs of Amazon's largeness, but also on the hidden benefits.
You can subscribe to Crazy/Genius at iTunes, Google Play, Stitcher, and Spotify. New episodes will be released on Thursdays.