Even Amid Scandal, Facebook Is Unstoppable
On the eve of its big annual conference, things are looking up for the world's most profitable advertising company.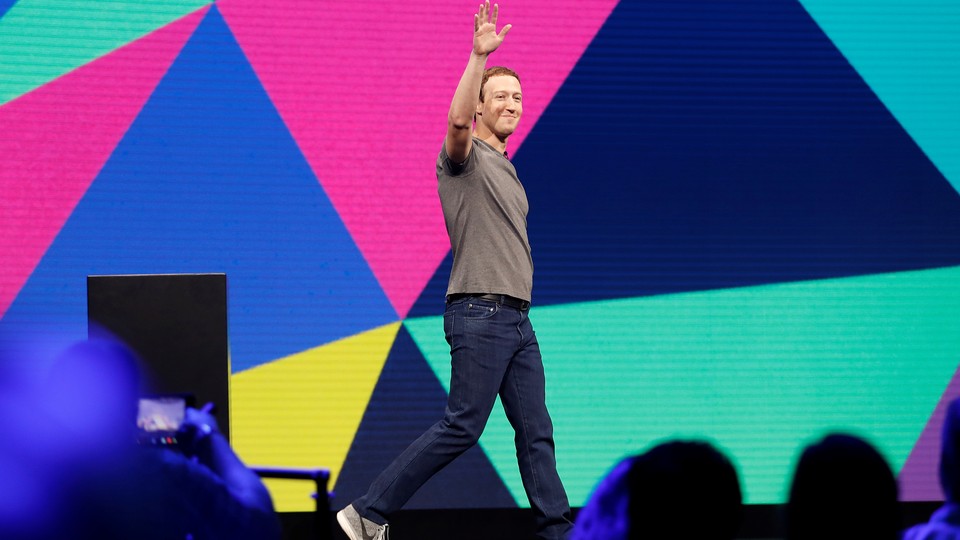 When Mark Zuckerberg takes the stage on Tuesday at F8, Facebook's big annual conference, I expect him to gesture briefly at the troubles of the last year and a half, and then look grandly forward, talking up the future of augmented and virtual reality, the company's commitments to fostering "community," and Facebook's growth outside the United States.
It will feel a little strange. Wasn't this company "besieged," "beleaguered," and "beset" by problems mere days ago? Haven't they experienced a brutal 18 months since the 2016 U.S. presidential election set off what The Economist (among others) called a "techlash"?
Facebook metabolized these criticisms, and turned them into fuel for what they say is a renewed sense of their mission. Take a look at Facebook's newest ad. It explicitly calls out the problems of clickbait and fake news on the platform, but then concludes, over a montage of milestone videos, "When this place does what it was built for, we all get a little closer." Facebook has retrenched into its core mission, which is to "connect people," as the company has defined it.
In the end, maybe none of it mattered. Not the congressional hearing. Not the leaked Cambridge Analytica documents. Not serving as the primary conduit for Russian disinformation campaigns. Not fake news. Not conservative consternation about the liberal politics of the company's employees. Not the preparations for complying with Europe's General Data Protection Regulation. Not the UN special rapporteur hitting Facebook for contributing to the Rohingya's plight in Myanmar. Not the anti-monopoly criticisms aimed at the company. Not yesterday's resignation of WhatsApp CEO and co-founder Jan Koum.

For those inside Facebook, it helps that, at a quantitative level, none of its trials have shown up in the data. Facebook's performance last quarter was a corporate triumph. Their net income was the highest in Facebook history at just about $5 billion. Monthly users were up; daily users were up; the ratio between the two remained unchanged. They generated almost $4 billion more revenue in the first quarter of 2018 than the first quarter of 2017. Their margins were up year over year. By any metric, this was what the analysts would call a blowout quarter. Shares jumped, of course. And now, they've recovered most of what they lost in the immediate fallout of the Cambridge Analytica revelations.
The company's financial performance is more of a reflection of Facebook's unstoppability than its cause. Despite personal reservations about Facebook's interwoven privacy, data, and advertising practices, the vast majority of people find that they can't (and don't want to) quit. Facebook has rewired people's lives, routing them through its servers, and to disentangle would require major sacrifice. And even if one could get free of the service, the social pathways that existed before Facebook have shriveled up, like the towns along the roads that preceded the interstate highway system. Just look at how the very meaning of the telephone call has changed as we've expanded the number of ways we talk with each other. A method of communication that was universally seen as a great way of exchanging information has been transformed into a rarity reserved for close friends, special occasions, emergencies, and debt collectors.
Even if one were to quit the core service, there are many other ways of being roped into the Facebook ecosystem. There's Instagram and WhatsApp, sure, but the company also maintains "shadow profiles" on refuseniks. Besides, the rest of the digital-advertising sharks would still be circling. Hundreds of companies create data about people on the internet from Google to umpteen obscure little companies. Most are accountable to no one. Opt out of Facebook, and all those other places are still mining your online profile, and often selling it to the highest bidder.
Facebook rents out access to your attention, but it doesn't give Nike or Pottery Barn your data. This protects users to some extent and makes Facebook even more central and powerful. They have all the data, as fresh as it can be, with comparisons possible across 2 billion other people. So, as millions of companies attest, Facebook (and Instagram) ads can do well, especially if they use Facebook's full suite of products for measuring the precise financial outcomes advertisers are pushing.
Most of the general pressures on the internet industry's data practices, whether from Europe or anywhere else, don't seem to scare Facebook. Their relative position will still be secure, unless something radical changes. In the company's conference call with analysts last week, Sheryl Sandberg summed it up.
"The thing that won't change is that advertisers are going to look at the highest [return-on-investment] opportunity," Sandberg said. "And what's most important in winning budgets is relative performance in the industry."
As long as dollars going into the Facebook ad machine sell products, dollars will keep going into the Facebook ad machine.
As long as their friends are still on Instagram, Facebook, and WhatsApp, people will keep using Facebook products.
In the past, tech empires have risen and fallen, once momentum starts to work against them. Intel is a shadow of its former self. IBM has been contracting for much of the decade. Maybe Facebook won't be forever, but what my colleague Rebecca Rosen wrote in 2011 still stands today: "Our discomfort grows commensurate with Facebook's power, such that the more that Facebook is indispensable, the greater our discomfort, and yet the less that discomfort matters."
In this context, the last 18 months make more sense: Civil societies are struggling against Facebook not because the company is weaker than it has been in the past, but because it grows ever more powerful.