A Belgian Legislator Berates and Scoffs at Mark Zuckerberg
In a hearing today, European parliamentarian Guy Verhofstadt said many of the things that Facebook haters have been thinking.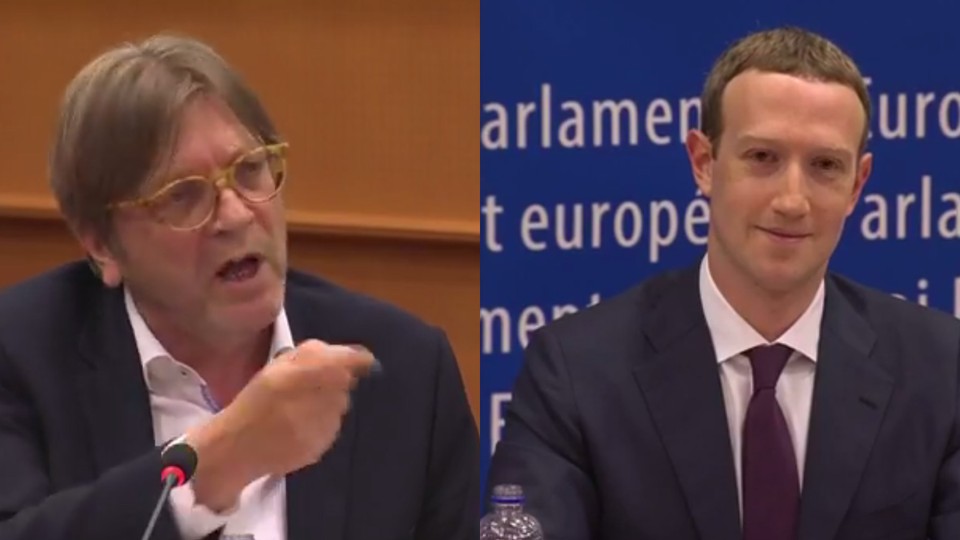 On Tuesday, as the deadline to implement the sweeping European internet rule known as the General Data Protection Regulation approached, Mark Zuckerberg appeared before the European Parliament in Brussels to answer a few questions.
The representatives of the many different parties present in the European legislative body asked some tough questions, but the format did not allow them to pin Zuckerberg down on specific issues. First, the legislators asked all their questions in a row. Rather than answering them one at a time, Zuckerberg answered to the "themes" of the questions after they had all been asked.
The most caustic line of questions came from a centrist, Guy Maurice Marie Louise Verhofstadt, the former prime minister of Belgium and now the leader of the Alliance of Liberals and Democrats for Europe. He begins roughly 30 minutes into the video below.
After apologizing to Zuckerberg for missing some of his testimony—due to "strikes in Paris"—he proceeded to compare the Facebook CEO to the CEO in Dave Eggers's dystopian book The Circle.
"That book is about a big data company that is out of control. Not even the owner has control of it. And the data is used in elections. And it seems to me very near to the reality," Verhofstadt said, smiling.
"Also, the fact that maybe you have less control or no control about your own company for the moment," he continued, "because you have to apologize now. I think in total, you apologized now 15 or 16 times in the last decade. In 2003 you started. Every year you have one or other wrongdoing or problem with Facebook and you have to face the reality and to say sorry and to say that you are going to fix it. Last year, I think it was twice that you apologized. This year, it's three times already and we're still in the month of May, so it's a little bit early in the year."
Hair parted down the middle, arms crossed, Verhofstadt chuckled. He was just getting started.
"Are you capable to fix it?" he asked. "The only way in my opinion to do it—and I'm a liberal, a free marketeer—is to have public regulation to do so. It's a little bit like with the banks in 2006, 2007, 2008. They said, 'We're going to do self-regulation. Don't bother. We're going to do it ourselves.' The reality is that they didn't do it themselves. And it was needed to have tough regulation."
This is not how most American politicians talk to Facebook and the rest of Silicon Valley. He then challenged Zuckerberg's commitment to implementing the GDPR.
"You have told us that you are gonna apply [the GDPR rules], but are you telling the truth in fact to us?" he asked. "Are you telling the truth because since the outbreak of Cambridge Analytica, you have massively transferred European data of non-European citizens out from Europe ... I have to tell you that is against the regulation, against GDPR, and against existing directive in Europe of 95/46, which is still applicable."
In this, he was referencing a (unannounced but acknowledged) change in the way that Facebook handles the data storage for millions of users, moving it out of Ireland/the EU and into the United States.
He then raised the possibility that under article 82 of the GDPR, Facebook would have to compensate European Facebook users under certain conditions, and suggested that their value to the service might be a basis for that payment. "My value—I have examined it—my value as a Facebook user, is $186. I thought it was more," he joked. "Maybe my wife thinks it's less. Maybe it's less, some of my opponents think it's less."
Just multiplying Verhofstadt's number by the roughly 180 million Western European Facebook users, that'd be a bill of $33,480,000,000, or more than double the company's 2017 income.
And then he went in for his final point, that Facebook was obviously and problematically a social-media monopoly. A previous Parliamentarian had asked Zuckerberg to convince him that the company was not a monopoly.
"You cannot convince him because it is nonsense, naturally!" he scoffed. "You have given the example of Twitter, you have given the example I think also of Google as some of your competitors, but it's like somebody who has a monopoly in making cars is saying, 'Look, I have a monopoly making cars, but there is no problem. You can take a plane! You can take a train! You can even take your bike! So I have no monopoly.' There is a problem there."
Verhofstadt then challenged Zuckerberg with two last questions.
"Could you or would you cooperate with the European antitrust authorities to examine it, and to open your books so we can see if, yes or no, it is a monopoly?" he asked. "And secondly, if you have to split off Facebook Messenger and WhatsApp, to give you an example, and keep, then, Instagram, should that be a good deal for you that you could accept?"
To conclude, he questioned's Zuckerberg's reputation, or really, his honor. "You have to ask yourself how you will be remembered, as one of the three big internet giants, together with Steve Jobs and Bill Gates, who have enriched our world and our societies," he asked. "Or, on the other hand, in fact, the genius that created a digital monster that is destroying our democracies and our societies. That's the question that you have to put for yourself."
In the past, Zuckerberg has addressed his legacy. "I really just care about building something that my girls are gonna grow up and be proud of me for," he told a TV interviewer in March.
In his appearance before the European Parliament, Zuckerberg offered a more practical defense: Eighteen million businesses in Europe use Facebook's tools, he said, and half of them had told the company that they have hired more people because of Facebook. He also ticked off Facebook's many investments in offices and data centers across the continent.
Zuckerberg did not directly address any of Verhofstadt's points in his short comments, but he did note that Facebook only controlled 6 percent of the global advertising market, which is a number that sounds small, while actually being unfathomably enormous. Unfathomable, that is, until Facebook.