A Shooting at YouTube Headquarters
An employee said he saw "blood drips on the floor and stairs" at the company's offices in Northern California after a shooting.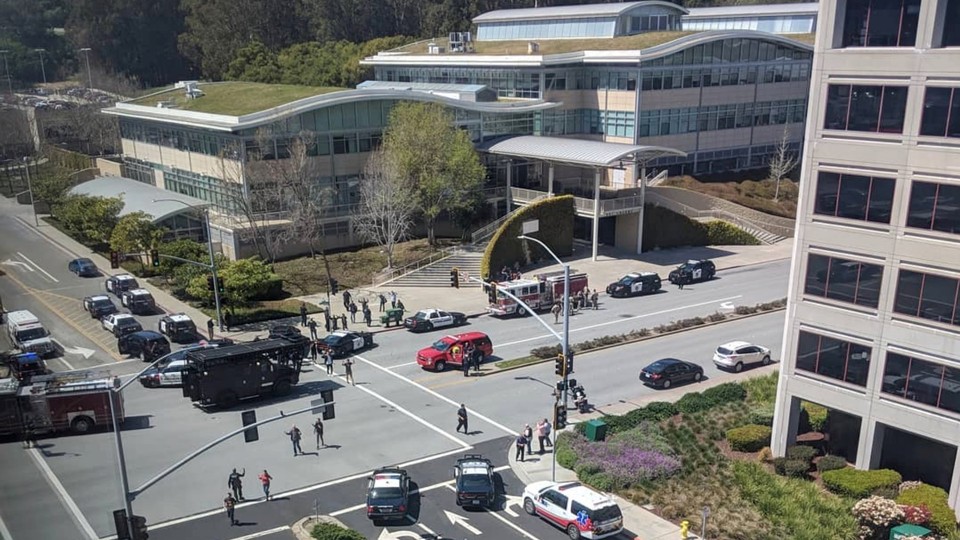 Updated on April 3 at 6:37 p.m. ET
News of a reported shooting at the YouTube offices in California unfolded in real time on social media Tuesday as employees live-tweeted what was happening.
Vadim Lavrusik, a product manager at YouTube, was one of the first people to report the shooting at the company's headquarters in San Bruno, tweeting at about 1 p.m. local time:
Active shooter at YouTube HQ. Heard shots and saw people running while at my desk. Now barricaded inside a room with coworkers.

— Vadim Lavrusik (@Lavrusik) April 3, 2018
San Bruno police responded to the shooting and advised people to stay away from the area. The Associated Press and others, citing law-enforcement officials, report the shooter was a woman and has died of a self-inflicted gunshot wound.
A spokesman for Zuckerberg San Francisco General Hospital told reporters Tuesday that three people were taken to the hospital with injuries, according to the AP. They include a 36-year-old man in critical condition, a 32-year-old woman in serious condition, and a 27-year-old woman in fair condition. All three patients are conscious and have not undergone surgery, according to Andre Campbell, a trauma surgeon at the hospital.
"This is unfortunate and it continues," Campbell said during a press conference outside the hospital Tuesday. "You'd think that after we've seen Las Vegas, Parkland, the Pulse nightclub shooting, that we would see an end to this. But we have not."
Video footage from the scene aired live on local news networks showed police cars and officers descending on the building and people evacuating with their hands raised. About 20 minutes after Lavrusik posted about the shooting, he tweeted again to say he had been evacuated and was safe. Todd Sherman, another product manager, said he was among the employees who was evacuated. In a series of tweets, Sherman said he heard gunshots while he was in a meeting and saw "blood drips on the floor and stairs" as he exited the building.
We headed towards the exit and then saw more people and someone said that there was a person with a gun. Shit.

— Todd Sherman (@tdd) April 3, 2018
I looked down and saw blood drips on the floor and stairs. Peaked around for threats and then we headed downstairs and out the front.

— Todd Sherman (@tdd) April 3, 2018
YouTube headquarters is located on a sprawling campus in suburban San Bruno, south of San Francisco, with over 1,100 employees.
The shooting comes at a time when YouTube has found itself at the center of a national conversation about exposure to gun violence in the digital world. Last month, the website rolled out tighter restrictions on videos that feature weapons, banning footage that promotes or includes links to sites that sell firearms and gun accessories, including bump stocks, a type of firearm modifier that makes semiautomatic guns fire faster.
The rules were the latest in a batch of new restrictions YouTube has introduced in the last year in response to public backlash to some content on the platform deemed dangerous and offensive. In January, YouTube enacted, among other rules, new thresholds that channels must meet before they can carry ads. It announced a three-strikes policy to remove user accounts and gave advertisers more control over where their ads appear on the website.
"There's no denying 2017 was a difficult year, with several issues affecting our community and our advertising partners," wrote Paul Muret, a vice president at Google, which owns YouTube, in a blog post explaining the new rules in January. "We are passionate about protecting our users, advertisers, and creators and making sure YouTube is not a place that can be co-opted by bad actors."